The latest batch of US wines to have hit our shores contain some real summer slurpers from Populis and Evan Lewandowski, some new wines from Kelley Fox, Minimus and Martha Stoumen and plenty of fresh new vintages.
New in from California (& Utah!)
Martha Stoumen Wines, California
Martha has chosen to work with sun-loving grapes: either those historic to California viticulture, or those that flourish and maintain elegance in California's warmth, such as Carignan, Zinfandel, and Nero d'Avola, whilst utilising natural, traditional winemaking practices she learned while apprenticing in Italy (COS) and Southern France (Didier Barral). And most importantly, to truly respect her Californian roots, she ensures her vineyards are farmed in such a way that healthy ecosystems are created and maintained.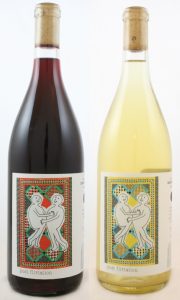 The new (to us) Post Flirtation white is a zinger, all about refreshment and this is achieved through early harvesting and the lightest touch. Three Med stalwarts: Marsanne, Roussanne and Muscat are co-fermented and some early-harvested Colombard from the Ricetti vineyard in Mendocino (planted in 1948) is blended in to give an even greater lift of bright acidity. A natural wine, weighing in at 10%, nothing added.
The Post Flirtation red is a 50/50 combination of Zinfandel and Carignan. Two different vineyards – Del Barba in Contra Costa county for the Zin grown on white sandy soils, planted in 1960, picked à point to provide the fruity pomegranate and hibiscus aromatic, Carignan from Venturi vineyard (sandstone), head-trained vines planted in 1948, for the savoury/umami character and a hint of garrigue.
2018 Post Flirtation White (NEW WINE)
2018 Post Flirtation Red (NEW VINTAGE)
Populis, Orinda, California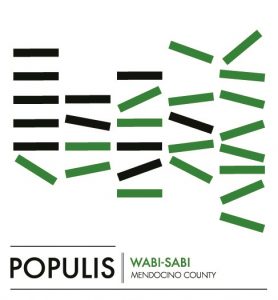 Populis is the collective venture of Diego Roig, Sam Baron and Shaunt Oungoulian, who make bright refreshing wines from fabulous terroir, old dry-farmed vineyards in Northern California. The Wabi Sabi white is a Cheverny-inspired blend, the mouthfeel is characterized by laser-like acidity, while the aromas and flavours strike a balance between greenness and riper opulence, resulting in a style that is uniquely Californian, yet with an old-world approach. The old-vines give this wine an additional dimension of depth and complexity. The minimalistic approach in the cellar lends a wine that is highly drinkable and digestible.
The Carignane Reversee is from the legendary 70+-year-old Venturi Vineyard in Mendocino from grapes planted on gravelly-loam soils.  Free run juice is fermented with whole clusters in tank. There is loads of bright and juicy red fruit on the nose and mouth, plenty of acid on the attack and a nice bite of tannin on the finish which keeps this wine taut and oh-so-drinkable.
2018 Wabi-Sabi White (NEW VINTAGE) ~ 2018 Carignane Reversee (NEW VINTAGE)
Evan Lewandowski, California & Utah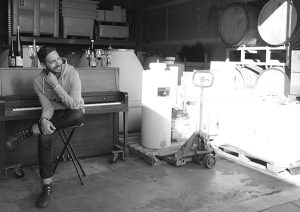 From the famous Fox Hill vineyard in Mendocino planted exclusively to Piedmontese varieties (now managed by Sam Bilbro from Idlewild), Evan's Feints is a blend of predominantly Arneis with Dolcetto, Barbera and Nebbiolo. Evan carts the juice back to Utah, ferments the wine naturally in small egg-fermenters and bottles without sulphur, filtering or fining.
2018 Feints (NEW VINTAGE)
OREGON ARRIVALS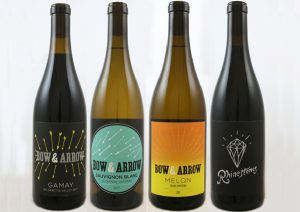 Bow & Arrow, Portland 
An urban winery in Portland making brilliant "Loireogon" whites and reds. Return of the Air Guitar – this being Scott Frank's super interpretation of Anjou-Villages rouge style in his native Oregon. 25-year-old organically-grown Cab Sauv, meets biodynamic Johan Vineyard Cab Franc. Rhinestones is that wink and a nod to Cheverny Rouge, amalgamating Pinot Noir with Gamay. 100% Johan fruit, fermented and matured in a mixture of concrete and old Burgundy barrels. La Chenaie Sauvignon, a homage to the wines of Riffault and Alex Bain, available in mags for the first time, is from the Eola-Amity hills; this is a wonderful dense and savoury version of the grape with some skin contact for phenolics.
2017 La Chenaie – magnum – (NEW WINE) ~ 2017 Air Guitar (NEW VINTAGE) ~ 2017 Rhinestones
Kelley Fox, Dundee Hills, Oregon
The return of Kelley's skin contact Maresh Vineyard Pinot Gris – destemmed and macerated for 18 days on skins in concrete amphora. Just down the road, also on volcanic soils, the equally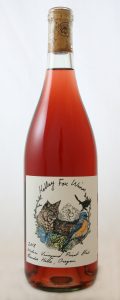 delightful Weber Vineyard Pinot Gris (this land used to belong to the Maresh family). Freedom Hill Pinot Blanc comes from Bellpine soils – this is a beautifully farmed organic vineyard. Fermented in 228 litre Burgundy barrels. Mirabai is from 100% Maresh fruit with a high proportion of whole clusters and Maresh Vineyard Pinot Noir is made from a selection of barrels that exhibit the clearest terroir character of the vintage.
2018 Maresh Vineyard Pinot Gris (NEW VINTAGE)
2018 Weber Vineyard Pinot Gris (NEW WINE)
2018 Freedom Hill Pinot Blanc (NEW VINTAGE)
2017 Mirabai Pinot Noir
2017 Maresh Pinot Noir
Minimus Wines, Carlton, Oregon
This Grüner comes from an old vineyard whose vines were planted in 1977 in the Ribbon Ridge AVA. All vine work done by hand, harvested by hand, organic compost produced on-site and spread through the vineyard, sheep graze the vineyard to reduce grass and weeds, cultivation of the soil is done in low vigour areas, only organic and biodynamic products are used to control disease pressure.
The wine has good depth and focus, remaining on lees for nine months to enhance texture and build tension, while preserving aromatics and the typical savoury qualities of Grüner.
2017 Gruner Veltliner "Vitae Springs" (NEW WINE)
Ovum Wines
Ksenija Kostic and John House set up the Ovum project to make wines from aromatic varieties and to vinify in such a way as to preserve the particularity of the vineyard soils, and the nature of the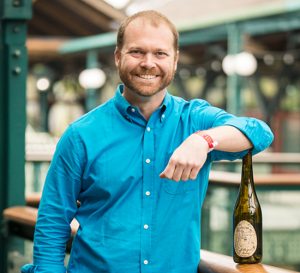 vintage. Big Salt is a blend from three different marine-influenced vineyards in Elkton. A short soak on the skin, long ambient ferment and the varieties meld together perfectly to reveal orange blossom, white grapefruit and jasmine, salinity on the palate, and a dry finish. Off The Grid Riesling is an extraordinary mineral Riesling from vines grown at altitude on serpentite soils in the Illinois Valley (southern Oregon) and the Sunnyside Gewurz is from weathered basalt. Its tangerine aromatics are beautifully offset by natural acidity.
2018 Big Salt (NEW VINTAGE) ~ 2017 Off The Grid Riesling ~ 2016 Sunnyside Gewurztraminer
*
Interested in finding out more about the wines mentioned? Contact us directly:
shop@lescaves.co.uk |  sales@lescaves.co.uk | 01483 538820