July
The Summer looks out from her brazen tower,
Through the flashing bars of July.
Francis Thompson, A Corymbus for Autumn
Throughout the early period of lockdown, time had seemed to slow down. The quotidian noises of the city had abated, mellifluous birdsong returned, the larks were larking in the sky, the 'pies were chattering ten to the dozen, and of course, those pesky London parakeets, were even more audibly in evidence.
For some, like me, in my balcony-reading-bubble, this was akin to therapy, for others, whose oxygen supply derives heavily from the fumes of social media, a form of suffocation. These people found the time to develop hobbies and grand passions, particularly gastronomic ones, and invite others to inspect the results of their brilliant endeavours.
Seeing on social media what other people cook and eat can be incredibly annoying. They ram it down your throat without ramming it down your throat. There are pastafarians, barbecue bangers, turbot-charged fish-flaunters, sourdough fanatics, and those who work burrata, artfully and otherwise, into each and every photo. Praise to the artfully draped breakfast radish, the checkered pattern of griddle ridges on a steak, the radiant saffron-coloured egg yolk, the thatch-work of homegrown salad leaves. Dishes to be anointed (good word) with the balsamiest of balsamic vinegars or glistened with the drizzled extra virgin essence of olives plucked by someone's nonna from a centenarian tree in a sun-burnished Umbrian grove. Much of the Insta posting is down purely to trying to accrue milliards of envy points. After all, you'd normally be loitering on that inaccessible beach in Thailand, or sunning yourself by the pool in Provence with your tanned legs stretching to the horizon, or gazing into a caldera in deepest darkest Mexico whilst quoting Keats's Chapman's Homer:
"Then felt I like some watcher of the skies
When a new planet swims into his ken;
Like stout Cortes when with eagle eyes
He star'd at the Pacific-and all his men
Look'd at each other with a wild surmise
Silent upon a peak in Darien"
[Surely the most quotable six lines of poetry written in English – discuss]
So, failing all that exotic world-mongering, posting on food is a kind of ultimate armchair travelling, having your cake, taking filtered photos of it and waiting for the heart emojis and likes to come roaring in.
Being a non-combatant in the sourdough culture wars, I resorted to descriptions of my salad days (I thank you) as evidence that revenge is indeed a dish best served cold. I am apparently the heir to the title "tomato king", a royal colour co-ordinator par excellence. As the heat-filled days took hold during July, I spliced and diced with an eye for the "canvas", and the salads got fruitier and zingier. It's not cooking; it is the insta quick fix. All hail the cleverly tweezered edible flower. Each time I prepped it, I threw in variations of a colour scheme, in order to salad-upmanship myself. As Marian Hyde says: "Stick a fork in me; I think I'm done." And on other days, all this could be liquidised into gazpacho, the sunny Mark Rothko of soups. No Andy Warhol versions for us!
***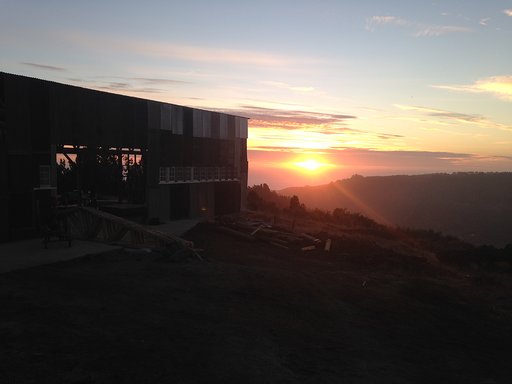 Our growers' visits continued with a Zoom journey to a very murky Itata in Chile to meet Leo Erazo, he of A Los Vinateros Bravos. The rendez-vous was in an ancient Pais vineyard in the hinterland (some nubbly vines clocking in at 200 years old) shrouded in mist. Via the magic file-sharing, we were able to be transported to his scenic recently-constructed winery near the coast (replete with tinajas).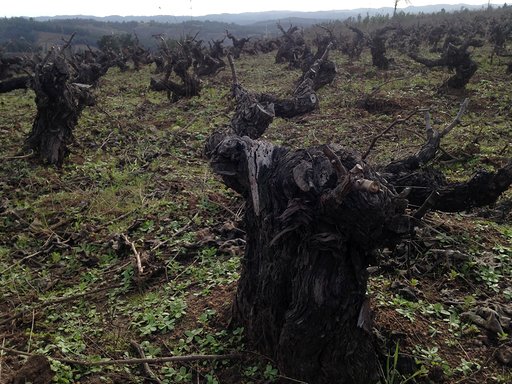 Out in the real world, the social brakes were finally released on a day that became known as "Independence Day". Despite the advice to stay distanced or in small groups, humankind erupted into the parks and convoys of cars took to the roads to invade the beaches around the country. Everything that was controlled and considerate, became ill-disciplined, aggressive and selfish. We will fight them on the beaches; we will fight them in the pubs and bars. The lockdown may have been inconvenient, but the reaction in the aftermath was like the frenzied reaction you see around 2-for-1 Happy Hour cocktail offers in city centres. When the Prime Minister of the UK tells you, using the most sensitive non-sexist language, to "man up" and go out, then people assume it is their patriotic duty to party on like they had no 2020 hindsight or insight.
We have strict statutes and most biting laws.
The needful bits and curbs to headstrong weeds
Which for this nineteen years we have let slip;
Even like an o'ergrown lion in a cave,
That goes not out to prey. Now, as fond fathers,
Having bound up the threatening twigs of birch,
Only to stick it in their children's sight
For terror, not to use, in time the rod
Becomes more mock'd than fear'd; so our decrees,
Dead to infliction, to themselves are dead;
And liberty plucks justice by the nose;
The baby beats the nurse, and quite athwart
Goes all decorum.
Measure for Measure
Restaurants came out of hibernation; pubs too threw open the doors. There was cacophony on the streets. I felt like a midsummer Scrooge. Humbug to all the young whippersnappers with their thoughtless revels. I had a few conversations with friends where I prophesied second wave doom and gloom. Of course, one desperately wants things to be back to normal, so that businesses may trade again, but a part of me wants lessons to be drawn from the Covid crisis in terms of the way we conduct our lives, set up our communities, and assume responsibility for our actions. Sermonette over!
Meanwhile, in restaurant land, losing tables inside in order to achieve social distancing meant that all establishments took advantage of the great outdoors and creating virtual dining zones on the pavement. Going out was very different though. The nature of physical contact had changed; hugging was replaced by elbow-bumping and kisses were blown rather than planted. Wine lists were now something to be downloaded onto your phone. Other accommodations had to be made.
The urge to eat out stemmed from a mix of the support people wanted to show for the restaurant industry, also the desire for a change of surroundings and a feelgood social context.
***
Throughout the summer I had become dimly aware that there was more chatter than ever about natural wine. It was that thing called A Thing. We at Les Caves take it for granted, because we buy and sell wines of a particular style and tend to "think natural" or, at least, want to think natural. The increase in sales and awareness of natural wines during the lockdown period seemed to suggest that consumers were now much more prepared to spend more time sourcing something artisan and interesting. And spend more money too on their wine choices.
In June I was asked to do a seminar for the Dip Ed students on natural wine. All hail the guy who rose at 5.00 am in the morning in Hawaii to tune into my wise words! I was actually responding, or trying my best to respond, to a host of questions that had been mailed in. When one is studying for a diploma or similar, one, by definition, requires pithy unambiguous answers, but natural wine -for me – is always that celebration of the ambiguous and uncertain which naturally leads me into prime waffle territory. As soon as one digs into a subject, one discovers more and more layers, and finds that the truth is not something that can be easily cut and dried. Some of the questions were exceedingly specific. In one instance I was asked to try to put a figure on sales of natural wines for the whole world – and then to place an actual value on those sales. We're back to putting a girdle around the earth. I now make it one of the six impossible things I do before breakfast each day. Whatever random figure I do arrive at, via some Heath-Robinsonian extrapolations, no-one will be able to contradict me. Well, they can contradict me, but they can't prove that I am wrong, any more than I can prove that I am right!
***
This blog is strictly apolitical, but one could not fail to notice that throughout July, Insta and the social forums were a-twitter with a variety of hot political potatoes. The power of social media is in its license to present opinions as facts, to make unwarranted assumptions, to spread rumour and abusive gossip, on occasion, maliciously. At worst, it can result in a cancel culture that affects the reputation and livelihood of certain individuals, and once the poison is disseminated, it is very difficult to extract it from the body of the debate (so to speak). Our culture is becoming increasingly reactive rather than responsible; people need to examine issues fully and do their proper research rather than pressing a button and sharing a meme. It is right that people feel passionate about certain subjects and want to act on their ethical instincts; however, it is important not to lose sight of evidence and hard facts. Even the natural wine world, which is niche to say the least, has been infected by the poisonous nature of social media discourse. On the one hand this illustrates the connectedness of things, how specific important issues impinge upon all our lives, but, because we receive our information through the warped prism of social media and are overloaded with different points of view, then we are actually more disconnected from the real truth than ever.
***
From March through to the end of June I drank some of the best wines I have ever had. I chose what I was in the mood to drink and that helped. Plus many of the bottles received the assistance of benign Nature. When the sun is shining brilliantly, the wines seem happy and communicative. July was different, the weather was all over the place, but despite this there were some real standouts too…
2019 Sierra du Sud, Domaine Gramenon
Dreamy Syrah – more than purple, an explosion of violet scented fruit and garrigue
2019 Andrea Occhipinti Alea Rosa Rosato, Lazio
Red fruit, liquorice and balsamic notes
2019 FKK Rot Bianka & Daniel Schmitt, Rheinhessen
Frei Korper Kultur – a wine for picnics and pleasure. Bursting with dark red fruits, very juicy with the just enough tannin.
2019 Benoit Courault Le P'tit Chemin
The return of an old favourite. Waxy apple and pear fruit, rounded acidity, a hint of the smoky-schisty stuff.
2019 Benoit Courault Les Tabeneaux Rouge
A medium-bodied chillable blend of Cabernet Franc and Grolleau. It has a serious side, but is also fun. Wild cherries and gentle spicing.
2015 Savennières Roche aux Moines, Domaine aux Moines
Birthday dinner (my wife's) wine. Almost coiled at first, then revealing lots of angles and a hint of dry honey.
2013 Marie-Courtin Allegeance Rosé
One of my lockdown wines, reappearing here to accompany a fabulous takeaway seafood dinner from Richard Corrigan's restaurant, Daffodil Mulligan. Pale Pinot, with lovely mellow bubbles and super energy.
2019 Benoit Courault Eglantine Pet Nat Rosé
Cabernet Franc & Grolleau again in pink pet nat form this time. What a delight.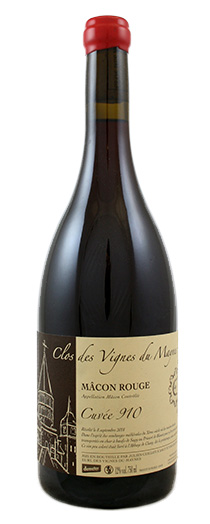 2019 Macon Rouge Cuvée 910, Clos des Vignes du Maynes
Having zoomed to this legendary estate last month and visited this vineyard, it was only right to broach a bottle. A field blend of Pinot Noir, Gamay and Chardonnay, a pale red with scintillating minerality.
2019 Fattoria di Vaira Vincenzo Bianco, Molise
Our new "house amber" hit the sweet spot.
2016 Et Pourtant, Domaine Valette
A powerhouse wine from a striking vintage. This is a wine that needs time and food. Superb.
2015 Arbois Pupillin Blanc, Overnoy Houillon
This wine carafed and enjoyed at my dinner out (Jackson Boxer's Brunswick Café). Words fail etc. A wine of deep revelation, variety irrelevant (Chardonnay for the record) drawing minerals through the soil into the glass.
2018 Fleurie Ultime, Yvon Metras
At the same dinner above, this made it two-for-two in the epiphany column. This is not Gamay, this is Metras, brooding and deep, but just cracking a glimmer of a smile.
2019 Poignée des Raisins, Domaine Gramenon
A fistful of Grenache grapes. In 18 and 19 vintages the Gramenon wines have hit a rich seam of form. This younger vines version is joyous with that extra lift from great farming and attentive winemaking.
2019 Summertown Blanc, Gentle Folk, Adelaide Hills
Surprising and delightful skin contact Sauvignon from our good friends at Gentle Folk. Ditch the gooseberries and say hello to the apricots.
2019 Syrah, Hervé Souhaut, Ardèche
One of my favourite N. Rhone Syrahs. Even in this warm vintage, the fruit is cool, the texture silky.
To be continued…
*
Interested in finding more about the wines mentioned? Contact us directly:
shop@lescaves.co.uk |  sales@lescaves.co.uk | 01483 538820
*Note: We are still open for business, doing deliveries, and keen to help everyone with their booze needs in this difficult time. Natural wine lovers can visit our online shop and order online!