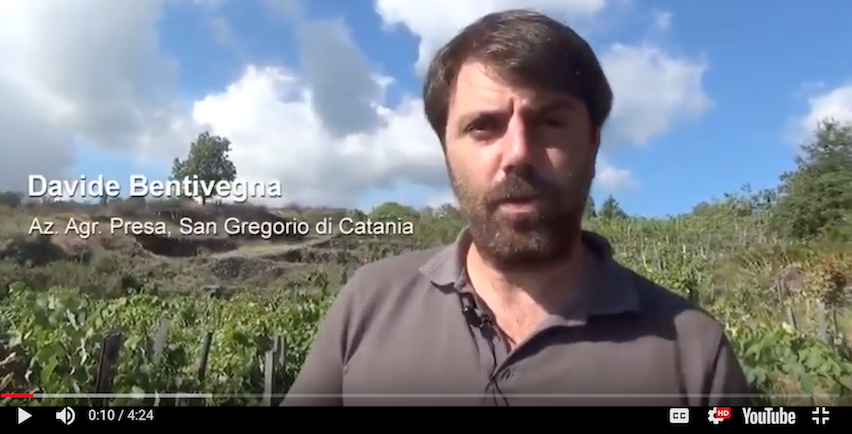 Davide Bentivegna, Etnella's founder, having worked for the German company Siemens, left his position to follow his dream to make wine. He had no previous experience or inherited land, so all had to be created from scratch. From day one, Davide wanted to focus on organic farming and natural wine making. Everything kicked off in 2008, but it was in 2010 when the first wine, "Notti Stellate" Etna Rosso was bottled from the first vineyard located in Contrada Galfina in Linguaglossa.
From then on, the company began acquiring more land and developing into a complex reality, always keeping an artisan and sustainable approach guided by strong ethics. The firm belief is a conception that is above all humanistic: promoting a responsibility towards the environment, the community, the customers, and the future.
Petrosa is a deep dark red, with aromas of small, cooked red cherries and plums, Mediterranean herbs, pronounced balsamic scents and sweet spices
Today Davide has created a solid team with a common objective: respect the land, respect each other and produce happiness!
To the practicalities. Each contrada is treated separately, as each parcel has its own distinct lava stratification, microclimate, and exposition. The resulting wines are a panoply of various expressions of Etna's terroir. Also important are the extreme weather conditions and drastic diurnal shifts (an average of 16°C between day and night) that contribute to wines of great phenolic profile, complexity and longevity.
Th vineyards are trained in alberello style (bush-training), an ancient method traditionally used on Etna. The vines are planted on land that is terraced with dry-stone walls, constructed with the local volcanic stones so omnipresent on Etna's slopes. The close proximity of the vines (6,000 – 9,000 plants per hectare) creates fierce competition and forces the roots to downwards in the volcanic soil in search of water and nutrients.
Villa Petrosa is from 70-120-year-old Nerello Mascalese vines in the contrada Santo Spirito, grown in a rocky volcanic soil at 780 metres above sea level.
Etnella respect the ancient traditions of farming on Etna, also following lunar phases to guide their work in vineyard and winery. They farm attentively, with very low use of only copper and sulphur, and the majority of the work is performed manually. Grapes are fermented with their own indigenous yeasts and Etnella adhere to the Vinnatur disciplinary code of having a maximum total of 40 mg sulphites on white wine and 30 mg on reds.
Petrosa is vinified in stainless vats. Maceration takes place for 59 hours and spontaneous fermentation occurs with indigenous yeasts, before the wine is matured in small stainless steel and chestnut barrels for a further six months, before the wine is bottled without filtration or fining and a tiny amount of sulphur.
Petrosa is a deep dark red, with aromas of small, cooked red cherries and plums, Mediterranean herbs, pronounced balsamic scents and sweet spices (cinnamon and five spice). Despite the heady alcohol, it is fresh in the mouth and mineral, with pleasing well-integrated tannins and nice persistence.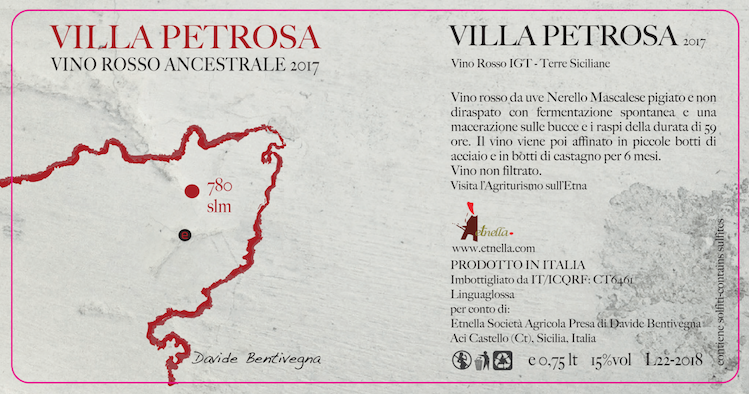 2017 Etnella Villa Petrosa Rosso IGT Terre Siciliane
*
Interested in finding more about the wines of Etnella? Contact us directly:
shop@lescaves.co.uk |  sales@lescaves.co.uk | 01483 538820