Read Part One here.
A recent report (voted by "experts") listed the Top Fifty Vineyards in the World. It seemed more about companies with edifice complexes, than anything to do vineyards, vines, terroir and the people involved in making the wine. The quality of tourist facilities, fanciness of the restaurants, architectural meretriciousness and opulent surroundings were evidently the criteria for inclusion.
Making wine in a cathedral or palace is all very well. Yet there is more glory in wine in a single vineyard micro-organism than in a shiny glass-and-steel visitor centre. Without sensitive farming, wine is an empty vessel. If you're not working by hand, close to the land, sustainably, organically, preferably biodynamically, making nature your intuitive place of worship, giving birth to something which has its own independent life and a sense of integrity, then you are creating a brand, either something as functional as booze, or a luxury product that consumers aspire to be able to drink, or aspire to own.
The criteria based on this selection of top vineyards are based on certain feelings, in that when you are amongst the vines, you may sense a kind of radiant energy of teeming life and the internal communion of grasses, flowers, insects and birds, Also, you will experience beauty, not tied-up-in-a-ribbon prettiness and primly-mown-grass-between-the-rows beauty, but the beauty of unkempt throbbing elemental nature, wherein the vineyards are a very part of the landscape and the landscape is part of the vineyards (as opposed to being a monoculture).
Listing to the left field
Here are ten from the left field – in no particular order – a personal list of top vineyards. Not only do they ooze charisma, but when you taste the wines you sense the place behind them – even if you've never been to that place:
Lerchenfeld, Andert-Wein – The Medicine Garden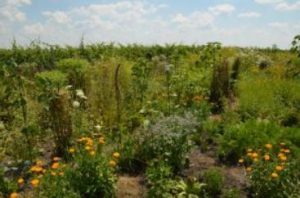 The location of this vineyard is in itself unremarkable, being a flat piece of land that was once under water (the marshes around here were drained some time ago) although some of the boggy, low-lying areas still host an extraordinary variety of birds. This small vineyard is vibrating with life. The Anderts have installed a box in a lone tree at one end of the row of vines for falcons to nest in. Herbs and grasses grow bountifully– spring onions, leeks, fennel, wild garlic, oregano and countless other herbs, edible (as it turns out) flowers and weeds. Alternate rows are left to grow very high – these apparently are the "snake runs", those friendly serpents being the best deterrent to the small rodents that can do much damage to the vines. Michael stops and stoops occasionally plucking a plant and enjoins me to nibble this flower or that leaf. Whether it is the effect of the sun beating down and the earth warming up but even the bitter leaves taste nourishing. Pesky deer are kept away by the old- fashioned expedient of a wild boar's hide draped over the wires. A flock of mixed sheep (including a rare local breed) are grazing in neighbouring pasture, whilst cockerels, guinea fowls, ducks and geese gabble loquaciously in the adjacent pen.
This is biodynamics felt in the heart and practised with the head. Michael and Erich have noticed a palpable improvement in the wines since they have moved to this type of farming: "The wines are gaining individuality and have more character. Also, they are more digestible and more stable. Due to the ageing in oak barrels in our cellar, the complexity of the wines is underlined, which ensures a long shelf life."
Talking to natural growers, it's clear that they view treating the vineyard as a living organism, as well as working without chemicals or additives in the winery, as a prerequisite for making quality wine. There is a certain Occam's razor logic to this approach –that by not over-complicating procedures you arrive naturally at a truth-in-wine. Biodynamics is predicated on observing and responding to the needs of the vineyard rather than following a prescriptive course of action. Working responsively in the vines tends to be mirrored in the actions in the winery. Knowing what you have (in the quality of grapes) means that you tend to do what you feel is right. It is not pure science – there is intuition, gut instinct, feel and taste.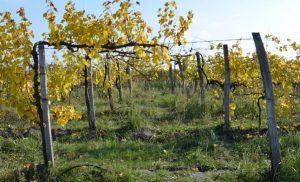 Michael is a farmer. He is as proud of his livestock as his vineyard. He strides, even bounds between the vines, taking deep breaths as if he wanted to inhale the entirety of his surroundings. He has also created a garden, one exploding with flowers and plants. A narrow path wends serendipitously through clumps and clusters of undergrowth, across little wooden bridges over small ponds populated with frogs. We wander by some beehives and discover little clearings populated by strange mud and stone creatures and poppets. Cow horns are ubiquitous – the symbols of fertility are rife. Occasionally, one will find an improving text from Goethe or Confucius nailed to a fence post, jolly exhortations, hailing and hugging nature. A harbour for wild life rather than a monoculture of grape growing the vineyard is part of this celebration. And it is so much more. Andert makes his garden an everywhere and reminds one that nature is therapeutic. Medicines are made from extracts of herbs and plants, and victual nourishment too, and, of course, there is the wine – one cannot but laugh with pleasure at the sheer loving immersion in a place that is humming on every level.
Château de Pibarnon – Location, Location, Location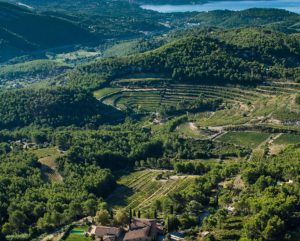 Château de Pibarnon's greatness owes much to the passion of Comte de Saint Victor who bought the property when he fell in love with its wine on holiday and subsequently restored the 13th century Provençal country house and the vineyards, which were in disarray. Château de Pibarnon is located to the north of Bandol on the Télégraphe hill, which was once part of the Toulon-Paris optical telegraph system.
The Comte enlarged the estate carving new terraces out of the calcareous soil. The hill whereon the vineyard parcels are located is a geographical oddity, containing Triassic limestone – very different to the granite and other soils in the region. This, and the altitude to 300 metres, explain Pibarnon's great elegance and aromatic finesse. The Mourvèdre vines are protected from the fierce Mistral by the semi-circular amphitheatre of terraces. Vineyards tasks are carried out by hand: severe selection means low yields. There is rigorous adherence to quality in the vineyard, including careful (and traditional) gobelet training, green harvesting (removal and disposal of some bunches of grapes from the vine before ripening begins) and keeping yields less than 40 hl/ha. The vines themselves are predominantly Mourvèdre, this grape dominating the red wine that is the only such wine produced by the château – no super-cuvées here. In addition, there is a fine rosé produced by the saignée method (bleeding the juice off the red grapes following sufficient contact to impart the pink colour) from young Mourvèdre and Cinsault vines, as well as a white wine, produced from the traditional varieties of the region; Clairette, Bourboulenc, Marsanne, Roussanne.
It is not always the case that beautiful vineyards in beautiful locations make for beautiful wines, but as with the wines of Mas de Daumas Gassac, the wines are handled with respect for the primacy of terroir.
Les Cailloux du Paradis, Claude & Etienne Courtois – The Art of Nature
Although this list focuses more on discrete blocks of vines, sometimes you come across an enterprise where every row and every vine is treated with such respect that you ought not to highlight one above another. Les Cailloux du Paradis is actually two different vineyards (Les Cailloux and Le Paradis), different soils, some sandy, some stony, but the sensibility that farms them is the same.
Claude Courtois created a small farm which exempli?es what biodynamics is all about in terms of biodiversity and self-sufficiency, although he does not consider himself to be a biodynamic grower. Claude is not fond of being pigeon-holed or have his methods categorized. Recently, he has handed the reins to one of his sons, Etienne, and just kept a couple of hectares for himself. Together they farm a balanced & completely chemical-free 13 hectares of vines in the heart of the Sologne. Courtois also grows organic wheat, which he feeds to his cows who provide the manure for the vines. "Nothing comes into my vineyard," he says, meaning no chemicals ever. He has created a well-balanced, bio-diversity with trees, fruit trees, vines, woods & fields. No pesticides, herbicides, fungicides, chemical fertilizers, or synthetic chemicals of any kind are allowed on the vines or in the soil of the vineyards. He has his own methods for promoting the diverse life of the soil. The grapes – Gamay, Cabernet Franc, Côt (Malbec), Pinot Noir, Cabernet Sauvignon, Sauvignon Blanc, Romorantin & Pineau d' Aunis and maybe up to a further forty varieties (ye dare not ask)—are harvested by hand and only indigenous yeasts are used during fermentation.
Claude regards the soil on his farm as a living organism. He lives in harmony with nature & the wines he crafts are a pure and vibrantly alive testament to outstanding biodynamic winemaking. I mean winemaking. The wines here aren't submitted to a rigid temperature control and there are fluctuations along the seasons, which doesn't seem to harm the wines, it could even make them more apt to stand their SO2-free life without accident. With Courtois you should not speak about the variety. It is always about the terroir of the cuvée. There are probably around twenty cuvées, made by design, or caprice, or the restless desire to experiment and push boundaries.
Domaine Arretxea – Wines That Please in the Pyrenees
Protected from northerly and maritime winds by the mountains, the Irouléguy region enjoys a very favourable microclimate. Autumns are warm, thanks mainly to the southerly winds that arrive in September and October and help to ripen the grapes. Michel and Therese Riouspeyrous own 8ha of vines, farming the two Mansengs, Tannat and the two Cabs on steep, terraced vineyards on diverse terroirs (grès, schistes, ampélites, ophites).
Since 1993 they have eradicated the use of chemicals, pesticides and any synthetic sprays in their vineyard. Once certified as organic, Thérèse and Michel then pushed on towards the next logical progression: biodynamics. The wines are exhilarating, the product of climate, exposition, interesting grape blends and low-intervention winemaking.
Monte de Grazia – Vines Like Tree Trunks
Another vineyard in a stunning location blessed with a beautiful microclimate and planted to historic varieties.
Alfonso Arpina's vineyard holding is tiny, a mere 2.7 ha located in the commune of Tramonti, in the heart of the Monte Lattari and a stone's throw away from Costa d'Amalfi while 45 km from Naples. The terraces on which the vineyards have been planted consist of volcanic ashes, originating from former eruptions of the nearby Vesuvius as well as red clayey soils. Although a secluded spot, there is continuous ventilation coming from the nearby coast as well as inland winds blowing from the north, which not only have a mitigating effect in summer as well as winter, but the constant thermal movements provide to the special microclimate in this part of the hills. A delicious peculiarity.
Consider 120-year-old ungrafted vines unaffected by phylloxera, the most venerable examples looking like old trees with thick trunks. Organic methods used at Monte di Grazia also further limit the yields. The vines were planted in the traditional "tendone method", their leaves trained to form a canopy that protects the grapes from the sun. It is like a pergola with an overhead trellis from which the grapes hang down. The poles that hold up the tendone are made of chestnut wood from trees in the nearby hills and the vine "branches" are attached to the tendone by willow shoots. All the grapes are naturally picked by hand (usually in the first ten days of November) and yields are typically low: 30 hl/ha. Different vineyards are vinified separately and, while malolactic fermentation is hoped for, it does not always occur.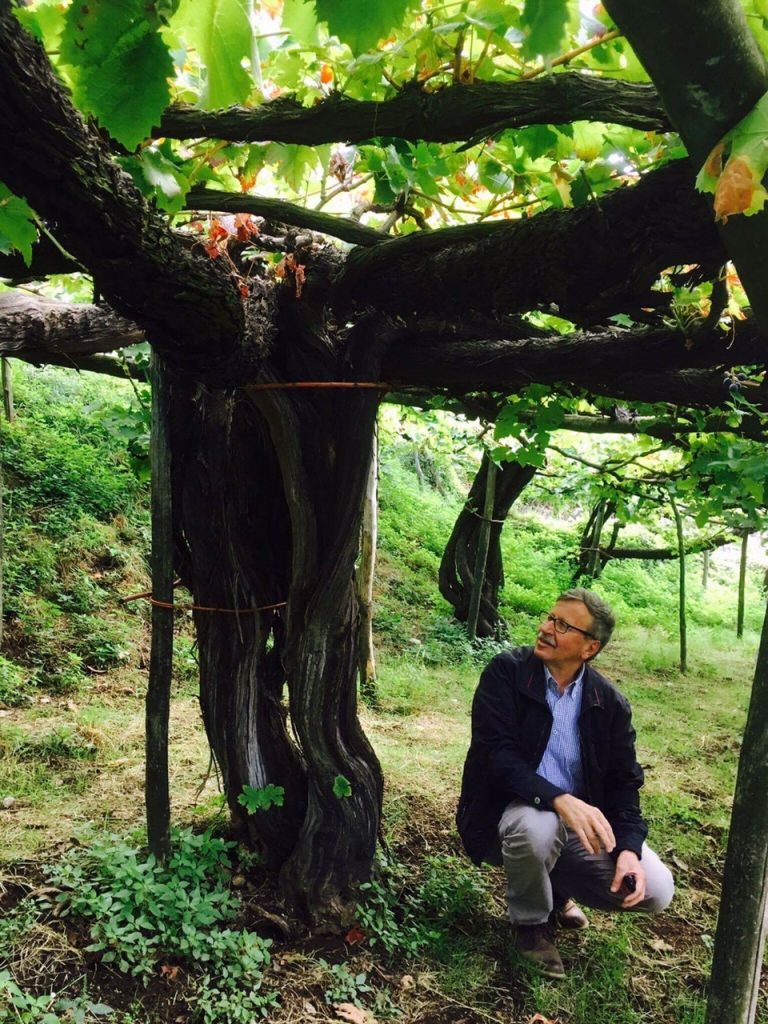 The red grape, Tintore di Tramonti (90%), (the remainder being Piedirosso) is grown almost exclusively in the Monte Lattari Valley and belongs to the Teinturier family. The flesh and the juice of these grapes are red in colour. The anthocyanin pigments accumulate in the grape berry itself. The free run juice is therefore red. The ageing period is brief and takes place in big barrels followed by a further twelve months in bottle before release. There is another red in a fruitier idiom, a rose and a white from local grape varieties.
Vino di Anna – Aspects of Etna
Anna Martens and Eric Narioo started making wine together on Mount Etna, Sicily in 2008.They created "Vino di Anna" in 2010. They now own several hectares of old vine Nerello Mascalese, which they farm organically. They purchased an old winery and Palmento in 2010 which they have restored.
All wines are made with minimal intervention, indigenous yeasts, no additives, no fining or filtering and little or no SO2 additions. A variety of fermentation vessels are used; a traditional Etnean palmento, stainless steel, wood and qvevri. Nerello Mascalese is the principal black grape, co-planted with small quantities of Nerello Cappuccio and Alicante (Grenache). The white wines are made from field blends based on the local varieties Grecanico, Carricante and Catarratto grown at high altitudes.
The terroir is magical with small vineyards at range of altitudes from 760 m – 1200 metres. Soils are variable and include black basalt, clay and red volcanic sand. The vineyards comprise old bush vines (60 – 100 years old), which are farmed organically and some biodynamically.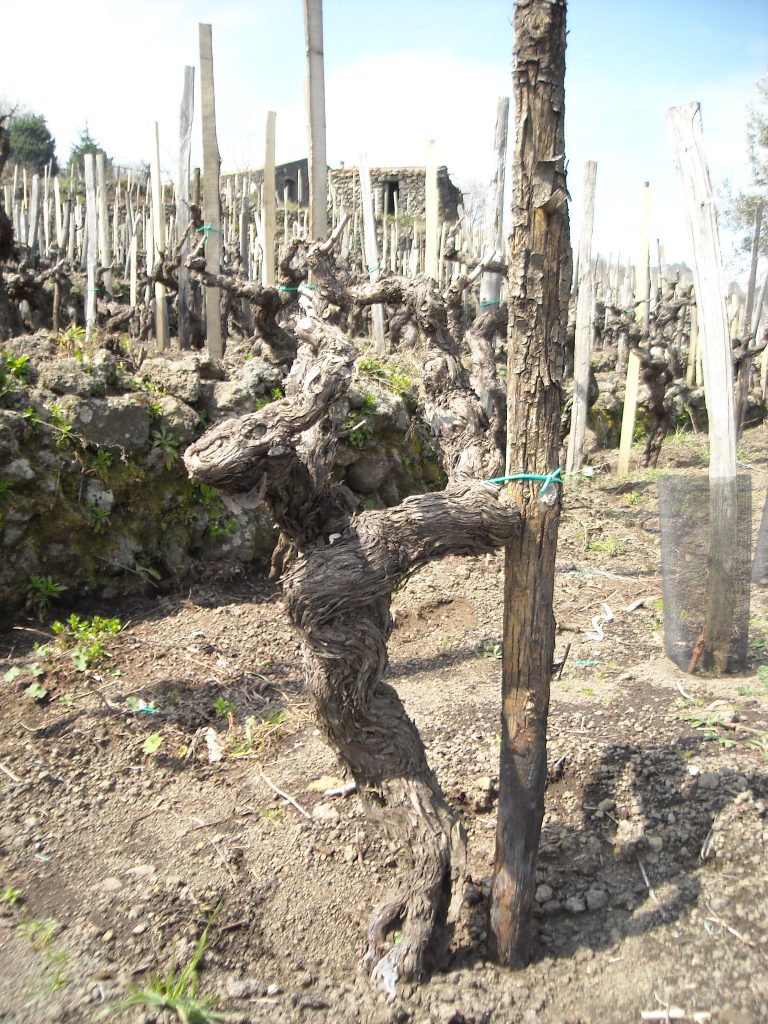 Bosco Vineyard, I Vigneri – Field Blend From On High
Vinudilice comes from the Bosco vineyard, nestled in a vast forest of holly oaks (quercus ilex) in the territory of Bronte (Etna North), 1300m above sea level. The Sicilian name of the holly oak, ilice, gives it its name. Vigna Bosco is one of the highest vineyards in Europe, and boy do we know about high vineyards. Extremity of location is in itself no guarantor of great wine, but this tiny plot is farmed and vinified with real love to produce a wine that is neither red, white nor rosé, but a signature amalgam of place.
The indigenous mish-mashed grape varietals are Alicante, Grecanico, Minella Bianco, Minella Nera, Nerello Cappuccio. The 0.35-hectare vineyard is ancient with most vines being over 100 years old and a venerable third being more than 200 years old (!!), all trained according to the Etnean alberello (bush-training) system in a 1m x 1m scheme, equivalent to 10,000 vines per hectare.
This tiny patch of land is cultivated by hand and with the help of Ciccio the mule. The soil is ash and sand with the volcanic rock outcrops as well. The extreme temperature fluctuations in the vineyard give rise to grapes that are ripe yet delicate and the elevation ensures that a high level of acidity is always present giving the resultant wine a freshness and vibrancy alongside density and depth.
No chemicals in the vineyard, natch, and natch winemaking all the way with no refrigeration, yeasts or filtration used. Or sulphur. For good biodynamic measure decanting and bottling follow the phases of the moon. Salmon in colour, the wine is delicate and extremely fine with a core of ripe boysenberry and raspberry fruit, a nice lick of juniper and a hint of cool wet rocks on the finish. Fresh, vibrant and long on the palate this is an incredibly pure wine from an incredible site.
Filagnotti Vineyard, Cascina Ulivi – Biodynamics and Biodiversity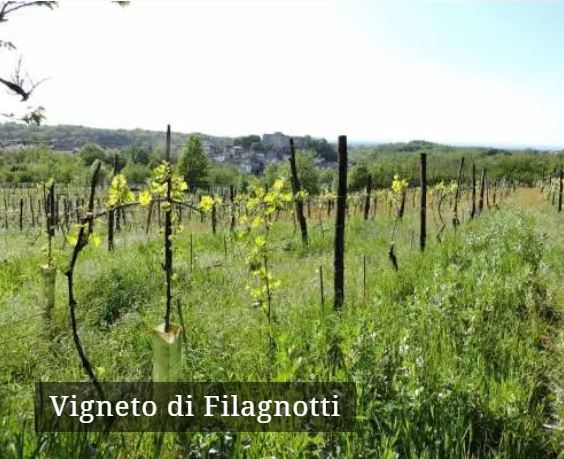 In addition to grapes, this estate has a diversified production of fruits, vegetables and cereals, and keeps a variety of farm animals. Stefano Bellotti began as an eighteen-year old in 1977, reclaiming the family farm where there was less than 1 hectare of vineyard in existing use. Stefano died last year, but his legacy lives on in the beautiful natural vineyards and in his farm.
Stefano believed in clonal diversity and massale selection, each vine with its grapes being an instrument in the overall orchestra. As a result, the Ulivi wines have a wonderful textural complexity to them. They are also raw wines, wild and powerful.
An old vines co-planted parcel in Filagnotti comprising Timorasso, Verdea, Bosco, Riesling Italico and Chasselas is responsible for the field blend called A Demua, a wine fermented and aged for ninety days on grape skins. A truly elegant wine with a complex nose suggesting white fruits, rosemary and orange zest; a dry and elegant wine, with a long finish. "Such a versatile wine. A Demûa, "the enjoyment" in Genovese dialect, fits with any occasion; it's the white wine of winter and the red wine of summer. After this very long maceration, the tannins are very tight and fine at the same time, making it highly drinkable."
Côte du Py, Domaine Jean & Agnes Foillard – Unique Slice of Py
The fabled Côte du Py is a climate of the Morgon Appellation where the vineyards grow on slopes with crumbly schists soil that give Gamay a unique expression. The hill is actually an extinct volcano, with lots of different types of soils depending of the plots. If the appellation of Morgon is known for one thing, it would have to be the soil. Crumbling granite and ancient schist are trademarks of the regions soil, even sandstone makes an appearance to enhance vines with a perfumed edge.
Jean Foillard and is universally recognised as one of the very best Beaujolais producers, and is one of the band of four of Morgon with Guy Breton, Jean-Paul Thevenet and the late Marcel Lapierre, who are all disciples and practitioners of the works of Jules Chauvet on non-sulphured vinification. Jean met Jules Chauvet early in his career and became an unofficial member of "La Bande a Marcel". Chauvet's mantra was that winemaking should be a natural process. He felt that great winemaking started in the vineyard with vigorous canopy management, absolutely no use of chemicals on the vines, low or no use of sulphur etc. To Jean, this all made sense and he's remained true to these philosophies ever since.
Jean makes the Côte du Py every year. It is a wine that truly reflects the vintage, dark and powerful in hotter years, restrained and elegant in the cooler ones, always worthy of ageing. In exceptional vintages, he makes a wine called ? (or 3.14) from a tiny plot of the oldest vines.
Hervé Souhaut – Granity's Rainbow
Hervé Souhaut created Domaine Romaneaux-Destezet in 1993. He works 5-hectares of old and ancient vines—between 50 to 100 years old. The domaine is located further into the hills of the Northern Ardèche in the tiny town of Arlebosc. The winery is underneath the 16th century "les romaneaux" fortified farm and sits in the middle of the vines that make up the Souteronne, Syrah, and white cuvées.
Located on the right bank of the Rhone valley, opposite the Hermitage Hills. This soil has always been recognized as being one of the best areas for wine production, thanks to its south-eastern and southern exposure and to the hot climate of the Doux river delta. The soil is consisted of a strong acidic granite (base hercynien, crystalline lens).
Clos des Vignes du Maynes, Julien Guillot – Cracking Mâcon
Vineyard planted in 910 by the monks from the Abbey of Cluny. One of the oldest certified organic vineyards in France – now biodynamic – a culture of traditional farming meets natural winemaking to thrilling effect. Julien Guillot's father was practising organics in the 1970s, but probably no chemicals touched the vineyard for over a thousand years.
And if one vineyard in France could stand for the notion of terroir it might be this one. Even before the monks themselves laboured on the land, there is evidence from overhead photography, that the Romans planted vines here, perhaps recognising something unique in the soil and the microclimate. In honour of the history of the site, Clos des Vignes du Maynes release a cuvee called 910, a take on the field blend (Pinot Noir – including an old clone, Gamay and Chardonnay are harvested and co-fermented).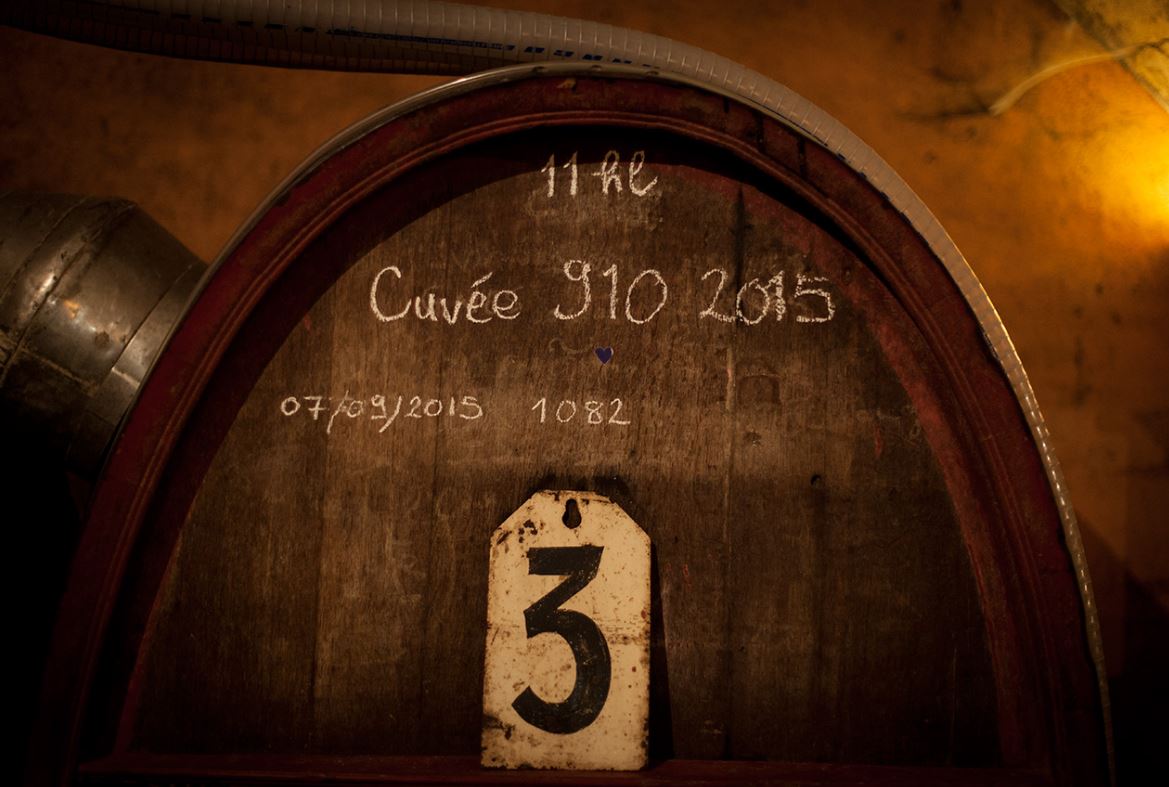 Elms Vineyard, Felton Road – All of a Cromwell Basin
Founded by Stewart Elms and owned by Nigel Greening since 2000, Felton Road is a specialist wine producer making a small range of limited bottlings which express the terroir and minerality of vineyard blocks and sites, and the regionality of Bannockburn in Central Otago.
The vineyards are nestled into mesoclimates totally surrounded by high mountains, many of which are snow-capped all year round. Though the location is on the edge of sustainable viticulture, these climates consistently combine hot days, cool nights and long, dry autumns. The north-facing slopes at the end of Felton Road are identified as being one of the warmest and most ideal sites in Central Otago for the growing and production of premium wine. The three different soils identified are free draining with low fertility characteristics, and combined with the unique climate, are ideal for the production of premium quality Pinot Noir, Chardonnay and Riesling.
Block 5 is situated on a gentle north facing slope in the heart of The Elms vineyard and was planted in 1993. The soils vary up the slope from heavy loess and silt, clay and angular schist gravels.
When you stand in front of the winery, you will look down towards a large aquamarine glacial lake, then gaze up at the ring of snow-peaked mountains, inhale the scent of wild thyme that seems to grow everywhere in this part of Central Otago and bask in the extraordinary quality of the light. The vineyard seems to be nurtured by the surroundings and very much at one with them.
*
This is just a sample of the beautiful vineyards that our wines hail from. There are many more all worthy of inclusion in our completely arbitrary list. Stay tuned for Part Two of our Alternative Top 50 Vineyards, where we'll continue on our tour of polycultural perfection, terroir, vines and flora!
Interested in finding out more about the wineries mentioned? Contact us directly:
shop@lescaves.co.uk |  sales@lescaves.co.uk | 01483 538820