The badger's nadgers
The Monte di Grazia estate is located in Campania in the town of Tramonti, inland and up from the Amalfi Coast, in the Lattari Mountains.  It's a cool, breezy microclimate and an isolated place. The terraces on which the vineyards have been planted consist of volcanic ashes, originating from former eruptions of the nearby Vesuvius as well as red clayey soils. Although a secluded spot, there is continuous ventilation coming from the nearby coast as well as inland winds blowing from the north, which not only have a mitigating effect in summer as well as winter, but the constant thermal movements provide a special microclimate in this part of the hills. A delicious peculiarity.  This isolation, combined with altitude and volcanic soil, is also the reason why Tramonti is a pristine pocket of pre-phylloxera grapes. Alfonso Arpino, a paediatrician from the town, established the estate in 2004 out of love and respect for these old vines. His children, Olivia and Fortunato, are also involved in the operation, and today, the Arpino family farms 3.2 hectares of certified organic vineyards, as well as a hectare each of a lemon orchard and a chestnut grove.
These vines are among the oldest vines in Italy: most are over 100 years old, with a few gnarled citizens approaching 300 years old and the trunks are girthy as those of trees.
The grape vines are ungrafted and trained in giant pergolas known locally as tendone, their leaves form a canopy that protects the grapes from the sun. It is like a pergola with an overhead trellis from which the grapes hang down. The poles that hold up the tendone are made of chestnut wood from trees in the nearby hills and the vine "branches" are attached to the tendone by willow shoots. All the grapes are naturally picked by hand (usually in the first ten days of November) and yields are typically low. Different vineyards are vinified separately. These vines are among the oldest vines in Italy: most are over 100 years old, with a few gnarled citizens approaching 300 years old and the trunks are girthy as those of trees. Replanting is done via propaggine, in which a cane from an existing plant is bent towards the earth and partially buried there, allowing it to take root.  The red varieties are the local Tintore di Tramonti, Piedirosso, Moscio, Sciascinoso, Olivella, and the whites are Pepella, Biancatenera, and Ginestra. Tintore is grown almost exclusively in the Monte Lattari Valley and belongs to the teinturier family. The flesh and the juice of these grapes are red in colour. The anthocyanin pigments accumulate in the grape berry itself. The free run juice is therefore red.
The red called Melogna comes from their highest vineyard, the word being dialect for the badgers that potter around up there.
It's a field blend from the younger vines of 60% Piedirosso, 30% Tintore di Tramonti, 4% Moscio, 3% Olivella, and 3% Sciascinoso, from a 0.3ha pergola plot at 600m planted 30 years ago, that harkens back to old-school farmer wines. The hand-harvested grapes are co-fermented in open-topped tanks with native yeasts, softly pressed after 5-6 days and complete fermentation in stainless. After a couple of months the juice is racked off the lees to other tanks and settles for a further eight months before bottling with minimal added sulphites. Bright, juicy red, happy, sappy and light-bodied with hints of spice and a refreshing earthy quality, it is what pizzas were designed for and vice versa.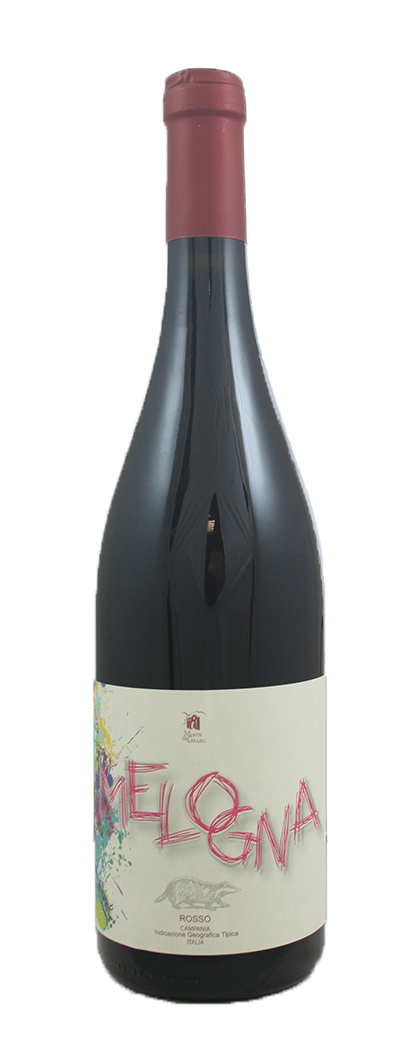 The Monte di Grazia Rosso is 90% Tintore di Tramonti and 10% Piedirosso from three parcels planted at altitudes between 270-600m, planted in pergola. The vines are anything between 25 years and over 120 ++. Harvest takes places at the end of October/early November, depending on vintage. This wine undergoes spontaneous fermentation in tank with 15-days of maceration followed by ageing in stainless steel for three years and then normally a short period in chestnut barrels. Dark in colour, almost black-violet, the nose invites you in with bright cherry and stalky dark fruits. Plum, spice and lots of dark fruits, with succulent red and dark fruit palate, with hallmark freshness. The sapidity of the wine is remarkable.
Finally, there is the Monte di Grazia Bianco. 40% Ginestra, 40% Biancatenera, and 20% Pepella. The grapes for this wine come from 5 different parcels totalling 1.2 hectares, between 270 and 600m, with soil rich in volcanic pumice. The vines are also planted in tendone and range from 25-120++ years old. Yields are generally very low (about 17 hl/ha).  The grapes are destemmed, pressed and fermented spontaneously in stainless steel and aged in same for 6 months with a further year in bottle. It's chalky-dry and super-saline with flickers of citrus. One for the oysters in your life.
2019 Monte di Grazia Bianco
2020 Melogna Rosso
2017 Monte di Grazia Rosso