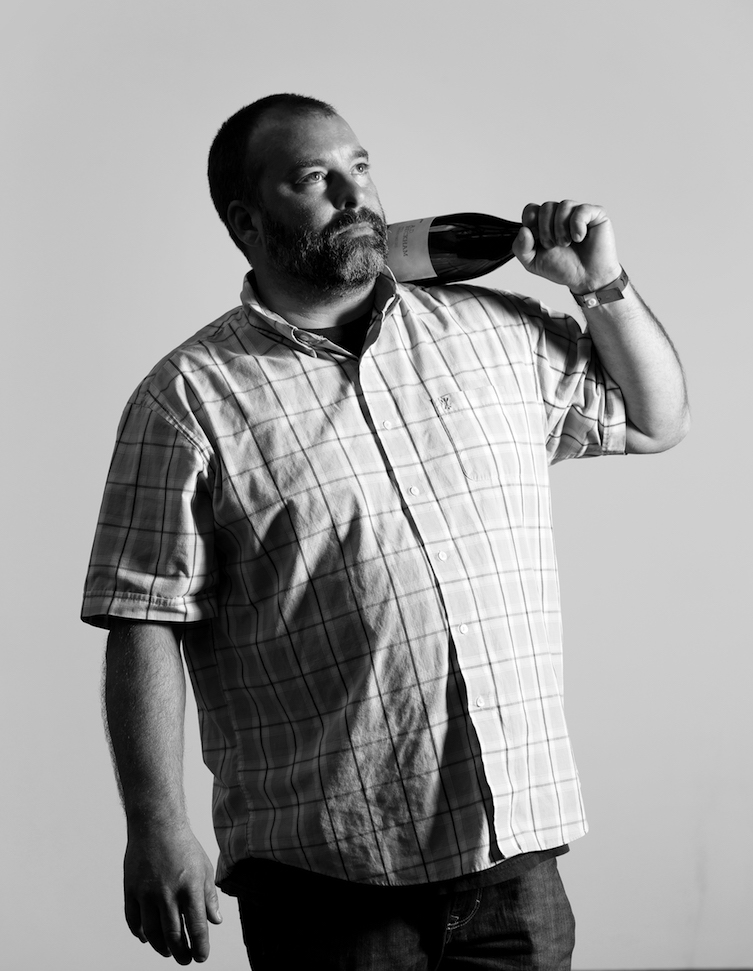 In 2004, Andrew, a ceramics artist and High School ceramist teacher and his wife Annedria, purchased land on the Parrett Mountain in the Chehalem Mountains AVA near Sherwood, to build a studio for Andrew's budding art career. They were inspired by their neighbours with 20-year-old vines to begin growing Pinot Noir. In late winter of 2005, they began clearing 60-year-old Douglas Fir trees and began to plant the first two acres of self-rooted and dry-farmed Pinot Noir vines. Each year they made progress and to date they have 28 acres with 6.5 acres planted to 4 clones of Pinot Noir and a further acre planted to Riesling. Another 7 acres of North American rootstock were planted in 2014 with plans to graft to Chardonnay, Gamay, Trousseau and Sauvignon.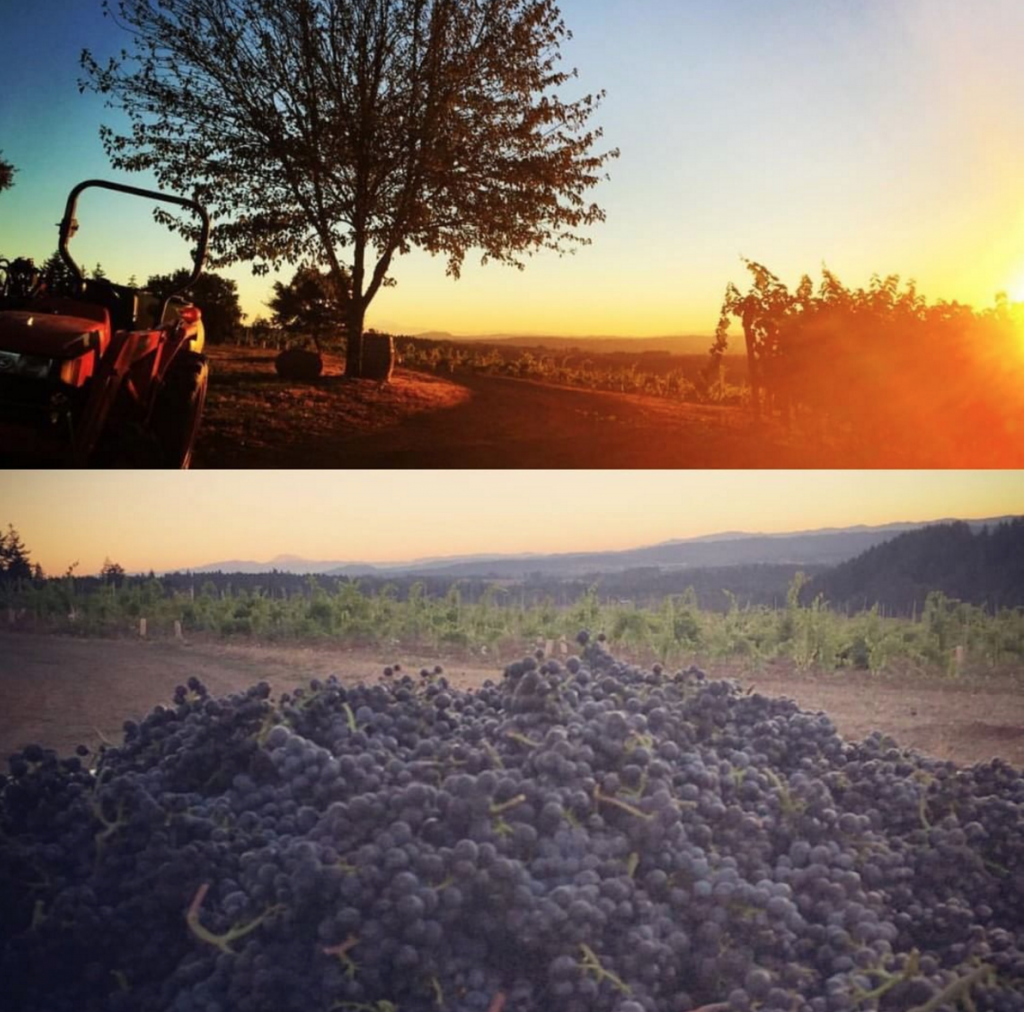 In 2013 the "Amphorae Project" began as an attempt to marry Andrew's two passions–making wine and making art. Drawing inspiration from Elisabetta Foradori of Italy, Andrew began experimenting with producing wine in amphorae. The terracotta amphorae are incredible insulators. The fermentation in amphorae has been much cooler and more prolonged compared to conventional fermentation vessels. Fermenting in amphorae means natural temperature control. Primary fermentation takes around three weeks to a month for completion. Largely because of the cool and prolonged fermentation, the wines issuing from amphorae are bright, high-toned and very compelling. Ageing wines in the vessels has also yielded some incredibly interesting results. There is a common textural component similar to dusty brick, particularly noticeable in the Pinot Gris and the Pinot Noir. There exists an iron-driven earth tone, regardless of varietal. The A.D. Beckham Amphora wines are fermented with native yeasts, no commercial inoculation, are unfined and unfiltered and have no sulphur – and then only a tiny amount – added until just before bottling.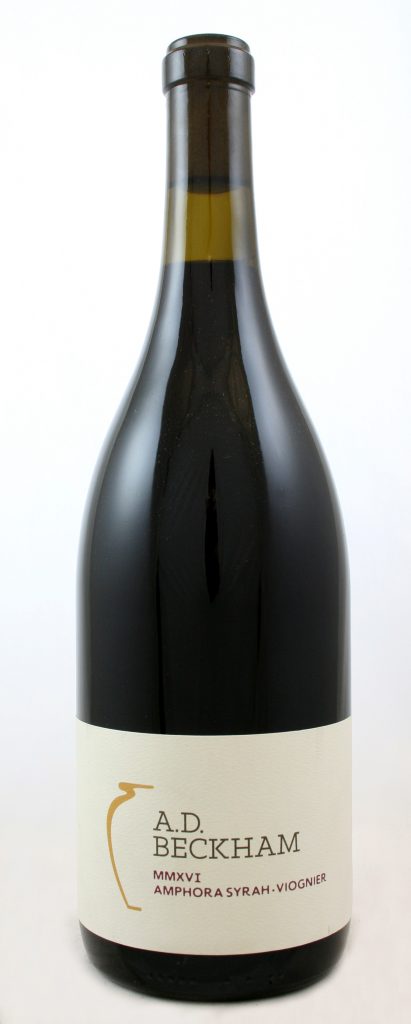 The grapes for the Syrah/Viognier are sourced from the White Family Vineyard in the Applegate Valley. Both the Syrah and Viognier fruit were de-stemmed and the Viognier was partially pressed with a portion of juice removed and used in another blend. The remaining Viognier juice and skins were added to the Syrah resulting in an approximate 83% Syrah and 17% Viognier co-ferment in amphora with no added yeast or SO2 additions and ages both in amphora and neutral French oak for ten months. Bright and high-toned with flavours of raspberry accented by hints of savoury spices and white pepper. The Viognier acts as an ameliorating presence and the wine comes in at a very pleasing and balanced 12.5% abv.
The Pinot Gris comes from an unirrigated organically-farmed vineyard (Antiquum Farm) on thin Bellpine soils (silty clay-loam over sandstone parent material) and manually-harvested grapes which are destemmed. 100% amphora fermented in vessels of varying sizes. Half the wine spent 40 days on skins and was pressed to age in acacia. The other half remained for 10 months on skins in amphora and never moved nor pressed.
Natural malo, no filtration, no fining and no sulphur. According to Andrew, the acacia adds spice without sweetness. Hazy garnet-hued with aromas of red plum and ripe cherry and a gentle warmth nicely offset with hints of cherry skin, wild herbs and earth. A remarkable wine, served cool rather than chilled, and from a carafe.
2016 A & D Beckham Pinot Gris Amphora
2016 A & D Beckham Syrah-Viognier Amphora
*
Interested in finding out more about the wines of Beckham Estate? Contact us directly:
shop@lescaves.co.uk |  sales@lescaves.co.uk | 01483 538820