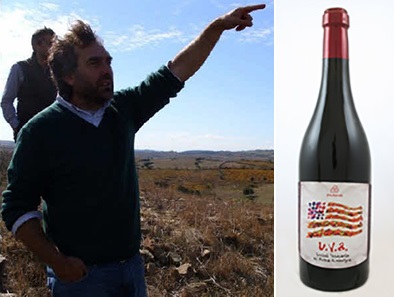 Pull up an armchair and warm your interest in wine at the crackling fire of extreme passion. This is the story of Gianfranco Manca, formerly a baker, who, having taken over his uncle's bakery made delicious, prize-worthy Sardinian breads, decided to use his yeasty experience to naturally vinify some wines.
And never, other than his Alvas, does a wine that he produces have the same name. Because, as far as Gianfranco is concerned, every wine is the unique experience of the vintage and the intuition that goes into those multiple decisions that inform his winemaking.
With the bakery originally there also came some plots of land with some very old vines that had somehow remained although practically neglected for years. Panevino – you can see where I am going with this. The vines were trained in albarello, the traditional bush-system used on the islands of Italy, numbered over forty different varieties, but mainly Cannonau. Since he was already an expert at fermentation with bread, Gianfranco believed the natural progression would be to understand wine fermentation with the help of these vines. He set about rehabilitating the old vines and planted a parcel of new vines of Monica and Carignano del Sulcis, the local strain of the famous grape.
Although he started making wine in the mid 80's it wasn't until 2005 that he was ready to put a label on it and offer his interpretation to the rest of the world. "Following the steps of my family that lives the vineyard life since over a century, "panevino" ("breadwine") is born. Why panevino? Panevino is the essence, the essential, simplicity, daily life, celebration, truth: Daily life turned into celebration, celebration every day. All that I bring it with me in the vineyard, I hoe it, prune it… The vineyard returns it in the shape of a few concentrated grape bunches.
The vineyard is the heart of our farm's activity; it covers five hectares, the rest of our life laboratory is made of olive trees, corn, vegetables and legumes".
The vineyards are on exposed windy slopes with schist and limestone at five hundred metres altitude and are subject to dramatic temperature fluctuations. Minimal intervention is the watchword – one treatment only with sulphur and lime, no fertilizers (other than what the donkey might release something once in a while!) The same principles apply throughout the winemaking process: manual harvest of grapes in small boxes, no fining, clarification, acidification or deacidification in the cellar. "We use only GRAPES (and prayers"). He has only used copper twice and now also eschews sulphur – even in the vines.
Gianfranco Manco makes what nature gives him in each vintage. The whys and wherefores are irrelevant, you won't prise technical information from him – even with a special crowbar designed for the task. Suffice to say 2013 Rosso Chi No Nau was a Cannonau from centenarian vines and the 2013 Rosso Pikade a blend of the gentler Monica plus Carignano. No sulphur in these wines. Su chi no nau (what I do not say), a play on words with the name of its grape variety: Cannonau. What's in a name? This is a celebration of wine silence, that fantasy land where people simply enjoy wine for the sheer pleasure of it, without the usual hot and cold running commentary, without getting mired in technical detail or lumpen semantics.
In one particularly torrid vintage, the grapes were received into the winery and vinified in a random way. The result was that the wines, when bottled, were called after where the barrels were situated in the winery – the one on the left, the one at the back, and so on. I suppose it also depended on where you were standing in the winery!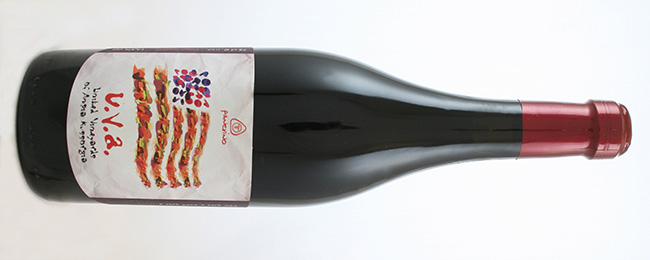 Less romantic-sounding, but infinitely more obscure, is Gianfranco's latest vinous oeuvre called U.V.A., a field-blend of approximately forty local varieties from three parcels (100-years-old +). U.V.A, besides the obvious spelling of grape in Italian, stands for 'United Vineyards of Angiona'. An Angiona is a local word for a widespread agricultural region, although it sounds like a fictional republic run by the Marx brothers.
"It's a project to bring different parcels together, to give expression to a larger area." At least in theory… At the moment, 3 parcels with vines ranging from 30 years old to 100 years old are vinified separately, then blended according to feeling. Gianfranco, according to Jules Dressner, found this parcel through a "sort of" relative. The guy never had the right feeling for it, and in hopes of striking gold, ended up planting Trebbiano, Barbera, weird local grapes and Vermentino. "At first it seemed illogical to work with these non-local grapes, but then I realised I had the potential of being a great experiment. I could use this to understand the vineyard's expression of the territory through different grapes."
One parcel has decomposed schists and limestone, another has red soils, rich in iron. The grapes are manually harvested (yields are around 20 hl/ha) and 80% destemmed before maceration. Vinification is carried out with the natural yeasts of the vines and cellar culture and all wines ferment in open-top wood vats (Gianfranco is gradually removing steel from the cellar), then are aged 12 months in used barrels. The wines are bottled without fining or filtration or added sulphites. The wines are all certified organic by the AIAB, an Italian organic certification board.
Every cuvée's name has a meaning, because Gianfranco wants each bottle to tell a story. So, while the wines clearly reflect specific terroirs, grapes and vintage, Gianfranco is more interested in bottling his emotions from that given year. In a sense nothing is more worthy than unicornhood status than a wine that is true to the time and place and is born out of the instincts of the vigneron.
At Les Caves we believe in Unicorns! Other Unicorns include:
Domaine Belluard, Gringet Le Feu
Interested in finding out more about the wines of Panevino? Contact us directly:
shop@lescaves.co.uk |  sales@lescaves.co.uk | 01483 538820