A bit of grin and bear it, a bit of come and share it
You're welcome, we can spare it – yellow socks
Too short to be haughty, too nutty to be naughty
Going on 40 – no electric shocks
The juice of the carrot, the smile of the parrot
A little drop of claret – anything that rocks
Elvis and Scotty, days when I ain't spotty,
Sitting on the potty – curing smallpox
A bit of natural wine, from the organic vine
More than good, it's fine – it's out of the box
Drink till you're dotty, till you're knocked onto your botty
But not until you're grotty – just rocked out of your socks
Reasons to be cheerful part 3 – Ian Dury & The Blockheads (adapted)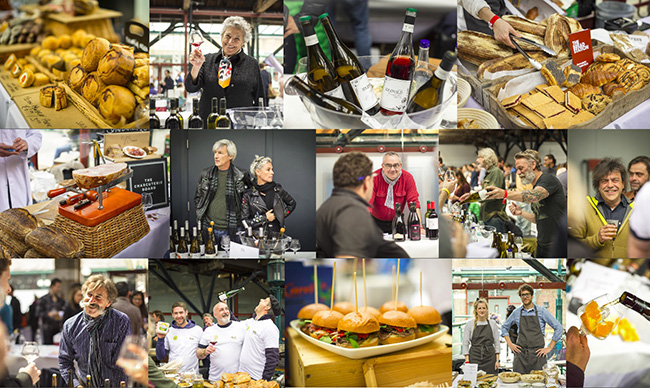 THE WINE FAIR AT A GLANCE
Cracking natural reasons to spend a day (or two) sipping and supping
180 Galloping great growers
Something for everyone: organic wines, biodynamic wines, natural wines – from over 180 artisan producers.  A roll call of the best and brightest vignerons and vigneronnes, growers and producers from 22 countries, pouring over 800 wines. English qvevri wine? Oh yes. Vermont cider fermented on grape skins? You better believe it. Crazy-assed orange wine from Oz? Indubitably.
Check out the current list of exhibitors on The Real Wine Fair website.
Georgia on our mind – again
There will be a part of Wapping that is forever Georgia (well, for a couple of days at any rate). Four of that country's finest growers will be present and correct to show wines from the cradle of (wine) civilisation. Everything you wanted to know about qvevri but were afraid to ask will be revealed. By the time you leave you will definitely be able to distinguish your Rkatsiteli from your Chinuri. These highly original wines are not like anything you have ever tasted – unless you've already been to Georgia and tasted them!
Food, glorious food
Like Damon Runyan's Nicely Nicely I am known as a character far and wide "who likes to commit eating". So where do I begin? With the various offerings from Duck Soup, Anchor & Hope and Flying Frenchman I can flit between and mix and match Spanish, Italian and banging bangers. The Ham & Cheese Company will deliver some moreish delicious street food snacks that I can devour on the hoof. For pasta-fiends Burro e Salvia will serving small plates of freshly made pasta and those who enjoy the finer side of French brasserie cooking will head to La Cour de Remi to assay some Normandy classics.
Plates of charcuterie and cheese will be supplied by Crown & Queue Meats. WOSA Biltong and the London Cheesemongers (and you can buy to take away).
The Fair runs on adrenalin and lots of coffee. Over and Under Coffee is your port of call for those in need of a caffeine fix.
One cannot live by bread alone. Olivier's Bakery of Borough begs to differ – as well as everything from baguettes to sourdough, they will have an array of tempting savoury and sweet pastries.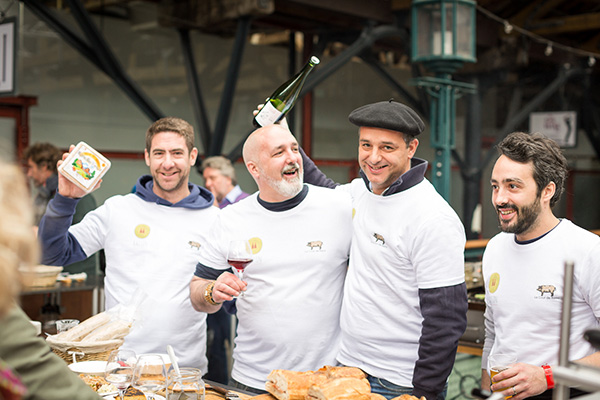 For further details on the foodies to be found here.
Liquid refreshment, please!
Even seasoned tasters suffer from acid attack and tannin on their tusks. If you wish to treat yourself to a beer or two, call in to The Three Legs Brewing Company, who will also have an array of unfiltered brews on tap.
Seminal seminars
No verbal punch-ups, but rather stimulating and edifying masterclasses from charismatic growers and articulate ambassadors for their craft. Heidi Nam Knudsen and Jon Passmore will be probing how to become a better informed drinker; Ines Salpico & Jamie Goode will be looking at Portugal's wine revolution with some growers; Simon Woolf will be looking at some fascinating examples of amber wines from the New World and Alex Thorp from Under The Bonnet will be leading a discussion on the natural wine scene in Germany, supported by three leading growers.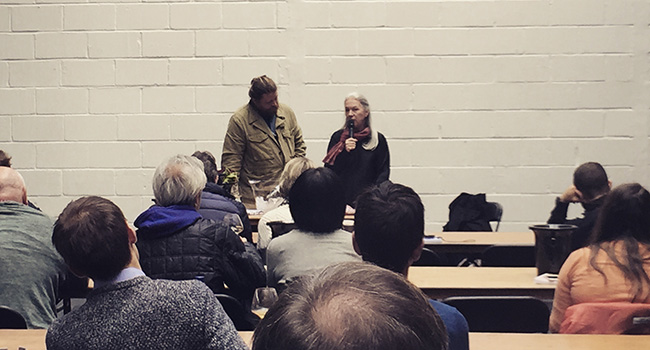 On Monday, BYO Podcast takes over the seminar room, conducting around a dozen interviews with various growers at the fair. This is open to trade visitors.
The Real Wine Shop
You've tried and now you want to buy? Then delve into a broad selection of organic, biodynamic and natural wines from the fair at the pop-up Real Wine Shop.  Nini and Danny and their shiny-faced helpers will be delighted to assist you. There will be books, the legendary tote bags, and maybe a poster or two.
After The Fair
There will be various after-fair parties, and various restaurants will be open for dinner on Sunday 12th May. Terroirs, Charing Cross (with Norwegian natural wine bar, SÖL); Brawn; Soif in Battersea and Terroirs, East Dulwich will all be serving food (there will be growers in each venue); Leroy in Shoreditch will be hosting Bastarda and Ben Walgate of Tillingham; Vinalupa will do holding their "Unfiltered Real Wine Fair After Party"; Carousel + Kol will be serving tacos and orange wine, whilst Ottolenghi, Spitalfields will have a wine dinner with Rennersistas and The Buxton will be entertaining growers in their newly-opened restaurant.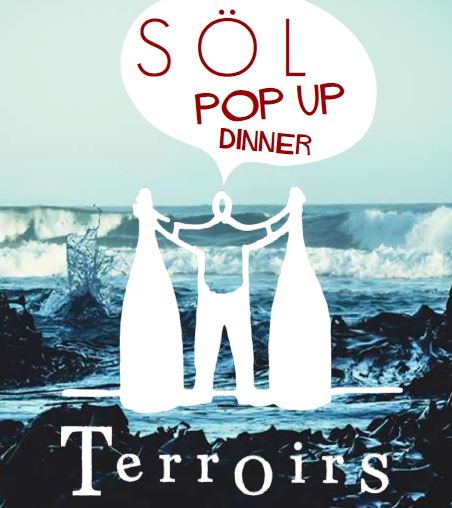 The Real Wine Month
If you like these wines, you can seek them out in restaurants, pubs, bistros, wine merchants, online retailers and wholesalers the length and breadth of the land. The Real Wine promotion will last until the end of May; restaurants will feature wines by the glass and retailers will be showcasing artisan organic and natural wines in their shops (look for the Drink Real Wine poster). There are loads of tastings, growers' dinners and associated events. Please check the Real Wine website for further details.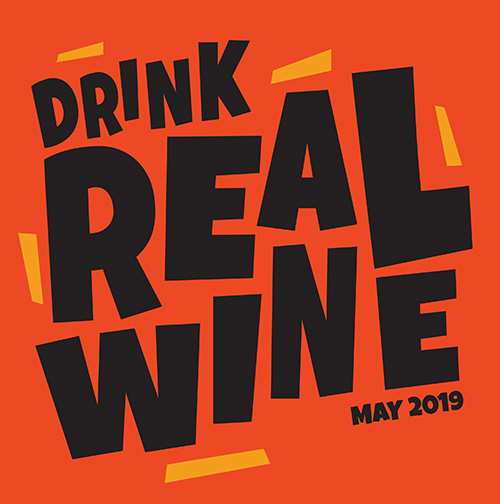 *
Advanced consumer ticket sales for the Real Wine Fair Sunday 12th are £20. Tickets will be available on the door for £25.
Member of the wine trade? Register for your free ticket. Monday 13th May is for trade only. Please note trade tickets can be used for both days of the Fair.