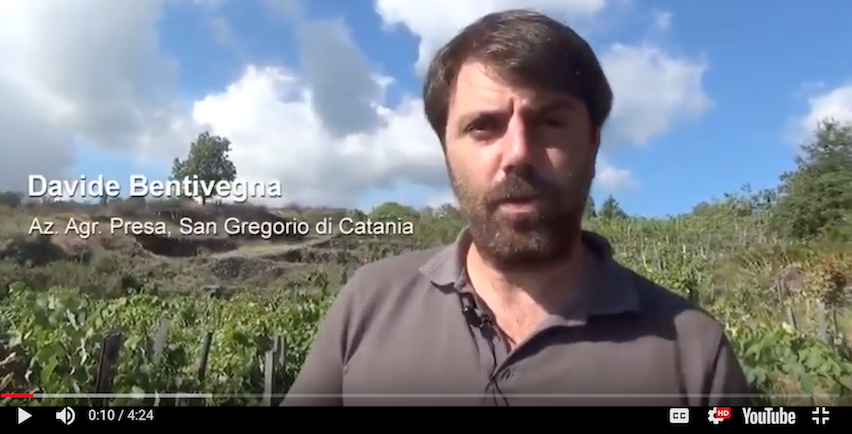 Davide Bentivegna, Etnella's founder, used to work for Siemans in Germany, but one day decided to abandon his office job and realise a dream to make wine. Without any experience – or family land – he had to start from scratch, which for him, meant organic farming and natural winemaking.
The adventure started in 2008, and the first wine, "Notti Stellate" Etna Rosso, was bottled in 2010 from the first company vineyard located in Contrada Galfina in Linguaglossa.
From then the estate acquired more land, but maintained its artisan organic profile and respected the ancient tradition of farming on Etna, following the lunar calendar to guide work in the vines. They farm attentively and with very low use of only copper and sulphur, with the majority of work performed manually. Grapes are always fermented with their own indigenous yeasts and use of sulphur is strictly limited.
With 15 different vineyards in seven different "Contrade" Etnella actually make 7 cru wines at altitudes varying between 500 to 1000 metres above sea level on the northern footslopes of Etna. The vineyards are trained in alberello style, or bush trained, an ancient method traditionally used on Etna, vines being planted on land terraced with dry-stone walls, constructed from the local volcanic stones. The close proximity of the vines (6,000 – 9,000 plants per hectare) creates firce competition and forces the roots to plunge downwards into the volcanic soil in search of water and nutrients.
The extreme weather conditions and severe diurnal shifts (an average of 16°C between day and night) result in wines of great phenolic profie, complexity and longevity.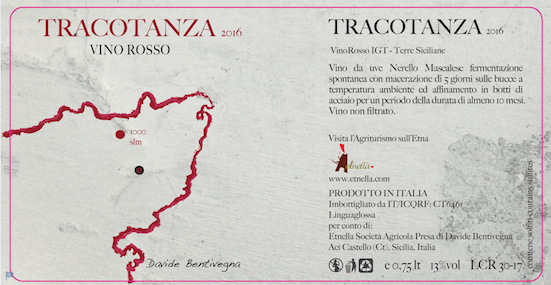 Tracotanza Vino Rosso comprises 85% Nerello Mascalese; 10% Nerello Cappuccio and the remainder a field blend of Alicante, Minella and local grapes from the Contrada Crasa, Montedolce on Etna-north. Soils are typically volcanic. The vineyards range between 750-900 m asl, the vines being up to 80 years old. Fermentation in tank is spontaneous (maceration is 8 days) and the wine is aged for a further twelve months in tank. The wine is bottled without filtration or fining with a total sulphur of 22 mg/l. Energetic youthful red, incisive, lively tannic and very fresh profile, with delicate scents of small red berries and spices.
Kaos is 85% Nerello Mascalese and 15% Nerello Cappuccio from the Contrada Marchesa, Passopisciaro Etna-north, alberello vines. Grapes are harvested in three passes – underripe, ripe and over-ripe. They are macerated separately accordingly. After a natural ambient ferment, the wine ages in 5000-litre chestnut botti for twelve months and is also bottled without fining or filtration.
The wine is smoky with earthy minerality and red cherry and plum on the nose, also throwing out hints of fresh raspberries and even floral notes of rose & violet. Great acidity with a tannic structure and a lingering finish.
Nerello Mascalese and Nerello Cappuccio are both indigenous to Etna. Nerello Mascalese is often referred to as the older or more serious sibling with Cappuccio being sidelined a bit. They are a perfect team – both are late-ripening, high in tannic and acid (a requirement for ageing). Mascalese has thicker skins (thus more tannin) and tends toward the darker end of the fruit spectrum while Cappuccino tends to be a little more intensely perfumed and higher in acidity.
*
Interested in finding more about the wines of Etnella? Contact us directly:
shop@lescaves.co.uk |  sales@lescaves.co.uk | 01483 538820