After a few months with scarcely a qvevri-wine to our name, we have now received our long-awaited shipment of new vintages (mostly 17s) and a few new wines too.
We have two Rkatsitelis – one with 10% skins added and an old vine version, called Kakabeti, which is a magnificently complex wine.
Niki Antadze works in the highly regarded PDO (Protected Designation of Origin) Manavi region of Kakheti. He farms his vineyards, which are situated at 750 m asl on alluvial soils rich in limestone, as naturally as possible, uses no chemicals in his marani and only traditional techniques to produce a variety of qvevri styles from the Rkatsiteli, Mtsvane and Saperavi grapes. He owns around 3 hectares and has one particularly old plot of vines (around a hundred years old). The marani is ramshackle – and then some!! The wines are the thing, however, and have real soul, just like the man himself. They exhibit terrific concentration and deep layers of complexity with a very complete texture, almost cashmere-like.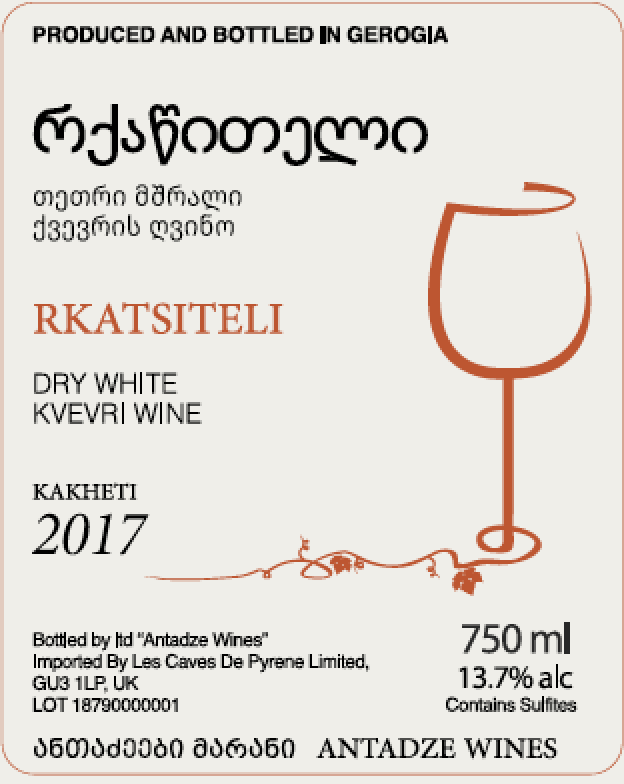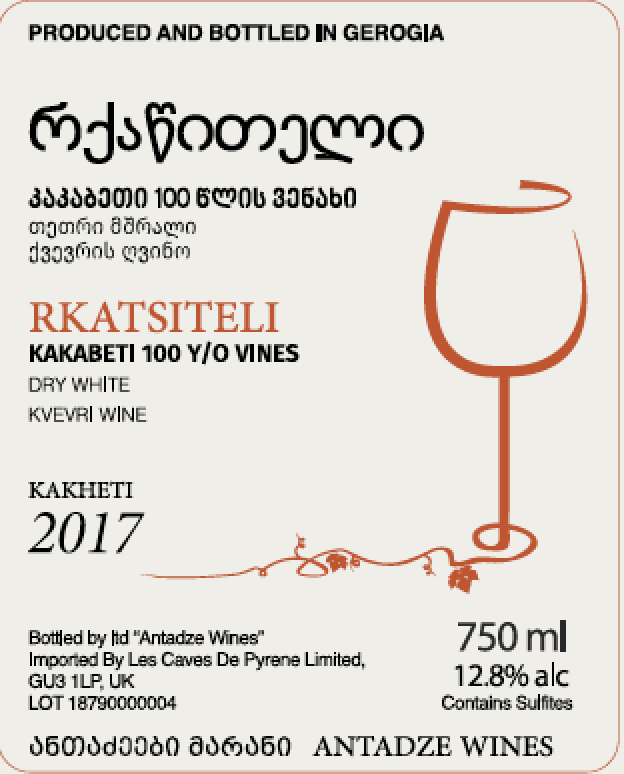 We have two Rkatsitelis – one with 10% skins added and an old vine version, called Kakabeti, which is a magnificently complex wine.
We have been buying Iago Bitarishvili's wines since the 2010 vintage. He has always worked organically in his small vineyard in Chardahki (total production is probably around six thousand bottles) and been passionate about preserving the local traditions, never being even slightly seduced by newfangled techniques.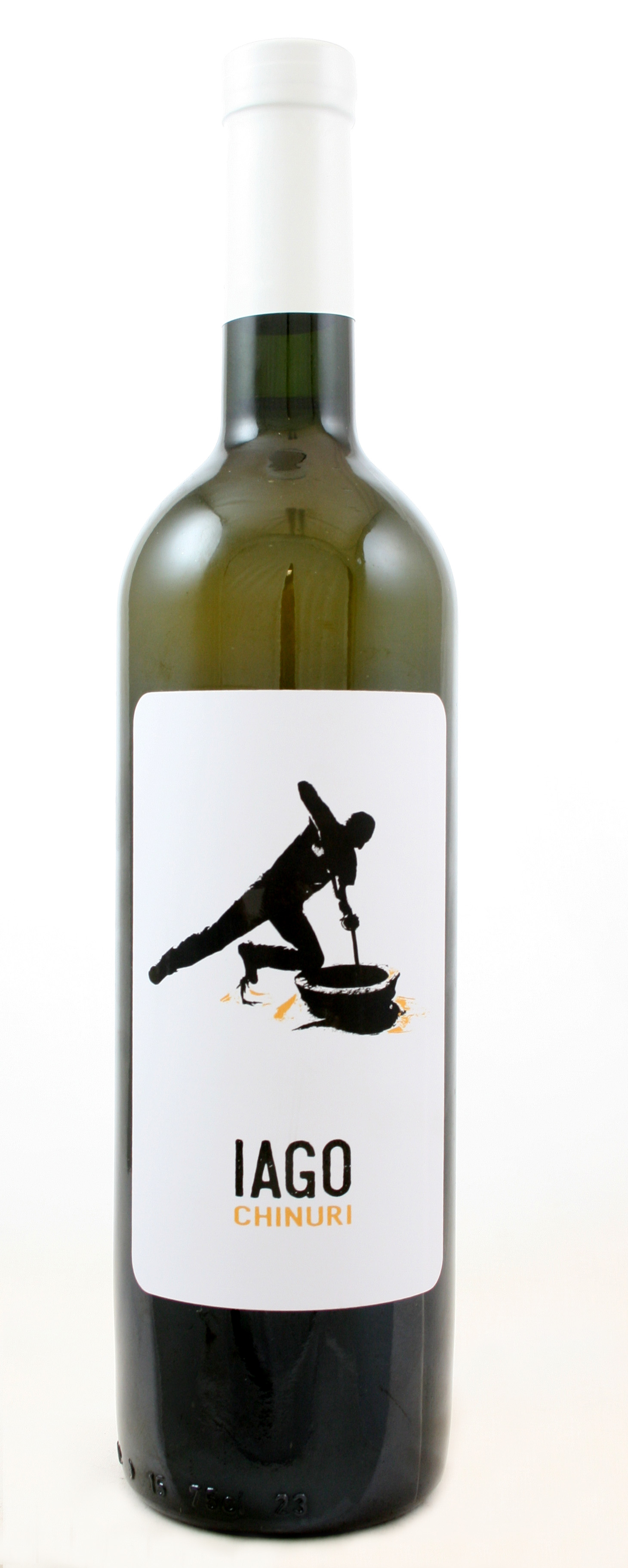 Iago works with only one variety – the light-skinned and late-ripening Chinuri – although he makes two versions of it; one with skin contact and one without. The skinny one is gently crushed before the whole bunches are surrendered to the clay and remain there for six months or so to accrue colour, body and tannin.
Nothing is rushed here. Iago's skin-contact white is left to nestle in the earth for around ten months before bottling although it is transferred from one qvevri to another during that time. With a strong yeast population, the ambient fermentation will proceed healthily and Iago will break the cap to allow the gases to escape. The malolactic proceeds naturally once the qvevri have been topped up and towards the end of the year the jars are sealed wherein a large flint stone or a piece of glass and is then further sealed with wet clay and covered in damp sand.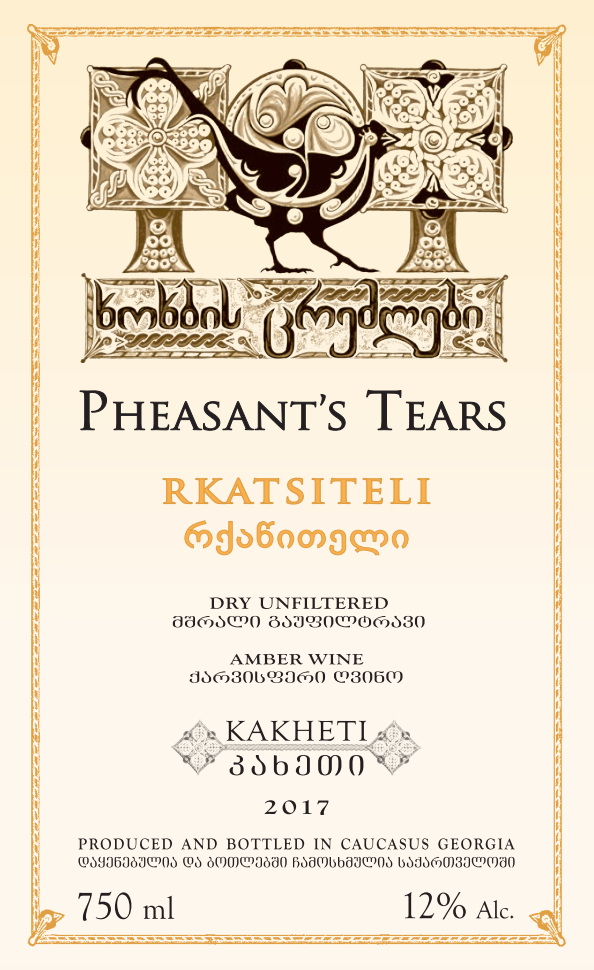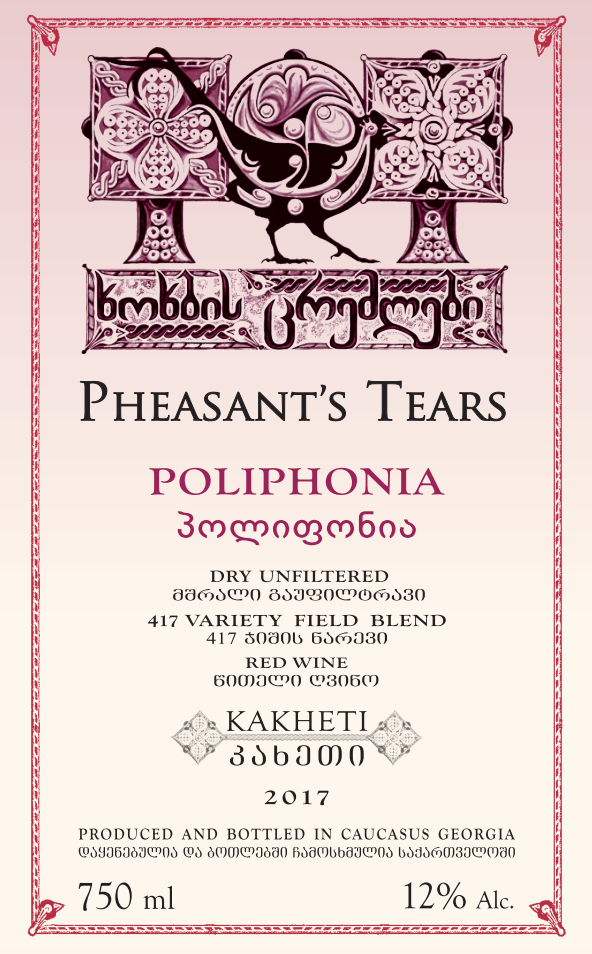 Pheasant's Tears, founded in 2007 a joint project between John Wurdeman and Gela Patalishvili, set up to revive the ancient traditions of Georgian winemaking, have just released their 2017s. These are confident wines, scoring high on drinkability. Rkatsiteli from the village of Bodbiskhevi, is a classic amber version with thirty days on skins – burnished dried stone fruit, walnut and golden spice. Poliphonia, a field blend composed of 1-10 plants of each of the 417 (!!) varieties. The vineyard is harvested in 3-4 sweeps, as they all ripen at different times, so you get white, golden greenish, blue, purple, grey pink grapes at various level of ripeness that finish co-fermenting together. The flavour? Harmonic chaos! This year the wine is white. Or rather, amber! Or, rather pinkish-amber – bags of tangy passionfruit flavours. The zesty Tsolikouri comes from Imereti, fresh and saline with notes of green almonds and lychee fruit, then there is rich, exotic Mtsvane. Finally, the return of the Shavkapito, a red grape grown in Mukhrani in Kartli in an old vineyard on sandstone and clay soils. The grapes are destemmed, five days on skins and naturally ferment in qvevri. Medium dark red with flavours of hedgerow berries and the forest floor.
'Joni' Okro is one of the most respected natural winemakers in Kakheti, Eastern Georgia, where he concentrates on traditional long skin contact amber wines (although he does make some wines without skin contact). His Kakhetian wines are sourced from cool high-altitude vineyards instead of the warmer plains his wines retain freshness and vitality and have concentration levels rarely seen. He also works with grapes from Kartli and Imereti. His whites and amber wines are based on local grape varieties such as Rkatsiteli, Kakhuri, Mtsvane and Tsolikouli, which all spend between 1,5 and 6 months in Qvevri. The reds, Saperavi and Tavkveri, spend only one month in qvevri. Besides still wine John also produces various different Pet Nats and a Pet Cider.
John's Mtsvane comes from a vineyard at nearly 600m above sea level in Signaghi, Kakheti in Eastern Georgia. It spends two months on skins without stems, fermenting in qvevri before being racked into a clean one.
Soft, burnished gold, the wine is aromatic with notes of piquant spices and paprika emerging over the browned pineapple and honeyed walnut aromas often associated. The palate is savoury yet tart, medium bodied, and quite delightful with high-toned cranberry, peeled starfruit, and a tropical acidity.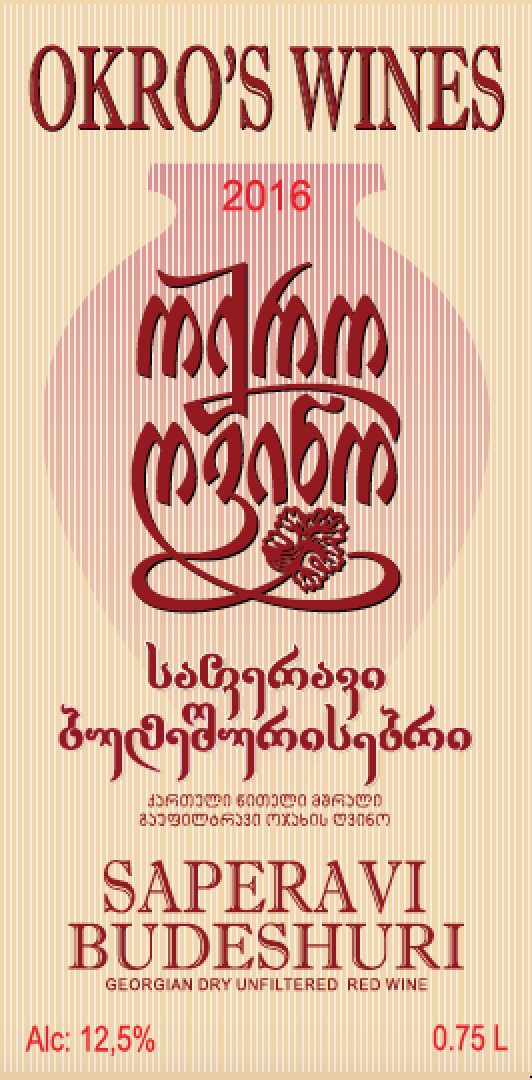 The Saperavi comes from an organic vineyard in Manavi, also in Kakheti (500 metres above sea level). Saperavi Budeshuri is a type of Saperavi with white flesh and more aromatic intensity. This red wine spends 15 days on skins with no stems and just over a year in qvevri. All John's wines are completely natural – no sulphur is used.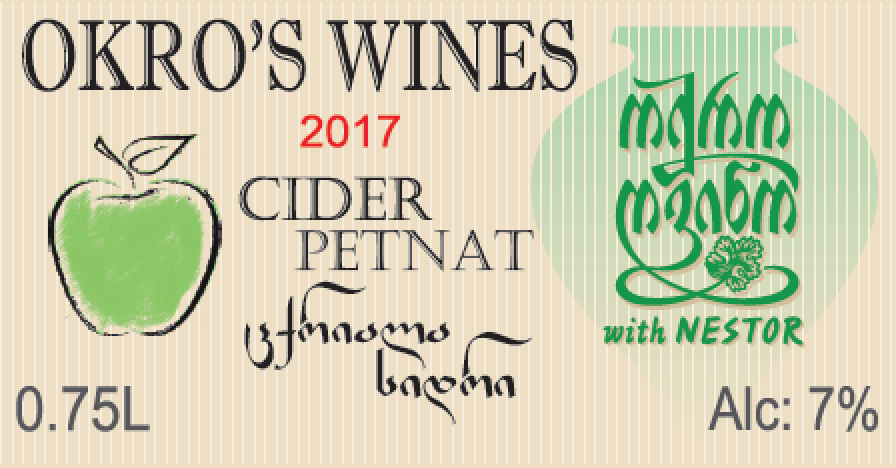 This year we have a tiny amount of his Pet Nat Cider, fermented in qvevri and made with four varieties of apples.
Nikoladzeebis Marani was founded in 2007 by Ramaz Nikoladze on the base of his ancestors' vineyard and typical Imeretian cellar in Nakhshirgele. There are two white Georgian grape varieties planted in the vineyard; Tsitska and Tsolikouri. Natural winemaking methods are used in both the cellars and the vineyards. His 0.7ha of vines are between 28-100 years old. The grapes are fermented and aged in quevri, more often than not without their skins or pomace, although Ramaz plays this by ear each year. Both Tsitska and Tsolikouri are directly press and fermented for 18-day with indigenous yeasts in qvevri. They spend around 5-6 months, before being racked into clean qvevri until they need to be bottled. The wines are really fresh with good citrus flavours and bright acidity.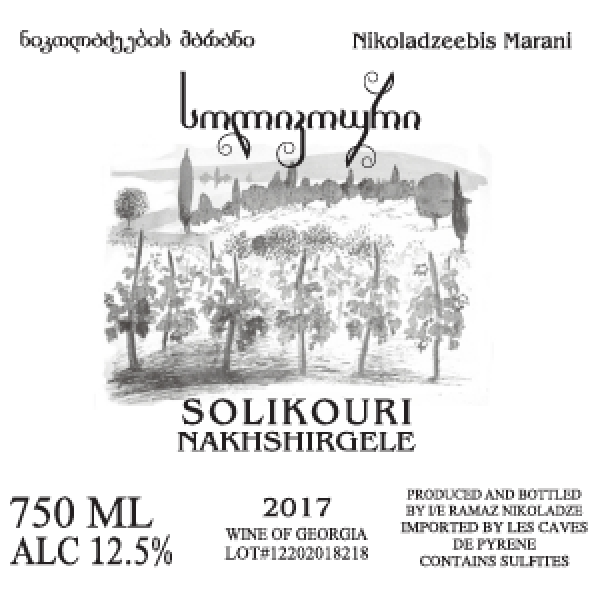 This year we also have a wild strawberry, minty blackberry-ripe Aladasturi from grapes he buys from old man Didimi. Grapes are destemmed, there is only one day of maceration before pressing and the wine ferments naturally in qvevri. Nothing is added as per all Ramaz's wines. This red is light and fresh, irresistibly juicy.
Zurab Topuridze has been involved in vineyard farming and making natural wines from childhood when he used to help his granddad. He was 13 years old when he made his first natural wine on his own.   His winery is in the village of Dablatsikhe (English translation "Lower Castle"), which is located in Chokhatauri municipality of Guria region. Guria region is located in the western part of Georgia, bordered by the Black Sea subtropical costal lowlands to the west and the mountains in the east.  The region is rich in cultural traditions and natural beauty, famous for its polyphonic music, humorous people, and used to be well-known for its delicious rose-hued wines. When Zurab got married to Tamar to a native of Dablatsikhe, he bought small house in the village and sufficient land for viticulture, and started planting and reinstating the variety that his grandfather loved so much.  This was Chkhaveri, a rare late-ripening variety, native to Guria region, making light red wines. He makes natural wines in underground qvevris with a total capacity of around 13 tonnes (22 terracotta vessels in total).  The vineyard itself is four hectares, planted on the terraced slopes of River Supsa valley, on the reddish-brown clay over lime with lots of magnesium and iron in the soil. The red (almost rosé in colour) is macerated for six months on skins and seeds (no stems) and aged five months in qvevri. Very unusual wine with high acidity, tannins and wild herbs and almost pippy red fruit flavours. There is also a no maceration Chkhaveri too – golden plums, pears and ripe citrus. The Saperavi is from an organic vineyard in Tsinandali village in Kakheti on lime-rich soils.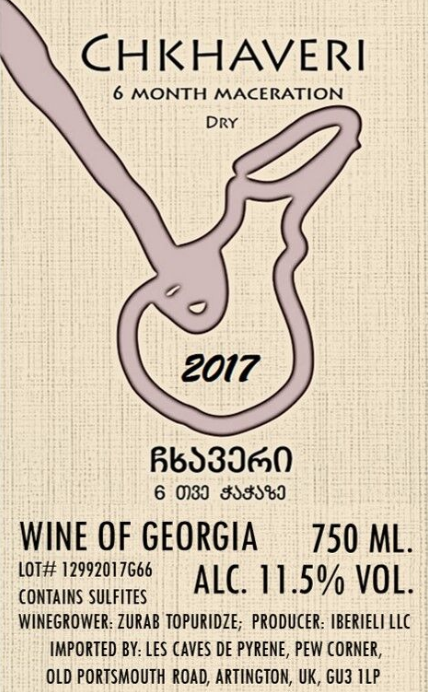 This wine is not made via traditional method of vinification for this type of grape variety. Normally wines from the Saperavi grape are fermented with full scale skin contact. This wine had a short time (two weeks) contact with part (20%) of skins and seeds, which were then separated via perforated screen. Aged in Qvevri for 7 months. An exuberant red with juicy red cherries and wild berry fruit and gentle tannins.
Georgian Wine Selection:
Ramaz Nikoladze, Imereti
2017 Tsolikouri No Skin                                                         DRY WHITE
2017 Tsitska No Skin                                                               DRY WHITE
2017 Aladasturi Red                                                                LIGHT RED
Niki Antadze, Kakheti
2017 Rkatsiteli Kakabeti                                                          AMBER
2017 Antadze Rkatsiteli 10% Skin                                         LIGHT AMBER
Zurab Topuridze, Guria
2017 Chkhaveri No Maceration                                                DRY WHITE
2017 Chkhaveri 6 months on Skin                                            LIGHT RED
2017 Saperavi                                                                                DRY RED
Iago Bitarishvili, Chardakhi
2017 Chinuri Skin Contact                                                          AMBER
Okro Wine, Sighnagi, Kakheti
2016 Mtsvane Dry White                                                            AMBER
2017 Cider Pet Nat                                                                       CIDER
2016 Saperavi Budeshuri                                                            RED
Pheasant's Tears, Kakheti
2017 Rkatsiteli Bodbishkhevi                                                   AMBER
2017 Mtsvane Bodbishkhevi                                                     AMBER
2017 Tsolikouri                                                                           WHITE
2017 Poliphonia                                                                          AMBER
2017 Shavkapito                                                                         DRY RED
2017 Saperavi                                                                             DRY RED
*
Interested in finding more about the wines mentioned? Contact us directly:
shop@lescaves.co.uk |  sales@lescaves.co.uk | 01483 538820