Nathalie Gaubicher founded Domaine Le Briseau in 2002, with her first husband, Christian Chaussard, in an area encompassing Jasnières and Coteaux-du-Loir. Briseau' is named after a plot on the estate that contains clay with large pieces of flint-stone that have tended to break ('briser') all tools that are used on it.
The entirety of Jasnières covers a mere eighty hectares of vines, and Coteaux-du-Loir about two hundred. The soils are largely all clay and silica over a subsoil of limestone, and Domaine le Briseau began with four hectares of vines planted mainly with Chenin Blanc and Pineau d'Aunis. In 2007, the estate had grown to eleven hectares. All vineyard work was – and still is – done according to the principles of organic viticulture (with the certification of Qualité France): no pesticides, insecticides or chemical fertilizers are used; nettle and horsetail decoctions are sprayed on the foliage; copper is used in modest quantity (less than 5kg/ha); the vines are ploughed and grass allowed to grow between the rows. In 2006, the estate started its conversion to biodynamic principles.
Apart from biodynamic viticulture, the following harvesting and cellar practices are followed: The harvest is done by hand in 10kg boxes. The white grapes are pressed lightly and slowly. Débourbage (first racking to separate solid matter from juice) takes place after twenty-four hours, then the must goes into barrels for the alcoholic fermentation (none of the barrels are new, but rather four to eight year old.) Malolactic fermentation usually follows and is not stopped by any means. Nothing is added: there is no chaptalisation, no selected yeasts, no sulphur, no enzymes, no de-acidification, no fining. There is one racking to get rid of the wine's gross lees, and then aging for several months, according to each cuvée. There is a light filtration and addition of 2g/hl of sulphur at the time of bottling. The red grapes are trodden by foot before going into maceration vats. Maceration occurs under the protection of carbon dioxide in a semi-liquid stage (semi-carbonic maceration) and lasts one to three weeks. The musts are then pressed and go into barrels for their alcoholic and malolactic fermentations. Again, nothing is added to the wines and the same principles are used at bottling
Christian was tragically killed in a tractor accident in 2012. Nathalie eventually remarried, her husband Emile Heredia, who used to own Domaine de Montrieux (and now has Domaine des Dimanches in the Languedoc) makes the wine.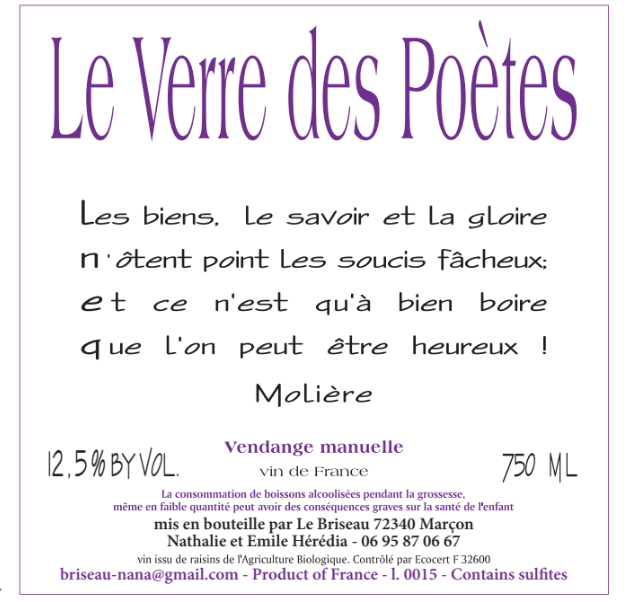 Le Verre des Poètes is a very special cuvee of Pineau d'Aunis from eighty-year-old south-west facing vines, planted in clay-limestone soils. Harvest is manual – yields being around 20hl/ha. The grapes are placed whole bunch into 50-hectolitre fibreglass vat for seven to eight months and are naturally fermented with minimal extraction and bottled without filtration or fining and just some sulphur before bottling.
The colour is enchanting, pale cherry red, shiny and translucent. The nose sings of red fruits: cherry, strawberry and pomegranate, the palate is dry and taut with a sweet wild strawberry character and a little chalky perfume. There is an appealing litheness to it, and a brilliant peppery finish that marks it as classic Pineau d'Aunis. Emile was known as "the Pope of d'Aunis" for his brilliant wines at Montrieux and this effort reaffirms his papal claim.
'Le Verre des Poètes' was the name of one of Emile's old vines cuvées at Domaine de Montrieux. His great grand uncle, José Maria de Heredia (1842-1905), was a French poet, a prominent member of the Montparnassian movement which disagreed with poetry that contained personal opinions or moral messages, preferring to promote 'Art for Art's Sake'.
*
Interested in finding more about the wine mentioned? Contact us directly:
shop@lescaves.co.uk |  sales@lescaves.co.uk | 01483 538820