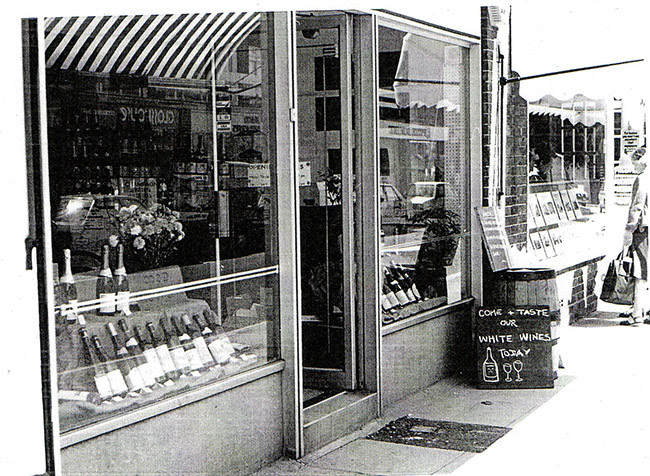 Madiran
We're all mad here. I'm mad. You're mad.
–The Cheshire Cat, Alice in Wonderland
O tannin bomb, o tannin bomb.
There lurks a Tannat-ridden beast in the Madiran mould blacker than a black steer's tuckash on a moonless prairie night…
There have been vineyards in Madiran or Vic-Bilh (to give its original dialect name) since the 3rd century and, in the Middle Ages, pilgrims en route for Santiago de Compostela appreciated the wines. Pacherenc may be made from any one of a variety of grapes: Arrufiac (or arrufiat or ruffiac) is traditional, although many growers are turning to Gros and Petit Manseng and even a little sauvignon. Dry, off dry or sweet, these wines are unusual and quite distinct from Jurançon with flavours of spiced bread and mint. In Madiran the traditional grape variety is Tannat, its very name suggestive of rustic astringency, and it constitutes anything between 40 and 60 per cent of the blend with the Cabernets and a little Fer (locally called Pinenc) making up the remainder. The soil in Madiran is endowed with deposits of iron and magnesium and is so compacted that neither rain nor vines can easily penetrate – these are dark, intense, minerally wines. As with Jurançon (q.v.) a group of young wine makers have worked hard to promote the identity of their wines. These growers are known locally as Les Jeunes Mousquetaires and foremost amongst them is Alain Brumont whose achievements at Château Montus have garnered worldwide recognition. His passion for new wood is unfettered; he experiments constantly with oak from different regions of France and with different periods of ageing. He also believes that true Madiran has as near 100% Tannat, dammit, as possible.
En garde indeed.
Mighty Madiran with its manic tannins. One had to admire the sheer impenetrability of the wine.
Alice was too much puzzled to say anything; so, after a minute, Humpty Dumpty began again. "They've a temper, some of them — particularly verbs: they're the proudest — adjectives you can do anything with, but not verbs — however, I can manage the whole lot of them! Impenetrability! That's what I say!'
"Would you tell me please," said Alice, "what that means?'
"Now you talk like a reasonable child," said Humpty Dumpty, looking very much pleased. "I meant by "impenetrability" that we've had enough of that subject, and it would be just as well if you'd mention what you mean to do next, as I suppose you don't mean to stop here all the rest of your life."
Humpty should have defined impenetrability as a nice knockout Madiran.
Eric recalls a customer who frequented our shop in Guildford and told him he loved the Iranian wine we did. Eric's brow furrowed; he may have been drunk at the time, but he couldn't remember a buying trip to the land of Hafiz. He quizzed the customer who was adamant that he had drunk such a thing – then he spotted the bottle on the shelf and pointed to the label triumphantly: "You see? Made in Iran!"
One of my first trips to south west France was a visit to Planet Brumont Hollywood as we came to call it. We tasted some 400% new oak wines. The wines were magnificent, monumental, as square as a hypotenuse at a social gathering of circles.
There lurks a Tannat-ridden beast in the Madiran mould blacker than a black steer's tuckash on a moonless prairie night…
What is the wine about? Imagine a cathedral lit with every light and line focused on the high altar.
And on the altar, very reverently placed, intensely there, a stave of oak, a punnet of blackcurrants and the gospel according to Robert Parker.
(With apologies to HG Wells)
Pyrenees: The Jurançon Files
When I was a young girl, I was introduced to a passionate Prince, domineering and two-timing like all the great seducers: Jurançon!
–Colette
"… Sebastien is a man of hot temper."
"He is a southerner", admitted Sir Lulworth; to be geographically exact he hails from the French slopes of the Pyrenees. I took that into consideration when he nearly killed the gardener's boy the other day for bringing him a spurious substitute for sorrel. One must always make allowances for origin and locality and early environment; 'Tell me your longitude and I'll know what latitude to allow you', is my motto."
–The Blind Spot, Saki
Mary Tudor said that when she died Calais would be found engraved on her heart. For us it would be Jurançon. Eric grew up in Jurançon, so the place is in his blood. The wines are brilliant, particularly the sweeties which should rank with the greatest in the world.
Jurançon's wine history begins in effect with Henri IV, born in Pau when it was the capital of the Kingdom of Navarre. The story is that during his christening his lips were rubbed with Jurançon and cloves of garlic, the prelude to any great reign one would imagine.
The town of Gan marks the eastern limit of the Jurançon vineyards and La Chapelle-de-Rousse is the village name you will commonly see on growers' bottles. The terraced slopes are steep, the south-west facing vines are allowed a long growing period. The results may be stunning. The wines range from a dry almondy style with aromas of fresh hay and lemon-and-grapefruit zest through the mellow marzipan brioche flavours of moelleux, to the spectacular late-harvested nectars made from the Petit Manseng grape with their beautiful bouquet of honey and flowers and tropical flavours of guava, pineapple and nutmeg.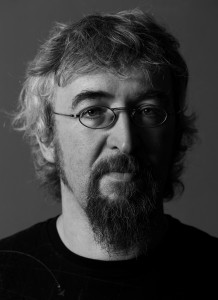 Our go-to guy in the region is the professorial-looking-yet-twinkly-eyed Jean-Bernard Larrieu. Eric describes Jean-Bernard Larrieu as one of the poets of Jurançon.
The delightful vineyards of Clos Lapeyre face southwards towards the hound's-tooth Pic du Midi d'Ossau with maximum exposure to sunlight yet simultaneously protected from strong winds. The 12 hectares of vines have been exhaustively mapped and analysed for soil composition to obtain a profile of the microbial activity in the vineyard and as a result divided into twelve segments, each of which are treated according to how the soil, and, by definition, the vine needs to be nourished.
Even in his straight Jurançon Sec (100% Gros Manseng) he achieves aromatic intensity by picking late and using the lees to obtain colour and extract. This delightful number dances a brisk citric tango on the palate. The old vines (Vitatge Vielh) cuvée sees some oak, has a proportion of Petit Manseng (40% – and also Courbu 10%), and is more opulent.
Eric describes Jean-Bernard Larrieu as one of the poets of Jurançon.
But it is his super sweet wines (100% Petit Manseng), harvested as late as December in some years, which consistently offer the greatest pleasure, exhibiting a sublime expression of sweet fruit: mangoes, coconut, grapefruit and banana bound by crystal-pure acidity. Magical as an aperitif, perfect with foie gras or anything rich, classic with Roquefort, and simply delicious with white peaches. La Magendia is an Occitan expression meaning the best. The basic Moelleux, known simply as Jurançon, is immensely enjoyable as a pre-prandial quaff. It is called, I believe, a four o'clock wine, so if you're about to watch Countdown (does that still exist?), this is ideal. And is also what Jurançon used to taste like, before sec became sexy. Finally, a rare liquoreux, Vent Balaguer (see below) of great sweetness and delightful acidity, which we will be drinking with friends and family. La Magendia plus change. If you have to ask you can't afford it and even if you do ask, you can't afford it.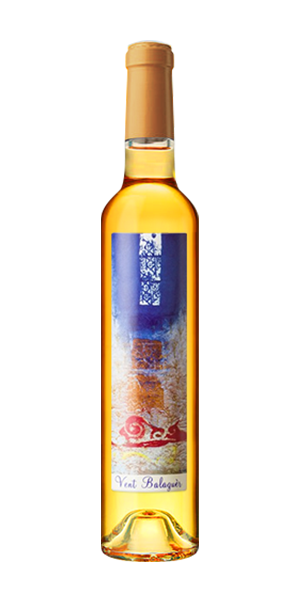 "Le Béarnais" (a dialect of Occitan spoken in Béarn) is the mother tongue of Jurançon. The typical Béarnais expression of "ca-i bever un cop" (to share a drink) is symbolic of the region's welcoming nature. Just like singing, dancing and gastronomy, the wine of Jurançon encourages conviviality amongst friends
Nomansland, the territory of the Basques, is in a region called Cornucopia, where the vines are tied up with sausages. And in those parts, there was a mountain made entirely of grated parmesan cheese on whose slopes there were people who spent their whole time making macaroni and ravioli, which they cooked in chicken broth and then cast it to the four winds, and the faster you could pick it up, the more you got of it.
–Giovanni Boccaccio, The Decameron (quoted in Mark Kurlansky's The Basque History of the World)
Jurançon Vent Balaguer, Clos Lapeyre
Earn nectar points with this opulent vin liquoreux
Vent Balaguèr means "southern wind" in Occitan. It is the warm wind that comes from Spain, up from behind the Pyrenees. The Petit Manseng grapes are late-harvested (in December) and then put in trays to perfect the process of "passerillage". These trays are laid outside on the sun during the hot and sunny days and brought inside the winery in damp and rainy weather. Besides dehydrating, the grapes change in colour, turning from a golden-yellow to russet and brown. Their flavour also changes and hints of apricot, candied orange peel and medlar fruit appear.
Bright amber colour. Intense, profound nose, returning to haunt one with its multiple nuances: new wood, honeydew, apricot jam, confit of orange and lemon, Corinth raisins, blond tobacco and spiced bread. The mouth is lively, spicy with cooked fruits, also floral with superlative concentration. The tactile sensation is unctuous and rounded, giving the impression of biting into perfectly ripe grapes with poised citric notes. The vanillin flavours are integrated into a rich texture and enrobed by a truly noble acidity. The finish is long and harmonious with Mirabelle plum, peach and apricot and with time even white truffle. This is an extraordinary wine with exquisite equilibrium that will last for decades. As the French say this wine is the result of "coup de main à la nature".
Irouléguy: Basque-case!
There are truths on this side of the Pyrenees, which are falsehoods on the other.
–Blaise Pascal
Since we are on this side of the Pyrenees we will stick to Irouléguy. Stood the clock at ten to three, and is there still piperade for tea?
Irouléguy, an appellation consisting of nine communes, is situated in the French Basque country high up in the Pyrenees on the border with Spain. These wines are grown on the last remnants of a big Basque vineyard founded in the 11th century by the monks of Ronçevaux Abbey. Much of the vineyard work is artisanal; the vines are grown on steep terraces and have to be harvested by hand. Virtually all production is red or rosé with Tannat and the two Cabernets being blended according to the taste of the grower. A minuscule amount of white is made at the co-operative from the two Mansengs. There are only about half a dozen wine makers as well as the co-op, but the overall standard is very high with Domaine Arretxea being the reference in the region.
Domaine Arretxea was born in 1989, the brainchild of Michel Riouspeyrous, a Basque native. He met his Alsatian future wife Thérèse while on a charity mission to Africa. On their return to France they got married and decided to start their own domaine by renting two hectares of vineyards. Arretxea (from the Basque are meaning stone and xea house) is now a small six-hectare domaine entirely planted on south-facing terraces. Michel and Thérèse practise organic viticulture throughout their vineyard & use biodynamics in particular on the plot where they grow white grapes. The Hegoxuri, made from 50% Gros Manseng, 40% Petit Manseng & 10% Petit Courbu, given an eighteen maceration & partially fermented in foudre, part in 600-litre demi-muid and part in stainless tank, is remarkable from its golden straw colour to its subtle nose where white flowers mingle harmoniously with extremely fresh exotic fruits. As for the Tannat-rich reds 4-5-week macerations, repeated pigeages and long elevage in oak with lees-stirring make for strong yet harmonious wines.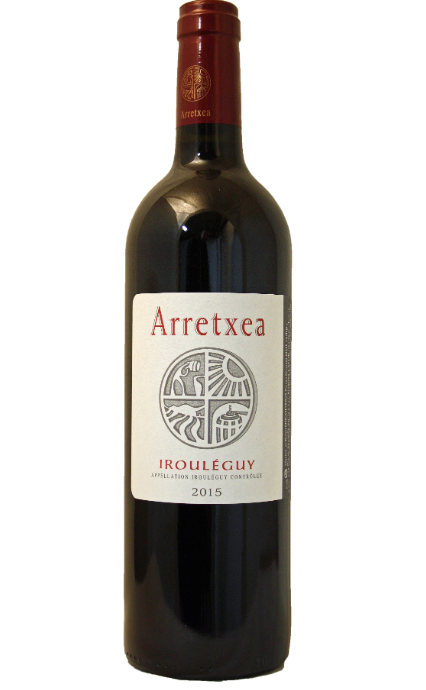 The straight Irouléguy Rouge is a cement-aged Tannat-based red is given fragrance by its Cabernet partners. Fascinating aromas of forest fruits allied to sous-bois (undergrowth), fern and tea. Elegant and fine on the palate with delicious acidity. A wine of great character and real purity – a wine of terroir.
Haitza and Hegoxuri? Sounds like a couple of Verdi characters that wandered into a Wagner ring cycle and started mixing it with the Valkyrie.
Haitza (80% Tannat, 20% Cab Sauv) aged 18-months in foudre and demi-muid, has aromas of sour cherry, blackcurrant, liquorice and caramel. The palate is infinitely silky with wild black fruits (ripe, black cherry), remarkable persistence of subtle notes of menthol, eucalyptus and liquorice and tannins which are mellow but still fresh. The ripeness of the grapes emerges in crystallised black fruit scents and a full palate perfectly structured by tasty tannins. Haitza and Hegoxuri? Sounds like a couple of Verdi characters that wandered into a Wagner ring cycle and started mixing it with the Valkyrie.
The subject of inquiry was le gateau Basque, Basque cake, a homemade delicacy prepared in the Pyrenees since the 17th century and properly called etxekobiskotxa, or "cake of the house".  –Seen on a website
On the traditional Basque home, called etxe or etche (the x in Basque words often appears as ch to indicate the way it is pronounced in English): For the Basque, the etxe carries enormous emotional weight. It protects him from the empire of the outside: divine and intemperate forces. It is also his cradle, his daily life and his sepulchre. The etxe is profoundly rooted in the Basque earth and soul."
…with every piece of cake an historical, social and philosophical discourse!
Not finding Ackerbelz
The first time we went en wine-famille to the south west, we fetched up at a well-known restaurant in Bearn. Tables were laid up outside overlooking a charming wooded valley. The early evening light was golden and soft as when the heat of the day has been tempered by cooling air off the hills. Although we were in wine country, we ordered a round of the local beer called Ackerbelz. And then another. Crisp and refreshing as water from a tumbling mountain stream, the beer slaked our thirst. Intoxicated by the food, the view, the summer dusk as well as the beer, we resolved to track down the Basque brewery which could put a crown cap on such an epiphany.
On one occasion we even cancelled a lunch reservation at a three-star Michelin restaurant in San Sebastian to drive across the Pyrenees in our quest for this best of all beers.
It was an ignis-fatuus. The beer never existed in that form as it was a draft version made for the restaurant in question. We discovered this fact in the end, but over a couple of years on subsequent visits to the region, we took innumerable unwitting detours to try to discover the whereabouts of the brewery. On one occasion we even cancelled a lunch reservation at a three-star Michelin restaurant in San Sebastian to drive across the Pyrenees in our quest for this best of all beers.
On another occasion Eric and I would have a picnic in the meadows of the Pyrenean foothills. We purchased a soggy French baguette from a petrol station and drove off in search of a small farm or cheese producer. Oh, for some ossau iraty! Once the thought strikes nothing else will do. We saw various signs advertising artisan cheeses and followed one such into a forest. As we delved deeper into the wood, the road twisted and turned, promising a beautiful serendipitous discovery. Finally, a clearing in which stood a small corrugated iron shed. We entered the makeshift building and gave a simultaneous yelp as a masked figure appeared out of dry ice (as it seemed), clad from head to foot in what looked like an alien encounter suit designed to ward off human germs. Eric gulped and uttered the f-romage word. The alien undertaken figure beckoned us to a fridge, opened it, and pulled out a vacuum-wrapped orange rubber cheese, which looked like something you might purchase in a petrol station to wedge under a door. There was no other cheese interred in the laboratory, no sign of life, not even a bacterium would survive in such magnificent sterility.
C: It's not much of a cheese shop, is it?
O: Finest in the district sir!
C: (annoyed) Explain the logic underlying that conclusion, please.
O: Well, it's so clean, sir!
C: It's certainly uncontaminated by cheese.
So, we sat in the car whilst it mizzled outside, swigging 2-euro Euro-vinegar out of a plastic litre tub, whilst chewing moodily on soggy baguette and plastic cheese sarnies.
The magic of the Pyrenees!
The postscript of the story is that we did eventually locate the micro-brewery nestling in a mountain gorge. And there was an adjacent stream rumbling and tumbling off the mountain. Just as we imagined. We shipped the bottled beer in the end. And it tasted crap.
Stay tuned for Chapter Two!
*
Interested in finding more about the wines mentioned? Contact us directly:
shop@lescaves.co.uk |  sales@lescaves.co.uk | 01483 538820