When we finally discovered the house on the outskirts of Cirencester we encountered three figures up to their elbows (literally) in blackberries, arms and faces painted in crimson-purple juice. Individual berries were being painstakingly picked over and sorted, preparatory to being gently crushed.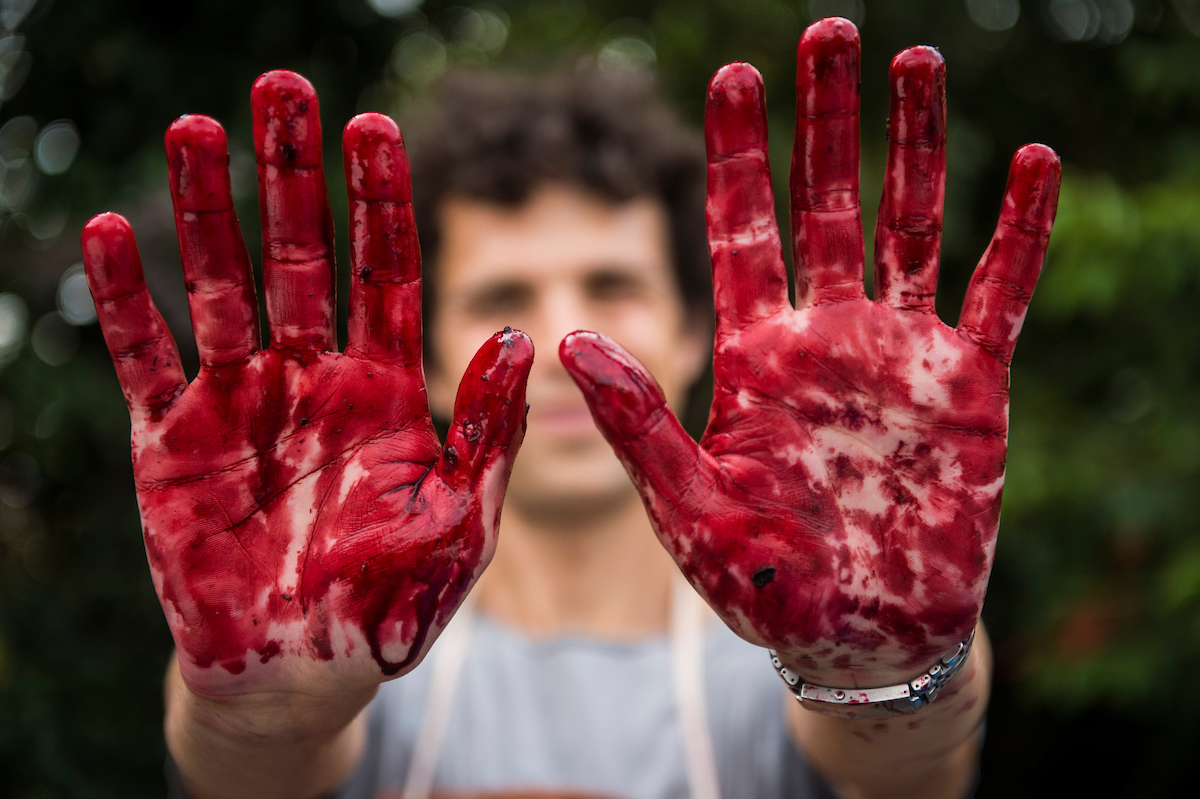 Barney Wilczak, the brains and passion behind Capreolus (the Latin name for the shy and elusive native roe deer), had a former career as a photo-journalist focusing on conservation stories, wherein he supplied non-profit media to conservationists in over 118 countries. He decided to return home, took his interest and knowledge of the natural world, particularly botany, and applied it to distilling, working with natural biological processes. His deep and detailed research and obsessive focus have resulted in the distillation of eaux de vie that must rank as some of the most exquisite and profound to be found anywhere.
Barney began by installing a distillery in the cottage where he grew up and converted a lean-to greenhouse with its frame of timber and Cotswold stone, to house a very special Czech custom-built copper still.
"Free from chill filtering, recycling of feints and artificial colouring."
Individual varieties of fruits are only distilled in years where the quality reaches the necessary levels. Timing is the key: harvesting the fruit at optimum ripeness is paramount. Barney is on constant alert and told us that he has had to cut short holidays and return home in order to be present in person to receive the crates of special fruits. Most is supplied by farmers and friends, but some is foraged for (elderberries, for example) – or "scrumped," as we like to say.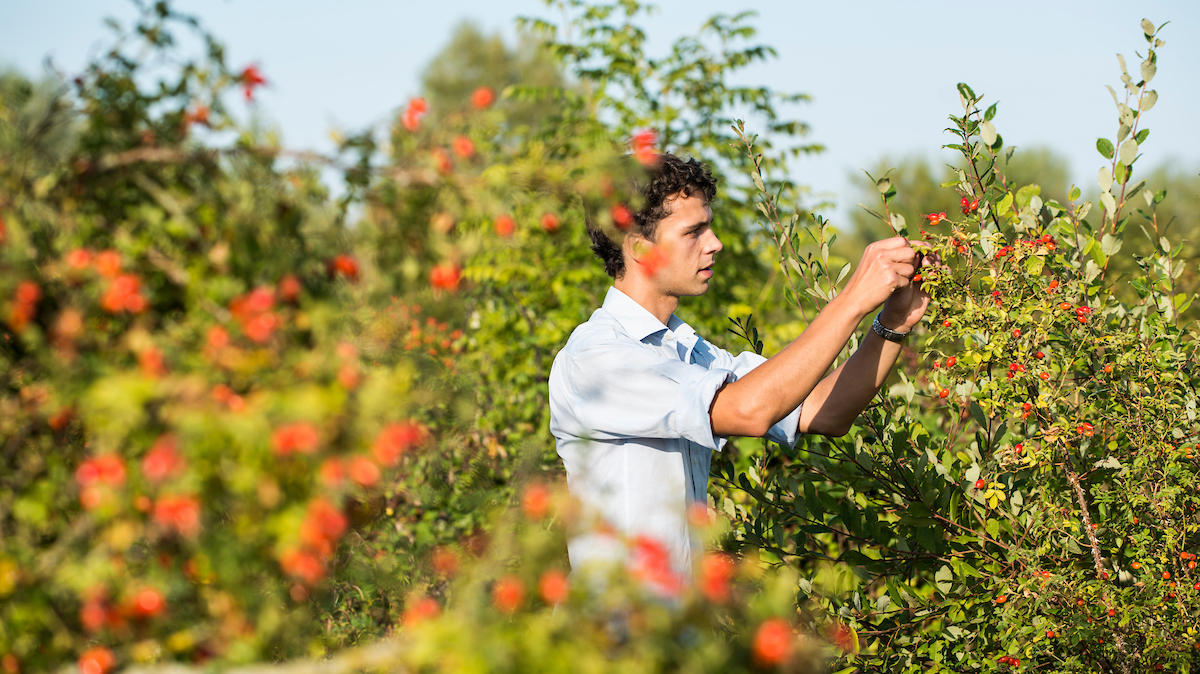 Each ingredient is inspected, and sorted by hand, gently washed and slowly fermented at cool temperatures to best preserve its aromatics. Yeasts, either wild or alternatively expressive cultivars, are used for the conversion of sugars to create the small yield of alcohol that helps carry and preserve the fragrance in the glass.
Once fermented, the fruits are conveyed to the distillery. Further processing may be required; for example, plums are sieved by hand from their stones. This leaves just a hint of their almond flavour without covering the delicate spice hidden within the flesh. The fruits are handed into the custom copper still (a Czech design). Heated by a naked flame they are protected by a bain marie, thus removing the risk of scorching. The choice of copper rather than cheaper stainless-steel serves two purposes. A superb conductor of heat, it allows a gradual transition of flavours as they evaporate within the still. Secondly it binds undesirable flavour components to its surface, which is part of the alchemy of distillation.
The eaux de vies taste like the essence of the fruits, but they are more than that, exhibiting an almost cashmere texture or vinosity, that one associates with the best skin-contact natural wines.
A first distillation concentrates the essence of the fruit to create the "low wines", a spirit with an abv of 25-30%. After several first distillations, the low wines are combined and re-distilled. Here each flavour comes across in strong bands as the individual molecules' boiling points are reached. Experience and a sensitive nose are key. The first section, known as the "heads" are highly volatile, undesirable, and are rejected. A rapid change to the "hearts", where the true beauty of the spirit lies, the goal in distillation. Finally, heavy and fatty, the "tails" are removed. Unlike other distilleries, Capreolus do not recycle either heads or tails. Therefore, despite retaining only a fraction of the alcohol that they start with, they create the highest possible standards.
And, finally, to rest. Whether being aged in barrels or remaining as pure clear spirits, a lengthy sojourn in the "warehouse" allows the development of the spirit and the creation of new aroma compounds, resulting in truly exceptional eaux de vie and gin.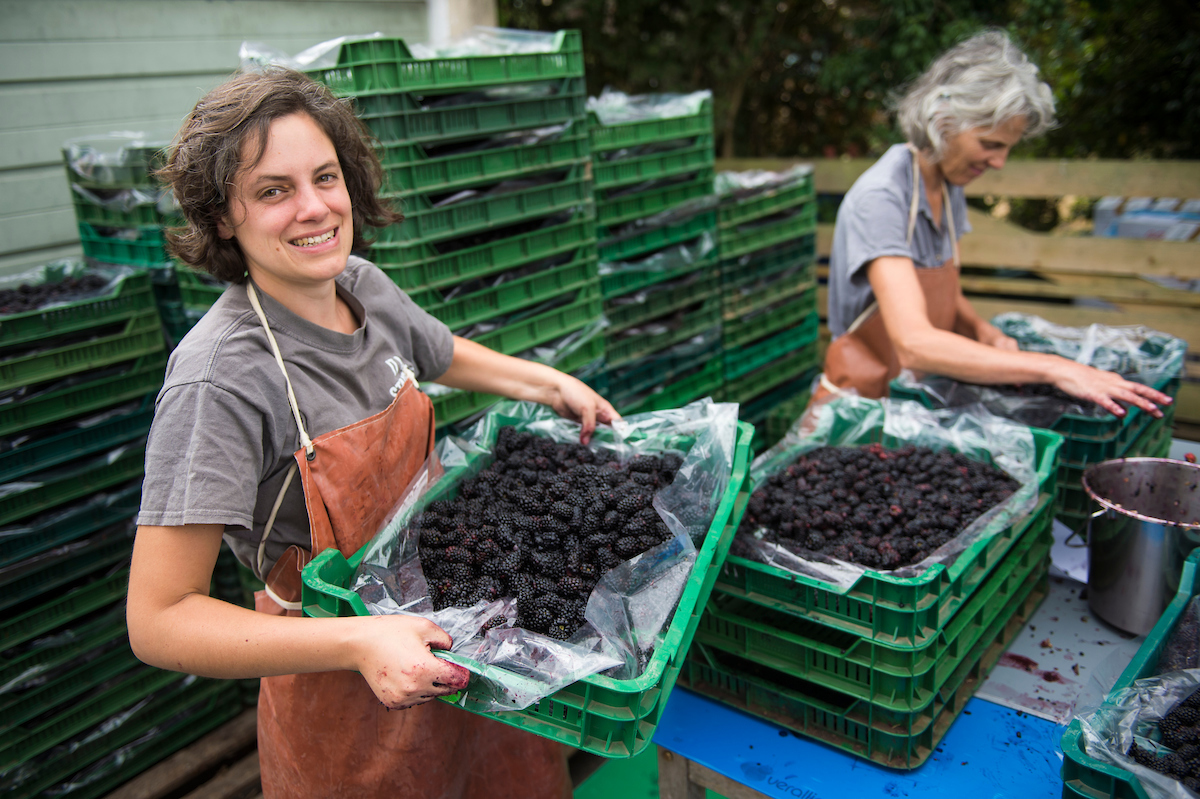 We tasted an apple eau de vie aged in chestnut barrel, an almondy plum version aged in mulberry wood, a delightful perry pear eau de vie from a single tree and another one made from comice pear; a powerful quince; the fabulous aforementioned wild-harvest elderberry, and finally the Garden Swift gin, flavoured with thirty-four botanicals and distilled in batches of 200 bottles. The eaux de vies, of course, taste like the essence of the fruits, but they are more than that, exhibiting an almost cashmere texture or vinosity, that one associates with the best skin-contact natural wines. The spirits take on the subtlest hints from their ageing vessels; they acquire fine wood tannins rather than sweet oak flavours. The gin, Garden Swift, is the most exuberant of all, with its fusion of 34 botanicals, some home-grown, others foraged, and includes (notably) organic Sicilian blood oranges. The word "cornucopia" is over-used but merited here!
The Products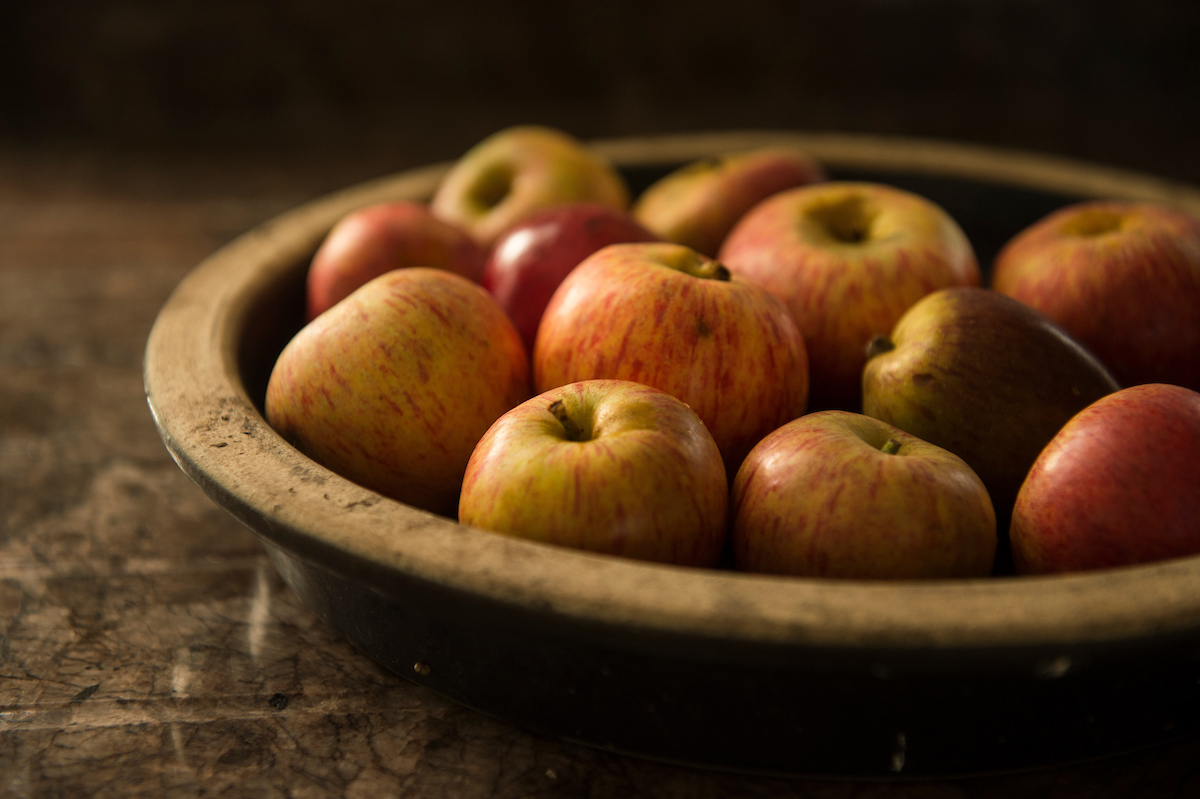 2016 Apple Eau de Vie in Chestnut Barrel – 46%
Made by fermenting and double distilling locally grown Harry Masters Jersey apples, and then ageing it in chestnut-wood barrels. The result is a sweet and spicy spirit with subtle notes of apple and cinnamon. 305 bottles made
2016 Doyenne de Pear Eau de Vie – 42%
This eau-de-vie is made from sweet Doyenné du Comice pears. Double distilled from perry created from the juice, this is fruity and sweet with a hint of white blossom. 316 bottles made
2016 Plum Eau de Vie in Mulberry Barrel – 46%
Made with Victoria plums, this is another example of Capreolus' attention to detail. The plums are gently crushed to extract the juice without breaking the stones. The whole fruit is fermented, with the stones then hand sieved out. Aged in mulberry wood, this is sweet and floral with a hint of almond. 171 bottles made. A voluminous nose of sweet and richly flavoured plum with hints of violet and raspberries.
375ml | 43% ABV | Edition of 203 bottles
Photo credit: Barney Wilczak, Wilczak Photography
*
Interested in finding more about Capreolus eaux de vies? Contact us directly:
shop@lescaves.co.uk |  sales@lescaves.co.uk | 01483 538820