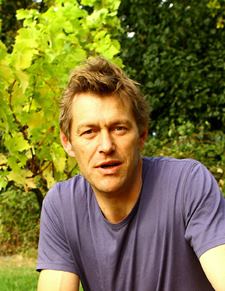 Will Davenport of Davenport Vineyards will once again be at the Real Wine Fair this year 7-8th May 2017, pouring a selection of still and sparkling wines. He's been making wine for nearly 25 years, building from a small start-up to a collection of vineyard sites that total 20 acres in East Sussex and Kent. The aim is to make wine of the highest quality possible and to make wine that is a true expression of their grape varieties, soil and climate of the vineyards. He believes that the best way to achieve this is by interfering as little as possible and letting nature take its course (with a modicum of guidance of course). The use of organic methods helps to bring the desired results and has the benefit of also minimising their impact on the environment. Copper and sulphur are used to control mildew, along with plant extracts made from seaweed, comfrey and nettles.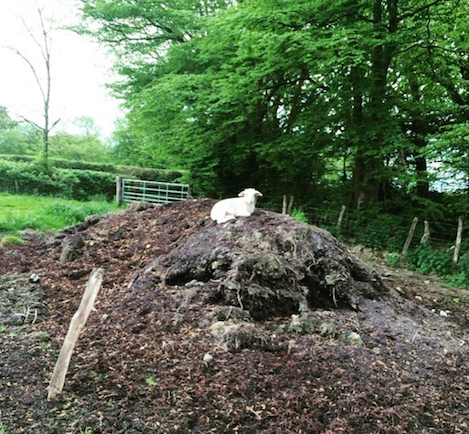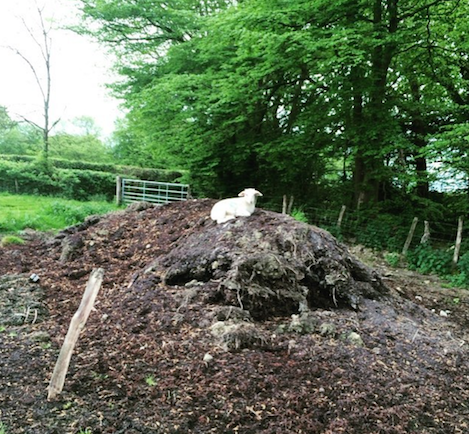 The sparkling wines are given a long elevage on the lees to gain complexity. The one exception is the Pet Nat which is all about the fruit and requires ripe grapes and a certain softness. Chardonnay, for example, would not be appropriate. The components of the pet nat: ripeness, softness, malolactic texture and the leesy intensity make this a super-approachable wine. The traditional method wines are released according to feel. Will Davenport makes one of the best whites in England, a blend of Bacchus, Ortega, Siegerebe, Faber and Huxelrebe, which seems to possess more texture than most. The last vintage saw a portion aged in used barrels. Another wine that Davenport are perfecting is the Diamond Fields Pinot Noir. The 14 version was almost chocolately – Will described this as Valpolicella-like. The 15 is lighter and more angular – Pinot meets Gamay perhaps.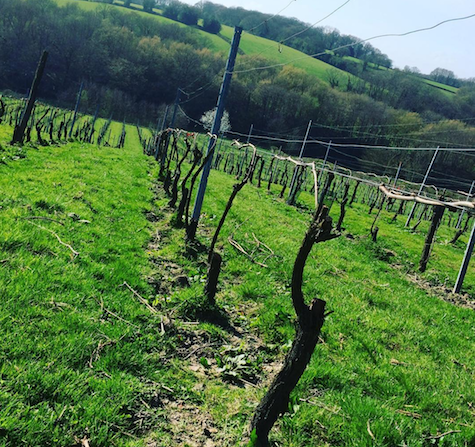 Davenport in 2016 – Diary of a Growing Season
In his own words…
The first half:
The cool spring weather meant that flowering was a week late, although we did escape the frosts that affected many vineyards. The vines produced fewer flowers this year and so in June we were already anticipating a smaller crop, but then it was unusually cold and wet during the flowering period. The bunches managed to set fruit, but bunches were smaller than we hoped with significant number of unpollinated berries (the "hen and chicken" effect). Phil, the vineyard manager, went on sabbatical from April, so Ben had to step in and look after the vines over the summer. Some early downy mildew was spotted on the Chardonnay in June, but this was kept under control with a copper spray.
The second half:
In July the weather improved and we have had the driest July to October season since 2011, with only 129mm of rain in four months, compared to 117mm of rain in June! Plenty of sunshine also brought the fruit forward. Apart from a touch of powdery mildew on the Bacchus (an annual event in our vineyard), there was no significant mildew on the grapes. By August, Phil returned from working in Galicia and the Czech Republic and we could show him an impressive crop. As harvest approached we purchased a leaf stripping machine to allow some sunlight onto the developing bunches, backed up with plenty of manual leaf removal. In the end picking started on the 19th September, about 5 days earlier than average. Sugar levels were some of the highest we have ever seen; acids were balanced and flavours are wonderful.
In the winery:
As usual we don't add any yeast, enzymes, sulphur dioxide or fining agents during harvest. For those interested in biodynamics, all grapes were picked on Fruit or flower days and we had 2 full moons during harvest. The wines have fermented very cool and slow, with no need for chilling, helping to preserve the aromas in the grapes. Volumes are around half of 2015 (which was our biggest ever yield) and about 25% down on the 5-year average.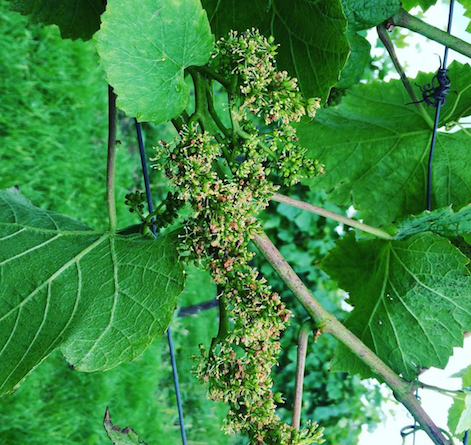 Highlights:
The great weather during September and October, ensuring properly ripe fruit
Highest yields from Pinot Meunier and Huxelrebe at 2.2 tonnes per acre
Beautifully clean grapes with only organic management.
Our amazing team of pickers – thank you!
Highest sugar levels I can remember across the board, everything between 75 and 88 Oeschle
Wonderful flavours
Easy, slow and steady fermentations
The Beavertown brewery delivering a case of beer to the winery mid-harvest
Low points:
Without doubt the badgers have caused more difficulties this year, mostly deterred by electric fencing. However, they did manage to devastate our small crop of Auxerrois down to almost nothing.
The low yields on Pinot Noir with only 5 to 10 very small bunches per vine.
The average yield of 1.46 kgs per vine overall
Overall, we have some wines that have great potential. It would be ideal if we have more litres of wine in tank, but at the end of picking we still have lots to smile about.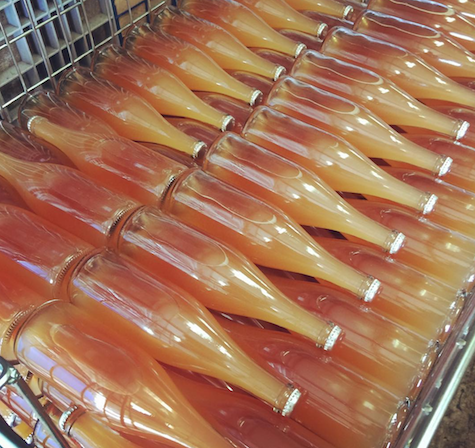 Davenport Pet Nat 2016
Due to the nefarious activities of aforementioned munching badgers the Auxerrois, which constituted 100% of the 2015 vintage, the 16 became a blend of Faber, Pinot Meunier, Pinot Noir and Auxerrois in descending proportions – all from the organic Hazel Street Farm in Horsmonden in Kent.
The grapes were harvested by hand, whole bunch pressed and fermented in stainless vat with native yeasts. Before all the sugars were converted the juice was transferred into bottle where it continued to ferment out to dry, producing its bubbles. It was disgorged in January to remove tartrates and heavy sediment, before topping up and being bottled without fining or filtration or any addition of sulphur.