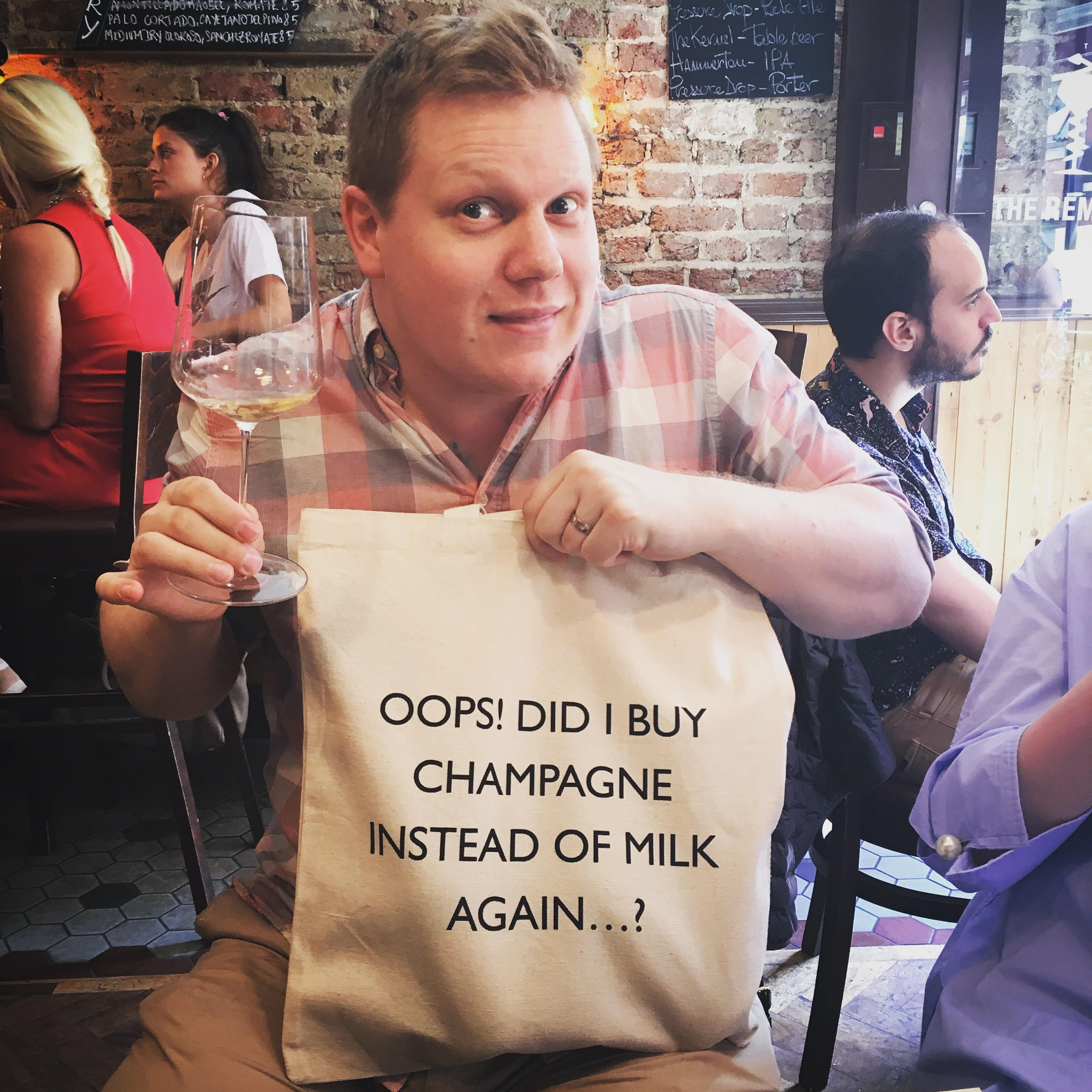 Derek Morrison is the Retail Manager at The Good Wine Shop, an independent wine merchant with shops in Kew and Chiswick in West London. Derek is also the co-founder of Grower Champagne Month, a campaign, festival, and platform dedicated to the promotion of wines produced by small vignerons in Champagne, which ran all of June this year.
Let's start in the present. How did you find yourself as Retail Manager for The Good Wine Shop?
Before joining The Good Wine Shop I used to manage a shop in Mayfair called Hedonism Wines. During that time my wife and I moved to Kew, just around the corner from The Good Wine Shop, so it became my local source for craft beer and the occasional bottle of wine. We love SW London and were keen to put our roots down in the area to raise our family, so the idea of working locally had always existed in the back of my mind. About 3 years ago I met Mark Wrigglesworth, the owner of The Good Wine Shop and we shared many cappuccino-fueled sessions exchanging ideas on wine, the industry, and family life in our corner of London. Over a year and a half ago he invited me to join the company in my current role and I jumped at the chance to put some of our ideas into motion in my local community.
What is TGWS's USP, as they say in the marketing world?
Last year we established our official tagline as "Good Wine | Real People | Great Stories" which distilled our focus on small, family owned producers into something easy to communicate with our customers. Over the past year we have expanded our portfolio of producers we import directly who we see as the flag bearers for this strapline, with wines ranging from great everyday entry wines to fine wine classics and rising stars. They are all leading producers in their respective regions, and really embody our ethos which helps us communicate our beliefs by telling their inspiring stories. As a wine retailer, our brand is defined by range we curate and the stories we choose to tell. There is not enough room on the shelves to stock every wine that tastes good, so we try to find a stronger idea to weave through the entire range. Good Wine Real People Great Stories helps guide our selections to maintain cohesion, while also allowing us to sculpt a selection of wines which are all over the spectrum stylistically.
One of the advantages to operating in the great villages where we are, is the strong sense of community in these areas. I think there is a mutual set of values shared by us, our customers, and the producers we work with; and I think that harmony helps us create meaningful and exciting relationships with all parties. Also, we work really hard to make sure that these experiences are available to all customers regardless of their average spend. It takes a lot of thought and planning to offer an equally dynamic wine experience for people whether they want to spend £10 or £100 on a bottle, and I am really proud of the bespoke and empathetic way we achieve this with some digital tools and low-tech sincerity.
Which section within TGWS excites you the most?
The emptiest one on the shelves because that usually means I get to fill it with new stuff!
Which wine selections do you feel you could beef up more? Or do you prefer to be somewhat more of a specialist?
Our range is always evolving and shifting with the seasons, so I will expand sections where there may be more current relevance. In this period you'll find an enhanced selection of white wines, roses, and lighter reds from around the world but can expect new fuller reds and the like as summer fades into Autumn/Winter.
We operate with around 800-900 unique wine listings, but we try to rotate at least 10-15% of those with new products monthly. I would say that the breadth of our selection allows us to offer interesting wines in every country and style, while our rotation of new wines and limited allocations helps us keep things exciting. We are open to wines from anywhere, so long as there is good juice in the bottle and a story worth telling behind it. It's also a very collaborative environment with our whole team having a voice in the wines we stock and the opportunity to champion their favourite producers or regions. We have an amazing and diverse team, so we are constantly learning and discovering new wines from each other which we then get to share with our customers.
Finger in the wind, what proportion of your sales is hand-selling/ staff recommendation and what proportion is people buying what they know (or think they know)?
That's a tough question. We know that no single bottle of wine is for everyone, but we work to have something to offer everyone. We try to hand sell as much as possible in order to help each customer find the wine that is right for them in that moment. I think our efforts to maintain a cohesive selection of wines with integrity instills a confidence in our regular customers to trust what is on the shelves, but we know everyone has different tastes and try to help them navigate the selection around their preferences.
You co-founded Grower Champagne Month, which launched this year and ran for the entire month of June. What was the inspiration behind this?
Well the real inspiration was the amazing growers in Champagne making what I believe to be some of the most exciting wines in the world today. I'm a bit fanatical about these wines and people, and felt they deserved a platform to have their stories told together in a unified way. There are so many great Sommeliers, Importers, Writers, and Restaurants who have had a lot of success and impact with these wines individually, but I thought there was an opportunity for us to unite efforts to amplify this message and effort to celebrate these great growers. The main goal is just to get more people to taste inspiring wines and break down the misconceptions in the market about Champagne. Champagne is too often associated with luxury rather than reflecting the humble dedication of the vignerons working in one of the most unforgiving and vulnerable wine regions in the world. Champagne is undoubtedly special, but it isn't unattainable.
How was Grower Champagne Month received by the public? Do you think there is a greater understanding of grower champers versus the big houses?
I am so overwhelmed by the response we have had from our own customers, and wine lovers across the globe who reached out and got involved. We hope many more merchants and restaurants around the UK to get involved next year, and it looks like there might be some international markets taking place as well. Regarding a greater understanding of growers, I hope so! There are so many misperceptions of Champagne in general and I think celebrating these small growers has helped dispel some myths, and enabled people to connect with the more humble and relatable aspects of wine production in the region.
Also, these producers are making truly exciting wines so when you get to pour them for people, or introduce the grower in person, the customer might not fully appreciate what's happening with the 'Grower Revolution', but they can recognise that the wine in their glass is damn good.
And while we're at it, what is the difference between them in a nutshell?
U2 Playing at Wembley Stadium vs Leonard Cohen or Joni Mitchell playing in small 100-seat venue around the corner.
Let's talk about wine retail in the UK. What are the biggest challenges? And those things we do really well in London and UK-wide?
Well… Brexit in a nutshell. The decreased value of the GBP has been massively challenging as we see the prices of wine climb across the board. Also, the uncertainty for future trade relations/procedures with EU countries and how that will affect the movement/cost of wines imported into the UK gives me a lot of anxiety.
Fortunately, London is full of creative and inspiring people who are constantly adapting and evolving so I am hopeful for the future. People in London and across the UK love wine. So long as that remains the case, there will always be exciting opportunities for businesses to satisfy that thirst.
London would like to think of itself as the world capital of the wine trade. Do you think that is true?
Well, that sounds like something London would say! Kidding aside, being from Saskatchewan, Canada I was forced abroad pretty quickly to work in wine. During my travels across Europe and the world it became clear that no market for wine retail had more to offer than London. There is so much exciting wine being brought in from all over the world by exciting importers, combined with impeccable provenance and depth of stock for cellared fine wines, especially of the old world. This creates an amazing array of wines to work with when sculpting a wine list, building a cellar for a client, or filling your retail range. And while we are spoiled with the most comprehensive wine stock and relatively strong currency, it is the mass consumption of wine by almost everyone in London which allows the market to reach such great heights. The thirst for wine, and openness to embrace and seek out wines of quality from all over the world is the single most important detail which makes it so special, and thrive in so many niches. London might not be the most important market to every wine producing region, maybe even less than it realizes, but in my mind it's easily the most exciting market as a wine lover. I'm not sure if that makes it the capital or not, but I'm sticking around!
How have you seen the wine retail scene change in recent years?
I think the biggest thing we have seen in recent years is a departure from the dependence on critics' scores. For a long time, people were obsessed with measuring the quality of wine with a number as opposed to finding something that fits their own personal tastes or values. People now look for more than a number in their wines, and accept that the world of wine can't be so easily quantified. I think this results in more interesting offerings in retail as it challenges everyone to look deeper at what they offer and how to communicate that to the customer. I always hated walking into a store and being quoted a number when I asked about a wine, and am so relieved to have left this in the past.
This isn't to say critics' roles are less important, quite the contrary. I think it's just that finally we are more interested in the words they write and stories they tell about wines and producers, as opposed to just the number punctuating their notes at the end. It's less about being told what to like and drink in the past, and more about providing resources for people to discover what they like best.
Which wine region have you visited recently that most excited you? Why?
Gosh, that's so hard to answer as I don't think there has ever been a more exciting time for wines from all over the world… I will leave out Champagne as I've talked enough about it. I would definitely highlight a couple: The Roussillon/Languedoc really excites me right now as there is a perfect blend of young passionate winemakers forging new paths, combined with fantastic terroir and great raw materials/old vineyards. We work with Paul Meunier, a Burgundian transplant with top pedigree from his family's domaine in Vosne-Romanee. He really brings a unique perspective and clarity of vision to his little domaine in St Arnac. His first vintage was 2014 and he is crafting some powerful but finessed wines which give me goosebumps. He is only a stone's throw away from Tom Lubbe at Matassa where the wines couldn't be more different but simultaneously stimulating. I also just spent some time with Fabio Motta in Bolgheri, Tuscany a few days ago and his wines are the antithesis of boring old Super Tuscans. He is working biodynamically and there is so much vibrancy and freshness in his wines which are worth checking out. I guess overall, it's the wave of young winemakers all over the world who excite me rather than any one region. There is exciting wine everywhere these days if you look hard enough!
Finally, your desert island wine – what would it be?! 
Montevertine's "Le Pergole Torte". It's the definition of elegance, and I believe one of the truly great wines of the world.
Also, I always thought Wilson provided admirable support for Tom Hanks in Castaway, so I figure the empty bottle might keep me company on the lonely island. Cue Randy Newman's "You've Got a Friend in Me" for the soundtrack.