AKA Life in the Bojo slow lane and Cistercians doing it for themselves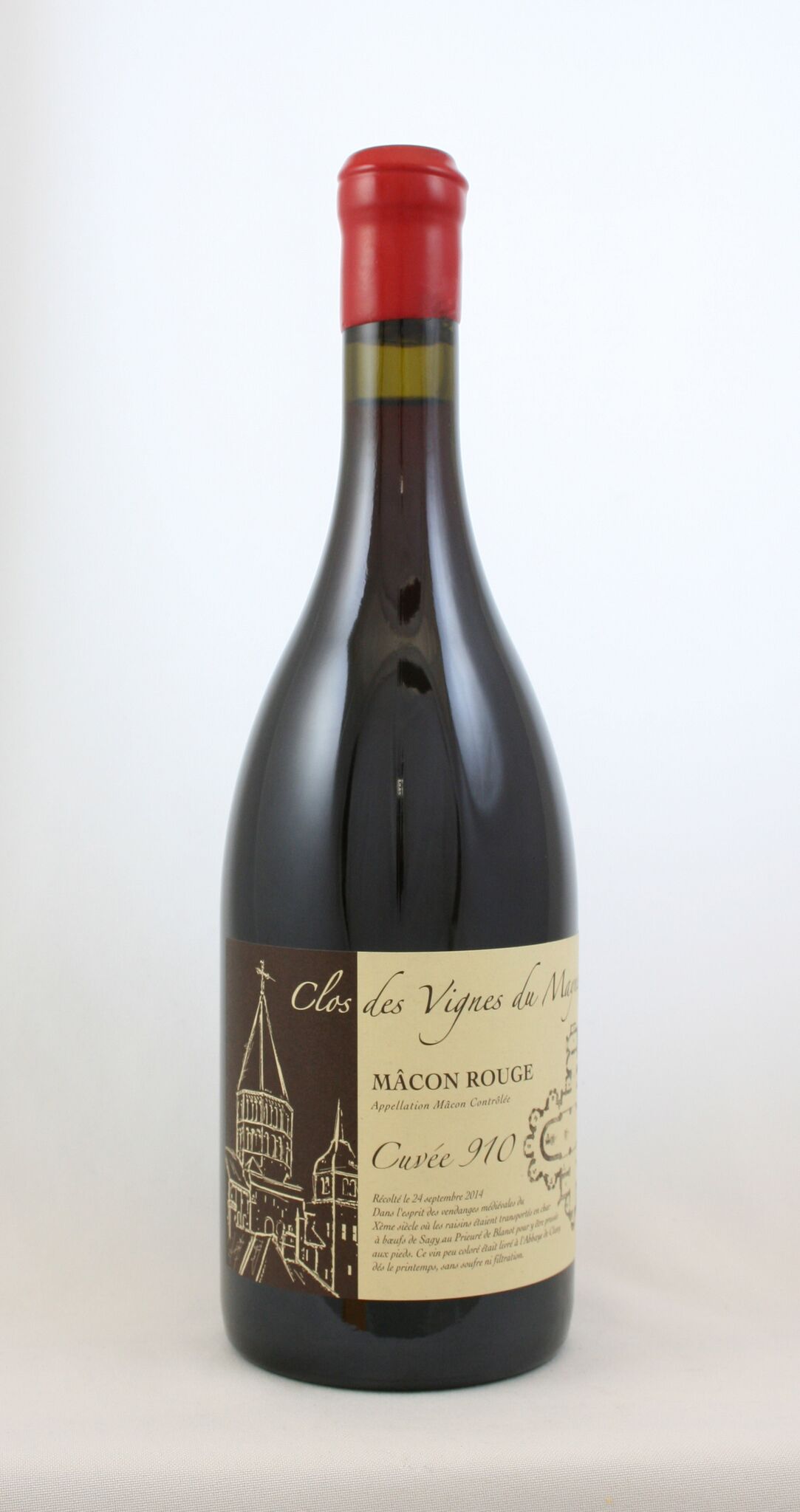 Macon-Cruzille Rouge "Cuvée 910" a field blend that harks back a millennium plus change. (or no change)
This Macon pits Gamay, Pinot and Chardonnay into one pot. Tis a wine brimming with freshness, tap-dancing insouciantly across the tongue. It has the signature utter-drinkability-with-molten-minerality that we adore on these pale semi-carbo reds.
Here is a wine that I feel captures the will o' the wisp uncertain appeal of natural wines. (I will explain that further). But first the story about Macon Cuvee 910 from Clos des Vignes du Maynes.
The number is a reference to the year when Vignes du Mayne belonged to the monastery at Cluny, which itself was under the management of the Benedictine Order. In that same year the Duke of Aquitaine gave away the monastery to Abbed Bernon, who laid the foundation for the powerful and influential Cluny monastery. The monks living at Vignes du Mayne, harvested grapes and musts, which later were transported, to the monastery, where the wines were raised.
Here's a brief clip of the exhortatory master-monk of Macon:
This Macon from this historic vineyard (which was probably the site of a Roman vineyard a thousand years before that) brings us back to rationale of terroir, which was, and still is, finding the best locations to plant vines. We see this especially in Burgundy with the small parcels of vineyard on various slopes denoting geological and climatological distinctiveness.
In 2010, the anniversary vintage – as it were – Julien produced a 'medieval' wine, blending grapes from all his parcels together, as would have been done originally, treading by foot and eventually transporting the wine to the abbey on carts pulled by Charolais bulls.
This is a field blend of Pinot Noir, Gamay and Chardonnay, each component yielding subtle tones whilst creating a beautiful ensemble. The Pinot is pure cherry, crunchy redcurrant, the Gamay provides wild berries, a hint of sous-bois and dried fruit. The Chardonnay is the spine of the wine with its acidity and pounded shell minerality giving extra energy and seasoning to the whole.
There are wines that come to you. Then there are wines that you have to listen very carefully to discern what they are saying. They are truthful rather than flattering. Trying to describing the Macon is like translating music into words. The wine is transparent.
Julien Guillot's other wines are marvellous. The latest vintage of Macon Rouge has a simple punch of dark fruit; the -Cruzille Manganite wines possess fabulous minerality, whilst the Bourgogne Rouge and Auguste are fluid examples of Pinot Noir.