September, officially the beginning of autumn…
Summer ends now; now, barbarous in beauty, the 
Stooks arise 
Around; up above, what wind-walks! what 
lovely behaviour 
Of silk-sack clouds! Has wilder, willful-waiver 
Meal-drift molded ever and melted across skies?
-Gerard Manley Hopkins, Hurrahing in Harvest
… is really a further episode in our increasingly lengthy summers (touch wood). No need to crawl into oak-clouted reds for a while, rather wallow in the extended opportunity to smash a few more end-of-season rosés and scarf down some more juicy fair-weather Beaujolais. However, with game available in shops and on restaurant menus, it may also be opportune to switch to the aromatic reds in your life – silky, smoky Syrah from the northern Rhone, Pinot Noir and herb-flecked Mencia, and to assay more mouthfilling spicy whites. C'mon, when are you ever going to drink Alsace wines?? It's also time to get your gums around Gruner, fill your cheeks with Chenin and your molars into Malvasia. And, of course, orange is a colour for all seasons.
Six September Recommendations
Normally, I focus on a single wine in this section, but here are six for the price of… six – wines for all seasons, but especially for the month of September.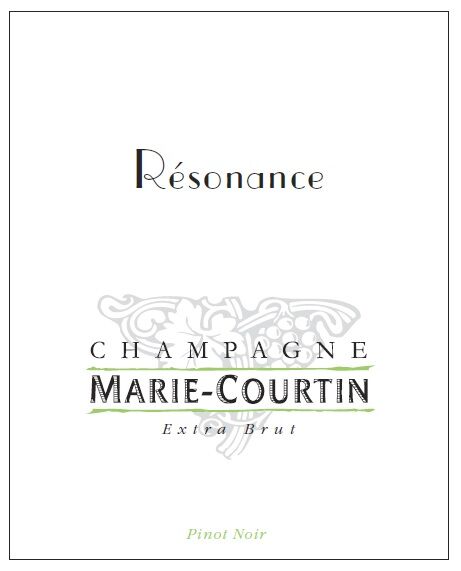 Champagne Marie-Courtin Resonance
Pinot Noir from the Cote des Bar. Biodynamic, fermented with its own yeasts, no dosage. The colour is a touch bronze and more than a touch opaque-chalky, the aromas redolent of sun-ripened apricots, peaches (skins and stone), flowers and crushed rocks. Chalky notes linger on the precise, beautifully articulated, ever-so-long finish. In fact, they resonate.
Summary: Real Pagne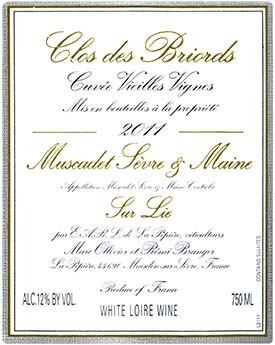 Muscadet Clos des Briords, Domaine de la Pepiere
It's September. There's a 'r' in the month. If you've had the day from hell, then deck those natives with the wine from shell, namely, the friskiest of frisky Muscadet: Clos des Briords from old vines has shell and sea-salt qualities in abundance.
Summary: Salt of the sea.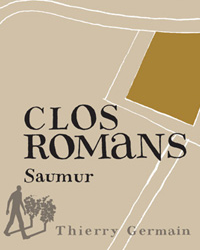 Saumur Blanc Clos Romans, Thierry Germain
Unlike the above superior thirst-slaker this is the wine for a special occasion. It is epic Chenin where the limestone seems to have wept tears of joy into the wine. It is the cru within the cru of Thierry Germain's; the oldest vines, all raging purity and longer than the collected works of Proust.
Summary: Saumur's lease hath all too short a date.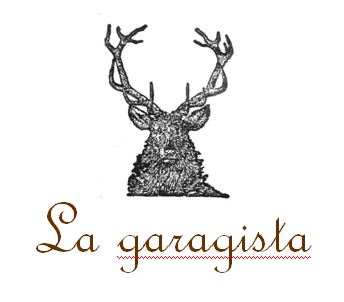 Vinu Jancu, La Garagista, Deirdre Heekin, Vermont
Homage to a very special vineyard on Mount Etna named Vinujancu, this wine from the hybrid La Crescent grape. Hazy golden-orange, musky, wild mint, tarragon, white strawberry, little golden plums and pears, skinsy and grippy, and oh-so-alive.
Summary: Alpine fine wine.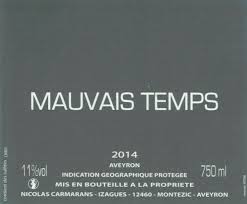 Mauvais Temps, Nico Carmarans, Aveyron
The good bad time had by all is a blend of Braucol (or Bro-Cool if you are of the Plageoles disposition), which some of you may know as the sanguine Fer Servadou, and Negret de Banhars – which most of you may not have heard of since most of it resides in this one wine. Does it drink well? Well, does Nico Carmarans look like a bear? Of course, it does. Gravy on a stick.
Summary: Soif central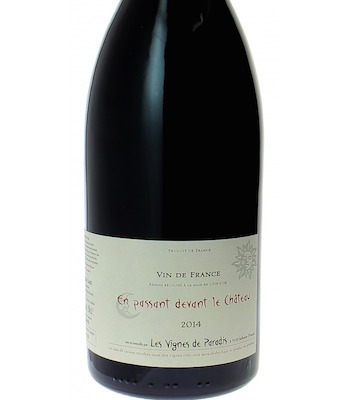 En Passant devant le Chateau, Les Vignes du Paradis
From old vines located in front of the Chateau de Pommard, this Pinot is throbbingly purple rather than Burgundy-hued, and the wine possesses a thrilling stony austerity that would bring a smile to the equally stony face of Hubert de Montille (he who loved "chiselled" wines).
Summary: Pommard by any other name