New Kids on the Block
The Rymesters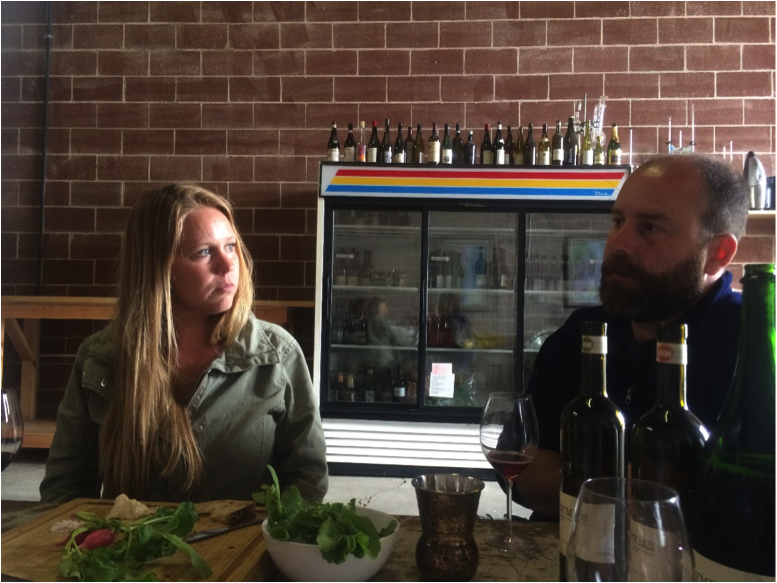 Megan and Ryan Glaab met in Australia working as seasonal cellar hands at Torbreck Winery. They quickly fell in love and got married. Between the two of them they worked at wineries such as Pax Wine Cellars, Peay Vineyards, Sine Qua Non, and Marcassin before starting Ryme Cellars in 2007 with one ton of Aglianico. Excited by the intensity and complexity of this wine, they embarked on producing intriguing wines from varieties that they personally enjoyed, to date making two Vermentinos, Ribolla Gialla, Cabernet Sauvignon, Cabernet Franc and the aforementioned Aglianico.
We love wines with distinctive character. They should taste great on their own, but really shine alongside good food. We love wines with ample tannin and acidity, especially if they are expected to age. We always value a great wine's idiosyncrasies over a polished supple sameness that is so common in the wine world.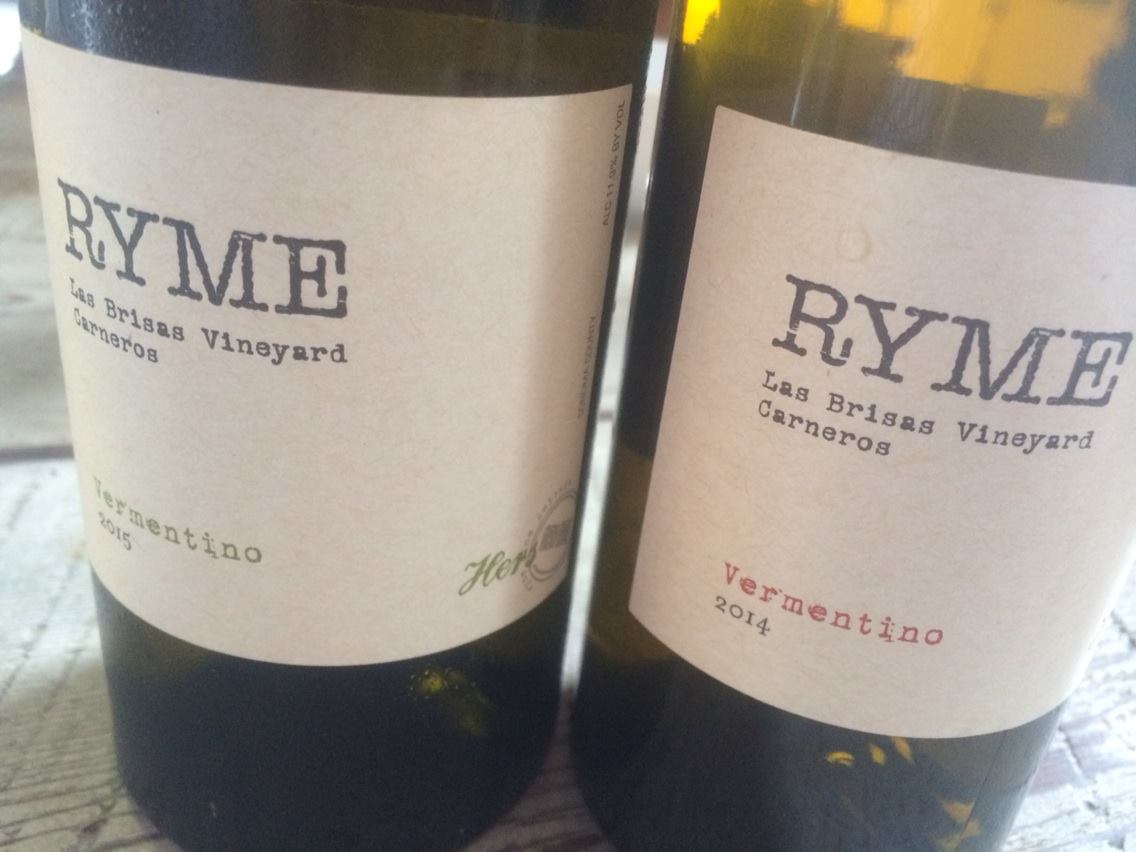 The wines come from conscientiously farmed organic or sustainable vineyards and are produced according to simple methods, always encouraged, never controlled. They use no cultured yeast, no temperature control, no enzymes or other adulterating influences. They do not fine or filter. The wines are raised in used French oak barriques between 2 and 10 years old. Many of the reds are fermented on the stems. Many of the whites are fermented on the skins. And then there are the Spanish tinajas – two so far, but more to follow.
From time to time, they have different interpretations of a wine's true identity, in which case, they maintain separate projects. Such is the case with the "His" and "Hers" Vermentino. "Hers" pressed, settled clean, and bottled early. "His" picked later, destemmed, fermented on skins, and aged longer. These are both delicious wines in their very different ways, exemplifying how terroir can be channelled into different directions but the wines can remain true to their origins.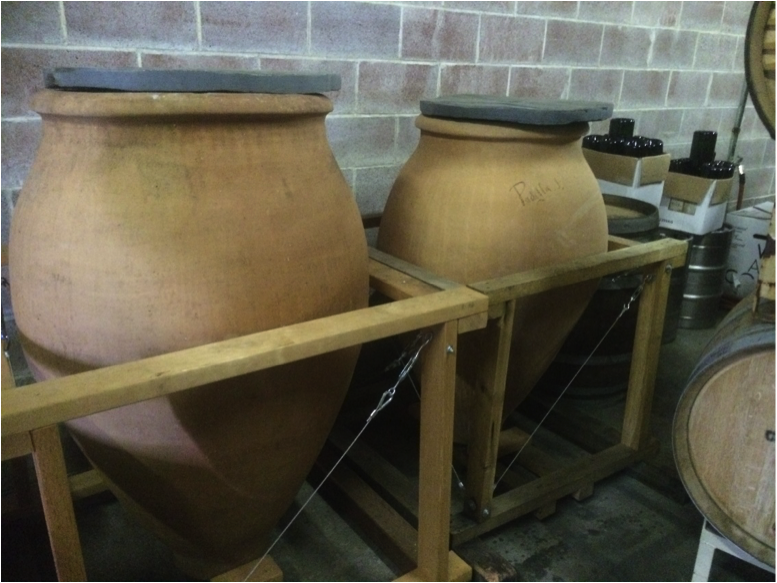 The skin contact wines – Vermentino, Fiano and Ribolla balanced phenolic structure with great purity of fruit. And the Aglianico was glorious, powerful yet fresh with lingering pepper and herb notes.
Evan Lewandowski & The Book of Wine Job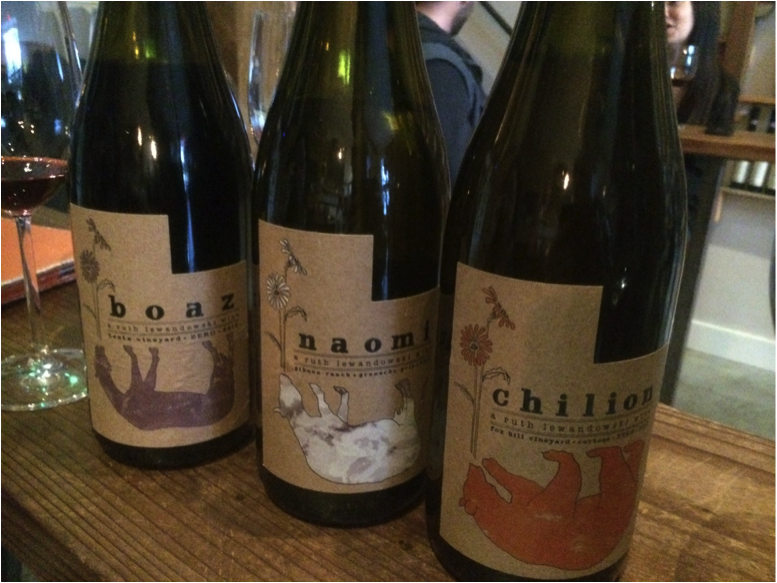 Meet Evan Lewandowski. We didn't actually meet him but made the acquaintance of his wines. In the way of the wine world Evan is one degree of separation from a lot of people that we know and respect – as well as close friends with Megan and Ryan.
He also lives in Utah where he is planting vines. His labels are in fact the shape of the state. And the names of the wines have a distinctively Old Testament ring.
Evan writes about his decision to go down natural route 66:
Why "Natural Wine"?
Natural wine is the true expression of the land by way of a grapevine.  I'm not interested in debating exactly WHAT natural wine is.  People get all uptight about numbers and definitions in the wine world.  It tends to be easier explaining exactly what natural wine is not. 
It is not industrially farmed with the use of synthetic pesticides and herbicides and fungicides and fertilizers.  It isn't an industrially produced beverage product through employing unnecessary amounts of sulphur, without cultured 'designer' yeast and/or bacteria strains, and the myriad of other techno cellar wizardry products we have at our fingertips these days.  No acid additions, no sugar, no water, no tannin, no filtration for filtration's sake, etc etc.  Insomuch as it is possible, I strive to produce wine made of SOLELY grape juice.  That is, to me, the true expression of the land via the grapevine.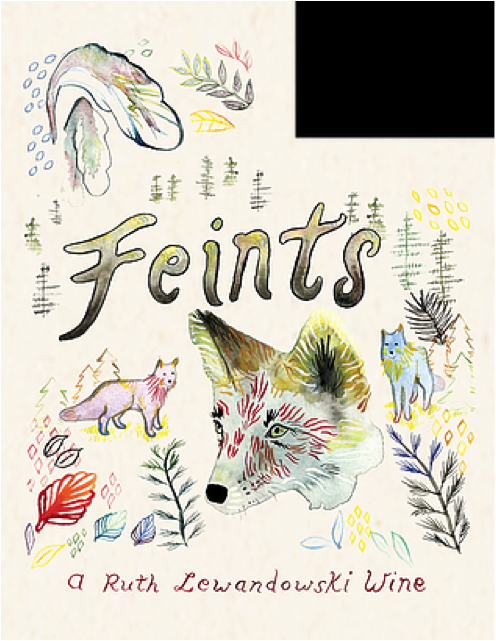 And what wines! For starters, a thrilling Grenache Gris called Naomi, from dry-farmed centenarian vines in McDowell Valley in Mendocino County. Evan ferments whole-cluster, presses the fruit and separates the juice from the skins to continue fermentation in egg-shaped tank. The manually controlled press cycle is a long, fairly rough one in orer to extract a higher than average amount of phenolic material from the beautiful, very unique fruit.
After about three weeks, native alcoholic fermentation was complete, and by the end of November the malolactic conversion had also taken place naturally. Naomi saw no winemaking additions of any kind except for a scant 20ppm of So2 at bottling. It is unfined, unfiltered, and completely intriguing. There truly is no better indication that your vineyard and the subsequent fruit born of the vineyard are healthy than a naturally healthy fermentation. Without the 'help' of cultured yeast, bacteria, yeast nutrient, fining agents, filtration, or sulphur during the winemaking process, one is entirely at the whim of the organisms that exist in the vineyard and in one's winery.
Over the ageing process, Naomi develops a faintly peachy glow, which just so happens to match the white peach aroma. Overripe pear and a touch of creamy pineapple round things out… Whites made from the Grenache family often have a somewhat waxy or oily texture…this rings true here, with a refreshingly balanced acidity to counter the weight. Taut minerality carried by the reduction and a compressed leesiness give this wine a further edge.
Sourced from the famous Fox Hill Vineyard in Mendocino Chilion is Evan's singular take on Cortese.  As Evan remarks the grapes gradually turn the most beautiful opalescent apricot hue in the vineyard and gather some very interesting cognac-like spice and this was his impetus to skin-ferment the Chilion. "I couldn't simply ditch the skins in the compost heap.  So just like a red wine, the Chilion fermented to complete dryness and finished its malolactic fermentation, bubbling away for just over seven weeks before I decided to press."
Fermented and aged naturally (without the 'help' of cultured yeast, bacteria, yeast nutrient, fining agents, filtration, or sulphur) in both egg-shaped tank and old, neutral barrique, Chilion is another mould-breaker.  First off, it is orange.  The nose bequeaths a captivating mix of apricots and golden apple, that aforementioned cognac spice and candied orange rind.  The palate is equally as enigmatic suggestive of quince and baking spice and crushed rocks.  It's got refreshing acidity, a pleasing amount of tannin and at 12.9% abv, it is deceptively light yet with the sturdiness to age. One is reminded of Stefano Bellotti's A Demua.
Eat 'Cisco 
San Francisco offers a wide variety of eating experiences from Italian-influenced, seasonal-ingredients-influenced restaurants to an array of eastern alternatives – Chinese, Thai, Japanese to great seafood and more street-food style operations.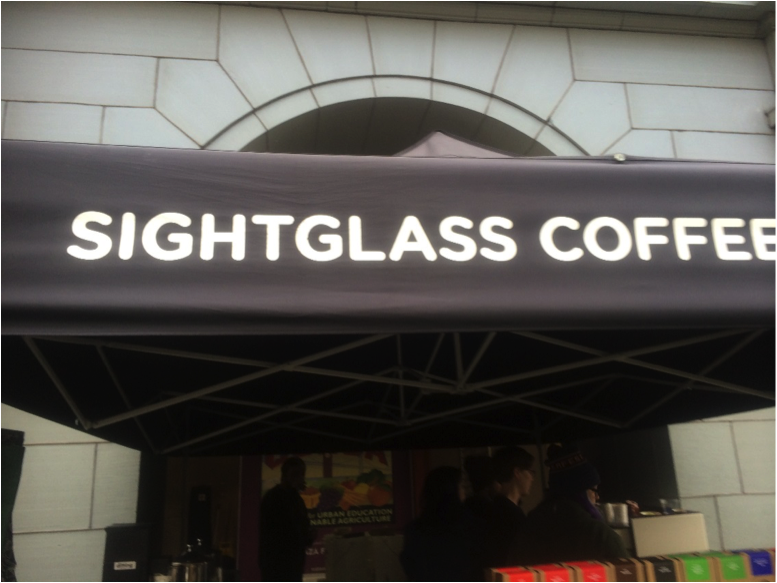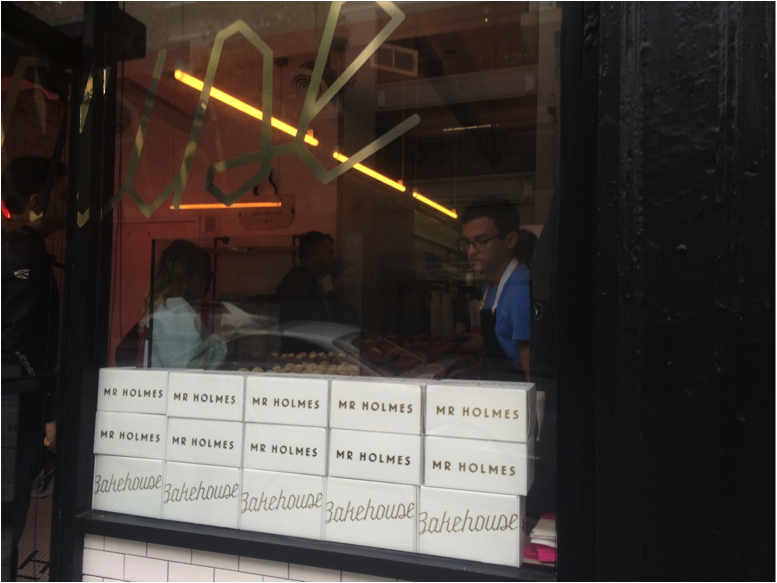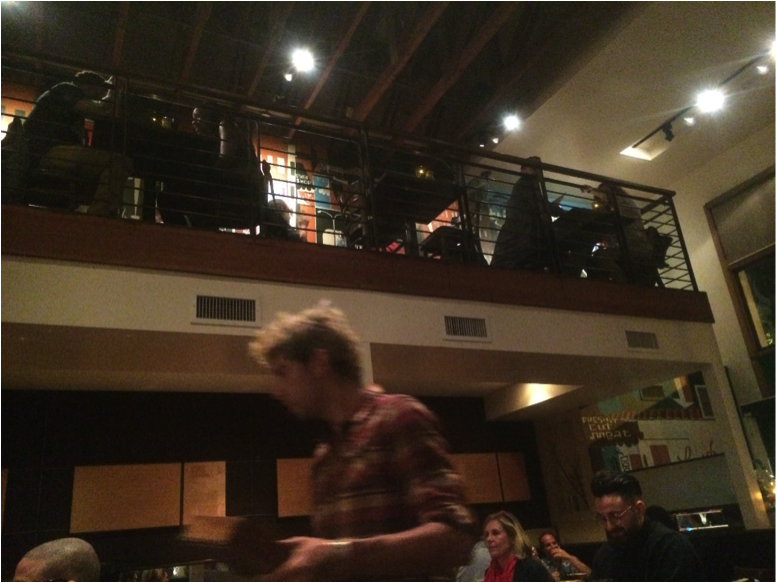 We went to Nopa (with its self-styled "best pork chop in San Francisco" and other superb wood-fired meat dishes), Bar Tartine (creative vegetarian menu), and had fiery umami-intense Thai dishes at Kin Khao.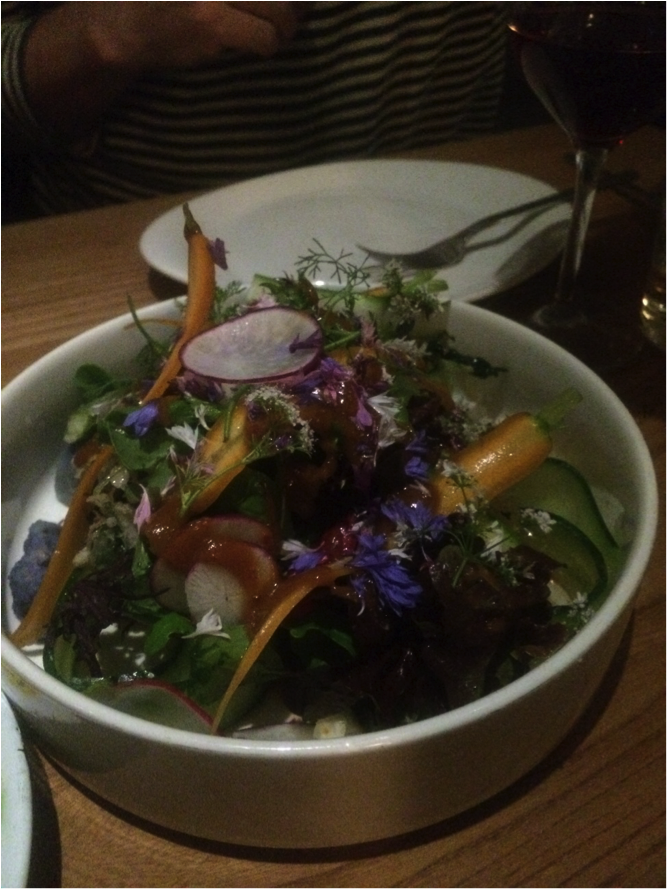 We queued for an hour and a quarter to get into Swan Oyster Depot, devoured barbecued oysters with a chipotle butter sauce with some cold beers at Hog Island Oyster Farm, made the pilgrimage to Berkeley to have lunch at Chez Panisse and ate Mexican street food at the farmer's market.