Jeff Vejr is the owner/winemaker of Golden Cluster.  He sources grapes from one of the oldest vineyards in Oregon.  His Semillon grapes are the oldest known in the Pacific Northwest. Read Part One of our Q&A with Jeff HERE.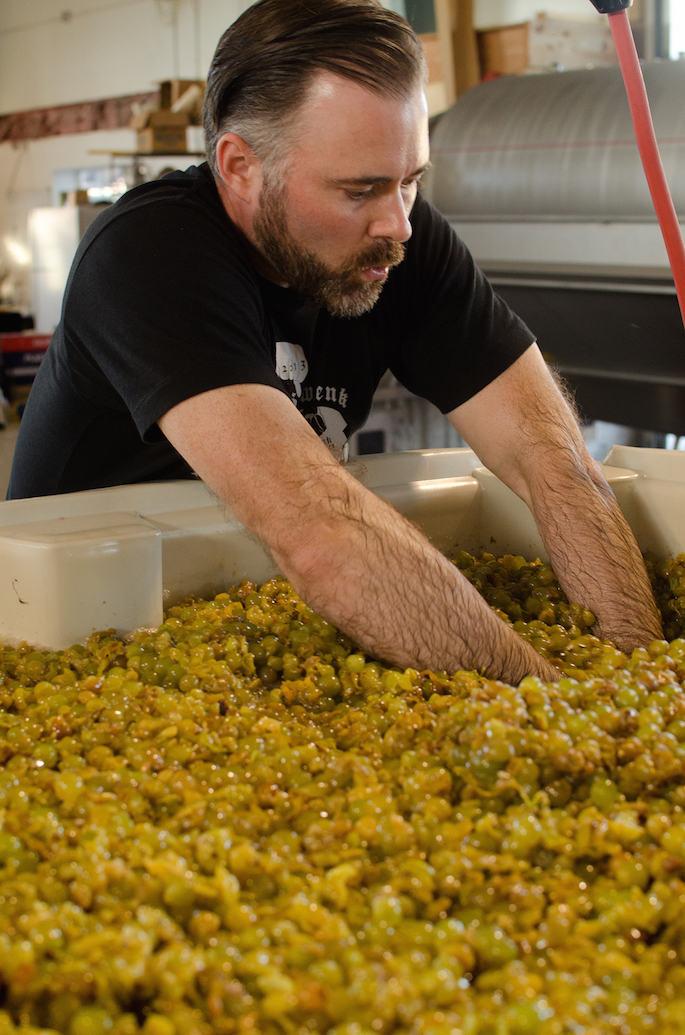 The Oregon Scene
In California there is an alternative wine scene of small artisan winemakers. Is there anything comparable in Oregon? Or simply a disparate group of individuals doing their own things? How much exchange of ideas goes on?
Yes, I'm a big fan of many of those producers. I was there in 2009 and struck up a friendship with Darek Trowbridge of Old World Winery. In fact, in 2010, I worked harvest with him. Seeing the "scene" take shape first hand over the years has been very inspirational. Their attention to old neglected vineyards, the championing of "unpopular" grape varietals, the unbiased nature towards "unpopular" wine regions, working in a more minimalist fashion in the cellar, and promoting more attention in the vineyards. From my viewpoint, they are doing everything that I would have wanted to do if I was in their position. There is a reverence towards their traditional Californian wine culture. They strive to keep that alive and are putting it in a new context. In my opinion, they are doing very important work and making delicious wines. There is a great documentary called "Wines from Here" that captured that scene in the early years. When you're watching the credits roll by, you'll see my name.
Here in Oregon there are smaller producers who are banding together. Urban wineries in Portland have established a mutual trade group. They market each other and co-host events. We also have many small artisanal producers in the "Valley" that are opening up shared facilities. We are a few years behind our friends in California, but we are catching up.
There is an exciting youthful energy that these new producers bring to our wine community. They bring a fresh outlook to many of the neglected grapes in our state. For years new producers would be making Pinot Noir. These days the story is different, It warms my heart to see so many young winemakers embrace white varieties and work in regions other than the Willamette Valley. We are finally building a more holistic view of our state and wine is our conduit.
Who amongst these individuals do you admire, and why?
Back in 2012, when I was a wine buyer for a wine restaurant called Sauvage, Chad Stock of Minimus Wines and John House of Ovum Wines greeted me one day. When I tasted through their line-up of wines, I felt as if I was reuniting with a long-lost friend. We talked; it was such a cathartic conversation that I felt as if a weight had been lifted. Finally, there were other people in my peer group who were making wines of conviction and exploring the boundaries of what "Oregon" wine might be. This was one of the most influential and inspirational tastings I've ever had and as a result I have been a huge fan and follower of their wines, and consider myself fortunate to call them both friends.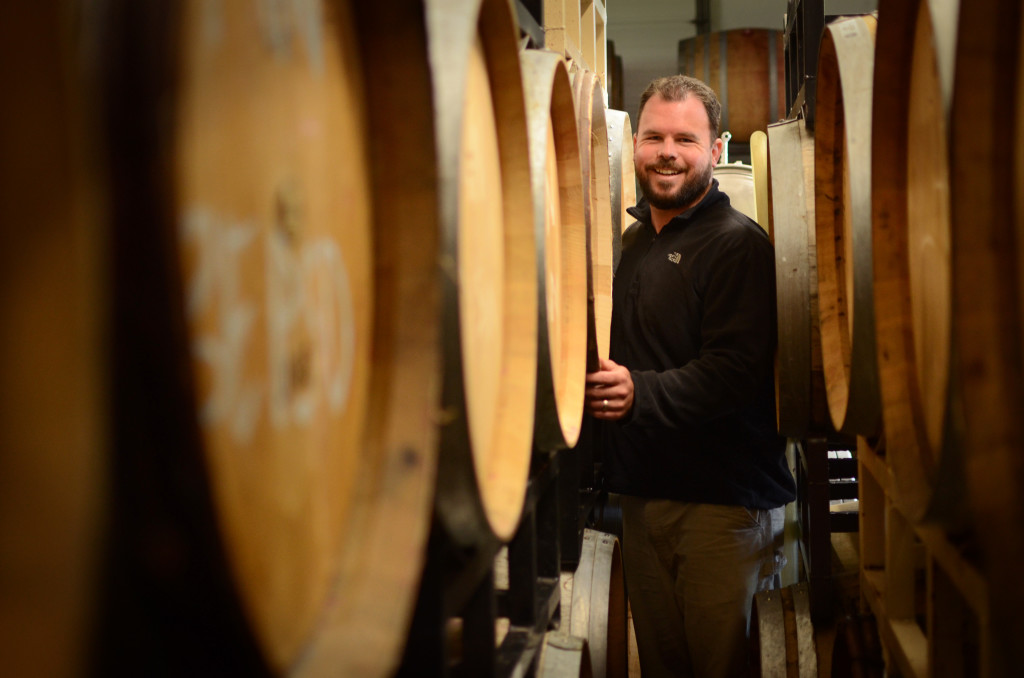 What impresses me most about Chad Stock is his fearlessness. He also has the rare gift of being incredibly confident while still remaining humble. He is always in a "learning" state of mind. This curiosity is one of the most important traits for a creative person. Chad is also very measured and he sees the world through a very wide lens. He has made some of the most original and compelling Oregon wines that I have tasted in recent memory. I predict that he will be one of the Oregon winemakers responsible for reshaping the view of what Oregon's potential is.
John House knows his Oregon wine history very well and he is obsessed with white wines, so immediately I was smitten. Together, along with his beautiful wife Ksenja, they make some of the best Riesling, Gewurztraminer, and Muscat wines on the west coast. They don't make any red wines. John and Ksenja are responsible for reminding us all that Oregon can be mentioned in the same breath as Alsace, Mosel, and Moselle for high quality white wines. They believe, like nearly all of the original Oregon wine pioneers, that this is white wine country.
In 2008 I was at a party in some swanky loft space in Portland when I was introduced to Kelley Fox. We had a mutual friend who was the host. I think it was very obvious to both of us that neither of us wanted to be there. I gravitated towards her, because she has that kind of cosmic pull that I respond to. We had never met before and neither of us knew that the other was in the wine business. But once that topic was raised and a rapport established, we ignored the rest of the party and talked wine and all of its complexities until late into the evening. It was a chance encounter that was immediately understood by each of us. In 2008, there were not too many local wine industry people whom I could share my thoughts and concerns and who really understood where I was coming from. She has always been such an inspiration to me because I see someone who views and feels wine is such a personal way as I do. We take it very seriously. Her intimate connection to every stage of grape growing and wine production is rare. She does all of the work herself – and I really do mean all. Kelley used to work for David Lett at Eyrie Vineyards and has been around many of Oregon's original wine pioneers, so the first person knowledge that she possesses is also rare. I do not see her often, but when I do, we pick up right where we left off. I am very lucky to have been welcomed into her circle and I would put her Pinot Noirs in the top examples of what Oregon is able to achieve with that grape.
What Chad, John/Ksenja, and Kelley have in common is that their wines are truly individual. They are not trying to make their wines taste like wines from other places. These are truly authentic wines.
What are the new interesting regions in Oregon where grapes other than Pinot Noir are being made?
I have been a fan of the wines from the Columbia Gorge AVA (American Viticulture Area) for some time. It is probably the most climatically dynamic wine region that I have ever been to. It is a very tiny AVA that extends along the banks of the Columbia River on both sides, so its southern border is in Oregon and the northern border is in Washington. The Columbia Gorge AVA is really split in 4 quadrants. Imagine if you could combine the Moselle, Burgenland, Valle d'Aosta, and Franschhoek into one wine region. This is essentially what the Columbia Gorge has to offer. There is some world class Chardonnay, Syrah, Grenache, Blaufrankisch, Gewürztraminer, and Zinfandel being grown there. It is located in a very specific spot right under where the Cascade Mountain range holds and breaks up weather systems. So, one minute you are in an old growth pine rainforest with deep volcanic soils, then you drive 1km and you are in the middle of a field with scrub brush and rock deposits from the last Ice Age. The temperature changes at those same locations, on the same day, at the same time could be as much as 30 degrees.
One of the most unique wine regions in the United States is eastern Oregon. The aptly named Rocks District of Milton-Freewater AVA is an anomaly. If I were to drop you off in the middle of one of these vineyards, you'd swear you're in a young vineyard in Chateauneuf-du-Pape. There are large river stones all over the place and there is just a dusting of loess soil holding them all together. In my opinion, this AVA can produce some of North America's greatest wines. In the coming years, it will be very hard for brand Oregon to ignore the special geological site that the tiny town of Milton-Freewater has within it.
The Applegate Valley can produce some incredible Cabernet Sauvignon, Merlot, Syrah, Grenache, Viognier, Vermentino, and Roussanne.
The Umpqua Valley can produce first-rate Syrah, Cabernet Sauvignon, Riesling, Chardonnay, Barbera, Cabernet Franc, and Gewurztraminer. Even though the Umpqua Valley is one of our oldest wine regions, there are hardly any quality wineries operating there. They have amazing soils, amazing microclimates, but there isn't much talent outside of two producers making terroir-driven wines. There are around 120 unique soil types there. If I were ever going to plant a vineyard in Oregon, I would have to give the Umpqua Valley a very serious look.
There are areas along the border between Oregon and California that are exceptional as well, but like the Umpqua, there haven't been enough brave souls to plant more vineyards there and make authentic wines.
Oregon has a lot to offer. It is always important to remember that we are only 54 years into this grand adventure. I am very confident in the future of Oregon wines outside of Pinot Noir. We have just begun to change the dialog regarding who we are and what we are capable of. I see Pinot Noir, however, as the diving board, not the pool.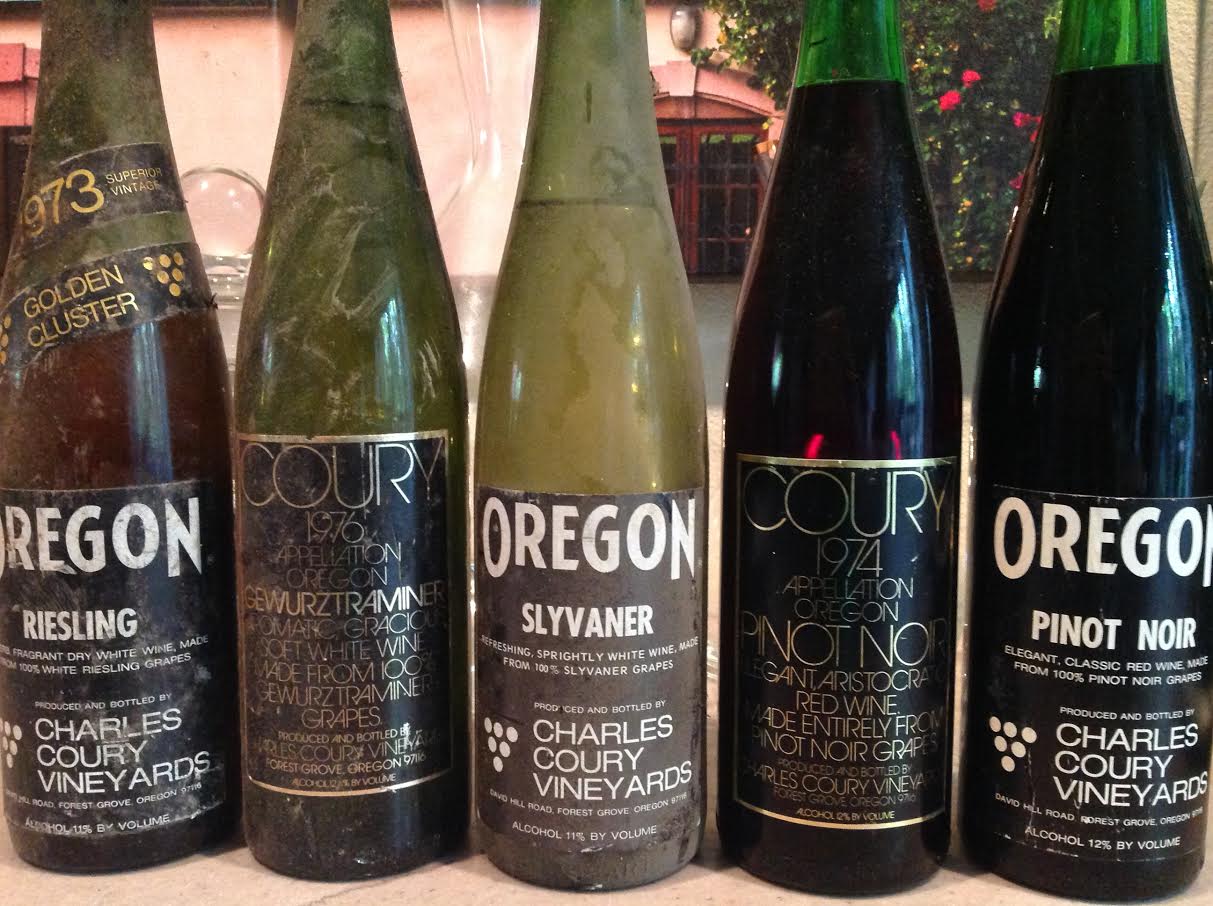 Do you think that there is too much attachment to the idea of the varietal wine? Will we ever see blends?
I think that there is a clear obsession with varietal wines within the Willamette Valley, but less so in the other wine regions in our state. For the majority of our 54 years there has been a single focus on Pinot Noir and to a lesser extent Pinot Gris. I will say, that I do respect the long-term vision that the early pioneers had regarding varietal wines. We have some of the strictest wine labelling laws in the United States. We are a 90% state, with a few exceptions. In reading some of the early drafts of the proposed labelling legislation from the 1970's it was clear that our founders preferred single varietal wines in order to figure out what Oregon was going to taste like.
There are some exciting ideas being batted about within my cadre of winemaker friends. I think you will see some exciting blends in the coming years. Both for red and for white wines. Stay tuned!
Have you noticed any other interesting developments – skin contact wines, use of amphora, eggs, no sulphur wines?
Yes, there has been an explosion of all of those things- and more. The first no-added sulphur wine that I heard of was a Gamay from Amity Vineyards in the mid 1980's made by Myron Redford, one of the original winemakers in Oregon. Mr. Redford was actually a student of Charles Coury back in 1975. More recently I had the 2007 LIFE Pinot Noir from Cooper Mountain Vineyards, also a no-sulphur wine. It is one of the few Oregon Pinot Noirs that I look forward to each year. The grapes are both farmed biodynamically and the wine is made naturally by Gilles de Domingo.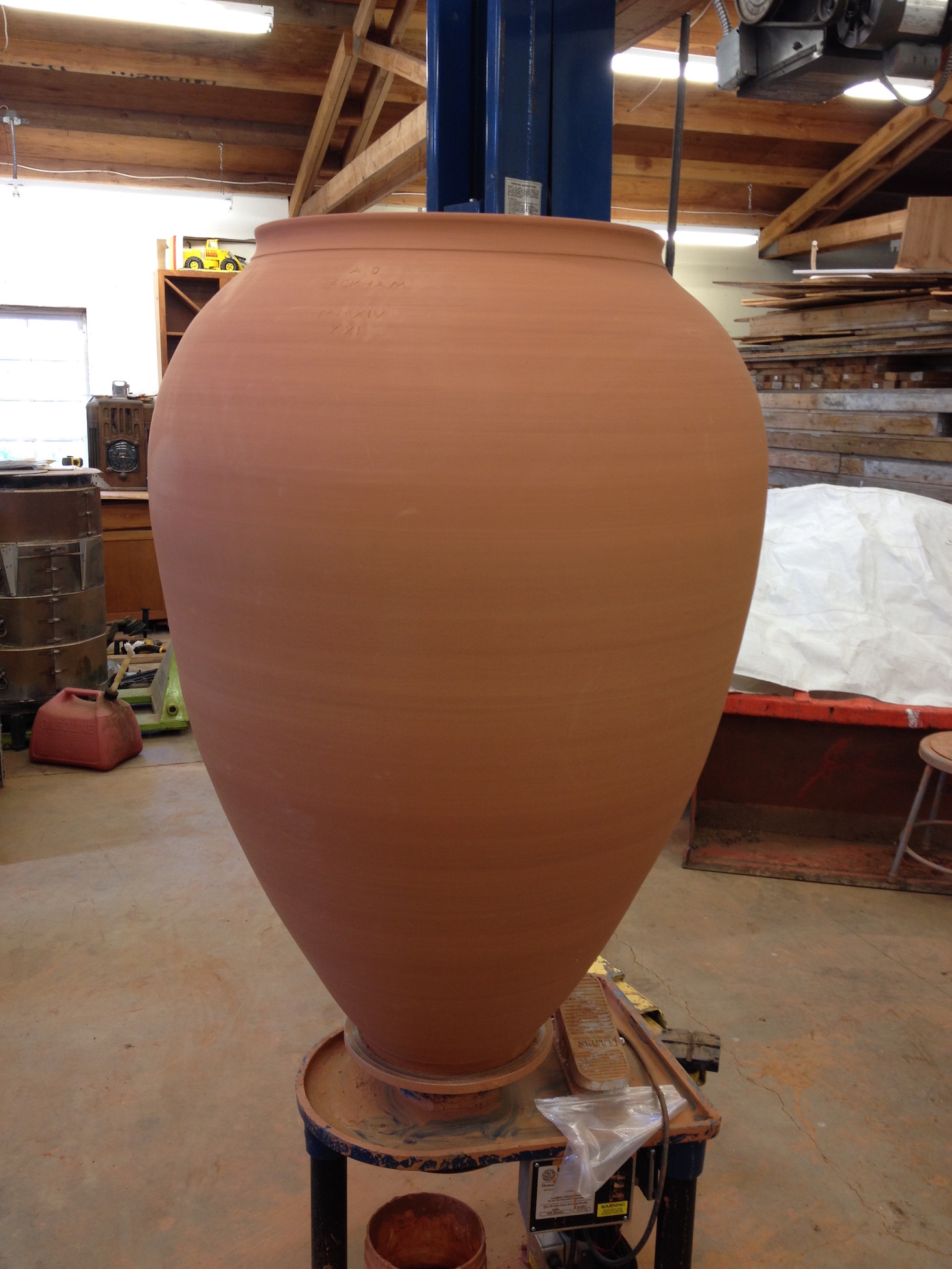 John House at Ovum Wines uses a few concrete eggs, Tahamine Momtazi at Maysara Winery has one, and there are a few others that have one or two eggs. Right now they are being tested to see what works. Scott Frank at Bow & Arrow uses cement tanks as does Chad Stock at Minimus Wines & Omero Cellars, and Thomas Monroe at Division Wine Company. Andrew Beckham actually makes amphorae here in Oregon and uses them to ferment and store his Pinot Gris and Pinot Noir. Chad Stock and Barnaby Tuttle have a few of Andrew's amphorae. Sterling Whitted of Holden Wine Company uses Italian-made amphorae from Artenova. Full or partial skin contact is becoming more commonplace. I believe that the first "orange" wine was made here in 2004. It was called the "Jack White" and made by Sam Tannahill.
Why has biodynamics become such a big thing in Oregon?
Well, Demeter USA is based in Philomath, Oregon. In addition, Oregon Tilth, which is one of the largest organic certification agencies in the United States, is also based in Oregon. This state has a very long history with organic agriculture and we tend to be a more environmentally conscious people than most other states. It stands to reason, therefore, that the stronghold of these natural farming practices would gain such prominence here. Biodynamics is big in Oregon because we have always had very strong voices in support of it and there has been a very dedicated and brave community of biodynamic grape growers who have remained steadfast. Lately, there has been a shortage of vineyards being converted over or new vineyards being established to biodynamic viniculture. I hope that we see another spurt of biodynamic vineyards arrive in the near future. It is always fun to remind people that the highest scoring Oregon wine was made from biodynamic grapes.
Does this natural farming philosophy extend into the practice of winemaking? If not, why not?
Not always. Many of Oregon's winemakers studied at or learned from winemakers who graduated from UC-Davis. Minimalist winemaking is not taught at that school. Fear of not being in control, the fear of ruining a wine has stifled winemaking across this country. We are in an economic model that demands "sameness", so winemakers are less likely to take a perceived risk, especially when they are not the owner of the winery. There has been amazing progress on the farming side of the equation, but as an industry, we are still in the early stages of extending that to the winemaking phase.
The flavours of many of the wines I tasted were masked by new oak. In fact vignerons talked about barrels, toast and clones, but in the same breath about terroir differentiation. Is this perception correct? Do you find a marked terroir differentiation in Oregon wines? (particularly Pinot Noir)
You were not hallucinating. There is far too much emphasis made on Pinot Noir clones, and it appears to have started in the 1980's after Charles Coury left the industry and people started questioning the source of plant material in some of Oregon's founding vineyards. Why were they questioning these clonal selections 15 years on? I'll never understand why there was this instant negativity towards these founding vineyards. It was not only Pinot Noir, but Chardonnay also. The only thing that makes sense is that if you were the guy who planted say the 7th or 8th vineyard in Oregon, what are you going to do to stand out? You might want to start telling people that they have potentially virused vines. You might want to start telling people that they have the wrong kind of clones planted. The clonal situation is a mess because we have no long-term strategy. There is little clonal diversity within Pinot Noir vineyards here these days. Thankfully, some of the original vineyards with non-Dijon clones are still alive and producing compelling wines. I know of vineyards that are being planted to a wide selection of different clones. Again, I think we have lost a lot of time in understanding what works and what doesn't.
Certainly new oak is an issue with many Oregon Pinot Noirs because richer and riper more often than not earns you a high score. And getting a high score improves the chances of selling out of your wine. For my taste, I do believe that a higher percentage of new oak is intrusive when making Pinot Noir.
There are some very special Pinot Noir vineyards in Oregon that produce extremely elegant wines that do taste like place. However, they are few and far between. We do have the complexity of soils and unique areas of geologic nuance to really make some world class Pinot Noir. In time, we should have a better understanding of where exactly these pinpoints of exceptionalism are. I have a lot of confidence that we are going to keep getting better at it. The more we learn to get out of the way, the better our wines will be.
If you could make a wine with any grape variety what it would be? And if you had a vineyard outside Oregon where would it be. And why?
Syrah. I am making one in the 2015 harvest.
I have often fantasized about having a vineyard outside of Oregon. There are three places that I could see myself having a vineyard and living in; Kakheti, Georgia, Basque Country, France/Spain, and this one might surprise you – Moravia, Czech Republic.
Kakheti: because I don't think that there is a more historic and important viniculture area in the world right now. The people, the food, the music, and the wines are some of the most inspiring. There is so much amazing work being done there. The resurrection has just begun. You can really feel the energy there. It is an ancient culture, humming and intoxicating.
Basque Country: because I have fallen heavily for the Basque culture (another culture filled with food, music and wine) and the incredible whites and rustic reds from there have always impressed me. Ciders too. It also appears to be one of those areas that have been overlooked, despite its ancient culture. I'm fascinated by the questions as to the links between Basque culture and Georgian culture. Are Basque people descendants of the Atlanteans? There are fascinating linguistic correlations between Basque and Aztec, Basque and Georgian, and Basque and Hebrew languages. Interestingly, I have never been there, so the fantasy with Basque County runs wild in my mind. I just watched an episode on Basque Country that Orson Welles filmed for his short-lived docu-series called "Around the World with Orson Welles" back in 1955. It is fantastic!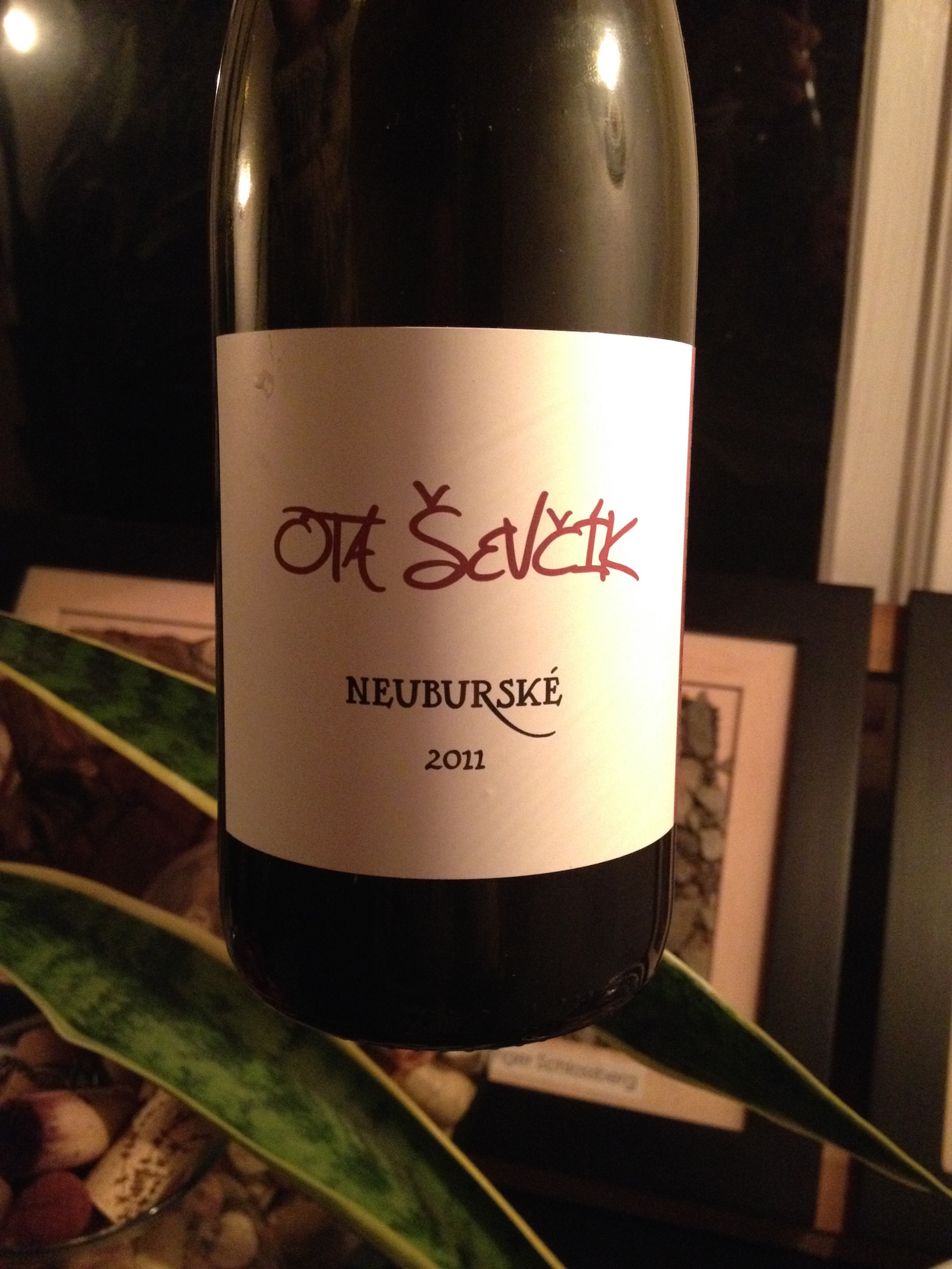 Moravia: because my surname is Bohemian. I had a chance to attended a Vinobrani in Mikulov which helped cement in my soul, what a connection wine has on my Slavic roots. Moravia has an amazing wine history of its own. Each time I try a bottle of Stapleton & Springer or Ota Ševcík, I taste the potential of this underappreciated wine region. With more time and energy Moravia will be another peaceful place for lovers of authentic wines.
General
You've assembled some fantastic wine lists. What are your considerations when putting together a list? Are the lists eclectic or very much a reflection of your palate?
The first consideration is always the food. What is the cuisine? Who is the chef? What is his or her style and philosophy of food? Once I have a good feel for what the chef is about, I then prepare a wine list that will help accentuate or complement the flavours on the menu. I also believe in small bottle lists and large by the glass menus. There are too many restaurants with trophy bottle lists. They are storing more wine than pouring. Storing wine is a large expense, especially for a new restaurant, so I steer my clients away from that. I'm an advocate for making the wine list work for the restaurant and the chef's food, not my ego, nor the closeout list from a desperate distributor. I also prefer to have the flexibility of changing the by-the-glass list to reflect seasonal food changes. I will only work with wines that I have tasted and I only work with wines that could be considered organic, biodynamic or natural. For me, there is no reason to work with anything else. Within the world of "real wines" there are many styles and flavours that you can build a wine list around. Portland has a very supportive customer base for wines from around the world and they are learning more and more about origin and production methods. The momentum is encouraging. People are becoming just as interested about what is in their glass as what is on their plate.
"A great list is as much what you leave out as what you put in." Thoughts?
True. This even means leaving out my own wine when building a tasting menu or wine list. I have had to say "no" to some of the wines my friends make. I have chosen to work with 13+ different importer/distributors instead of concentrating on buying from one or two sources. There is always the pressure to buy the cheap and dirty wines and increase the profit of the by the glass program, but food-and-wine pairing, the evolution of the wine, and drinkability is what I focus on most. I'd rather introduce someone to a new wine grape or wine region than make another $1 on a glass pour. Besides, I have found that the very inexpensive bottles of industrial wines tend to die a quick death. Most restaurants price their glass pours based on the failure of the wine, not the flavour. If you are buying real wines, chances are good that the wine will improve after being opened and will continue to evolve, thus waste is rarely an issue. In this model, the restaurant can price fairly and doesn't have to be afraid of wasting money on dead wine.
What wine list(s) do you currently manage?
I'm currently part of a three-man team at Holdfast Dining in Portland, Oregon. This tasting-menu-restaurant is open four nights a week for one intimate seating for sixteen people. The three of us do everything. We have no support staff. During the progression of the meal, I talk about each wine and they talk about each dish. It is a big challenge because we change our menu weekly, including all of the wines. This is one of the few restaurants dedicated to natural food menus combined purely with real wines. It is truly an honour to pair these incredible wines with Chef Joel and Chef Will's food.
What would you choose to be your everyday drinking wine?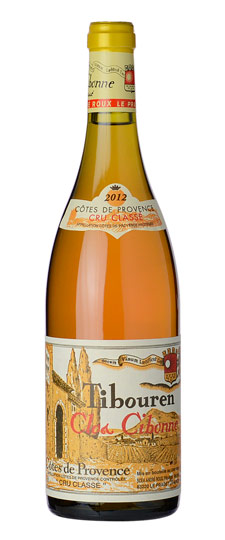 If I had to pick one wine to drink every day, I would probably pick the Rosé Tradition from Clos Cibonne.
Any wine epiphanies? A tasting experience that has transformed the way you think about wine?
The first wine I can remember enjoying and the first wine that really grabbed my attention turned out to be a simple Sylvaner from Alsace. It was 1996 and I was in my early 20's and it was my first night in France in a little bistro in Lyon. I was visiting a friend and she ordered a bottle for dinner. I wasn't much of a drinker in my youth yet after drinking this wine and really enjoying it, I was inspired to learn more. It was years later that I figured out what the white wine actually was. Fortunately, I was writing in a journal during that trip and came across the entry that mentioned the name of the grape. Since then, I buy a case of André Ostertag's Sylvaner 'Les Vieilles Vignes' as a reminder of my wine beginnings.
Secondly, there was a day in 2007 in Félines-Minervois when I tasted with Michel Escande of Domaine Borie de Maurel. I learned more about the sensitivity, brutality, beauty, reverence, and the seriousness of wine and life through his piercing eyes and wise words. I was given a very quick lesson on the concept of "wine is life". There was nothing contrived about his demeanour or his words. He was as authentic as they come and his wines reflected that. It was one of the first times where the connection of wines of place, wines of people, wines of passion, wines of history were revealed to me. It was the first time that I understood that wine is not just a beverage, but a lifestyle and it was ok to commit to its journey. He instilled in me the notion that everything in that glass started with intent and respect. Most importantly, it was the moment when I really understood that not all wine is created equally.
Thirdly, and most recent, were my experiences in Georgia.
Tell us about your visit to Georgia? How did that affect you?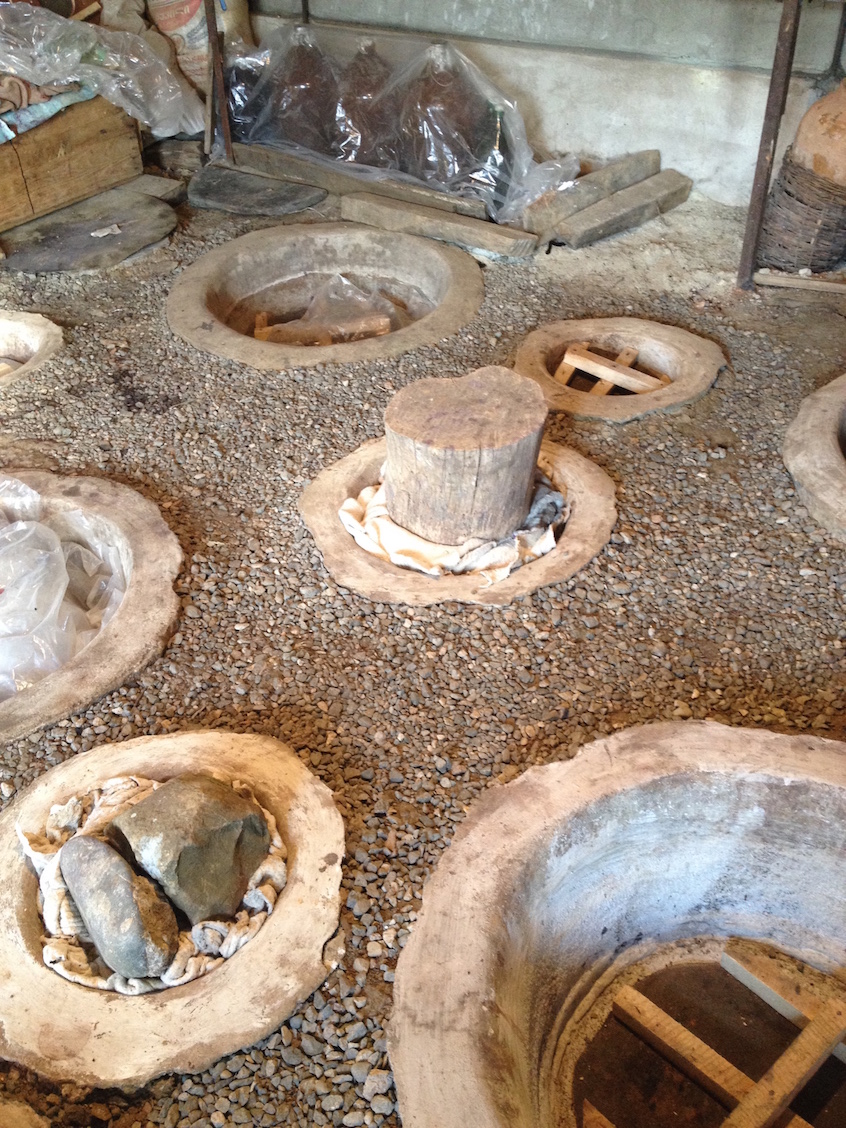 I was slugging along just fine in the wine world until I visited Georgia and then I realized how little I actually knew. It is hard to describe that first trip as a wine professional because on one level I felt completely at home and yet very little was familiar. Not the way the wineries looked, not the way the vineyards are planted, not the grapes, nor the vessels they were crushed, fermented, and stored in, not the tools they use in the wineries, not the wines themselves, and not the vessels that you drink out of. Outside of the use of corks and glass, NOTHING is familiar there. For most wine professionals it is probably terribly unsettling. For me, it felt like I had been given a chance to go back in time and relearn my concept of how wine is made, how wine is enjoyed, where it comes from and what wine is really about. I was a born again wine professional! The reverence the people have towards their culture of wine was palpable. I live in a wine culture that is only 50 years old. It really helped me put things in perspective.
Wine is effortlessly incorporated into their culture and occupies an important place at every table. The singing, the toasts, the passion for life, the incredible hospitality was overwhelming at times. I found myself never wanting to sleep, never wanting to miss a moment. It was mentally exhausting and yet I couldn't get enough. I will never forget visiting Archil Guniava Cellars and seeing him open up a Qvevri for me. He moved a rock that was placed on top of an old board, and then removed a plastic sheet to reveal the Qvevri. He took a wine glass and gently placed the outside of the bowl on the surface and began slowly moving the glass in a circular motion. I was perplexed as to why he wasn't just dipping the glass in the liquid. Later, I learned that he was slowly moving the pips towards the edge of the rim. He then immersed the wine glass in the Qvevri and took out a sample of wine. I can still remember him lifting that glass up to the light. Once the light hit that wine it looked like a shimmering diamond. It was clear, it was dancing, and it looked alive. I have honestly never seen a wine act like that. He poured me some and as I was drinking it, it felt as if I were tasting wine for the first time. As if I were being dipped into the River of Jordan. That experience was repeated a number of times throughout that trip. Everything was new, exhilarating – I knew that I had reached another level of wine appreciation and understanding.
What wine trends are exciting you at the moment? Do you think that trends have any validity or should we just assess growers and their wines on their merits?
I am often make connections between wine and music. There are ebbs and flows of styles and sounds. Popular culture becomes unpopular very quickly these days. Unless you've been living under a rock or in Napa Valley, the trend in wine is moving towards less is more. I remember a great quote from Nikki Sixx of Mötley Crüe, and I will paraphrase; he said that he had no idea of what "alternative" music was until he was leaving a meeting at his record label and noticed that the large poster of Mötley Crüe's latest album cover was replaced by that of Alice N Chains. He had never heard of that band before, so he went home and listened to the album, whereupon he realized that their reign was over. While they were making crazy money, flying around the world, and partying to their hearts' content, they were oblivious to the groundswell of negative reaction to their brand of music. The wine world works in a similar fashion. Vignerons are slow to change and by the time they realize what's happening, it's too late. As with music, these wine trends will always ebb and flow. Things come into our consciousness as quickly as they leave us. I follow my own wine trajectory because I trust my palate. The wines I loved 10 -15 years ago are now undrinkable to me. And there are thousands of wines out there. There is so much to learn about and taste.
Wine appreciation boils down to how much someone gives a shit about it. How much do you really care about it? I always look for artisans who care deeply about their craft. It might be a brewer, my bookkeeper, the guy working on my car, the fisherman whom I buy a salmon share from and, obviously, vignerons. My advice is simple; don't follow trends, follow your own path, and try to learn from people who are passionate (in the truest sense of the word). They will rarely let you down and maybe just maybe, you will be able share your passion with them.
Is it more important that the vigneron believes in the integrity of his or her wine or that he or she should respect the taste of the consumer? Or the critic?
It's very tempting to sell out as a vigneron, critic, wine writer, winery owner, or vineyard owner. The easiest route is the one laid out for you. The road map to financial success in the wine business has basically been the same since 1997. There have been many fortunes and careers made on the back of "recipe wines". Again, it boils down to how much you care about wine. I cannot imagine selling those wines. There is no reason to. I also cannot imagine making those kinds of wines. This is not to say that they do not have a place in the market. Clearly, they do. But for me, I sleep much better at night supporting likeminded vignerons. It is important that I can know that my work, my support, and my passion for these wines will pay off for someone down the line. It is within these selfless pursuits that we find happiness, solace, and an unbreakable connection to our past and to the future. I want to support the vigneron who plots their own path, who stays true to their work, who honours their special piece of earth. This is a noble calling and it is in tireless devotion that we find the most quixotic of wines and the artisans that make them.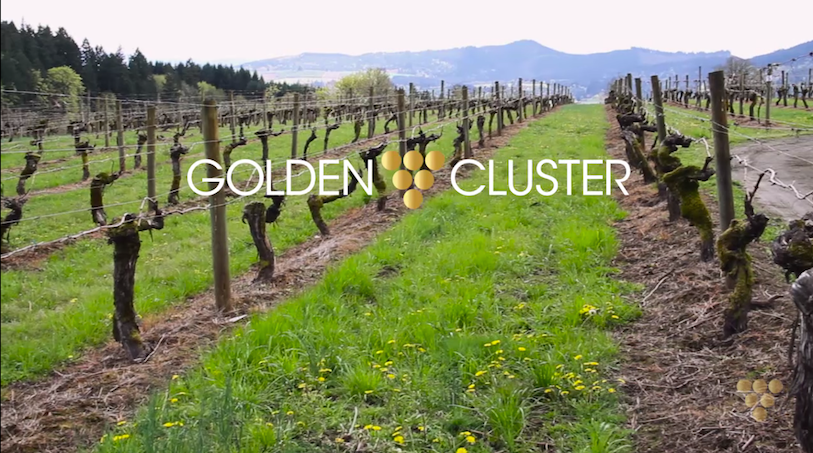 Wine critics, journalists and wine educators are hostile towards the very notion of natural wine, claiming that the wines are inherently faulty. Occasionally, the hostility seems to verge on the histrionic. What is behind this critical reaction?
I used to get really pissed off about the duality of the wine business. These days, I am resigned to the fact that fear rules our industry more than pleasure and that this divide will be growing not retreating in the near future. Natural wine causes such a stir because it is not a concept that is taught. The establishment that was raised in Sommelier school, WSET classes, reading the glossy magazines, or striving for their masters of wine accreditation was not taught any of this, so they rail against what is unfamiliar. How long has natural wine been around? Thousands of years – naturally! Many of these classes teach an historical context of wine limited to the past 160 years, as well as very regimented tasting structure without any reference points. Natural wines disrupt the comfortable order that the wine establishment has created for itself, for, by their existence, they posit a (wine) world where "scoring" is literally pointless and hierarchies are meaningless. Critics are nervous when they confront something outside their experience. A wine that does not conform to the guidelines. Some react negatively towards Georgian wines because they have never tasted anything like them. Yet, these wines have been around for thousands of years! Consider also that natural vignerons are not throwing millions of advertising dollars at publications, trade junkets, or grand tastings. This makes them effectively outsiders. Once I used to read the wine magazines cover to cover, but when I began tasting many of these highly touted wines, I found them uninspiring, boring, and soulless. When you detach from the propaganda and discover things for yourself you encounter greater sensory pleasure in the wines you taste and drink. We can't all be leaders, but we can't afford to be followers either. Caring more deeply about what we consume is critical not just with wine.