Gareth Belton makes wine under his label, Gentle Folk Wines, in the Adelaide Hills, South Australia. Les Caves bring Gentle Folk's white Field Blend and Little One Petit Verdot into the UK. Meet Gareth in person next month (details coming soon)!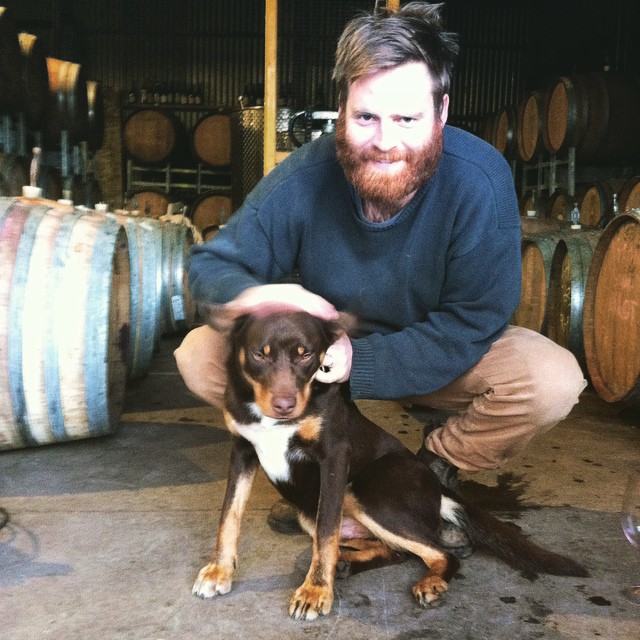 You came to wine as a sort of 'second career'. Can you talk about your background and what led you into making wine?
Hmm, well I was doing a PhD in Marine Science here in Adelaide and got a little distracted, and now I am full-time distracted. I always loved wine, and I always loved things done properly, and after meeting James and Anton at one of their tastings down in town, I was picking grapes the next morning…things kinda just rolled from there.
What drew you to the Adelaide Hills?
Initially I was drawn up by the guys in Basket Range, then I fell in love with its wildness and the many small vineyards and microclimates. It was only after tasting wines out of barrel that I could see the magic of the hills. Sadly most wines here are really stuffed with during the growing and making, and it's hard to actually see what our soil and climate has to offer in those kind of wines. It's been lovely to see wines that truly reflect the Adelaide Hills start to emerge in the past few years.
Which grape varieties have you found you most like to work with in the Hills?
Cabernet franc, Petit Verdot and Merlot are magic up here. Also Riesling, Chardonnay and Sauvignon Blanc have lots to offer. We getting there with Pinot, it's just going to take some time to work out where it grows best and what clones to use. Feeling excited about Gamay, Malbec, Grenache and Chenin Blanc up here. Not much of it at the moment but it's got a future ahead of it. But that's just my pallet and my tastes, I am sure others disagree!
What led you to natural winemaking and how do your interpret it with regards to your wines and vines?
I always thought small wine producers were an artisan product (grew their own grapes, hand-picked, made the wines without stuffing with them, etc.), but after seeing many wineries and vineyards, I knew I was wrong. So we just aimed to make wine based on our own philosophies. We have the same philosophy with regards to our food and the way we lead our lives, and this just seemed most logical with regards to our wine and vineyards. Our end goal is no additions in the vineyard or cellar. That's what we strive towards. There are no rules. I don't like the idea that there should be rules with regards to wine in Australia. We need to still find out who we are and what we make. If that's an interpretation of natural wine, then so be it.
Tell us about the vineyards you're managing. What are the sites like, and what work are you doing (or not doing!) to convert them to organics?
We have three vineyards we manage now, and we're planting one at home too. It would be great to own them but that's a long term goal due to the price of land around here!
The first two blocks are in Basket Range and are tiny (each produce around a tonne). They are true field blend blocks (5+ varieties) so we usually just pick everything in a day and make rosé from these. Our larger block is Scary Gully in Forest Range where we look after 25 acres planted to vines aged between 31 and 9 years of age. Scary Gully is planted to Pinot Noir, Pinot Gris, Riesling, Chardonnay, Sauvignon Blanc and Gewurztraminer. This year we're grafting some sections to Cabernet Franc, Chenin Blanc, Malbec and Gamay. It's a beautiful vineyard. It sits at 620m and is mostly easterly and south facing so it's nice and cool. The soils vary all over the place but it's mainly a mixture of sandy clay with schist, quartz and sandstone.
Sadly the vineyard has been poorly managed before we took it over, so we have a long term goal to make the place healthy again. This year we have had to chainsaw the heads off a couple of acres because the blocks were not pruned for a few years, so we're starting again in a sense. It's not too bad as we only process around 30T per year so we don't need all the fruit at the moment. It's also allowed us to graft things that we want to make and retrain the plants from spur to cane. We are doing no undervine work at present as the soil needs a rest. We have no farming philosophy so at the moment it's a mixture of BD, organics and nothing-added farming. We'll just see what works.
Can you give us an overview of how the Adelaide Hills as a wine region has changed over the past few years? A picture of 'then and now', as well how you see the future shaping up?
Haha, am I allowed not to comment? We are a bit isolated here in the Basket Range! I am unsure if the region has changed much on the broader scale to be honest. But in our little neck of the woods, it's pretty damn exciting at the moment and I feel each year the wines are becoming more focused and (truly) terroir driven. We are all hoping a change will come across the region and the Adelaide Hills will become very exciting. There are loads of young winemakers coming up and some are making exciting stuff, but there is still not much focus on the vineyards because most buy in fruit, and the farming still has a long way to come. Sadly there is still a major focus on Shiraz and Chardonnay around these parts!
Your favourite wine (made by you) so far?!
I love making and drinking rosé and light red so they usually make me happy.
We love your labels! How did you come up with the design?
One night sitting outside the winery at last light, the silhouette of the trees and the hills (and the screaming birds) looked awesome, so we managed to get that onto a label after a lot of photoshop work!
Any exciting projects in the works you'd like to tell us about? Cool wines (or ciders) we should be looking forward to?!
Well I have a little light red field blend from Scary Gully made from Pinot Noir, Pinot Gris, Riesling and Gewurztraminer that I am pretty excited about for summer. A little whole bunch Pinot noir as well.
In regards to Australia in general, there is some super stuff that has just come out of Victoria (Chapter Wine, Jordy Kay, Joshua Cooper, Xavier Goodridge and Latta) so keep your eyes open for these in the future.