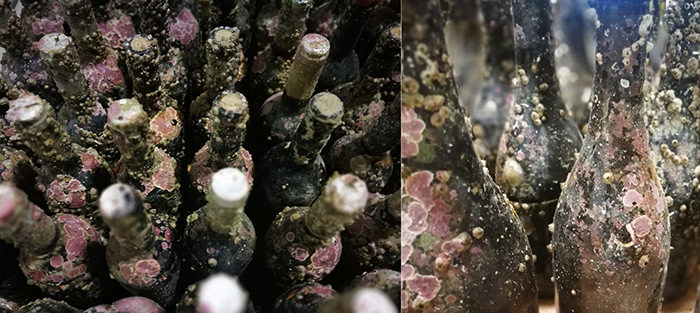 There are always amazing discoveries to be made at the Real Wine Fair. The 2019 Fair features some wines from Portugal that are definitely worth the detour.
Herdade do Cebolal is nestled on Alentejo coast at the south edge of Setubal wine region, although it can hardly be defined by broad geographical references. It's all about micro-context: a unique position close to the ocean, Atlantic wines enhanced by experimentation with seaweed fertilisers, while the IMERSO bottles are matured submerged in the sea. The exact nature of the soils- clays with strong schist and lime stone components are demonstrated with the Parcelas wine. Tradition meets experimentation, elegance and subtlety.
Herdade produce a sea wine called IMERSO (see above photo). This has been an experiment that has been ongoing for a few years in collaboration with a professional diver, who knows the Alentejo coast intimately and is responsible for finding the spots on the ocean floor and then placing – and monitoring – the wines there. The wines are then matured in bottles that are placed into cages. The bottles and corks have been chosen for their ability to withstand the pressure and sheer forces in the ocean. Currently, bottles and corks are fully exposed to the elements in the sea. Previously they tried up to 10m in depth, and the most recent batch went down to 18m. The overall impact on wine is faster maturation. At greater depths, there seems to be some salt content variation, presumably via osmosis through cork. Each time, the twin of the submerged wine is kept on land in the cellar for normal maturation in the bottle, so a direct comparison is possible.
Quinta do Montalto is an organic farm in the principality of Ourém. Tended by the Gomes Pereira family for 5 generations it includes vineyards, orchards and forests. Certified organic for over 20 years, no synthetic chemicals have touched the land since the last century. The soils are chalk and clay with excellent solar exposure.
UNCONDEMNED is a project between Montalto and their import company, Portuguese Story. This involves looking for very old vineyards in the area that typically have tiny production, are not commercialised or have been forgotten about. Andre, owner of Quinta do Montalto, approaches the landowners offering to work with them. The resultant wines are either vinified on their own or blended into Montalto estate wines – all with minimal intervention. Portuguese Story then find a home for the wines in the UK and in other countries with their importer partners.
A few of the wines are from truly venerable vineyards – one around 100 years old (the 83-year-old woman has looked after it as long as she can remember), whilst another is believed to be 120-140 years old, again farmed by a woman in her eighties. Beautiful wines with amazing concentration, unfiltered and rustic, full of natural flavour and vibrancy.  This is a unique opportunity to taste wines from such places, as in all likelihood these vineyards would disappear as soon as their owners passed away.
And if you would like to know even more about the burgeoning Portuguese wine scene then sign up for the seminar on Sunday 12th May, hosted by Ines Salpico and Dr Jamie Goode: "An Exploration of Portugal's Wine Revolution."