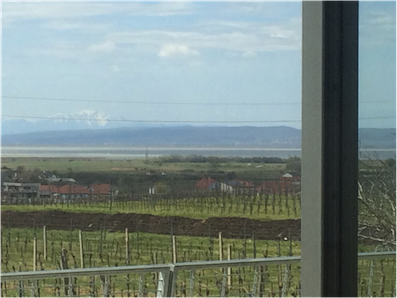 Weingut Claus Preisinger is housed in a modern, airy wood-beamed winery with windows facing out towards the Neusiedlerseee. You can tell the cut of a jib by the company of the wine bottles he keeps. Recently drained specimens of Matassa, Testalonga, Thierry Puzelat, Jean-François Ganevat & Etienne Thibaud on the sideboard testify to a happy carousing session and Claus has the rumpled appearance of one who has been burning the candle of hospitality at both ends.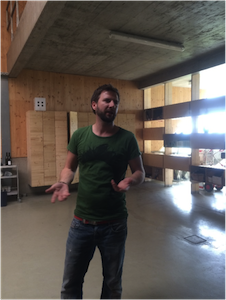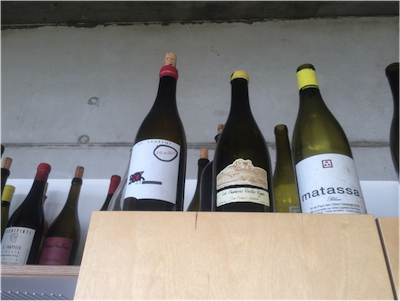 Claus made his first wine in 2000 when he was a mere twenty years old. His first Pannobile came four years later. A young confident vigneron he works according the precepts of Rudolf Steiner and in the cellar is a purist and quality-fanatic using taste and gut instinct as his guides.
His vineyards are scattered throughout the Pannobile land. Whilst having a widespread patchwork of the vines makes the work harder, the variety it yields in terms of raw material means that the grower is able to play with a wider palette of grapes and terroirs. Steiner principles underscore the viticulture: humus with compost from cattle and horses and homeopathic care of the vines.
While the approach is simple and natural, the results are sophisticated, in the sense that the wines have a strong sense of internal unity. I think a lot about my wines but not only with my head but with my heart as well. My feeling, instinct, nose, mouth, and gut decide about my wines. It is as simple as that and as complicated as that.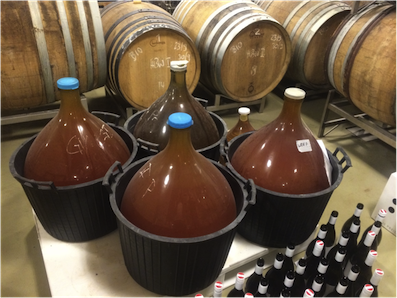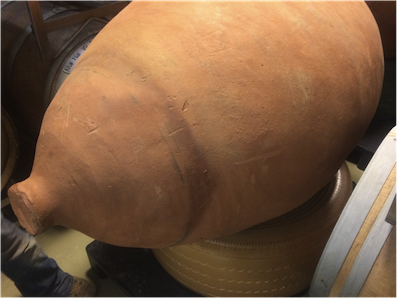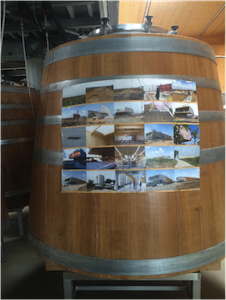 He works naturally with always with the indigenous yeasts, not controlling the temperature, adding to or taking from the wine. The choice of vats and barrels does determine the path and shape the final outcome of the wine, however, and there are a variety of vessels from barriques to foudres and even several qvevris also (resting on tyres rather than being underground).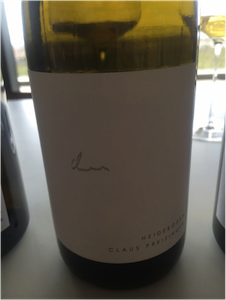 All the wines are impressive, the whites provocatively so. As mentioned Burgenland is predominantly a red wine region, the warmth of the climate and rich loamy soils supporting grapes that tend to make more powerful wines. The whites seem to provide the blank canvas, as it were, on which vignerons can paint their personality by means of phenolic texture (through skin maceration) and ensuring that the grapes have an exacting balance ph and acidity to elevate them to another level.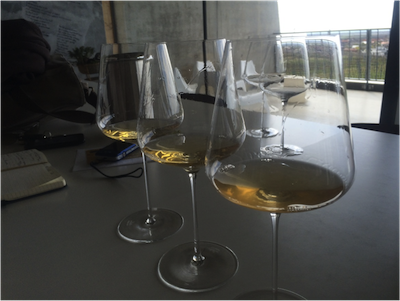 Our tasting with Claus begins with the 2013 Heideboden Weiss, a blend of Weissburgunder (60%), Chardonnay (20%) and Grüner Veltliner (20%). This wine spends between three and six days on the skins. This golden wine displays aromas of green apples and ripe stone fruit with subtle nuttiness and creaminess on the palate. There is hint of matchstick reduction. If his zero-sulphur Grüner Veltliner from 40 year old vines is amazing (this ages in 700-litre Austrian barrels), Claus's Weissburgunder is perhaps even more complex, a wine that effortlessly elicits appreciative gasps. From soils containing schist the juice spends between three to eight months on skins and is raised in a mixture of qvevri and barrels without any addition of sulphur or filtration. The length in the mouth marks this as a great wine, a noble manifestation, not of grape variety qua grape varietal, but of terroir and interpretation of flavour.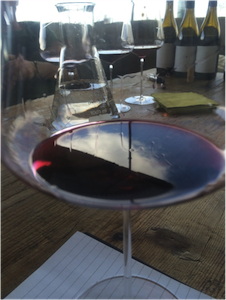 The reds were impressive with the balanced 13s trumping the darker, more chocolate-textured 12s. A fruity non-extractive Zweigelt showed the fun side of this grape and a bargain-baby cherry-fruited Blaufrankisch was à point in terms of elegance. The surprise was a 2013 Pinot Noir (80% whole berries) fermented in open 500-litre barrels. It looked, smelled and tasted like proper Pinot Noir. Plenty of aromatic fruit and a touch of spice made this a winner. A single-vineyard Blaufrankisch (also 2013) in qvevri was very pure with fine powdery tannins, the Pannobile was more powerful as was the Saint-Laurent was rustic with slightly bruised fruit.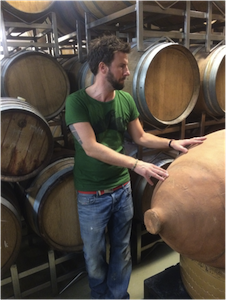 Claus is both relaxed and intense, two characteristics that communicate themselves in his wines. He tries to avoid extraction and power, he likes to find a balance between the different formats to ferment and age the wines, he loves the fusion of minerality and drinkability.
From Gols it is only 20 minutes' drive to the small town of Pamhagen near the border with Hungary. If anything the land is even flatter than Gols.
Michael Andert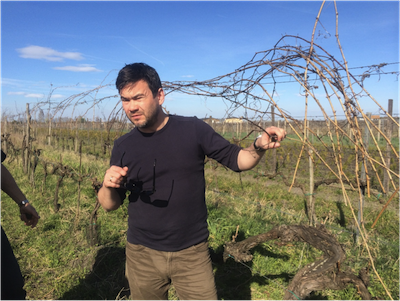 Michael Andert was born into a large family and grew up on a farm with mixed agriculture, livestock and viticulture and learned to respect his family, his animals and the associated work. Today, as winemaker, this respect has deepened even more. We think we found the right way in the biodynamic economy to press the grapes into sustainable and valuable wines. We respect the earthly and cosmic influences on our wines, our soil and also we respect the influence of the seasons on our wines.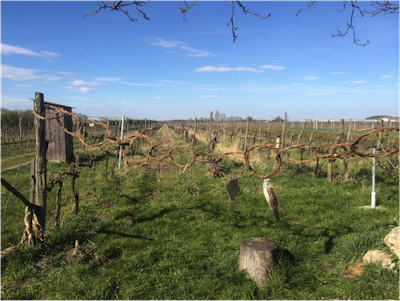 We were taken to the small plot of vines that comprise the Gemischter Sotz, a field blend of various white grapes. The location of the vineyard is in itself unremarkable, being a flat piece of land that was once under water (the marshes around here were drained some time ago) although some of the boggy, low-lying areas still host an extraordinary variety of birds. This small vineyard is humming with life. They have installed a box in a lone tree at one end of the row of vines for falcons to nest in. Herbs and grasses grow bountifully– spring onions, wild garlic, oregano and countless other herbs, edible (as it turns out) flowers and weeds. Michael stops and stoops occasionally plucking a plant and enjoins me to nibble this flower or that leaf. Whether it is the effect of the sun beating down and the earth warming up but even the bitter leaves taste nourishing. Pesky deer are kept away by the old fashioned expedient of a wild boar's hide draped over the wires. A flock of mixed sheep (including a rare local breed) are grazing in neighbouring pasture, whilst cockerels, guinea fowls, ducks and geese gabble loquaciously in the adjacent pen.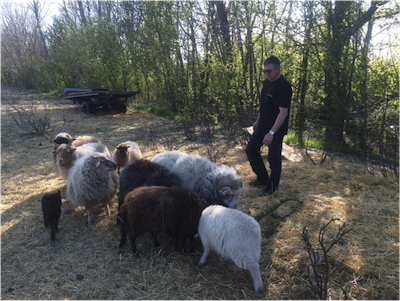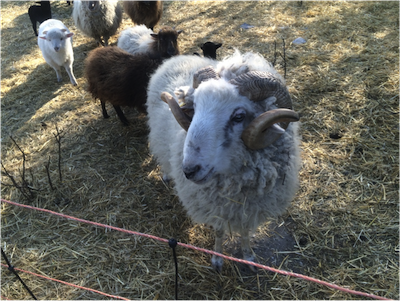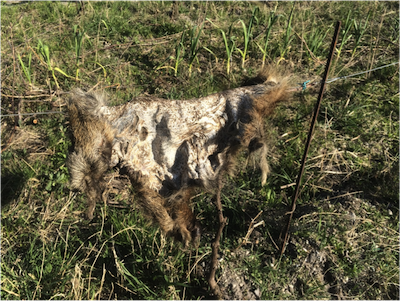 Michael repairs into a hut and brings out a loaf of sourdough bread – baked by his neighbour – a water buffalo wurst and some homemade wild boar prosciutto and we have an impromptu picnic of meat, herbs and edible flowers washed down with chilled Zweigelt. Of course, it is the most delicious thing imaginable. Even more seductive is the golden wine he then pours that comes from the melange of grapes in the very vineyard where we are noshing and sloshing.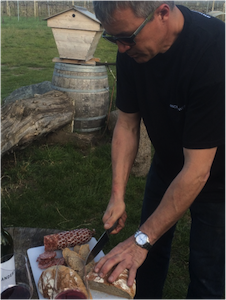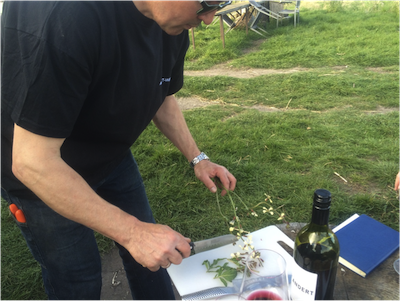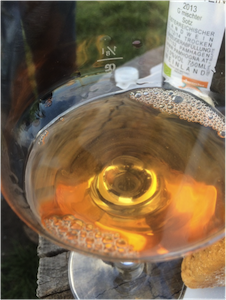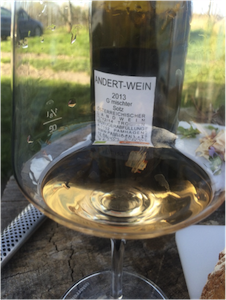 This is biodynamics felt in the heart and practised with the head. Michael and Erich have noticed a palpable improvement in the wines since they have moved to this type of farming: "The wines are gaining individuality and have more character. Also they are more digestible and more stable. Due to the aging in oak barrels in our cellar, the complexity of the wines is underlined, which ensures a long shelf life."
Talking to all the growers it's clear that they view treating the vineyard as a living organism as well as working without chemicals or additives in the winery as a prerequisite for making quality wine. There is a certain Occam's razor logic to this approach –that by not over-complicating procedures you arrive naturally at a truth-in-wine. Biodynamics is predicated on observing and responding to the needs of the vineyard rather than following a prescriptive course of action. Working responsively in the vines tends to be mirrored in the actions in the winery. Knowing what you have (in the quality of grapes) means that you tend to do what you feel is right. It is not pure science – there is intuition, gut instinct, feel and taste.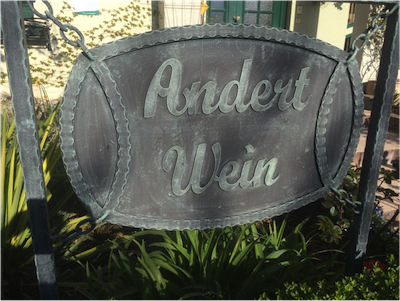 The Andert barrel cellar is a no-tech affair. There is no electricity, so tasting is done by candle light. You could put the "bottling line" in your back pocket. These are not technical wines. I was very much taken with the whites.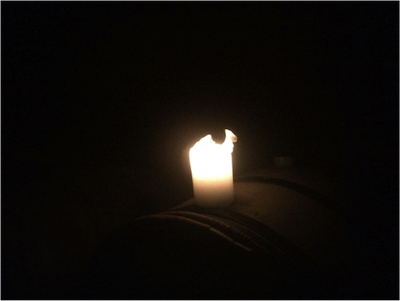 Gemischter Sotz is a melange of co-fermented Neuburger, Grüner Veltliner, Malvazia, Muskat Ottonel, Sylvaner. It's fresh and aromatic with a friendly streak of acidity. The Pamhogna white is 70% Rulander (Pinot Gris), 25% Neuberger and 5% Weissburgunder. This wine has an intense golden-yellow colour and a lovely herbal fragrance. It requires carafeing before all the elements harmonise – from the exotic white pear and pineapple fruit aromas to the refreshing acid and fine structure conferred by a gentle clasp of tannin.
The Rulander takes us to Princic country, possessing an exquisite salmon colour with amber highlights. The nose is (sweet)meaty and a little bit smoky, the palate is smooth and almost velvety with suggestions of pink grapefruit, yet also salty with a bitter almond note on the finish.