This post first appeared on The Wine Idealist blog. View the original HERE.

A few years ago the vigneron-group Natural Selection Theory (NST), comprising three growers, submitted a wine called NST Project Egg Runway 3 to the Australian Wine Board for export approval. It was a Hunter Valley Semillon fermented in ceramic eggs. The export license was refused by Wine Australia's tasting expert panel, the wine deemed "out of condition" because it was not fined or filtered and, being a full-skin white ferment, had precipitated a gentle haze. The wine was also judged to be oxidised even though the colour was a brilliant electric green hue (with golden mid-centre). James Erskine of Jauma Wines, and one of the founding members of NST, summarised the situation:
There were a number of journalists pursuing this story in Oz and we suggested two things to Wine Australia; firstly, when wines submitted to the expert tasting panel there should be the additional option of providing a written introduction so that the tasters would be aware if the wine was produced in an unusual fashion and be give a prior indication of what they might expect to see. Secondly, we would be happy to organise a tasting together with ourselves and one of Australia's top sommeliers to showcase some of the more unusual styles of wine that are produced and revered today, the result of Aussie winemakers travelling more and more and bringing home different ideas and beliefs…..there will be many more challenges to come for the tasting panel of Wine Australia, but as we all know brand Australia could not be any more deflated right now, and shutting down wines which don't fit "the" mould will not allow Australia to move forward as a great producer of unique wines…we just have to break away from the homogenous mentality and a national cellar palate for acidification and squeaky-clean wines which we currently have.
The rejection and subsequent reinstatement of the egg symbolises the Australian attitude to wine in a nut… eggshell. For a country that has prided itself on a modern outlook here was exactly the kind of myopic conservatism designed to throttle innovation.
For once upon a time Oz varietal wines bestrode the commercial wine world like Ozymandias, vast and trunkless. People in the UK would buy the wines because they were Australian (reassuring provenance) and provided value-for-money. (These same drinkers would eventually switch their allegiance to other countries with nary a murmur). If you asked the average UK consumer "what does Australian wine mean to you?" the answers Chardonnay or Shiraz would unfailingly issue forth. Australia was perceived then as a more-or-less two-tone country pumping out 'plumptious hail-fellow-well-met varietal-and-nothing-but-the-varietal-pity-the-poor-French-for-they-know-not-what-they-do wines'.
The UK wine trade associated Australia with interchangeable inexpensive brands, bristling-yet-astute marketing initiatives, and the kind of armour-plated self-confidence that goes with being the brash new kid on the block. Sure there were also the iconic wines – Grange, Hill of Grace, Wynn's John Riddoch and others – to lend gravitas to this nascent bubbly wine culture. In the early 1990s one could say that all was for the best in the best of all possible wine worlds as a claque of wine writers heaped lavish – one might say uncritical – praise on everything that the seemingly progressive Australian wine industry represented. Autres temps, autres moeurs.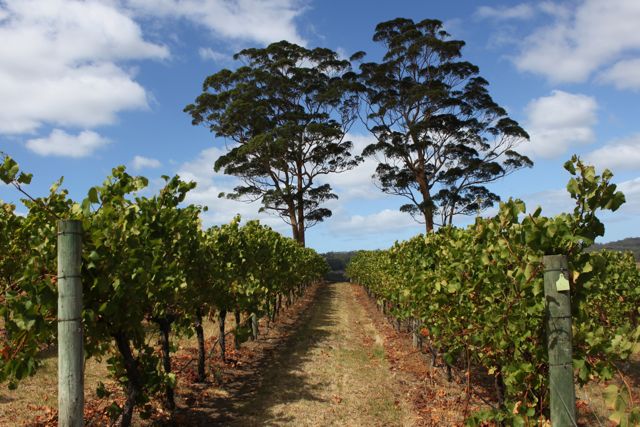 Like any ruler who asserts complacent divine right, Australia eventually tumbled off its hill of grace. The general perception in this country, rightly or wrongly, was that not only were Australian wines increasingly homogenous and soulless, but they were actually also becoming more expensive. That simple message that Australia had previously communicated about wine (brand recognition rules and consistency at all costs) was now an albatross around the neck of the industry. Other countries could provide better varietals at cheaper price points. Meanwhile, the Aussie wine industry seemed driven by internal political arguments about marketing resources. The big multi-national brands had accrued so much power and influence within the industry that they had created a de facto two-tier wine trade. A generation of Aussie wineries seemed to spend their time and money courting medals in national competitions rather than interrogating their own methods and seeking to evolve. No wine country is an island unto itself, but Australia wine trade had become far too inward-looking. And, meanwhile, the more the brands succeeded in UK supermarkets, the more Pyrrhic the victory, because the image of Australian wines was slowly being eroded by the brute commercialism of the never-ending sales campaigns and cheapening deals.
Necessity is the mother of reinvention – suddenly Australia had perforce to become more than a patch of dirt to grow grapes and needed to discover its own unique story to tell. The mood music changed. Suddenly regional differentiation, appellation, even single-vineyard definition was an important marketing distinction, and terroir, formerly derided as the quasi-mystical invention of the French, was now a concept both to be celebrated and encouraged. Meanwhile, the obsessive love affair with new oak and powerful extraction was (partially) shelved with the dawning realisation that UK consumers, for example, preferred far more portable, gastronomic wines. We then witnessed the emergence of so-called "new styles" such as Unwooded Chardonnay and a kind of half-way house Shiraz that winked and nodded towards Syrah. Being reactive shows a wine industry stumbling in search of an identity. Having bruited big oaky Chardonnays as your go-to wine, then to feel the need to tactically uncouple that concept with yet more rebranding, does not show an adaptable wine culture, but rather a mimetic one, slavishly tracking trends, instead of being easy with itself.
In virtually every wine culture worth its salt there are hermits and prophets, men and women working on the edge of – or outside – industry conventions. By the late 90s early 2000s some had already surfaced in Australia and were making wines in a distinctive idiom, perhaps against the grain. These wines were scarcely on the radar in the UK. Soon, however,  the increasing traffic of sommeliers and restaurateurs from Oz would ensure that the new generation of cutting-edge artisan winemakers – Bindi, Castagna, Giaconda, Sorrenberg, Mac Forbes, Bill Downie to name but a few – were mentioned in despatches. And when the wines eventually became available in the UK, albeit in homeopathic quantities in certain cases, new benchmarks for quality and interest were established.
Another even more interesting mini-revolution is brewing, however. I use the word brewing advisedly, because this is akin to the craft beer revolution that is sweeping the world. This involves the growers taking real ownership of their wines – from the farming to the bottling. These nonconformist vignerons are bright, articulate and iconoclastic, viewing wine in a holistic way. Their wines are a form of self-expression, uniting people in the joy of drinking rather than the means-to-an-end commercial product, a mere function of "brand Oz". The approach of growers is natural, for want of a better word, from espousing organic and/or biodynamic farming to lack of filtering and the refusal to add anything to the wine, keeping it pure and simple in order to get the wild yeasts to talk.
There is a good camaraderie and a sense of exchange between this band of brother-growers, egging each other on (literally using ceramic eggs in some cases), forever pushing the wine envelope.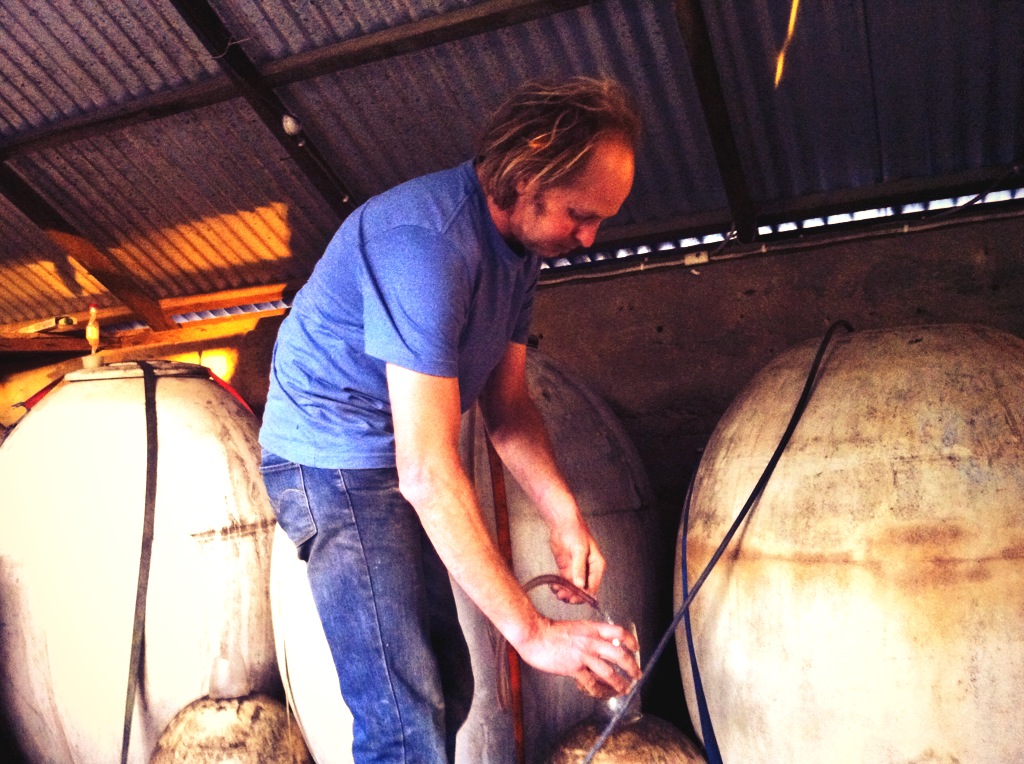 To fully unscramble this egg one should meet some of the protagonists (or hen-ablers?): James Erskine, Anton von Klopper and Tom Shobbrook, like-minded adventurers, not just in wine, but in food, philosophy, music and art. The pleasure in making and drinking wine allied to a desire to push boundaries and rediscover authenticity was captured in their joint venture called Natural Selection Theory with schemes such as Voice of the People and Project Egg (referred to earlier).  Human energy and creativity catalysed with natural unpredictability foments/ferments inspirational wine. NST composed wine like some would compose music, they seem to see things in the round (or the ovoid) and seek the harmony between nature, the man and the wine. So often wine is constrained by the lack of vision of the winemakers; it is about creating a square product for the quotidian market and the broadest range of consumers. It lacks integrity and a kind of energy also. A premeditated wine is usually a medicated wine; the serendipitous approach makes our pulses beat that much quicker.
"It is the wine that leads me on,
the wild wine
that sets the wisest man to sing
at the top of his lungs,
laugh like a fool – it drives the
man to dancing… it even
tempts him to blurt out stories
better never told." 
In October 2014 Les Caves de Pyrène were delighted to welcome three of our Australian growers –and two of the founders of NST – Anton von Klopper, Tom Shobbrook and Pat Sullivan – who embarked on two week UK tour, presenting not only their wines but also those from like-minded fellow Aussie vignerons. They camped, they cooked, they drank, they partied, they did "walkabouts" in restaurants, they sang for their suppers and they brought the relaxed exuberant new Aussie wine culture to us stuck-up stickybeak pommies. These guys have even been known to perform interpretative dance to their wines!
As a wine merchant with previously drip-drip Aussie sales, this was the galvanic shock that we needed to break the British reticence to engage with Aussie wines. Wines with names such as "Red", "Vino Rosso", "Oeuf Blanc", "Golden Circle", "Breakfast Wine" and "Wildstyle Riesling" began to sell like hot-cakes as customers latched on to the derring-do and sheer lack of pomp. The concept of "smashing a wine" began to imprint itself on our customers' collective consciousness as well as the fact that wine was a drink that didn't need to be overly respected, and that the best bottle was always the empty one.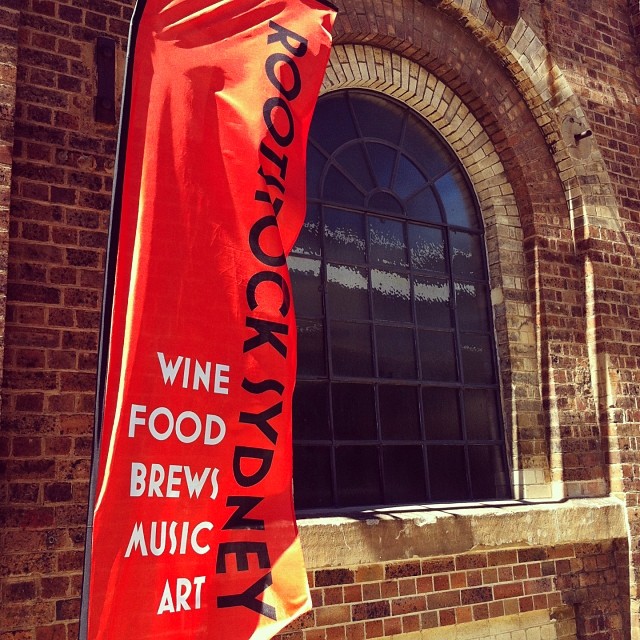 What is fascinating about the new Australian wine culture is its seamlessness. Writers, sommeliers, bar-owners, restaurateurs, vignerons have come together to promote a common agenda. Nowhere is this more apparent than the multi-faceted artisan wine event that is Rootstock. The wine bar scene in Australia is thriving, the sommeliers seem to be open-minded and outward-looking, delighted to showcase the efforts of the small cellar door craftsman and woman. Quirky, singular, characterful wines are celebrated and these wines stand proudly on their feet amongst the best in the world. Drinkers are being given so much more choice and a diversity of wine styles. James Erkine's plea "to break away from the homogenous mentality" is slowly being realised. The natural wine scene, if we are allowed to call it that, has had an impact far above the tiny amount of wine that these artisan producers make.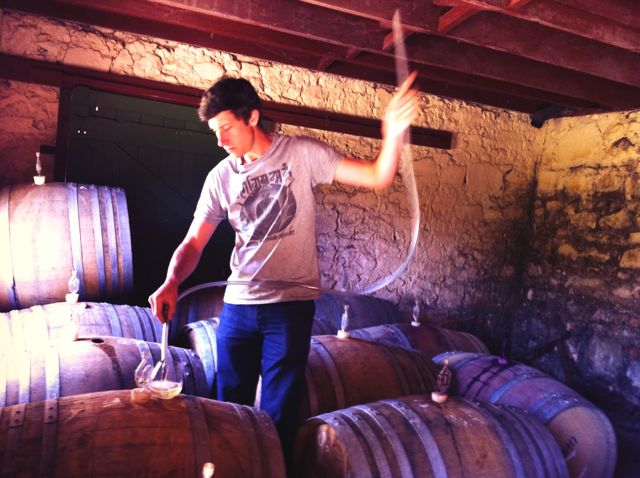 And the UK? Here we are ever more receptive to wines that have their hearts on their sleeves. The new wave of Australian growers are not complacent; they are explorers, travelling the wine world to absorb new ideas. They are also allowing their imaginations to dictate what is possible, rather than manufacturing wines to conform to the conventional Australian idiom (whatever that might be). When they come over to our country the growers make many new friends and imbue us with palpable taste of their wine culture. It takes more than a few visits and some good wines to alter wider perceptions, but what has been achieved in Australia in such a relatively short period of time – in restaurants and bars, in particular – shows that there is no such thing as the average drinker or the typical winemaker.