Jurassic Car Park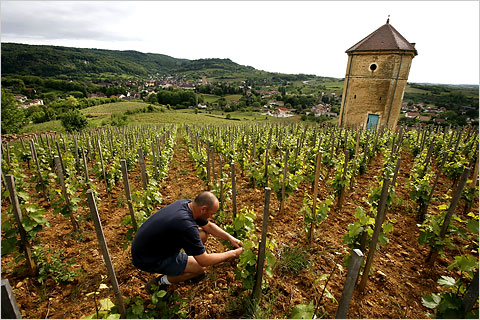 There is a Caves de Pyrène axiom that states the less wine that is made in a vintage, the more growers you must list from that blighted region.
Since 2012 and 2013 were effectively a wipeout in much of Jura, we've perforce to add to our portfolio. Miserly quantities it must be acknowledged – 60 bottles of this cuvee, 36 of that, a toenail rather than a toe in the door of several wonderful micro-domaines, loose doubloons in the large treasure chest of wonders. Nevertheless, we are proud to work at any level with such passionate artisans as Emmanuel Houillon, Jean-Francois Ganevat, Philippe Bornard, Michel Gahier and Daniel Dugois. The new kids, on the block, relatively speaking, include Etienne Thibaud, Marie-Pierre Chevassu, Alice Bouvot & Charles Dagand and Patrice Béguet & Caroline Hughes.
Domaine Hughes-Béguet, Patrice Béguet & Caroline Hughes, Arbois
This Anglo-Jurassic partnership have a vineyard located in Mesnay, a little village a stone's throw from Arbois in the Les Planches-près-Arbois gorge. Patrice & Caroline cultivate roughly four hectares of vines in the Arbois and Arbois Pupillin appellation areas, with a majority of Savagnin for the whites and Ploussard for the reds. All the wines are fermented only with wild yeasts, never chaptalised to increase the degree of alcohol and are produced from vines sprayed with the lowest possible doses of copper, thanks to the use of herbal concoctions which strengthen and regulate the vines' natural defences.
The straight Ploussard is pretty pretty. A short maceration for this quaffable Arbois wine yielding a most delicate shade of red just this side of a rosé, whilst in the mouth the tannins are unobtrusive allowing the transparent fruit to express itself, where raspberry is predominant. The nose exudes hints of smoke, characteristic of Ploussard vines planted on shadier hillsides, as well the black pepper notes which Pupillin's oldest vines often confer to their wines. The more structured Côte de Feule displays  initial pungent aromas of red and black fruits mingled with spices leading into intense notes of soft red fruits (strawberry jam), pepper and, unexpectedly, cocoa.  On the palate the wine delivers a lively attack with supple, silky tannins that roll across the tongue.  The mid-palate is structured whilst the finish is spicy and balanced.
So True is ruby red Trousseau with a complex nose of cassis, violets, leather and smoke. Lovely fresh attack in the mouth with fine tannins and great equilibrium.
2012 Ploussard
2012 Ploussard "Côte de Feule"
2012 Trousseau "So True" 
Domaine François Rousset-Martin, Jura
François took over the family vines in 2007; his grandfather was a vigneron but his father was a doctor in Beaune although he made a few barrels of wine for family consumption. He himself had a career as a biologist.
He has around 12 ha around Château-Chalon and vinifies around 3-3.5 ha, the rest going to the local co-operative. He matures his wines in a cool yet humid cellar, ideal for achieving both the finesse and concentration he is looking for in his wines.
Having identified the potential of the different terroirs he chose to specialise in ouillé wines and vinifies the parcels separately.
Having said that François makes a bewildering range of wines – even the same cuvée will be markedly different depending on when it is bottled. Like so many Jura vignerons he can't resist pushing the white wines (in particular) in different directions. The ouillé wines are more fruity and floral and tend to dried fruits redolent of orange and apricot fine acidity then more vegetal notes of fennel and celery, citron and stone juice. The voile wines are slightly reductive, a touch of cheese and then the classic aromas of fenugreek, mushroom, menthol and then amazing acidity. Tiny quantity of the vin de paille which is a blend of Chardonnay, Savagnin and Poulsard.  With its copper colour, fantastic finesse, orange, caramel and chestnut flavours, the wine has captivating depth.
2011 Savagnin "Vignes aux Dames"
2013 Savagnin "Zero Zero"
2005 Chardonnay 6 ans sous voile
2013 Cuvee de PP Andre Pinot Poulsard
2013 Cuvee de PP Andre Pinot Poulsard – magnum
2008 Vin de Paille – ½ bottle
Domaine Michel Gahier, Arbois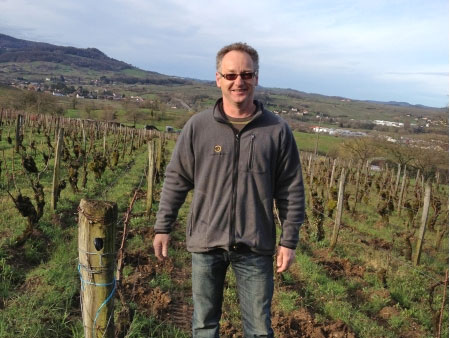 For a generation Michel Gahier and his family have been quietly working with some of the region's most sought after terroirs. Like a growing number of producers in the Jura he had decided to make vin naturel rather than a homogenized, uniform style of wine as he feels it's the best way to express his grapes and land. Gahier is blessed to work with some great parcels of old vines from vineyard sites that inspire local legend. From the vineyard site "Grand Vergers" comes some of the Jura's finest Trousseaus. The soils are heavier clay over limestone, not unlike those in a 1er cru of Burgundy, yet different from the blue marls of Pupillin that better suite Ploussard vines. Gahier's wines are aged in a combination of acacia and American oak barrels with very little sulphur addition. Trousseau is an old grape variety that is also known as Bastardo and possibly Merencao in Ribera Sacra; it is also used in the production of Port, but in the Jura, the wines produced from it tend to be lively, fresh, nervy and gorgeously complex when made by a sympathetic vigneron! Vineyard location undoubtedly contributes to the complexity of the wines. Located in and around the village of Montigny-les-Arsures, just outside of Arbois, the vines are planted on the particular graviers gras soils, perfectly suited to the Trousseau grape. Having been planted over 80 years ago. Grands Vergers is named after the lieu dit (parcel of land) where the vines grow. This is a very, very good example of a Trousseau wine having the delicacy that we associate with this fragile grape but also an extraordinary depth of flavour and a complexity that is intriguing.  The classic Trousseau nose is understated, but emerges in its own good time to convey notes of pomegranate, cherry, autumn leaf and complex spice –almost Burgundy-like – but a bit more angular and masculine. The palate is where the magic happens, as this is one of those wines that just snaps, crackles and pops on the palate. Red fruit galore, floral notes, liquid rock and so much more…
The grapes for Les Crets are sourced from a hilltop vineyard (Les Crets meaning "crest of the hill") where the Chardonnay has been grafted onto the rootstock of the local grape variety known as "Melon Queue Rouge".  The wine is aged for about fifteen months in large foudre and is then racked into the smaller format (600 litre) demi-muid for another year of elevage.  First impressions are of stonefruit, lemon and minerals. The fruit tends to apple and pear, the minerals to flint as much as chalk. Dry but a shade less than Les Follasses, the residual sugar rounding the wine and taking the edge off the sustained acidity. A faint nuttiness echoes through the very long and minerally finish. Balanced and complex – just lovely.
Les Follasses is 100% Chardonnay from the high-elevation, slow-ripening Les Follasses vineyard. Matured in neutral barrels, which are kept topped-up.  Appealing nose of limestone, spice, apple, lemon zest and a faint lactic note. Fruity but dry, round but also ethereal. Crunchy minerals add flavour and texture while the zingy acidity combines with a saline note to make the long finish a lip-smacker.
Both these Chardonnays are ouillé, topped up.
2012 Les Follasses Chardonnay
2012 Les Crets Chardonnay
2012 Trousseau "Grands Vergers"
Domaine des Cavarodes, Etienne Thibaud
Run by young Etienne Thiébaud who is in his mid-twenties and has been making wine since 2007, Domaine des Cavarodes comprises five hectares on mainly Kimmeridgean chalk and clay with some limestone and marl in the northern part of the Jura region. Etienne is a true artisan currently working organically but is in conversion to full biodynamics. He uses herbal teas and vineyard activity is determined by lunar calendar. He is working with fantastic material; some of the vines are ungrafted and over 100 years old. His philosophy is to make wine with as little intervention as possible.
Etienne makes his version of J'en veux!!! (see Ganevat) which is a living archive of vestigial pre-phylloxera varieties. This Vin de Pays de Franche-Comte is a blend of  1/3 Pinot Noir, 1/3 Trousseau and the remainder a melange of Gamay, Poulsard, Pinot Meunier, Argant, Portugais bleu, Enfariné, Mézy…! Vinification is semi-carbonic and there is a ten month elevage in old barrels. The fruit has a veritable crunch think slightly sour griotte cherries, rustic, yet seductive tannins.
The Savagnin Ostrea Virgula relies on beautiful grapes. Fermentation and elevage sur lie in vat for twelve months then a further two to three months in old fûts (topping up) so that the wine has a chance to settle. Sulphur is only added at bottling for stability. The result captures the essential nobility of the Savagnin grape with an ensemble of lovely pear, apricot and gentian aromas adding colour and tone to a palate of remarkable persistence. The name of the cuvee is reference to the high fossil-shell component of the soil.  The Poulsard is a shimmering ruby-red with pepper and red fruits on the nose and is supple in the mouth, whilst the two Trousseaus are more muscular and musky yet still possess plenty of finesse. Etienne is another topper-upper.
2012 Savagnin "Ostrea Virgula"
2012 Chardonnay "Gille Bouton"
2012 Chardonnay "Messagelin"
2007 Vin Jaune
2013 Rouge IGP de Franche-Comté
2013 Poulsard de Chemenot
2012 Trousseau "Messagelin"
2012 Trousseau "Lumachelles"
Anne & Jean-François Ganevat, Jura/Beaujolais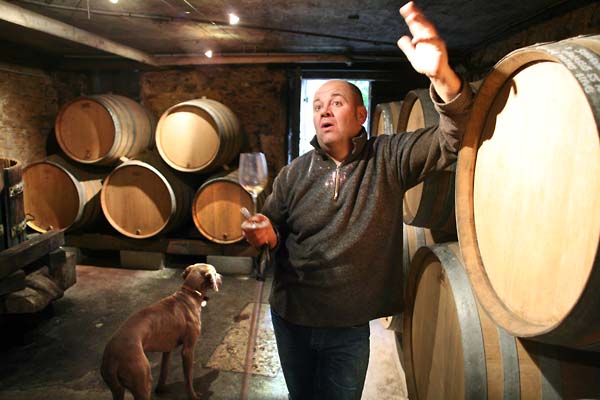 This is a collaboration between sister and brother Anne & Jean-François Ganevat and is a reaction to the tiny yields that the 2012 and 2013 vintages gave in Jura. They decided to diversify by purchasing parcels in Beaujolais (Brouilly, Fleurie, Morgon and elsewhere) as well as buying grapes grown by vigneron-friends with a similar mentality and approach to wine.
Thus it is that they make a Bo-Jura/Jurolais style, impishly teasing wine with vivid, bright, crunchy fruit.
We've managed to secure a decent parcel of these thoroughbred regional hybrids. 2013 Madelan is 80% Gamay (40 year old vines) blended with 20% Enfarine, the latter grown on franc de pieds. Hand-harvested fruit, pigeage with feet, carbonic maceration of 19 days in ancient tronconic vats with indigenous yeasts, zero sulphur added, a wine that is so comfortable in itself. Purple in colour, Madelan's nose evokes blackberries, violets and pepper, the palate is soft, sweet and tender with lovely texture and acidulous brightness and the finish is tonic and spicy.
A Toute Beauté is a fascinating wine featuring 70% Gamay mingled with diverse ancient Jurassic oddities (Petit Béclan, Gros Béclan, Geusche, Argant, Peurion, Portugais bleu, Isabelle, Enfariné…) The Gamay vines are 50 years old and fourteen years for Jurassic varieties grown on franc de pieds. Vinification is simple – foot-stomping grapes, 25 days of carbonic maceration in tronconic vats and totally natural winemaking i.e. sans kit and caboodle. This wine has a touch more material and minerality than the Madelan with a subtle tannic dimension that will allow ageing, although it is engaging enough in its infancy and a swirl in a carafe helps it unwind.
2013 Y' A Bon
2013 Madelan
2013 Madelan – magnum
2013 De Toute Beauté
2013 De Toute Beauté – magnum
Forez Trumps!
Domaine Verdier-Logel, Côtes du Forez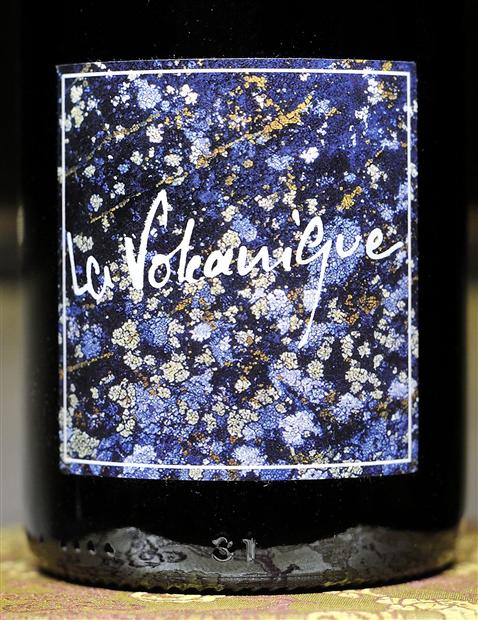 The Côtes du Forez appellation is located between the Loire and Allier rivers in the centre of France. Domaine Verdier-Logel is a leading domaine within this small and obscure appellation where vineyards are few and far between. (There are only nine growers and one co-op.) The Côtes du Forez hillsides are foothills of the volcanic mountains of the Massif Central and have soils of granite and volcanic composition. Due to the difficult climate only parcels with the best exposition and soils are planted to vines. The appellation's laws mandate Gamay as the sole grape to be used and Verdier-Logel produces separate wines including – from volcanic soils "Volcanique" –and from granite soils "Cuvée des Gourmets". These soils impart a rich earthy fragrance to the wines which combines well with the elegant fruitiness of the Gamay grape.
Le Poycelan is a selection of the oldest vines grown on the iron-and-magnesium-rich basaltic soils made in particular vintages. The extra intensity of this deep purple wine is remarkable. The Volcanique itself has wonderful aromas of black raspberries, asphalt and chocolate with that familiar pepperiness on the finish that characterise the Gamays from the Auvergne & Forez.
2013 Le Poycelan Rouge
2013 La Volcanique Rouge
See you later, Aligoté
Domaine Gilles Ballorin, Morey Saint-Denis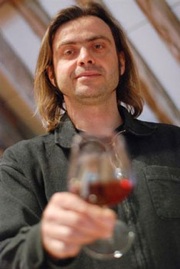 Setting up a new wine domain represents a challenge in Burgundy, there are so many well established names producing great wines. Gilles and Fabienne Ballorin were not perturbed, however, at the thought of competition, they started in Brochon, moving to Morey-St-Denis in 2007 in the Côte de Nuits and already they are carving out a good reputation for themselves with their biodynamic wines.
In Burgundy a map of who owns what in the vineyards is like a mosaic, there are many small scale producers with small sections in different vineyards. In the Côte de Nuits, Domaine Ballorin & F has vines all along the strip from Chenôve to Comblanchien: 23 ares* of vines in Fixin (les Chenevières), 10 ares in Nuits St. Georges (les Damodes), 80 ares in Chenôve, 25 ares Marsanny Rose, one hectare in Marsannay (Les Echezots) for example. They have holdings in eleven different vineyards in all, the most recent acquisitions being Très Girard in Morey and Clos du Roy in Marsannay. The production reads like a restaurant wine list with red, white and rosé including Bourgogne Aligoté (Le Hardi), Bourgogne Pinot Noir (Le Bon), Bourgogne Passetoutgrain (Le Téméraire) and Bourgogne Blanc They work hard all year round to produce mature grapes so that nothing extra is needed during vinification. The answer lies in the soil: 'The grapes are good if the soil is healthy' says Fabienne, 'sometimes you can smell the life in the soil.'
The wines are natural – ambient ferments with indigenous yeasts in resin-coated wooden vat resulting in a natural malo, no filtration, no fining, and less than 30 mg/l of sulphur. The Aligoté, named in recognition of Philippe Le Hardi who prohibited planting of Gamay in Burgundy (nobody's perfect), is golden yellow with greenish glints, has a buttery texture with delicate aromas of ripe citrus and warm pear-skin.
2013 Bourgogne-Aligote "Le Hardi"