Manny: This is a farmyard of wine…
Bernard: It's like looking into the eye of a duck…
Manny: And sucking all the fluid from its beak.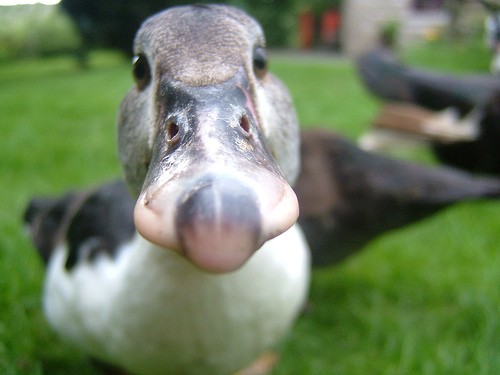 What is life in wine? It is when you taste without objectifying the wine, drink yet still roll the liquid around appreciatively, sucking every last morsel of goodness out of it. You sense the presence of vitality in a wine rather than calibrate it. You embrace the whole for better and for worse: "The truth is", as Anatole France observed, "that life is delicious, horrible, charming, frightful, sweet, bitter, and that is everything".
As usual we craved the life and the life in the wine that was less ordinary. The key factor is always that the wine seems to be going somewhere, that it should possess singularity and energy.
"The healthy being craves an occasional wildness, a jolt from normality, a sharpening of the edge of appetite, his own little festival of Saturnalia, a brief excursion from his way of life." -Robert McIver
Every wine-drinking year it is not just about reviewing the wines per se, but the occasions on which you drink them, the company you are with and the mood you are in. Wines encountered at trade tastings rarely stand up on their hind legs and bark for attention, but the intimacy of the dinner table unlocks the conviviality of the wine, and occasions seasoned with laughter, silliness and good will (and even romance), provide the perfect milieu for proper enjoyment and reasoned discussion.
Then there are the palate-changing moments.
Without doubt the highlight of my wine year was a trip to Georgia, ostensibly for The Qvevri Symposium, but more to immerse us in the traditions and mores of Georgian culture. Notwithstanding the superb food and nonpareil hospitality, the wines themselves were a revelation and provided a clutch of taste epiphanies.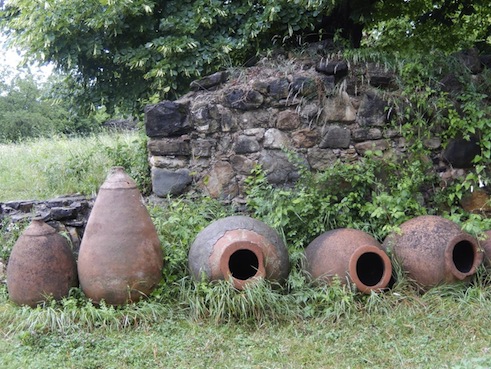 A watershed – ritual woven into the drinking of wine and the very nature of hospitality itself. At the table the wine was as water, gulped for refreshment and to wash down the endless variety of dishes. The opening of a qvevri with the sacramental symbolism, sharpens one's perception of the moment, a gift, however humble, received in the same spirit, is a beautiful thing
The appreciation of orange/skin contact, the way the palate copes with phenolics rather than aromatics. Modern wine has moved away from grip and grit and raw texture, in favour of clean juice and clean lines. Recalibration is fascinating – it is no easy seduction, more of a roll it around and sense it. These wines are alive and mutable – they seem to be atonal and shifting randomness and yet they have a purposive architectonic structure.
Of Georgian Epiphanies
Some of my favourite wines of the year had not been put into bottle. The liquid is somehow more unaccommodated, more naked, even more natural. Packaging is a kind of superimposition, a circumscription and part of the transformation into a product, necessary, of course, but it shifts our response to the wine in subtle ways.
Extract from Les Caves de Pyrène blog
… Ramaz (Nikoladze) cut and levered a disc of mud out of the earth and carefully swept away the residual dirt (so that it didn't fall into the qvevri). Glasses were filled with pale-gold Tsitska. Synonyms of this variety are Shanti and Mamali Tsitska and it is considered to be one of the best and most widespread cultivars in Upper and Central Imereti. This fresh-minted version had a wonderful herbal note and pure raw flavour as if it had just been dragged out of a long sleep.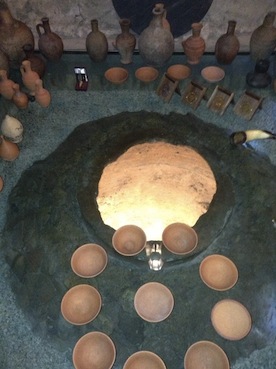 We then tried two wines which had been bottled the previous year. The first, a Tsistka, was THE wine. Shimmering green-gold, breathing apple-blossom and wild herbs, it surged across the tongue with brilliant acidity and lithe mineral energy. This wine was complete – the perfect wine for the perfect moment, seemingly capturing both the light of the sky and the blood of the earth. For all that science might wish to compress wine into a narrow microbiological liquid brick, this taste elicited (amongst all of us) a spontaneous joyful reaction, a temporary suspension of critical faculties, a leap of wine faith, as it were.
It is an honour to be present at the opening of a qvevri. Earlier that day we had visited the irrepressible Iago [Bitarishvili] for an epic lunch, the prelude to which was a tasting in his cellar. Trying not to stumble into the gaping o-mouths of the buried clay vessels we crowded into a room the size of garage. Anticipation rippled palpable and I-Phones collectively chittered as the liquid was lifted gently out of its clay cradle as were bearing witness to the birth of a wine. Critical reaction becomes redundant and invidious in such circumstances. You are here for the moment and to participate in an age-old tradition. The new vintage is the simultaneous completion – and the beginning of – the cycle.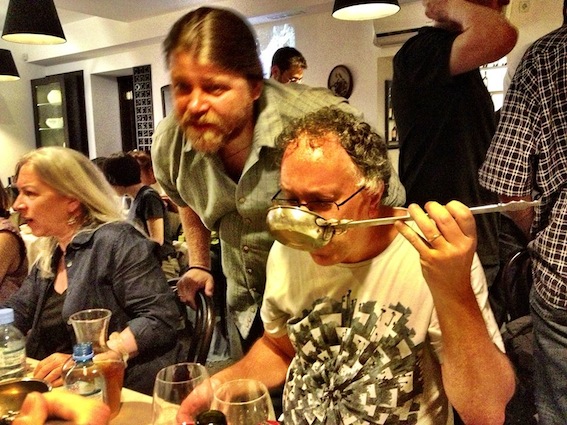 The flint stone is lifted and glinting wine ladled into the glasses. It tastes very natural, raw minerals permeating the other delicate flavours of wild mint and pear. The wine passes the lips, slides across the tongue and disappears – it has life. At moments like these you make a commitment or you remain an objective taster to the bottom of your drinking boots. It is difficult to shake off the recording angel seriousness of furrowing brows and furling pens and that all wine is to be decoded, analysed and evaluated according to a tasting paradigm. Tasting from a qvevri, glugging from a jug, toasting from a pialla (or piyalla) is wine in the vernacular – not a comparative science.
Good-Bad in Aveyron
Context is everything – whereas most wines make sense or come alive when you are standing in the vineyard or tasting in the cellar, some are sufficiently evocative that they can seemingly transport you to places that you have never been. Or, to look at it another way, the ruggedly honest wines of Nicolas Carmarans transport the place to you and rub your nose in the dirt of the vineyards. One such is the 2010 Mauvais Temps from Aveyron. Mauvais Temps refers to the mountain on which the vineyards are located where the weather is (apparently) invariably bad. Sounds like Skegness. This cheeky blend includes 30% Negret de Banhars, an avowedly local-yokel grape and Nico Carmarans has about 30% of the entire plantings of this variety from vines on terraced/dry-stone-walled slopes composed of granitic sand.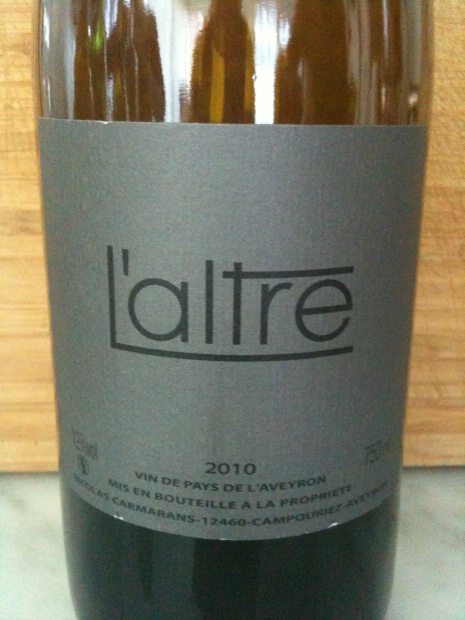 Difficult not to love unreservedly this sprightly bobbish cherry-red number which is lithe and sharp and as pure as a nun who's into serious fun. Tiis a thin and wiry wine, the tartness carrying some lovely earthy-slatey fruit and wild spices on board. Mauvais Temps is the good bad time had by all. L'Altre from the same stable zips the same light fantastic. Imagine Marcillac ++.  This also originates from the wilds of the Aveyron and captures the sanguine craggy goodness of the region. Talk about minerals! Shave some granite, grate some iron filings, crush those cherry stones…  More purple than a self-indulgent, over-literate blog, this mountain Fer Servadou (or Mansois for those grape synonym-hankerers), fermented in conical vats, given a semi-carbo and then aged briefly in old barrels, has a freshness that eviscerates confit duck at ten paces, and sports scything natural acids that lend the fruit flavours their cheery-cherry after-bite.
Give it some fridge love and witness how it thrills as it chills. I would seriously have to consign a second bottle of either of these reds to gullet oblivion.
Where The Wild Wines Live
Some naturally-made wines naturally disconcert the tentative palate, others, however, by means of their back-slapping joviality and bullish enthusiasm, can steamroller through the usual reservations. 2011 Faugeres tradition, Clos Fantine is one such. And wow, this wine is pulsing with bloody life; it eats zombies for breakfast. If ever my palate becomes jaded or I lose my sense of humour this will be my go-to wine. This naughty wine would have out colour into the cheeks of Angelo, he of the "snow-broth blood", in Measure of Measure.
The state whereon I studied
Is, like a good thing being often read,
Grown sere and tedious; yea, my gravity,
Wherein- let no man hear me- I take pride,
Could I with boot change for an idle plume
Which the air beats for vain. O place, O form,
How often dost thou with thy case, thy habit,
Wrench awe from fools, and tie the wiser souls
To thy false seeming! Blood, thou art blood.
A wild bear of a wine, but it wants to hug you (and I want to be hugged).
The domaine is in the commune of Cabrerolles in Faugères. Two sisters and one brother run this vineyard, following the death of their parents. Whilst not holding a certificate for either organic or biodynamic farming, the vineyard is run with the utmost respect for nature.  As Corinne Andrieu states: "We have always worked to respect what nature has to offer… Our pleasure is to listen to nature, to watch nature, and to allow her to have the energy and strength to express herself.  For this reason their vines "grow like any other local plant, in a state that verges on the wild."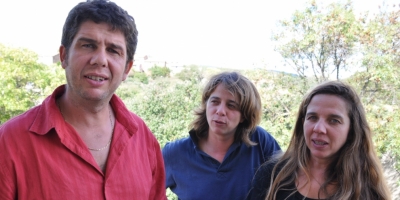 The blend, by the way, is 40% Mourvèdre with approximately 25% Carignan, 10% Syrah, and 25% Grenache. The Carignan is from 50-80 years old, whilst the Mourvèdre and Syrah are from 30 year old vines. Terroir is poor schist, harvests are manual. Fermentation (with wild yeasts) and maceration last for thirty days with no temperature control. There is no oak, no filtration, no fining and no sulphur.
2011 Valcabrieres Blanc, Clos Fantine. I love wines that are wild. As soon as I poke my nose in a glass of this I am instantly transported to what Sybille Bedford described in Jigsaw as "the sun-baked, cicada-loud, ageless country of scrub and terraced hills… the archetypal Mediterranean landscape of rock & olive, wild thyme, vineyards, light". This is a turbid living wine, unfiltered, unfined and unsulphured; it captures the spirit of the terroir. The Terret vines are 90 years old, yields are a measly 15hl/ha with a strict selection; the parcel of vines producing this  wine means "the mountain of the Goat" in Occitan, which explains the image on the label, that of a goat being milked of its wine into a wine glass. Which is a neat trick. Valcabrières is an intense dry golden-white releasing subtle cider apple, vermouth, fennel, lemon-thyme and honey aromatics. Carafe it, turn down the lights and let it have its wicked way with you. Those not tuned into the orange or O2 networks might struggle with golden-yellow colour and the secondary nutty bouquet, but like the best oxidative wines it just gets better and better and better in the glass with dazzling freshness and mineral saltiness.
"Granite-Daddy"
Take a tasty bottle of wine with impeccable provenance, wallop it with a hefty London restaurant mark-up and most people would be deterred from spending their hard-earned. Some wines are worthy exceptions, made in such tiny quantities and capable of delivering epiphanies without fail, that you should fork out whenever you see them on the list. I know I did – three times. 2010 Hermitage Rouge, Dard & Ribo, is a constant thing of beauty and a joy for a very long time. What is different with D & R is that they view Syrah as a grape giving elegant and pleasant wines, rather than sturdy, big, tannic wines. They want their wines to appeal quickly, rather than requiring years of cellar-slumber to dissipate the tannins. They even make a cuvée called "C'est le Printemps" that is released in the spring following the harvest, almost like a nouveau of Syrah, one that dances joyously across the tongue with the merest hint of spritz.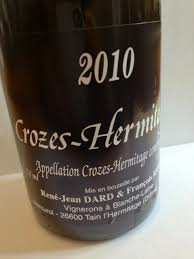 And then there is Hermitage. A sinewy red with rocky dark fruit that is at ease with itself. Bouquet of barbed brilliance and a hatful of chapeaux for D & R's ethereal H-Boss for its bouquet of violets, tapenade, dill, wild thyme followed by a splash of granite juice and lingering impressions of gently crushed fruit. My red wine of the year.
"What we like is natural wine because it's alive, wine that does not necessarily have to be kept – just drunk and drunk again." (François Ribo, quoted in John Livingstone-Learmonth's The Wines of the Northern Rhône p.382)
Amen to that.
The Rule of Loire
I drank more wine in all shapes, sizes and prices in The Green Man & French Horn than in any other restaurant. For sheer consistency and variety of styles the Loire is a star region and still strangely underrated. I could wax most lyrical about waxy Chenin and describe some smashing Muscadets from messrs Papin, Landron and Pesnot or recount innumerable bottles of Pineau d'Aunis, Gamay and Romorantin despatched with extreme prejudice. One domaine's wines induced in one a state of tuman (an Indonesian term describing where you find something enjoyable and want to have it again) and that was Les Cailloux du Paradis.
Situated in the heart of Sologne, 35 km from Blois, Claude Courtois and his sons elaborate their wines according to ancestral methods and are zealous advocates of natural wine. "Nature admits no lie", as Carlyle said, and Courtois (Claude) often says that his wine is made from "true grapes". The wines he crafts are a pure and vibrantly alive testament to outstanding biodynamic winemaking. 2011 Quartz, Les Cailloux du Paradis The troubadors of fin-vin amour can update the annals of Courtois love with this fabulous wine that redefines the rules of Sauvignon. In fact the grape is largely irrelevant. Quartz by name, quartz by terroir, quartz and all! Naturally-made wine that effortlessly transmits vintage and place and may cause one to pause and rethink the potential of Sauvignon, especially, if like me, you tend to think of this grape as overwrought, over-sulphured and underwhelming. This example is hand-harvested, destemmed & gently pressed, and fermented with natural yeasts whilst the juice undergoes an extended maceration. It's all vinified in barrel and aged for 12-24 months in oak – depending on vintage.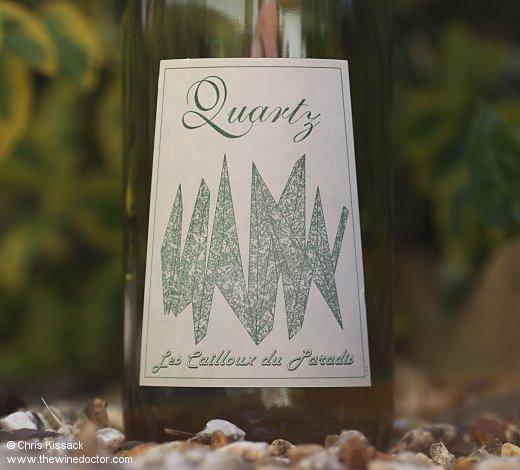 Golden straw in the glass with shimmering pale highlights with a nose that offers that sharp-soft combination of just-cut apple & poached pear with notes of green fruit chutney spiced with brown sugar, nutmeg, cinnamon & allspice. The palate is very nutty, with a firm acidity with yellow apple flavours & quinine notes combining with marzipan and hazelnut. The wine finishes long and vibrant, with great mineral and core fruit presence and a lingering inner mouth perfume of pear eau de vie. This is a truly outstanding, complex wine, because it changes from minute to minute with a restless antic disposition and thrilling energy that the very best naturally-made wines possess and yet is rooted in the very crystalline minerality that bequeaths its name to the special cuvée. One for the picnic (the abv is 11.77% or something equally quirky) with a few bottles to be locked in my cellar. Or the cupboard under my stairs that masquerades as a cellar. Which doesn't have a lock, but rather a large armchair wedged against it.
Old Gold
Age before beauty? How about age and beauty? Time to animate some Cab Franc-enstein. The best Cabernet Franc has a military bearing with ramrod-straight spine and buffed-up fruit. The following venerable specimens have not only stood the test of time, they are still looking optimistically to the future. Stored beautifully in deep-dark underground caves, the wines rest, gathering energy, as if in suspended animation. There is a softening, but not too much – tension is the be-all-and-end-all of these stellar Cab Francs. The first example, Alain & Jerome Lenoir's 1976 Chinon, Domaine Les Roches, is, to coin an oxymoron, brilliantly impenetrable, stocky without being heavy with knobbly herb-tinged plum fruit (skins, stones and all) and frank Franc medicinality. 1976 was a famous vintage where the wines possessed an inordinate textural richness and tannic structure. 1972 Bourgueil Busardières, Domaine de la Chevalerie shows plenty of stuffing, despite the comparative lightness of the vintage – one might surely expect the wine to be up on its downers, legs waving in the air… Not a bit of it. Not only did this wine survive a long dip into a decanter it actually seemed to flesh out and gain colour! Difficult to explain (answers on a postcard to Emile Peynaud) except that Busardières is a great vineyard, yields are low, vinification is slow and natural and the wine is veritably pickled in the tuffeau in the heart of the mountain.
Judging Jura
No year can pass without some Jurassic wines making my favourite wines of the year list. Philippe Bornard's brilliantly freakish Ivresse de Noe merits a mention, a late harvest Savagnin that tastes sweet with a spicy-dry oloroso nuttiness. Whilst I enjoyed Domaine de l'Octavin's red-like-a-rosé-by-any-other-name, Domaine des Cavarodes' equally breezy ten-grape blend Pays des Franche-Comte Rouge and Jean-Francois Ganevat's peerless Pinot Noir Grusse en Billat, for sheer austere, high cheek boned perfection I returned again and again to the wines of Emmanuel Houillon.
Houillon is opposed to adding anything to the wine. No new oak barrels influence the taste – some of the barrels in use are a century old. Before bottling, the wines are neither filtered nor fined and they retain a lot of carbon dioxide, which has an antioxidant effect and helps to convey aroma. 2011 Arbois Pupillin 3T, Emmanuel Houillon is properly pale, exceptionally light and piercingly fresh with fugitive notes of morello cherry, redcurrants, wild strawberry and quince, a study in deliciousness, the avatar of purity. Wines such as these have an evanescent quality: they are unpredictable, variable, even fragile. They can react adversely to certain temperatures, location and atmospheric pressure. Houillon's convivial red contradicts the notion that wine should be stable. File defiantly under quirk, strangeness and charm. Vinicultural funambulism, shapeshifting wine, prickly, vital, stripped to red stonefruit essence. Despite its "Cistercian style" the rigorous minerality melts (with patience) to leave limpid stone-kissed red fruits.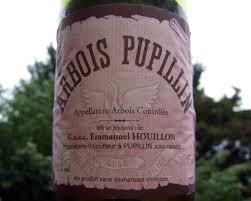 He deals adeptly in both colours. The 2011 Arbois Chardonnay vieilles vignes is liquid electricity. If you're expecting a nutty oxidative style you might be surprised – this is lemon pared with a sharp knife, light yet lingering, the stylistic blood brother of Quartz from Claude Courtois. The ultimate wine perk-me-up.
The Alicante Song
In 2013 we strengthened our Spanish selection, held a small, but perfectly formed wine tasting for our producers in October, followed by a wine dinner at Terroirs. One grower, Rafa Bernabe from Alicante, surprised and delighted us consistently, his wines, be they white, amber, red, pink or sweet informed by incredible freshness and minerality. I took a mixed case of wines on holidah to the Outer Hebrides where bottles were paired variously with lobster, scallops and some dramatic sunsets over the Atlantic. 2012 Musikanto, Rafa Bernabe, Alicante Musikanto! If music be the food of love play on- but this wine needs no food. Made from old vines Garnacha Peluda (hairy Grenache to you), and fermented in tinajas (clay amphora) with nowt added and nowt taken out, this cranberry-hued perky-pinkster is watermelon incarnate with abundant "le crunch" down to the last pippy seed. Such is the wine's casual brilliance that you really only notice it after having sucked down the bottle and you have to return to the fridge toot sweet to fish out a second, then a third…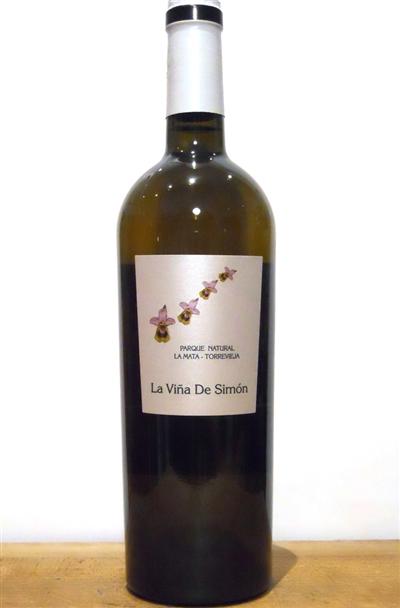 2011 La Viña de Simon, Rafa Bernabe, Alicante No apologies for a second Bernabe offering – maestro Rafa is churning out some gems and this electrifying effort always makes my palate beat faster. Pure Merseguera (who he? -Ed), a limber athlete that shows your tongue a clean pair of heels. The tongue-arching acidity makes you weep (with joy), minerals scrunched into the skin of the fruit imbue the warp and weft of the wine, and the whole ensemble has the relaxed rasping gargle of a Lou Reed or Bob Dylan in their pomp. A late entry to this pantheon of deliciousness was the 2012 Benimaquia Tinajas, an amber tinajas-fermented floral 'n' spicy Moscatel and a pair of salty-savoury reds, 2012 Ramblis Monastrell Tinto and 2012 Ramblis del Arco. For these reasons – and many others – Rafa is our winemaker of the year.
The above are thirst-demolishers of the classiest order. As the nights draw in we may wish, however, to light an imaginary fire in our hearts – or a real fire in our hearths. And toast some chestnuts on it. Sherry is a drink where terroir is secondary to the alchemy of yeast, oak, oxygen and the particularity of the solera system; the older versions attain a varnished utterly-nutterly-butterliness to them which commands deep respect.
Sherry, Amour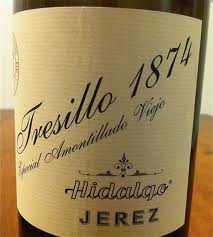 A wine to look at, to sniff, to consider, to sip, to roll over the tongue. 1874 El Tresillo Amontillado Viejo, Bodega Emilio Hidalgo is  a mahogany-brown viscous wine smelling of toffee cream, toasted walnuts, old polished furniture warming in the autumn sunshine pouring through the windows of a stately home, whilst the palate reveals a spice box of cinnamon, cloves and fenugreek, smoked honey, vanilla and dried fruit syrup. The intense nuttiness and poignant freshness delivers a wine that lasts for several minutes in the mouth. A meditation wine in the Seven Sleeper's Den? Undoubtedly, but that's for me to know and for you to lay down.
In the same vein a more than honourable mention to De Martoli's Marsala Superiore. Whilst I love uncomplicated fresh wines – they are as snapshots of bright fruit – I also appreciate the meditative qualities of wines which are like old paintings with a rich impasto of texture…
Oxygen confers secondary notes and layers of flavour – it can soften and enrich the wine. Those aromas of honey, truffle, walnut, cooked pastry, humus, spice, toast, those beautiful complex liaisons of smell and flavour are integral to wines that you can return to over the period of several days and discover something new in every sniff and slurp.
Hit-alians!
Italy, if we can use a generic term to embrace that amorphous collection of growers and wines, provided some sterling drinking throughout the year. The Vino di Annas – white and red – 2011 vintage, had taut vulcanity. I was also captivated by the Anna qvevri red. Cavollotto's Barolo's (Bricco Boschis) were warmly authentic and I drank plenty of Tenuta Il Grillo wines ranging from the crazy apricot-hued Cortese that is Baccabianca to the sweetcure-bacon and hedgerow-fruit-scented Pecoranera. Our late-autumn Piemontese tasting at Dalla Terra literally bristled with sanguine Barberas, Dolcettos and Grignolinos, all of which performed brilliantly on the day.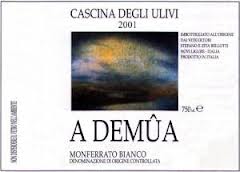 I loved all Stefano Bellotti's wines but the stand-out for me was our recently-listed 2010 A Demua, Cascina degli Ulivi, a skin-contact blend of various ancient autochthonous rarities.  A Demua means "go and have fun" in the Genovese dialect, an injunction that this wine obeys in spades. A remarkable field blend of five local grape varieties from a hundred year old vines: Timorasso, Verdea, Bosco, Moscatella (an old type of Chasselas) and Riesling. Put those grapes in your pipe and smoke them! The pressed grapes are macerated and co-fermented under a submerged cap in large oak casks for one month or longer, whereupon the skins are removed and the wine returned to cask for one year before bottling. This is a true orange wine; amber-gold in colour with a touch of tannin from the grape skins, almost nut-skin-like in appearance and flavour. Remarkable aromas of dried apricot, dried-flowers, pine and fresh almond, a drink to lift the heart and nourish the soul.
2008 Le Pergole Torte, Montevertine was a birthday treat, carafed and drunk from magnum. Eric Asimov, the wine critic for the New York Times, wrote the following about the Montevertine wines and it's a sentiment we share completely: "Sometimes I fall in love with a producer from the moment I first taste his wine. I know, I sound gullible. But really, if you can sense a purity, a commitment, and of course deliciousness and complexity, why hold back?"
Le Pergole Torte is a profound soliloquy for Sangiovese. Named after the tiny 2-hectare vineyard from which it comes, Le P.T. has one of the coolest microclimates in the region, giving the wine a shivering energy, a precision to balance the wine's obvious power. If there is truly tremendous clarity to the wine, an articulation of nuance – dark berry fruit, dried cherry notes, smoke, gravel – make no mistake, Le Pergole Torte is meant to age. Despite two hours in the decanter the wine was still young, sporting some puppy fat, and with a tad more oak than I normally enjoy, but the silkiness and relaxed opulence was impressive without compromising the integrity of the grape.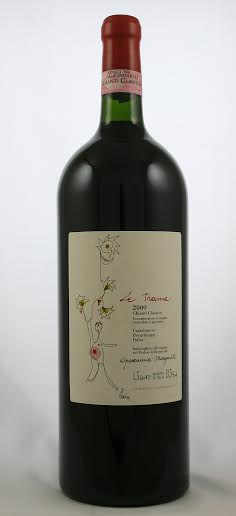 Whilst we are in lyrical Sangiovese mode the 2008 Chianti Classico Le Trame, Podere Le Boncie, tasted or drunk on half a dozen occasions, exemplified the notion of "refined rusticity." Giovanna's wine is made to the rhythms of nature, according to terroir and the vintage. As with many organic growers the objective is not to please or seduce the critics (particularly the American ones), but to present a wine that is true to itself as far is possible. The blend is 90% Sangiovese, 10% Fogliatonda, Mammolo and Colorino, grapes are destemmed and softly pressed and the must is fermented in small open-top wooden casks. During the fermentation, carried out by indigenous yeasts, the marc is crushed and mixed at least twice per day. The wine is neither filtered nor fined. Called Le Trame, or "the intrigues," (referring to the manoeuvring required to buy the land) this is a Chianti Classico of tremendous grace and elegance. With sanguine flavours of dark cherries, roast meat, wild herbs, olives and earth, it is supple and full of character, bolstered by fine, but not astringent tannins. It possesses the angularity and country warmth that we love in Italian wines and would impress the novice drinker and the sommelier alike. It impressed me no end.
Arbitrary Awards of the Year!
Country to love: Georgia, of course
Skin-contact grape: Ambre, amber! As Muscat makes a comeback with Viejas tinajas, De Martino & Benimaquia tinajas, Rafa Bernabe.
The Ribeyrenc Noir new grape on me award: Forcayat del Arco. Que? Darned tasty though.
Well, schmancy that! Three types of Caino Tinto in the vineyards of Adegas Sameiras
Vertiginous vineyards: Putting the gorge into gorgeous, Ribera Sacra's vines crumbling and tumbling into the River Sil.
Darkest "white wine" award: Gris Noir, Anton von Klopper – designed to goose Pinot Grigio lovers.
It's not really wine award: Some nameless branded candy-pop Aussie Moscato which was brushing one's teeth with bubblegum. The antithesis of wine.
The wine which bears its alcohol with equanimity: Primitivo, Fatalone – beauty in the beast.
The biggest blend ever award: Pheasant's Tears 87 varieties. Go suck on a bean, Heinz.
The Bordeaux award for under-delivering region at a price: Burgundy. Only the wines of Alice & Olivier de Moor and Julien Guillot enthralled and of those it was a centenarian Aligoté and an old vines Gamay that did the biz for me.
Best mini-region: Ardèche – superb value, consistent wines, natural wimemakiing.
Check the alcohol on that award: Three wines from Testalonga lightened our lives and respected our livers: 12% (Chenin), 11.7% (Grenache!) & 10.5% (the other Chenin) respectively. Could this be the way forward?
And as a Christmas Treat…
WIN A MAGNUM OF
CHIANTI PODERE LE BONCIE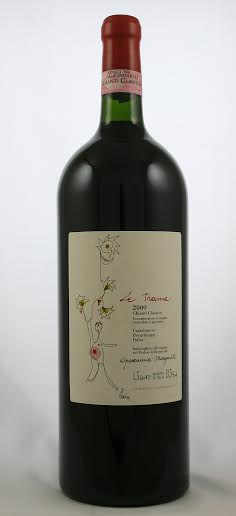 All you have to do is LIKE us on Facebook and LEAVE A COMMENT on this here blog post telling us what YOUR favourite wine of year is! (be sure to leave your email too!)
Winner will be drawn at random on Monday the 13th January.
*You must be over 18 and reside within the UK to enter