Les Caves de Pyrène has been down on the funny farms looking for crazy juice. The expression same-old, same-old simply does not figure in our lexicon as we sleuth out the most recondite autochthones from the styles that time and fashion forgot.
So go figure some new wizards from Oz – natural wines from Yarra (Pat Sullivan) & Margaret River (Si Vintners) respectively. If you were expecting amber co-blended wine and a Jura-like flor Semillon you will not be disappointed. And if you weren't, you will still be agreeably surprised.
What we are evidently missing from South Africa is a natural Grenache that tastes like a Ploussard from Arbois. Called King of Grapes, this apparent anomaly, under Craig Hawkins' Testalonga El Bandito label, displaying a classy common touch clad in the most turbid pale-red raiment, with proud sans soufre credentials, at the same time bristling with mineral intent and nimble on its feet sporting a mere 11.7% abv. Yes, we are talking about Grenache from the Swartland. Swartland? More like Ceriseland.
From vineyards on the pine-forested slopes of the Coastal Range a few km from the Pacific Ocean way down south in Chile's Itata, De Martino are making delicate, deliciously-perfumed wines. Traditionally-tended bush-vine Cinsault and Muscat are favoured on this terroir that we are falling in love with. The range of wines, a red, white and pink are called Gallardia, referring to a daisy-like flower that grows in the vineyards. And now our mission (pun intended) to introduce you to gnarly 300-year-old Pais, courtesy of Louis-Antoine Luyt, who makes wine in Maule. If you've always wanted to gulp a few centuries of history, this rustic natural wine with its rasping quaff originally plunged its feet in the soil at the time of 18th century Spanish settlers.
We like our Prosecco to be as opaque as a vanilla milk shake, literally heaving with residual lees. Casa Belfi Colfondo's tastes great and the clear (cloudy) bottle would make an excellent conversation piece on your table. And whilst we are flirting with the natural we should, of course, mention Stefano Bellotti's roister-doistering Dolcetto Nibio. A sappy number from a Dolcetto clone with red stalks, it has bags of wild bitter cherry fruit and sapidity. Faint hearts may faint, but we love a bit of raunch-and-roll in our lives. Less likely to goose you is a brilliantly-priced smoothy-chops Chianti from AA San Ferdinando. Nice fruit here, but the joker in the blend is some Pugnatello, a pugnacious indigenous grape rediscovered by the University of Florence and being gradually reintroduced to this part of Tuscany.
A trio of newbies from Rafa Bernabe, restless innovator, intuitive natural winemaker, sympathetic traditional in sunny Alicante. One a gorgeous amber (skin contact) Moscatel fermented in tinajas called Benimaquia. Another a red from Forcayat (bing as Ned Ryerson says in Groundhog Day – call the grape detectives) called Ramblis del Arco, and an old vines Ramblis Monastrell. The Rafa signature is writ large and effortlessly here, endlessly drinkable fresh and fruity wines with a good punch of minerals and spice.
Christophe Pacalet becomes our 11th grower in Beaujolais – we have now enough for a football team. Like his mentor Marcel Lapierre he makes clear-as-a-bell natural wines with the accent on freshness. We are taken with his floral Fleurie and his more structured, ageworthy Moulin-à-Vent. For those more accustomed to sinking Gamay by the gallon we have also 10-litre BIBs of natural Beaujolais.
Starting with an Australian duo
Sullivan's Travels
2012 Brittania Creek White 2011 Laffer's Lane Shiraz
Pat Sullivan makes tiny quantities of wines that sell out almost immediately in the best barsn and restos in Oz. We are fortunate to have just received a small allocation of his savoury Laffer's Lane Shiraz and a smashable skin-contact white called Britannia Creek.
The Shiraz grapes for the Laffer's Lane are sourced from a tiny vineyard in the Upper Yarra Valley. The watchword here is purity. 100% whole bunch is used to achieve that balance of fruit and savouriness that Patrick seeks in his reds." Patrick says "I always worry that as soon as an input is made (such as destemming, punch downs or pump overs) something is taken away from the authenticity of the site. However I'm certainly not saying these techniques are wrong, they just don't suit my style". Juicy mulberry and blackberry over cherries with savouriness in the form of vegetation, herbs and a hint of quinine. A lot of depth but it's still highly perfumed. Suggestions of grilled meats, roasted beetroot and pan juices. Integrated acidity sheds light on the dense profile and imparts agility. Plumskin tannin kicks in early, adding a pleasantly sour and bitter note. Pepper and mace seasoning. Real mineral presence and plenty of length.
Brittania Creek comes from a dry-farmed 30-year-old vineyard in the western hills of the Yarra Valley and is a co-fermented blend of Semillon, Chardonnay and Sauvignon. This means all grapes are picked and fermented at the same time, not picked separately and then blended, as is the norm. The wine spends one week on skins and is bottled unfined and barely filtered. The resulting orange wine is smooth and textural with fresh fruit flavours alongside notes of dark spice. Very soft on the palate with tangy acid and fine tannins.
Si – Sine of the times
2012 Si White 2011 Chincheclé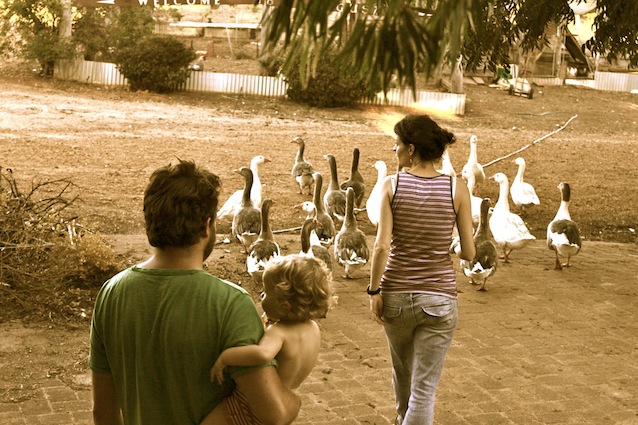 Margaret River is not the part of Australia you associate with jazzy iconoclasm. Wines from this region tend to be square and big-boned (and big-fleshed) and usually clad in heavy oak apparel.
S (&) I Vintners is made up of Iwo Jakimowicz and Sarah Morris who in September 2010 purchased a 30 acre estate with 20 acres under vine (the majority of which were planted in 1978). Their property is situated just south of the Margaret River township of Rosa Glen and the motivation was to handcraft natural (and natural-tasting) wines, expressive of the vineyard and sub-region. They started farming their vineyard organically/biodynamically from the beginning and all their wines are made without any of the usual commercial winemaking additives apart from a small sulphur addition at bottling and bottled without fining or filtration.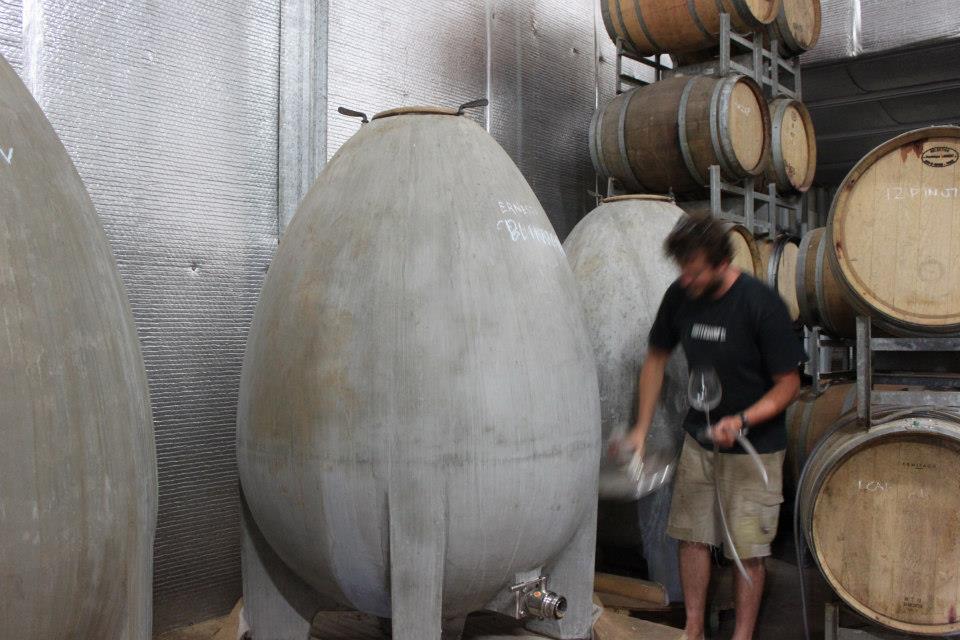 The baby of the stable is a Semillon-Chardonnay (70/30). The fruit is hand harvested, maintained in whole bunches for five days then basket pressed and naturally fermented in a mixture of concrete eggs, large format French oak and stainless steel and kept on lees until bottling. A wine that manages to be bright and textural with a touch of butter cookies, lemon peel and white spice.
Chinchecle is 34 yr old Semillon planted on heavy gravels on the dizzyingly highest slopes (102 m!).  Along with these bony soils intense pruning, no irrigation and vine age give the desired low yields to create this intense wine. The grapes are hand harvested and remain in whole bunches for 10 days before being whole-bunch pressed and naturally fermented in concrete eggs where the wine remains for a period of two years with a naturally occurring flor. Amazingly long and complex in the mouth, a wine that you keep coming back to and keeps coming back to you. Think baked apple skins in cloves and cinnamon, macerated with pear and apple juice and ginger peel. Love the salty finish carried by a brilliant surge of acidity.
*On the grapevine and in the pipeline: In the next month we will see a Pinot Noir/Pinot Gris blend from Anton von Klopper and a Chablis-esque Chardonnay.
Court of the Crimson Wine
Testalonga
2013 Testalonga El Bandito "King of Grapes"
This regal wine also has the common touch. Craig Hawkins, for it is he, sources the Grenache Noir grapes from a 0.7 ha parcel planted in 2001 on the Lammershoek property in Paardeburg, Swartland. Vines grow on a westerly-facing slope of decomposed granite with high quartz percentage.  Lammershoek is where Craig consults making a variety of white and red wines.
The unirrigated vineyard is farmed organically and ploughed once or twice to retain natural moisture in the soil from natural vegetation. The area underneath the vine is either mowed by hand or ploughed in the springtime depending on the vintage.
Says Craig – "The Grenache vineyard is planted from "massale" selection cuttings from my neighbour's old Grenache vineyard. It is one of the original clones of Grenache to come to South Africa and has a very light coloured skin compared to European Grenache noir. This is often seen as a negative in South Africa and has often tended to be overworked to try and extract colour. I love the opacity that this variety gives on our soils and am looking forward to see how this vineyard develops in time."
Yields are naturally low (30-35hl/ha). The grapes are 100% whole bunch fermented in a 2000-litre foudre for roughly 8-9 days and then pressed in a basket press and aged in old French foudre for six to seven months before bottling. There is no racking at any stage besides going into bottle.
The wine is totally natural, made without filtering, fining, or sulphur additions at any stage. Deep earth notes on the nose which eventually give way to bright red berry flavours. A light red/opaque colour not too dissimilar to a red from the Jura in appearance. The flavour is very spicy with a hint of stem tannin to give some balance to the spice. We love the sappy freshness and energy that Craig manages to retain in his wines. The abv by the way is remarkable for a South African wine and for Grenache weighing in at a slimline 11.7% (although it is rounded up to 12% on the label). Less is more here.
Itata for now – Chile's terrific new-old terroir
Gallardia del Itata 2013 Gallardia del Itata Muscat 2013 Gallardia del Itata Cinsault Rosé 2013 Gallardia del Itata Cinsault Itata, one of the original regions in Chile for viticulture, is peopled by small parcel holders and characterised by old dry-farmed bush vines. The region, 450 km south west of Santiago, receives between 800mm – 1000 mm of rain a year. De Martino sources grapes from vines close to the ocean and grown in the pine-forest-clad Coastal Range on granite soils. The Pacific and the southern latitude influence these vineyards with cool growing conditions which are not the norm in the rest of this valley let alone the rest of Chile (Bio-Bio apart), resulting in wines of purity, authenticity, tension and gastronomic character.
This one of the first places the Spanish planted vines after landing from the nearby port of Concepción – spreading the whole area with these varieties (particularly Moscatel) and also País. The Gallardía style is fresh and elegant, notable for its enhanced floral character. Its name comes from a bright, daisy-like wild flower (also known as the blanket-flower) which grows naturally in the vineyards, filling them with colour and aroma. Gallardía also means bravery, a homage to its name by enduring the difficult climate of the Itata Valley in the south of Chile.
All the vines are goblet-trained, dry-farmed and ungrafted from an organically-farmed vineyards near the ocean the better to retain natural acidity in the grapes. The rosé is made Cinsault and has an oh-so-pretty onion skin colour with notes of fresh raspberry. Time to trot out the Provençale comparatives.
One unusual feature of Itata is the red clay topsoil, with underlying granite that can add a distinctive clove or cinnamon note to red wines. Consider this: Cinsault, old bush vines (35 hl/ha yields), on granitic soils, farmed with horses, whole berry ferment, no punch down, gentle pressing. In the winter the malolactic is ready. The wine is not filtered or fined. It is very silky and Pinot-like with vivid red cherry fruit. Serve this lightly chilled.
The Muscat is dry and smooth yet herbal and spicy with just a hint of earthy "bite". Aromatic notes of jasmine, orange blossom, quince and apricot jam, but without the confection that this grape is prone to.
All these wines are cracking value for money.
Mission Accomplished
Louis-Antoine Luyt
2012 Assemblage Pais, Louis-Antoine Luyt
Louis-Antoine Luyt was born in Burgundy and went to Chile in 1998 to work as a sommelier. Realising he wanted to make wine he returned to France, enrolled in a wine course and there met Mathieu Lapierre (son of the famous Marcel) and since then has worked every harvest in the Lapierre winery and assisted at their joint project with Jean-Claude Chanudet, Château Cambon. In 2006 Louis-Antoine returned to Chile, purchased a vineyard in Cauquenes on marly-granitic soils (he has vines over 200 years old), which he works with a horse. He also buys grapes from Huasos, the equivalent of Chilean cowboys, who work the land by horse. The wines themselves, fermented with natural yeasts, are neither fined nor filtered, and are appropriately wild.
This wine is an assemblage of various vineyards where the Mission grape grows on 250-300 year old bush-vines. Also known as Listan Prieto or Pais de Quenehuao locally, these vines are on original roots and re-started with old school pruning techniques (provignage), but have never had to have been re-planted since the Spanish Mission days. This is a wine of unique character and style, crafted in small lots and done with passion and integrity. Luyt uses whole cluster with a light pressing, which leaves a bit of structure and allows a more upfront fruitiness to show through. The Pais is bright, tangy and vivid red wine with pomegranate, cherry, damsons and blueberry fruit, along with zesty acidity, mineral tones, sweet herbs and exotic spices. The finish is nicely astringent, suggestive of red grape skins.
Because of labelling issues we are not due to receive this wine until next year
Deeply Cloudy Prosecco Shock
Casa Belfi
Prosecco Colfondo Frizzante Vino Biologico, Casa Belfi
We like a bit of turbid poetry in our Colfondo Prosecco. Casa Belfi features Glera grown in the vineyards of San Polo di Piave. The estate works organically with natural manures and green fertilisers to achieve the healthiest possible grapes. Vinification is also natural with the grapes crushed gently, and the must clarified by cold decantation. The juice is then fermented in stainless steel tanks with indigenous yeasts at a cool temperature. After fermentation, the wine remains in contact with the lees in tanks for approximately six months. When spring arrives the Prosecco is bottled according the Maria Thun biodynamic calendar, after which, the wine completes its secondary fermentation as the residual sugars are transformed by the yeasts into alcohol and carbon dioxide. The wine is light bodied, bone-dry and, without filtering or clarification, as hazy as a blizzard in a snow globe. Straw yellow with greenish hues, it has fine and persistent bubbles and flowery and fruity scents accompanied by notes of citrus, yeast and baked bread. The lees at the bottom of the bottle offer the wine softness, mouthfeel and longevity and can be shaken into the Prosecco to give a buttery-spicy flavours.
Dolcetto & decorum est – Part 3
Cascina degli Ulivi
2007 Dolcetto Nibio, Cascina degli Ulivi
This sanguine number comes from Alto Monferrato near Liguria in Piemonte. In addition to grape growing Cascina degli Ulivi has a diversified production of fruits, vegetables and cereals, and keeps a variety of farm animals. This biodiversity is an essential factor in biodynamic farming, which treats farms as self-contained, self-sufficient entities requiring little or no inputs from the outside. Stefano Bellotti began as an eighteen year old in 1977, reclaiming the family farm where there was less than 1 hectare of vineyard in existing use. Stefano began working organically from the beginning, and introduced biodynamic methods in 1984. The wines of Degli Ulivi are pure and natural, made without manipulations. Their belief is that the art of winemaking is to accompany the wine through its natural transformation process.
The vineyards are planted on gravelly-lime clay soils that give the wine a marked elegance and complexity.  This addition to our Bellotti is made from the Dolcetto a Graspo Rosso (with red stems) which in the local dialect is called Nibiô. This particular variety has been grown here for more than 1000 years and it is even mentioned in the annals of the Republic of Genoa. Vinification is done in oak vats as well as a 12-month ageing in same. It's natural all the way with ambient ferments with indigenous yeasts, no filtration, fining or added sulphur. The resultant wines has a lovely deep purple colour and despite its apparent age is still youthful with a bright taste in the mouth (and a touch of spritz), bursting with wild hedgerow fruit as well as secondary aromas of smoked beef and smoky gravy-essence. The tannins are fine, acidity good, the overall impression pitched between unfettered rusticity and elegance. A natural red with irrepressible verve.
The Wickerless One
San Ferdinando
2010 Chianti Podere Gambia San Ferdinando
San Ferdinando's estate is spread over 60 hectares in the heart of Tuscany in the area of Val di Chiana noted for its tradition of oil and wine production. The Grifoni family, inspired by the passion and by the respect for this land, purchased the farm in 1998. Their vineyards, at an altitude of 300 metres above sea level, occupy a total area of nine hectares and are planted with local Ciliegiolo, Sangiovese, Pugnitello and Vermentino. Most of the vineyard activities, hoeing included, are rigorously done by hand, while tractors are used for topping and treatments that follow the principles of supervised pest control. All operations that are part of the productive cycle of the wine always occur under the supervision of the watchful eye of Simone, who takes care that the vineyard is treated like a garden, with great respect for the environment and for nature. Weedkillers and insecticides are completely banned with plants sown in the vineyard rows and, green manures are frequently used. Podere Gamba is the vineyard name, lying on medium-textured stony clay soils rich in potassium. The blend is Sangiovese and Pugnitello (85/15), the grapes harvested in mid-October normally. Pugnitello, by the way, is named after an ancient Tuscan grape variety, the word referring to the form of the cluster, which resembles a small fist (pugno).
Harvest is manual and grapes are sorted, before destemming and a light crushing. The two grapes are vinified separately in stainless steel tanks at a controlled temperature before being transferred into Allier oak barrels for eight months before being bottled. With its nose of forest fruit, cherry, liquorice and coffee this is a silky style of Chianti with soft tannins and good juice.
Eloquente wines from Alicante – a triumphant triumvirate from Rafa
2012 Benimaquia Tinajas 2012 Ramblis Monastrell 2012 Ramblis del Arco
L'Oreal has its Feria Wild Ombré collection to create the hottest, most sought-after colour – the Ombré effect. We have the Rafa wild ambré vinos. Benimaquia is fermented on Moscatel skins in tinajas of various sizes; this maritime flame-hued beauty has the seductive aromas of
Moscatel mixed with Rafa's signature conventual purity, sapid salinity and phenolic spice-crusted fruitskins.
Two new reds need to detain your attention. Ramblis Monastrell is from 60-70 year old vines grown at 700m altitude in Villena-Alicante. 50% whole cluster and 50% destemmed, with six months in 1-4 year old French oak. So much for the numbers. This Ramblis boasts a brambly and herbal nose of hibiscus, rosewater, mulberries, and fresh cut oregano. Broad and spicy boysenberry fruit fills the mouth, accompanied by violet flowers, crushed black pepper, and ripe purple plums. The age of these vines provides great concentration and acidity without weight. Balsamic and cedary, but also extremely fresh, Monastrell doesn't get tastier than this.
Produced from the obscure, native Forcayat grape and old vines grown on limestone and granite, Ramblis del Arco is then raised in both French oak and local acacia barrels and made as naturally as Rafa's other wines. More importantly, it is an amazingly delicious, expressive, intensely-flavoured red wine, that makes you want to drink it, As Alice Feiring writes crisply: "It screams place and has plenty of bones."
An extract of a revealing interview with Rafa.
Do you whisper to your vineyards? What do you tell them?
No. I talk to the vineyards, but above all, I respect them. I try to understand them, give to them what they need in order to receive later part of all of this. Nature is wise and all seasons, or almost all of them, usually give you something. I tell the vineyards that we must be friends, true friends. And to cultivate a true friend, dedication and time are requested. And these are the two recipes I give to the vineyards: Dedication and time.
Is it possible the perfect wine? What would you give to achieve it?
Eagerness of perfection makes people unbearable. Since for me wine is a living being, I don´t know if the perfect wine exists.
I would give nothing for the perfect wine.
Manuel Vicent dixit: "Perfection is death, imperfection is art". We stay at the art.
So true!
*On the grapevine and in the pipeline: Watch out for a couple of new sherry Bodegas!!
Bojos from The Pac-Man
Photo: Bertrand Celce
2011 Fleurie, Christophe Pacalet 2011 Moulin-a-Vent, Christophe Pacalet
Christophe Pacalet studied wine-making with his uncle, Marcel Lapierre of Morgon fame, and did a stint at Domaine Prieuré-Roch in Burgundy. His first solo vinification was in 1999. Like a growing number of young wine-makers, Pacalet does not own land, but rents carefully selected parcels based on the quality of the terroir and the age of the vines (40-80 years) and uses his own local terms to harvest. The vines are cultivated according to strict specifications and by the principles of "lutte raisonnée"; that is, the abstention from the use of chemical herbicides, fertilizers and fungicides whenever possible. Besides the positive effects on nature and on our health, this approach encourages the microbial proliferation which is vital to the terroir effect. Yields are kept to 30 – 45 hectolitres/hectare. The grapes are harvested by hand and are vinified by complete, cold carbonic maceration in tronconic vats in order to preserve the finesse of aromas and eliminate the danger of oxidation. Only indigenous yeasts are involved in fermentation, and the wine is unfiltered after five to nine months of elevage on fine lies in old fûts and foudres, with only a minimum of sulphites added at bottling. The Pacalet wines tend to be light and lifted. The Moulin-à-Vent, from a vineyard with lots of granite and manganese in its soil, is more structured with dark plum fruit and reassuring minerality, whereas the Fleurie reminds one of a junior Chambolle, being generous and floral, with smooth red berry fruit balanced by a hint of dried herbs.
*On the grapevine and in the pipeline: Bits and bobs from the Loire and Jura. Not to mention odds and sods.