And we continue to wax lyrical about Chenin Blanc in its many guises…
A versatile food wine…(caution: tummy rumbles may occur)
Chenin can be drunk with so many things. The wild salmon fished in the Loire has now become a part of legend. It is now as rare as truffles would be on the daily lunch table and has been replaced with imported salmon or salmon from fish farms. The salmon is cut into steaks which are then grilled or served in fillet with sauce. Wild salmon should be drunk with Savennières, the muscularity of the noble fish pierced by the harpoon of the wine's natural acidity, the natural oils of the fish softening and enriching the angularity of the Chenin in a true regenerative mutuality. Pike is a very savoury fish that is gorgeous with beurre blanc, but may also be served roasted – as it is in Sologne. Loire River pikeperch fillet in Vouvray wine with asparagus and morel mushrooms is a classic rendering (with Vouvray, naturally). On a similar theme grilled shad with wild mushrooms and sorrel, or braised with white wine with beurre blanc are particularly good hosed down by a nippy Anjou  or Saumur Blanc.
A glass of sparkling Vouvray with new season's strawberries, a rich old vines Saumur or Jasnieres with slow cooked pork belly or a rabbit stew with baby spring vegetables. A Coteaux du Layon with some young blue cheese. Bonnezeaux with apple tarte tatin.
Outwith the Loire Chenin snuggles into a relatively small enclave of SW France. A few growers use to good effect in Limoux. Gassac include it in their Heinz 57 varieties white and Marc Penavayre blends it with other white grapes in Fronton, but it comes blinking into the light again on the terraces of the Aveyron.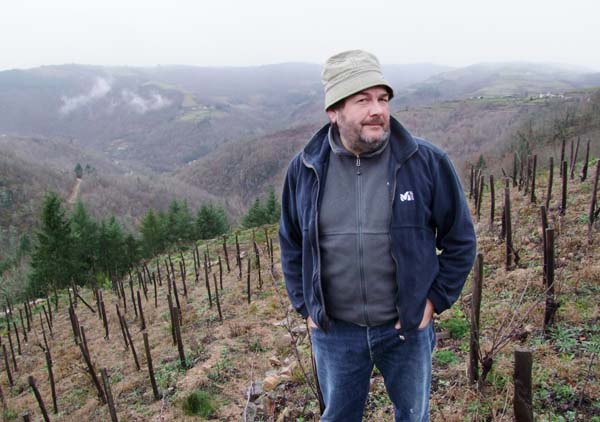 Nicolas Carmarans, he of a celebrated Parisian wine bar, makes a Chenin called Selves (named after a local river that flows at the base of the property). The vineyards have a fair lick of altitude at 500 metres, and are on granitic sand. The fermentation is long, slow and natural and takes place in used Burgundy barrels. With its malo and bruised orchard fruit aromas denoting oxidative winemaking this wine is a bit of a beast and requires a good carafe.
Patrick Rols's domaine is in the village of Conques, the undiscovered heart of the South West. The total vineyard area is a piffling 6 hectares. Although vines had been established in the Aveyron region by Burgundian monks in the middle ages, these were subsequently wiped out by phylloxera and the two world wars. Patrick replanted on a beautiful site overlooking the village on predominantly schist soils. He farms organically, and also uses biodynamic treatments. He uses either barriques or 'foudres' to carry out the alcoholic fermentation of his white wines, which entirely respect the vintage.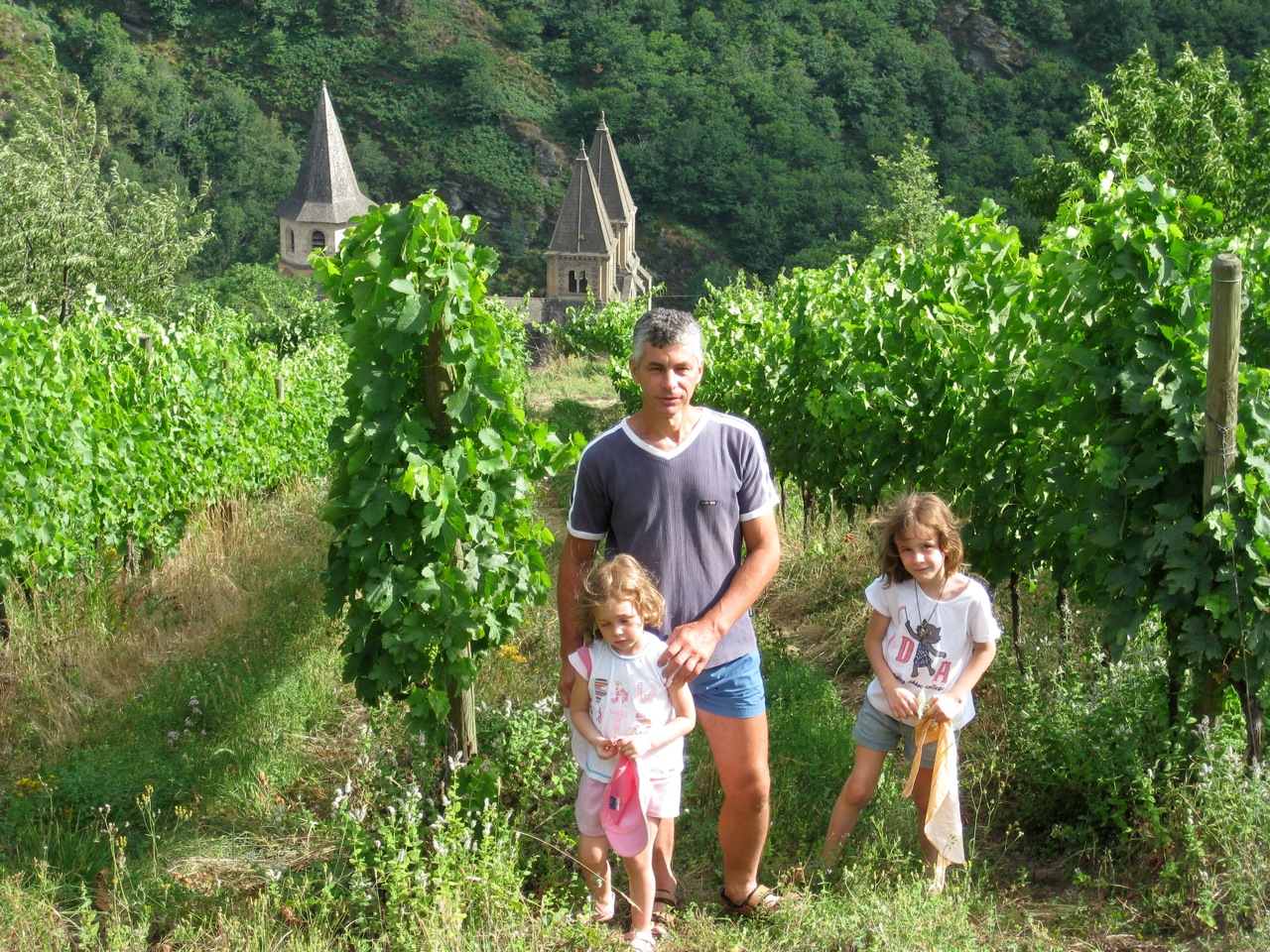 Adventures in Chenin with Patrick Rols…
Patrick Rols recently appeared at the natural wine festival in Deauville. We are not sure that he was supposed to feature but his neighbour-in-Aveyron-wine, Nicolas Carmarans, who was scheduled to display his wares, was forced to pull out, and Patrick, supposedly, stepped in as a late substitute. Eric tasted and liked the wine, and asked him what he was doing with it. Monsieur Rols shrugged. It was in a barrel. Would you bottle it for us? Another shrug – why not. Without sulphur? Most certainly.
Unlike the force of marketing nature that characterises so many commercial estates we can appreciate a piece of Gallic insouciance. The maybes hang in the air like seagulls on thermal breezes: maybe if I feel like it, maybe if I like you, maybe if the north wind is blowing…
Obscurity is the realm of error said the Marquis de Vauvernage in one of his many moral apercus.  Or, more simply, in the words of Manuel: "I know… nothing". We can't guess the intention of a grower who surrenders so little information and we have little idea how the wine is supposed to taste and how it might develop. Whence did it come, whither is it going? Well, the wine in question is most assuredly a Chenin and comes from the old province of Rouergue, now the department of Aveyron, not far from Marcillac. It is called Le P'tit Curieux, the curious little boy, although whether it relates to Georges, the cheeky monkey is not known.
Perish the thought that the same wine would be made again or in two successive vintages. The following year the Chenin eloped with some Chardonnay and the wine had a rich, oxidative personality. In 2010, the cuvées multiplied and our favourite was a pure Chenin called La Coccinelle. This refers to the ladybird population in Patrick's immensely attractive vineyards (organically farmed with some biodynamic treatments) and is also a play on words – beetle, rolls, rols – geddit?
The wine resists easy categorisation. Light gold it conveys a touch of funny honey on the nose giving way on the palate to ripe, almost tropical fruit like pineapple chunks in syrup followed by full throttle tartness. I expected it to be bone dry, as dry as the winter winds that sweep through the Aveyron. I prefer to suffer for my Chenin, to taste quince shaved off the stone and to suck on the memories of bleached almond. The great Loire Chenins are like tiny super-crunchy apples or pears and often possess the sort of minerality as if they had been filtered through the rocks themselves. Here the initial sweetness was disconcerting; then jolting, scathing acidity introduces an opposing sensation, a different dimension. The two tone element is difficult to reconcile and makes the wine hard to appreciate, but, with the two cheeses that we were nibbling – Harborne Blue and Wigmore – the flavours were suddenly realigned and harmony was achieved.
This young vines Chenin has renewed zip, verve and offensive quantities of fun. Orthodox wine lovers would roll their eyes (and I once saw a sommelier squirming in his straitjacket after trying this), but I love a wine that tickles my ribs whilst staying several steps ahead of my palate. Unsheathing sharp darts of spiky lemon, grapefruit and white peach this sizzling white blossoms in the mouth, unveiling layers of apple, quince and ripe greengage, brine and chalk minerality, finishing persistently with musky florality, anise, angelica, and subtle bitterness of herbs, alkaline minerality, and fruit skin. Yum.
Out of Africa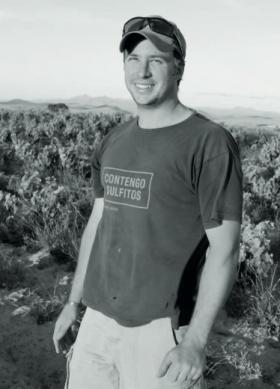 Craig Hawkins makes wines at Lammershoek in Swartland. His personal project is called Testalonga El Bandito, where from rented vineyards, he makes a pair of Chenins, one from free-run juice and the other with varying amounts of skin contact.
Craig did the pruning and composting of the vineyards to try and restore some life and will only make Cortez when he can obtain the grapes. The old vines were never sprayed and didn't yield very much but he managed to get a few tons to make a few barrels of very pure Chenin. In 2010 there was no vintage as the grapes were taken by mildew. However the 2009 was pressed by foot in a basket press and then placed in old oak barrels, where it remained until the end of 2010 until it was racked off its lees for the first time, spending close to twenty four months on its original lees. The wine is 12.5 % alcohol and has no sulphur added with a clean ripe acid, which is the focus of Craig's wines. We're loving the 2012 that weighs in at a slender, but perfectly ripe, 10.5%.  Craig says that it smells like the garrigue or surrounding natural vegetation.
Of the two cuvées the carbo Chenin (as I call it) has amazing vivacity and attack with that fresh apple bite you are always looking for from the grape. There is a wonderful underlying minerality that gives the wine its essential composure. This skin contact Chenin has more texture than the Cortez but still brims with energy. Both the wines have terrific ageing potential, but such are the tiny quantities made we would struggle to hold back even a few bottles in the interests of experimentation.
"Lees for me is the life of the wine. And I keep the wines for as long as possible on the original fermentation lees to retain the character of the vintage/grape/mood I was in. So far this has always been until I bottle the wines that I remove them from the original lees. Every vintage I blend back a portion of the older years lees into the new vintage wine, to keep this "essence", I bought back 2 litres of lees from the Douro El Bandito 08 in Portugal and blended it into the 2010 vintage. In the 09 vintage there is some of the 2008 lees and then in the 2010 wines there is a mixture of both the 08 and 09 lees, it's kind of a reverse solera system with the wines, from the inside out. Something I love and something I will always do to retain my wines identity from vintage to vintage. Lees is the soul."
Digression concerning cultural philistinism
Every year, Craig has to jump through bureaucratic hoops, in his travails to get his Chenins past the export licensing board. Sometimes, it must seem that trying to get an authentic wine past the South African tasting panel is a Sisyphean endeavour.
This raises various issues.
Whilst one should always begin with the wine itself one should equally never ignore the context in which it is made and the criteria by which it is evaluated. Bluntly, Cortez Chenin is sui generis; it is cloudy (unfiltered with the lees intact), full of microbial activity. This is the life of the wine; it is a natural product, of course, as well as the signature of the winemaker himself. Unfortunately, wines are judged by different benchmarks than, say, unpasteurised cheese or any other unprocessed product – wine, it seems, must conform to a higher degree of stability.
Craig has a track record for troubling the scorers, so to speak. Recently, an utterly quaffable, dangerously delicious Pinotage delighted us, but not the powers-that-be in South Africa. The first version of the Cortez (2009 vintage) was also rejected initially – but subsequently passed after further review. The wine didn't change; presumably the opinions of the judges did, which rather suggests that their previous judgements were not rooted in principle. The wine was, in reality, terrifically stable, protected by a combination of lees contact and high natural acidity. This is how Craig wants his wines; also he is not seeking 100% certainty nor hospital corners' cleanliness – if this were the case he would filter, fine and sulphur away the natural life of the wine and leave it null and void; whereas his laudable intention is to leave those very living components in the wine that give its identity.
Scientifically, whilst his wine may not fulfil the pettifogging paradigms for stability (does everyone want wine to be denatured?) there is nothing to assert that the wine is actually unstable. Surely, however, it is not the remit of a tasting panel to decide whether a wine may be potentially unstable, or whether that supposed instability might have a deleterious effect on the wine. Even analysis can only describe what is in the wine, not hypothesise how the wine may react or behave, nor predict how people will react or behave towards the wine.
It would be so nice if something made sense for a change  -Alice in Alice in Wonderland
Alternatively, the panel's rejection of the wine may have been a collective aesthetic response to something unfamiliar. If so it betokens a narrow-minded attitude in the extreme. In terms of typicity Craig's wines are as close to terroir expression as you will find in South Africa. They are old Chenin bush vines in the Swartland on decomposing granitic soils, farmed organically and biodynamically. Craig does not add anything to his wine, ferments with the indigenous yeasts, does not filter or fine and only uses a tiny bit of sulphur – if necessary. The wines are pure, wild and mineral with beautiful natural acidity and tremendous tension. The yeasts inflect the wine and give it texture and original flavour; the minerality comes in waves. Thus unadulterated, the Cortez is not just a South African wine, it is a Swartland wine, a granite wine, fermented with its own yeasts, a wine true to itself and the gently decisions of the winemaker.
One blogger wrote thus about the Cortez:
It reminded me of a top quality Loire chenin. The fruit character was clean both on the nose and the palate and the tremendous natural acidity of the wine gave that fruit poise and focus. I would furthermore add, that in my experience, that naturally high acidity (which is usually the result of good grapes) acts a kind of preservative in the wine. Craig's other wine is equally remarkable being fermented on skins for a considerably period so that the wine takes colour and tannin. The skin contact is a further preservative – in examples from the Loire and more particularly northern Italy, the white wines are imbued with tremendous phenolics which confers great ageing potential. The combination of high acidity, phenolic texture and great quality makes a wine that is harmonious and above all, stable.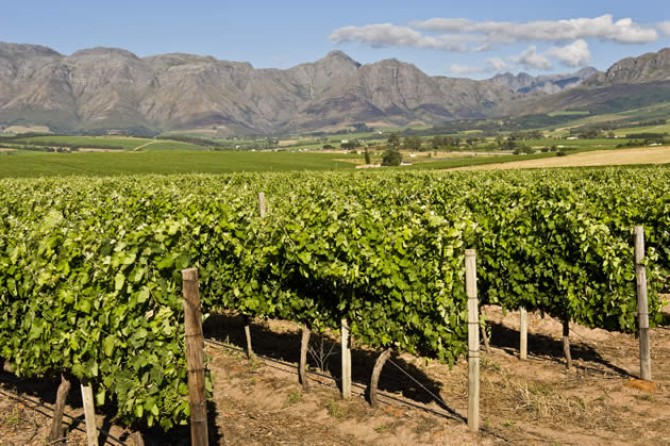 Because there can never be too much good Chenin we end with another fine example from South Africa, where this variety is treated with proper reverence by several growers. Renaissance, from The Winery of Good Hope, comes from fruit grown in a single block of old, un-irrigated bush vine Chenin on the foot slopes of the Helderberg Mountain, facing south across False Bay and the Southern Atlantic Ocean. These vines, grown in Clovely soils (decomposed granite), are mature and virus free, yielding about 30 – 32 hl / ha with deep root systems plunging into the granite sub-rock and providing wonderful intensity of flavours in the fruit.
Alex Dale eloquently summarises the rationale behind low intervention winemaking:
The over-riding characteristic given to this wine by its vines and its environment is its complex minerality and its persistent and yet elegant intensity. Notes of lemon pervade the quenching beam of acidity, penetrating and weaving through the ripe glycerol and lifting the gentle spice and biscuit flavours, carrying them on the citrus palate long after the wine is gone. Such natural attributes would be wasted on the too-habitual crutches of over-oaking and dollops of residual sugar, so popular among winemakers who seem to put chemistry, medals and ego before the individual character and intrinsic qualities of this, South Africa's most noble grape. Often shunned and disrespected by winemakers and consumers alike, there is, in certain worthy quarters, an ascending realization of the tremendous potential of this grape, Chenin Blanc. As devotees of true character and finesse often swim upstream against the populous tide, a fresh generation of Chenin producers is bringing to the surface some of the most interesting, bright, mineral and idiosyncratic wines of the Cape.
There's the evidence for the prosecution, me lud. I submit that Chenin is the most versatile of grapes. It thrills with or without oak, it can be linear and chiselled or voluptuous and heady, it ranges from bleach-bone dry and austere through tender, off dry, sweet and nectar-loud. It can sparkle with the best of them, either methode trad or Pet Nat wise. It grows merrily on schist, clay, tuffeau, limestone, gravels, granite and volcanic sandstone which imbue the wine with their variegated mineral nuances. It can be made clean and lean, but is fascinating texturally, and normally reveals great phenolic potential. It can change in the glass or carafe and may develop profoundly on the palate in the way that Riesling doesn't. The wines have terrific ageing potential; when balanced, the more structured whites may last for 20-30 years and the late harvest wines 50 and longer.  Chenin is the robust white variety that matches with the widest variety of food flavours – from seafood and fish (either au naturel or cooked in buttery-winey sauce), to white meats such as rabbit and pork, to goat's cheese, whilst the sweet versions will go brilliantly with blue cheese, fruit tarts and crème brulées.
What's not to like?