RECAREDO ROCKS!
When someone asks me whether we list a cava it is usually a not-so coded demand for something light, effervescent and cheap. Especially cheap. The idea that cava could come from organically farmed vineyards and be crafted with the same care as champagne might surprise many people, even those defenders of Spanish wines who write cava off as a mediocre aberration. This is the story of Cava Recaredo, one of the few wines to buck the cava bargain bucket trend. It ain't cheap, but then it ain't your normal cava. It's not the fizz that creates the buzz, it's the wine that is the biz.
Andrew Jefford has some positive news. From World of Fine Wine. "At its best, it is a sparkling wine which is emphatically not structured by acidity – and hence doesn't need dosage (though many great Cavas do have some dosage). Its informing beauties are those of fragrance and aroma. It glides and floats rather than slices and incises. It is flowery and languid, yet at the same time complex and mouthfilling. It is a archetypical Mediterranean white, lifted and amplified by bubbles. Not only is acidity relatively unimportant in its architecture, but fruit flavours, too, may be recessive by cool-climate standards: a hallmark of Mediterranean whites. Far from 'gaining nothing' by time spent on yeast or in post-disgorgement ageing, ambitious Cava gains almost everything from these processes, precisely because its intrinsic fruit notes – in contrast to its primary aromatics – are so muted. Time spent on yeast is what amplifies, layers and refracts its primary aromatic profile, and this complex aromatic weave laid gently on the downy, quiescent Catalan fruits is what lends the best Cava its magnificence and its grandeur. (After that eloquent panegyric even I might give cava a whirl.)
Homage to Catalonia
In 1878, Recaredo Mata Figueres was born in the town of Sant Sadurní d'Anoia. In 1924, his son, Josep Mata Capellades, began to work in the world of cava and produce a few bottles for himself. Josep built cellars in his house, in the historic centre of Sant Sadurní d'Anoia. Some parts of the cellars are over 80 years old, and have been conserved retaining their original form. He forged Recaredo's identity, based on know-how, professionalism and hard work. He marked the way forward in his own style, pioneering totally dry cavas, the Cavas Brut Nature, and working with oak barrels and longer-aged cavas.
Cavas Recaredo is currently managed by Josep and Antoni (Ton) Mata Casanovas, the sons of its founder. The special work begins in the vineyard. Recaredo seek to ensure the natural balance of the vine, aiming to achieve the best expression of every individual vintage. Therefore, the viticulture is based on dry farming with grapes harvested by hand. They prioritise respect for biodiversity and the environment: cultivating vines without using herbicides or insecticides and only employing natural organic fertilisers. When ripening begins, the grapes are analysed vine by vine, plot by plot, the goal being to harvest the grapes at their optimum point of ripening, to obtain the most balanced musts and the very finest wines. The entire harvesting process is carried out by hand, since it is only in this way that proper care for the grape until pressing can be guaranteed and premature oxidation (a characteristic of so many cheap cavas) can be avoided. All these vines are close to the cellars and transportation of the grapes is carried out using small trailers. The estate has moved to biodynamic viticulture over the years and received Demeter certification in 2009. Wild grasses grow between the vines as well as legumes that help to fix the nitrogen. Preparation 500 is used, whereby cow horns filled with manure are buried in the soil in the autumn, before being dug up and used to make homeopathic sprays to dynamise the vines. Recaredo has started to work with a horse to plough the soils in their legendary Turo d'En Moto vineyard.
The winemaking aims to exalt the expression of terroir. The grape must is obtained by gently pressing the grapes, thereby obtaining the highest-quality part of the must. Debourbage follows and then the first fermentation where the yeasts transform the sugars to produce the base wine. Over the winter, the wine remains in contact with its finest lees, giving it volume and body and becomes naturally clarified. The grape juice from the oldest Xarel·lo vines ferment in oak barrels (about six years old) yielding structure and greater complexity for longer-aged cavas. Some of the base wine is aged in oak barrels for some months. This wine will be used to add greater finesse and structure to the final blending.
The secondary fermentation occurs in the bottle, with the yeasts transforming the sugar to produce the cava's bubbles and foam. The subsequent interaction of the yeasts or the lees and the wine during the in-bottle ageing will give more complex flavours and aromas.
The Recaredo winemaking philosophy is simple:
*Production of single-vintage cavas only.
*Production of completely dry cavas: "Brut Nature".
*Vinification, production and ageing 100% in-house.
*Ageing in bottle inside our caves, with real cork stoppers.
*Remuage by hand, in traditional racks.
*Manual disgorgement without freezing the bottle's neck.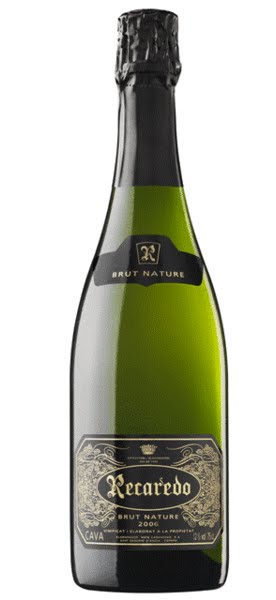 Brut Strength
2007 Cava Brut Nature Gran Reserva comes from dry-farmed organic vineyards in the Alt Penedes zone and is made from a blend of Xarel.lo (46%), Macabeu (36%) and Parellada (18%). The wine is a Brut Nature, completely dry. It has wonderful chalky minerality with notes of nutmeg and ginger. There is a fantastic fleshy texture redolent of poached pears. This was our aperitif wine and its cucumber-cool acidity crunched through the spicy crab, lemongrass & coriander spring rolls, green chilli & squid ink dressing and salmon tartar, yuzu tobiko.
2004 "Brut de Brut" Brut Nature Gran Reserva is made with grapes from the old vineyards on moderately deep loamy and loamy-clay calcareous soils, with the presence of some gravel, located around the villages of Sant Sadurní d'Anoia, Torrelavit and Subirats, in the Alt Penedès region. These vineyards yield high quality grapes giving wines of elegant expression and fine concentration. The blend is 36% Xarel.lo and 64% Macabeu and the wine is aged for a minimum of 67 months in the bottles. All the "Xarel·lo" grapes are fermented in oak barrels for added complexity. Well-upholstered wine with green plum and apple aromas. The palate is deep, pure, structured, vinous, long and rich with resonant acidity. The wine danced amongst the brilliantly subtle flavours and textures of Anna's next dish: Octopus slow cooked it its own juices, smoked ricotta, black garlic, liquorice. The salty-mineral quality counteracts the bitter-sweet components of the dish and the fine acids cut the octopus (which was outstandingly tender).
In 1962, Josep Mata Capellades created the Reserva Particular de Recaredo Cava with the idea of being able to convey the delicateness and subtle complexity that a cava that has undergone a very long ageing can achieve. Faithful to this idea, it is a cava that represents the Mediterranean in its purest form, interprets the calcareous lands of the Alt Penedès and shows the character of the oldest vines. Reserva Particular de Recaredo is 60% Macabeu and 40% Xarel·lo. The Xarel·lo was fermented in small "oak casks" to imbue the final cava with more structure and elegance. It stays at least nine years and six months in contact with its own "lees" until the final removal of the sediment, carried out manually without freezing the bottle neck. It is a completely dry Brut Nature, with no added sugar. An extraordinary wine with aromas and flavours of the Mediterranean. Think hawthorn, almond-blossom, sweet hay, fennel, warm earth and green herbs. The challenge for this wine was a rich dish of turmeric & curry leaf potted rabbit, peashoot, baby caper & fennel salad, grilled focaccia. The complexity of the wine with honey and earth aromatics bolstered by vibrant acidity punctured the buttery meat.
Planted entirely to Xarel.lo Turo d'En Moto is a very special cuvée sourced from a single vineyard less than one hectare in size (named after a local hill) situated perhaps in the most elite section of the domaine in Sant Sadurni d'Anoia. The vines are very old: originally planted in 1940 on calcareous soils. The grapes are crushed and then the juice is fermented in oak casks where it remained for 45 days with lees stirring and undergoes eight years and three months aging before disgorgement on December 12, 2011. The bouquet is more like a dry white Burgundy than a Cava, with hints of honeysuckle, fresh-baked brioche, dried apricot, lemon peel and a touch of jasmine. "It is beautifully defined and very complex. The palate is very well-balanced with superb delineation and focus, drawing you in with subtle notes of orange peel, tangerine, beeswax and honeycomb. Long in the mouth and utterly harmonious, one has to ask if this is the "Clos d'Ambonnay" of Cava? " (The Wine Advocate– 96 points). Forget the bubbles; this is a wine that expresses the full "tilth and husbandry of the soil", the fabulous calcium-rich terroir and the particular climate. An exceptional food wine we paired it rose & pink peppercorn dusted roast guinea fowl breast, pied de mouton & girolles, a conspicuously successful match since this wine requires something like roast game or pork.

Finally, a little surprise. Recaredo have been experimenting with a still white wine since 2002. 100% Xarel.lo, old vines, some skin maceration which extracts phenolics and tannins, that familiar balancing scythe of acidity and simply loaded with chalky minerals, it is a bold, pure wine that reeks of class. Only 11.5% as well!! We had it with Gubbeen & mustard cumquats.
Lincoln Steffens may have been talking about the reds of Russia; we think that Recaredo represents a humble yet dynamic force for positive change in Penedes in particular, and Spain in general. Viticulture is the passion and biodynamics helps them to test natural farming propositions and ultimately achieve purer terroir expression. Winemaking methods are traditional and careful; wood is used to season and support, not as flavouring. The Brut Nature style reveals a wine that is unprimed, that is sharp and focused and yet allows for the nuances of the Mediterranean terroir to reveal themselves. There is much discussion now whether to create a charter or cru amongst the producers in Penedes who make "proper cava" or whether it would be easier simply to secede from the DO and let the wines speak eloquently for themselves.