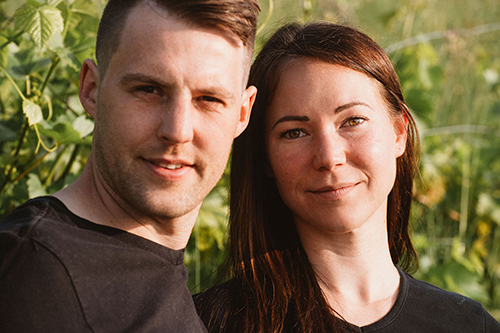 The Schmitt winery has been in the family for over 230 years with Bianka and Daniel working their 16 hectares for the last decade. They work in full biodynamics which they learned from legendary Alsace vigneron Patrick Meyer and are one of only 80 producers in Germany to be Demeter-certified (2012 was their first vintage with full certification.)
The Rheinhessen is the largest wine growing region in Germany and is largely associated with bulk production. Though in recent years the region's reputation has begun to shift as a new generation of young, talented growers are working organically in the vineyard, reducing yields and realising the excellent, undervalued terroir they possess. The focus is being switched away from hybrids and towards Riesling, Sylvaner, Weissburgunder and Chardonnay and a variety of reds with Pinot Noir (Spätburgunder) and Merlot particularly favoured. The vineyards here are spread across various plots in Flörsheim-Dalsheim, Monsheim and Kriegsheim.
Bianka is from Hungary, Daniel is German. They met in 2012 when she was cellar hand in his parent's winery. Together they have taken over the family winery and are producing excellent natural wines made without additions.  Farming biodynamically is essential to their desire to make natural wines, as are long ambient fermentations (in used barrels), variable skin maceration, lees ageing, minimal handling and bottling without filtration or added sulphur.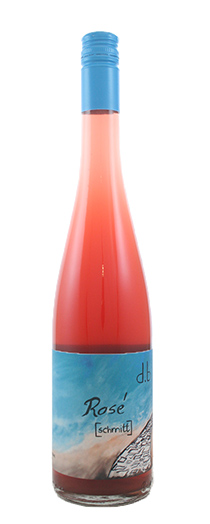 The rose is a gem and manages to be both a serious drink, yet utterly pleasurable. The main vareties are mainly Merlot and Blaufränkisch with some Pinot Noir.
Here is how it is made. (I shall say this only once!)
Bianka and Daniel separate the free-run juice after harvest and destemming, and this goes directly into a 2400-litre doppel stück oak barrel with the rest of the berries left in the vat for the future red wine. The fermentation in the barrel itself is a lengthy process, as they harvest Pinot Noir first and the barrel is only 1/3 full at this point. However, the fementation starts quickly and naturally, so there is no room for microbiological problems.
Merlot comes next, sourced from two different vinyards (one, from Kriegsheim, is warmer and picked a week earlier, the other comes from Flörsheim-Dalsheim, Frauenberg.) At the end of October they bring in the Blaufränkisch and top the barrel with the juice from these grapes, after which the lees are stirred once a month till March and the wine eventually undergoes its natural malo, before being bottled in spring without filtration, fining or any sulphur added.
The colour is vivid, slightly cloudy because of lack of filtration, aromas of red fruits as well as apricot and passionfruit surge from the classic, while the palate is bone dry with medicinal/herbal notes backed by elegant red fruit flavours.
2021 Rosé Natur