The Les Chemins de l'Arkose domaine is located in the heart of Montpeyroux in the Auvergne region. Yvan Bernard and Audrey Baldassin cultivate 8-hectares of vines on the various beautiful terroirs of Puy-de-Dôme. The soils are clay-limestone, more or less mixed with volcanic ash with basaltic intrusions. In a vineyard area that is very fragmented and therefore difficult to mechanise, they work by hand and with respect for the environment and according to the precepts of organic culture, in other words without insecticides, fungicides or synthetic chemical treatments.
A former student of the Beaune wine school in Burgundy, Yvan Bernard settled in the region in 2001 at the age of 22. Not being from a winegrowing family, he had to rent plots of vines from different owners to start him on his path. For twenty years, he converted his domaine to organic farming and offered wines under his name. In 2020, Yvan joined forces with Audrey Baldassin who had already been working at the estate for a few years. The estate became Les Chemins de l'Arkose and so the adventure continued.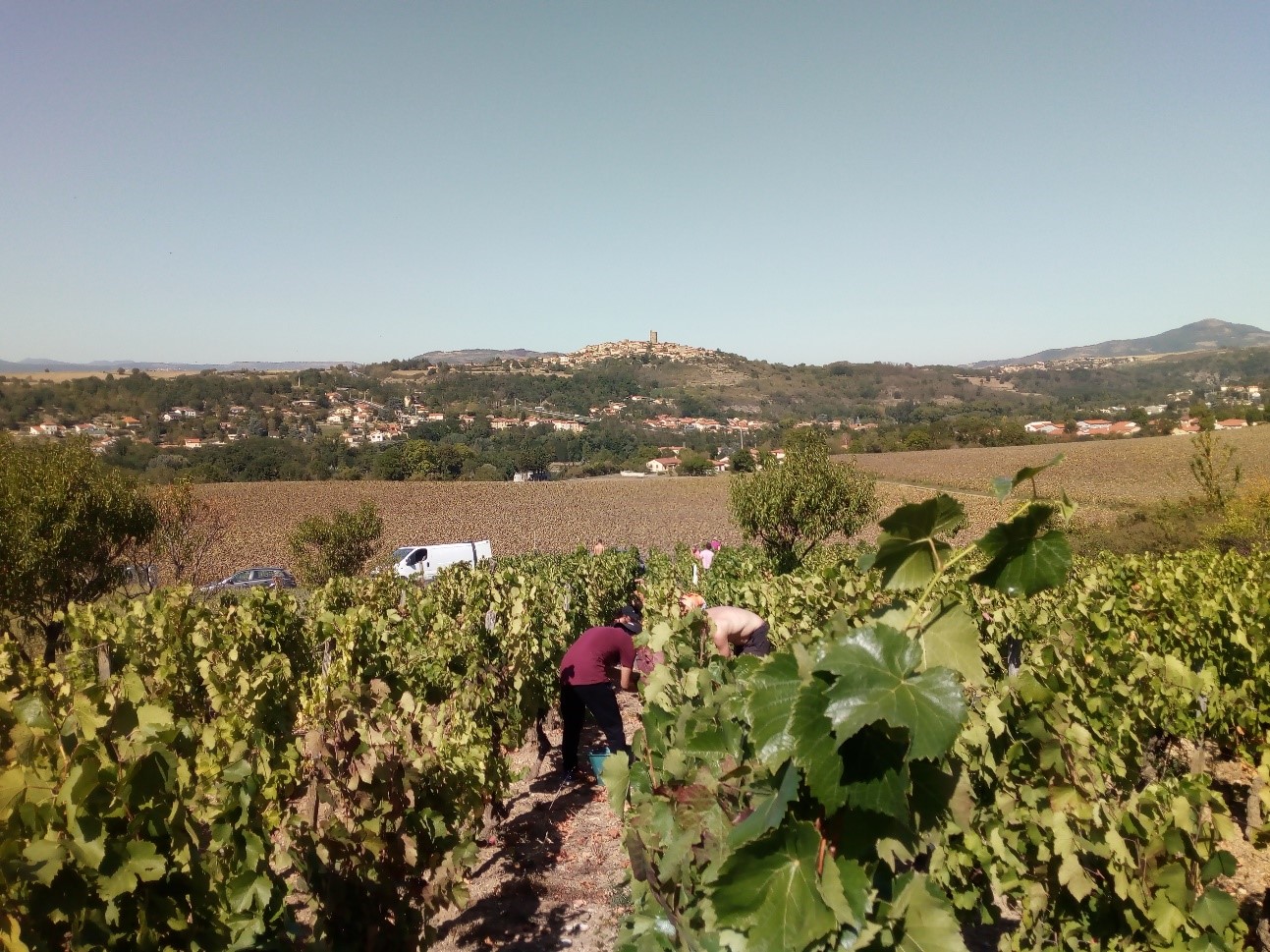 Each plot produces a different cuvée. The eight hectares of the estate are spread over the communes of Montpeyroux, La Sauvetat, Authezat, Corent and Boudes. Yvan switched the entire farm to organic farming (certified by Ecocert) in 2010. They use only plant-based treatments, work according to the lunar calendar, whereas tillage is the main work in the vineyards. Respect for indigenous yeasts, maceration and ageing on lees adapted to each cuvée, are the leitmotifs in the cellar.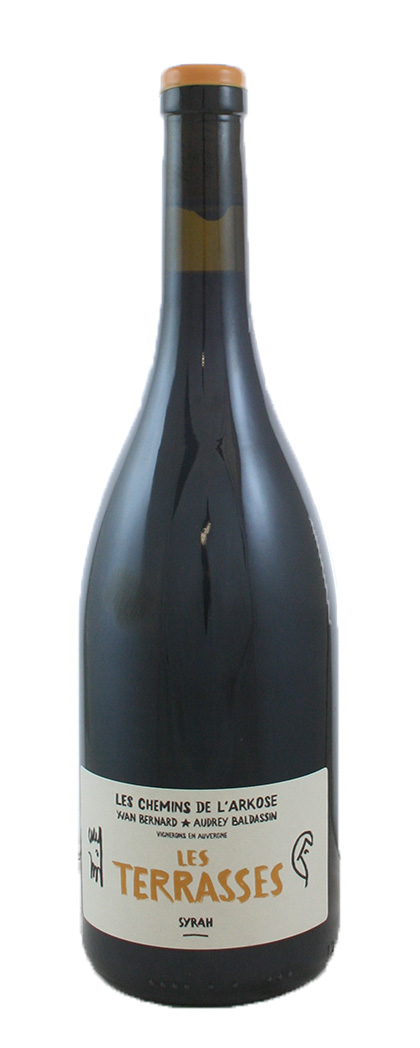 Les Terrasses is a pure and racy (yet profound) expression of Syrah which is reminiscent of its Rhone counterpart. This wine is from a massale selection of Syrah from Côte-Rotie and 'Petite Syrah' (Serine) from the Authezat conservatory vineyard. The vines are planted on terraces at an altitude of 400 metres, on the Arkose terroir of the beautiful village of Montpeyroux. The wine is fermented and aged in amphora and has an earthy/red brick quality. Juicy red berries, violets and peppery notes to the fore. Les Terrasses has both amplitude and balance. Would happily accompany veal, spiced pigeon, duck breast and all manner of game.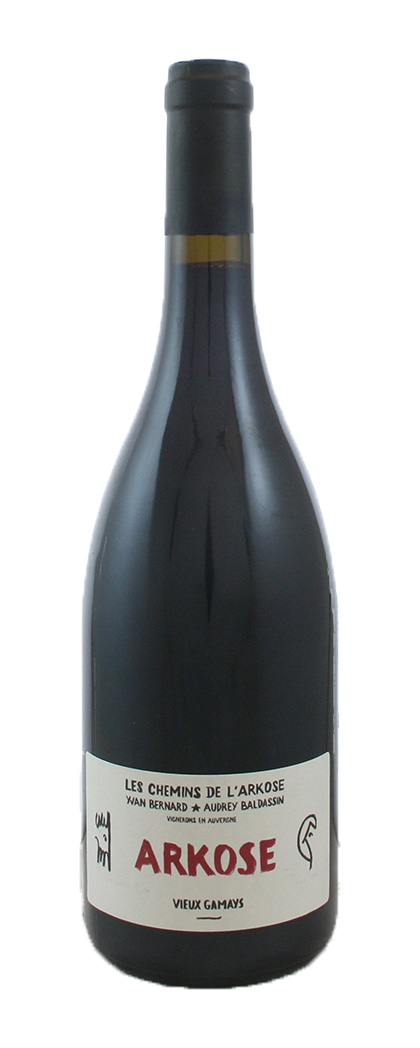 The 100% Gamay Cuvée Arkose, from 60 year old vines, and aged for 12 months in barrels, is distinguished by its purity and energy. The wine exhibits a beautiful purple colour, the nose is exuberant, evoking juicy red cherries, roses and white pepper. In the mouth one finds gorgeous fleshy red and blue fruits with delicate hints of vanilla. Pairs with sausage with aligot, charcuterie, stuffed cabbage, terrines and Cantal cheese.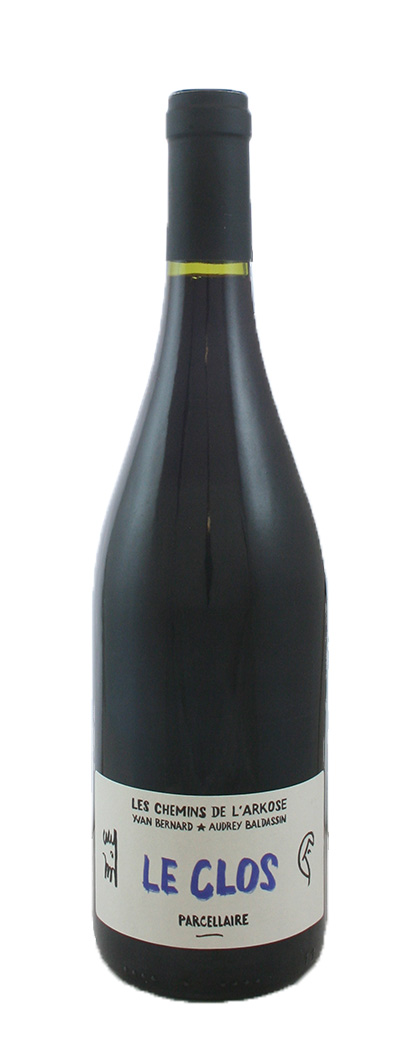 Finally, Le Clos Rouge Cuvée Parcellaire hails from a plot of old Gamay with some Pinot Noir planted on calcareous soil with basaltic debris. This red has a touch more body than the others but is still marked by mountain freshness, and its purity is down to excellent work in the vines and sympathetic low-intervention winemaking.
A superb trio of wine from the heart of the heart of France.
2020 Arkose Vieilles Vignes
2020 VdF Les Terrasses
2020 Le Clos Rouge Parcellaire
*
Interested in finding more about the wines of Les Chemins de l'Arkose? Contact us directly:
shop@lescaves.co.uk |  sales@lescaves.co.uk | 01483 538820