This is a series profiling the producers on our list who make natural wines. Within this series we will be highlighting some of the extraordinary and rare bottles and vintages that have helped to shape our appreciation of natural wines over the years. Previous posts from our 100 Great Natural Wines series include Austria, Spain, and a hefty chunk of France & Italy, and can be found here.  
Lumping the New World, northern and southern hemisphere, into one, is a rookie error. Nevertheless, rooks must fly and thumbnail sketches must thumb.
In terms of natural wine, Australia is mass of contradictions. The sales market is dominated by a few mega-brands, much of the farming is industrial as is the winemaking, and yet there is a powerful and vibrant urban counter-culture of bars, restaurants and bottle shops, dedicated to celebrating the quirky and the irreverent. In places where natural wine is poured, wine itself is seen as a thirst-quenching beverage, juice, grog, something to be smashed. However, Australia also had a proud tradition of biodynamics, although the natural wine scene is only just beginning to tap into the culture of biodynamic farming.
South Africa has almost no natural wine culture to speak of, and only two certified biodynamic growers. This will change, especially with the younger generation of vignerons who are making waves. Swartland has the highest concentration of such growers, often working with unirrigated old bush vines and focusing on expressing terroir rather than power.
TOLONE WHITE ~ NIKAU FARM
Only the Tolone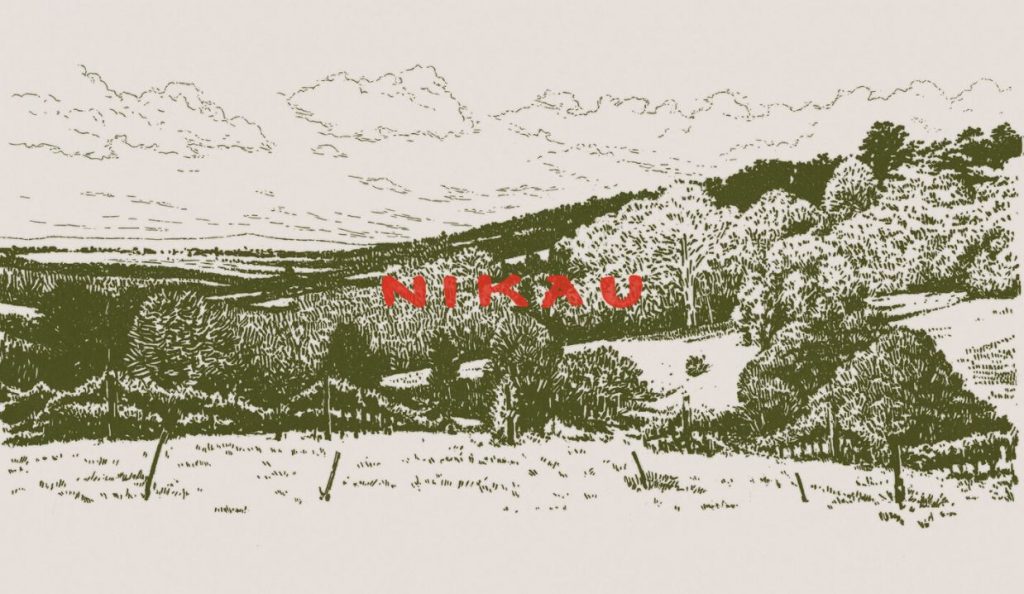 Nikau Farm is home to Dane Johns, his wife Hannah and son, River. It is an expansive property of about 95 acres in the Baw Baw region of Gippsland, Victoria. It sits high on a group of ranges in a place known to the indigenous peoples of this country as 'Tolone.'
The country consists of series of very steep hillsides descending into deep gullies with remnants of the old growth eucalypt forests that used to spread across the land. The soils here are quite unique and are comprised mostly of compacted sandstone from ancient sea beds with a rich organic layer of highly fertile loam across the top of them. The climate is also unique having Mediterranean influences being in fairly close proximity to the coast, whilst having relatively high rainfall and cool nights because of the elevation and exposure.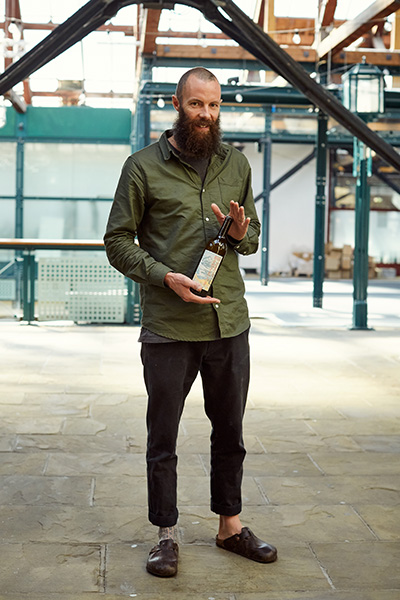 Dane and his family have had this property for four years now and in that period have established large vegetable gardens, mixed grazing animals and flocks of ducks as well as chickens and other birds to increase the overall biodiversity. So far, one entire hillside has been planted back to native forest on the property (Vic mountain Ash) and another earmarked for regeneration of more local native species later this year. There is a 25-year-old olive grove which has been nurtured back to fruition and they have plans to plant a small orchard next to this in the near future.
The property has two small plots (0.75h each) of vines on it, both about 27-years-old.  Neither of these plots (or the farm as a whole) have ever been subjected to herbicides, inorganic fertilizer, and have been farmed organically since inception. They have of course continued to farm in this manner, adhering to strictly organic principles always with a philosophy of 'less is more'. Working with the flow of and within the cycles of nature is of paramount importance in every aspect of what they do on their property. The fact these vineyards have never suffered herbicides is clearly evident as there is an abundance of activity at all times of the year. They are literally buzzing with life, both above and below the ground. There are also no other vineyards nearby and they are a very small part of the entire landscape making them even more unique and a healthy part of the much larger ecosystem they sit amongst.
All of the work is meticulously carried out by hand and with fastidious attention to details, including all weeding and under-vine management. The vines themselves are also tended by hand and managed intentionally to produce extremely small crops. Less than 250g of fruit per plant has been the norm over the last 4 years (!) yielding fewer than 500 bottles from each site respectively.
In the winery, there are no additions at all, including no So2 added at any stage of the process. No pumps (or pump-overs) are used on the wines, no oak whatsoever, with all of the wines being handled entirely in stainless steel. Long cool natural ferments are the norm here and there is no maceration for any of the ferments. The wines are never racked or moved after pressing and are bottled by hand directly from tank after élevage.
The "tolone' block is the other small vineyard on the farm and is planted mainly to Riesling with a few Chardonnay vines. As with the other vineyard on the property, it is farmed organically and has been since it was planted. The soils here are much the same as the Pinot block being mostly comprised of a sedimentary sandstone base with a high silica content and with a friable loam layer over the top.  The loam layer is thinner here than in the Pinot block, most likely due to the steepness of the slope. It is also much faster draining for the same reason.  The biggest difference with this block though is the aspect. It is facing predominately west on the highest hill on the property and indeed the area as a whole. This makes it extremely exposed to southerly weather systems coming in from the Bass Strait.
The aim here is to do as little as possible and let the fruit be what it wants to be. There were 48-hours of skin contact with a very light maceration. As for the winemaking, after the cold soak, it was pressed directly as whole bunches into a small stainless tank for a long cool ferment. There it sat for eight months on full solids without being disturbed at all. It was then bottled by hand directly from that tank (without racking or moving the tank) and spent a further 18 months in bottle composing itself. The wine is very refined and a dainty 9% alcohol – but you wouldn't know it for there is incredible structure and presence.
Elegant and haunting the Tolone white is a thing of beauty with so much vitality and freshness. The reduction emphasises the minerality, the skin contact imbues the wine with texture, while acidity provides a fine linear structure.
Why we love this: One of the wines bristling with tension. It is on the wild side, yet utterly self-contained, it moves in the glass, yet has a definite structure. It is oh-so-light and yet oh-so-strong.
If you like this: Ovum (John House and Ksenija Kostic) focuses purely on aromatics, revealing terroir primarily through the conduit of Riesling.  Low-intervention production methods are a commitment to letting the vintage and vineyard come through, for better or worse.  Native ferments, no subtractions or additions, except for SO2 – extended lees contact 8-9 months imbue the wines with textural complexity. All of this is done in neutral barrels of acacia and oak, as well as cement eggs. The wines possess a balance of sweet fruit with an underpinning of thrilling acidity, and for want of a better cliché, show old world style with a new world perspective. This proves that if one approaches grape varieties with the same respect as Oregon producers already have for Pinot Noir, then one can make world class wines. Off the Grid Riesling is the last vineyard they pick. It is located in the Illinois Valley, close to the Cali border, the vines plunging into very mineral soils comprising galet stones on the top soil, ultamorphic serpentine rock containing high amounts of nickel, cobalt and iron (which stunts organic growth and naturally give low yielding vines). The vineyard also shows the influence of both altitude and Pacific Ocean.  The Riesling reveals the ideal tension between acid and fruit and reveals notes of golden plum, galangal root, flint-struck quince and a delicately powerful finish. Usually a small portion of botrytis grapes in this wine. Off the grid in terms of style, as well as place. A remarkable critique of pure Riesling.
CHENIN SKIN CONTACT ~TESTALONGA EL BANDITO
Skinny cheninigans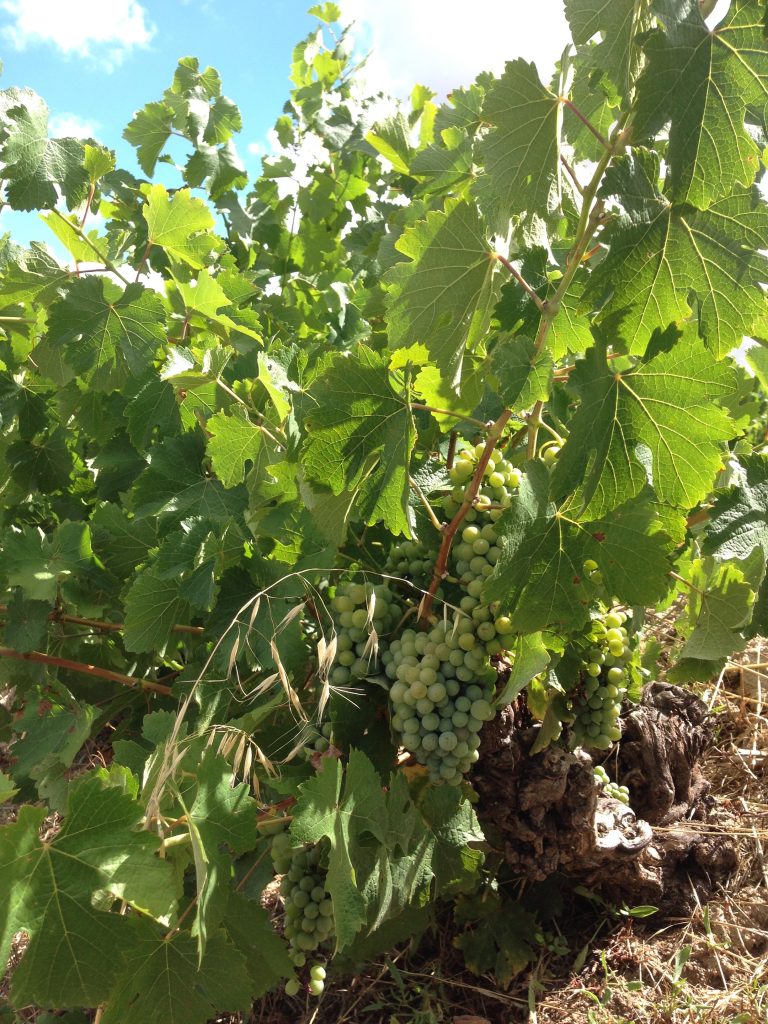 Craig Hawkins is in a good place. He and Carla are now ensconced in Bandits Kloof in Piketberg, in the northern reaches of the Swartland; he finally has a dedicated winery with plenty of space and a steady supply of excellent grapes from well-farmed vineyards. And he's planted his own vines. After years of experimentation he has developed a style that he is comfortable with, and with that he makes around 40,000 bottles, using a variety of grapes under two labels: Testalonga El Bandito and Baby Bandito.
When he started his project, Craig was very much in the left of left field. And this was not just because he was based in the wild west of Swartland where young growers, who wanted to discover themselves, gravitated. Craig has never been part of the mainstream, even in Swartland, but that is because he is not imitating anyone. He has a clear idea of what he wants to do which is to make wines for his own satisfaction and to his own taste, rather than track the market. It is important to note that as his own taste has evolved so has the style of the wines. His independent and uncompromising approach has not always endeared to South African authorities and he has been shunned by various critics and wine writers.
Hence the name Testalonga El Bandito. Testalonga was the nickname of an old Italian guy who made his white wines like red wines. Craig asked him via a friend whether he could use the name for his labels and he laughed and gave his assent. Testalonga is also the name of a bandit from Sicily. The El Bandito skin contact Chenin was the first wine that Craig made; a defiant, elemental wine that at the time was regarded as something freakish, an aberration. Craig changed the agenda. Whilst skin contact and orange wines are not ten-a-penny, no-one blinks when they see one now and a large number of South African vignerons are making a wine in this idiom.
Craig worked previously with Eben Sadie, Stephane Ogier and Remy Pedreno (Roc d'Anglade) and also with Dorli Muhr in Austria and Dirk Niepoort in Portugal. Tom Lubbe (Domaine Matassa) and who also farmed and made wines in the Paardeberg was also a mentor.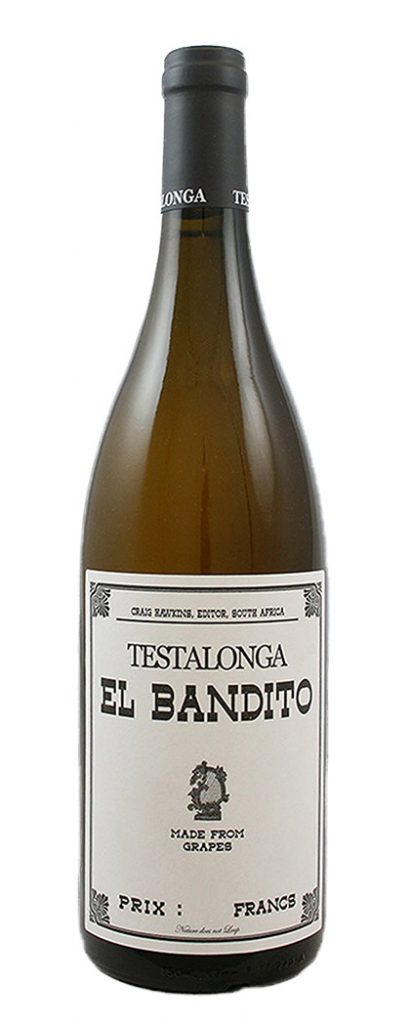 The Skin Contact Chenin (as well as the Mangaliza – Harslevelu – and Sweet Cheeks – Muscat of Alexandria) is from Boschgassfontein, aka the old Observatory Vineyard, planted in early '70s. The vines are farmed organically (with some biodynamic preps) by Craig himself. They are unirrigated, cover crops are sown, and depending on the vintage, he either ploughs once between the rows, or mows the covering grass. The soils consist of old decomposing granite interspersed with quartz. The microclimate is distinctive; the site is humid and cool. As Craig says: "The vineyard is a special one as it has been farmed organically since 2001, and every year, good or bad, gives a tension we sometimes don't find in our other wines (as much). This I think is due to the high percentage of quartz/silica in the soil". Tension is right, especially in the Cortez, although the angles in this spiky Chenin are more than mitigated by fermentation in barrels, the full malolactic, and phenolic cushioning from the lees-ageing. The Skin Contact Chenin has come a long way since it was first made, and each year provides new aromas and flavours. Craig again: "We have toned down the extraction and have now stopped experimenting as much as we used to. We have found our sweet spot that we enjoy for skin-macerated whites and enjoy the balance we get from these flavours. The grapes are destemmed into open top fermenters and fermented for 10 days on skins before being pressed into 300 & 500 litre used oak barrels. It is almost velvety and the maceration gives a lovely apricot/peach element to the ensemble.
Why we love this: We feel we have been on a journey with this wine. It was the first wine we tasted from Craig.  We were the first country to import it. We have seen the wine in so many different incarnations – from its current 8-days on skins, to one month, six months and even two years. We have tasted it in the wild abandonment of youth and now again in the mellow wisdom of early middle-age.
If you like this: Jurgen Gouws is cut from the same cloth as his close friend, Craig Hawkins. Having worked with Eben Sadie for a vintage in Spain (at Terroir Al Limit in Priorat) and also in South Africa, he did further stints in France (at Matassa with Tom Lubbe and with Stephane Ogier at Roc d'Anglade) and in New Zealand and Russia (where he made the premium wines for a big winery during 2008 and 2009). Subsequently, he worked for 4 years at Lammershoek with Craig Hawkins, but since 2015 has concentrated solely on Intellego and renting vineyards for his project. The philosophy is always about minimal intervention during the winemaking process, the wines being a celebration of the hard work done in the vineyard. For Jurgen it is intuitive winegrowing, an evolution through experimentation on small pockets of land selected in the Swartland Appellation. His Elementis Skin Contact comes from dry-farmed 38-year-old Chenin bush vines on oak leaf soil which consists of three layers: sand, gravel and deeper clay. Grapes are destemmed, fermented in a plastic 1000L tank for 13 days on the skins; once a day drained juice is used to wet the cap. The wine is aged in 500-litre old French oak barrels for 9 to 10 months where the malo completes. Elementis has a cloudy unfiltered apple-juice apperance with the lees in suspension. Extraordinarily pretty aromatics; notes of dried fruits, flowers, dried herbs, ginger and other spice. The palate has a weightless intensity about it and possesses layers of flavour. The finish is long with a pleasant grip. The label is beautiful. Elementis is a Latin word and refers to the four natural elements of earth, water, fire & air. The bottle symbolises the region from where the grapes originate while the umbrella is the contrast as it symbolises the style in which the wine is made – skin contact. The red of the hand symbolises fire, the yellow water, the green umbrella earth and the blue air.