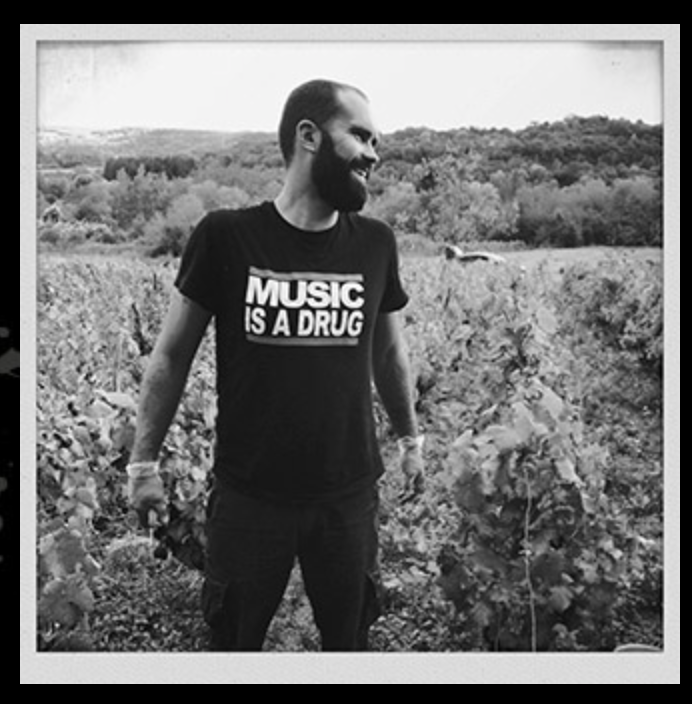 No Control, the Domaine of punk rock natural vigneron Vincent Marie, is located in Auvergne's Volvic, a terroir characterised by an amazing range of soils of ancient and more recent volcanic origin, with a presence of pink basalt as well. On his roughly 5 hectares, all certified organic, Vincent works the local varieties Gamay, Pinot Noir, Syrah, Chardonnay, Sauvignon, Sylvaner and Pinot Auxerrois employing a range of biodynamic preparations and techniques. Vincent, as more than a few vignerons, was once just a passionate natural wine lover before embarking on a new life by interning under Alsace legends Patrick Meyer and Bruno Schuller. In 2013 he then started No Control with the aim to produce deeply territorial, wildly drinkable and crazily expressive wines. His wines are made with love for the environment, ecosystem and every single plant, as far as being vinified according to a rigorous natural wine ethos and seeing no added SO2.
How do you like them grapes: Gamay, predominantly, also Pinot Noir, Chardonnay, Sauvignon, Syrah, Sylvaner & Pinot Auxerois.
In the vineyard: Since 2013, the vines are in conversion to an all-organic agriculture. Vincent's work experience with Patrick Meyer enabled him to learn and gain skills to practice biodynamic. Each year his plots get the basic biodynamic preparations i.e. 500P (cow-horn manure) and 501 (horn silica). He grows grass between the vines to bring mineral and organic matter, which are essential to the vegetable strength and structuring of the soil. On one parcel he uses animal traction. The variety of terroirs includes granite rich in biotite (with veins of quartz); clay-limestone with powdered lava; basaltic scoria and feldspathic sand. Some of the vines date back to the beginning of the 20th century. Many of the vines are on slopes between 420-500 m above sea level.
In the winery: Grapes are hand-harvested in 18 kg crates. Whole bunches are placed in a wooden tronconic tanks or in fibreglass vats Daily punch-downs for some wines followed by devatting, pressing, blending of the free-run and pressed juice.
Treading grapes to make space in the vat and maceration of whole bunches in the juice as well as carbonic maceration. All ferments are natural. Ageing variously in tanks or Burgundy barrels (or a mixture) for between 8 and 14 months. No filtering, no fining, no sulphur added.
QI: Vincent Marie makes many allusions to the alternative and punk rock music that he loves so much. Favourite bands include Rage Against The Machine, Faith No More and Suicidal Tendencies.
Vincent uses a horse in one of his vineyards called Praline to plough between the vines.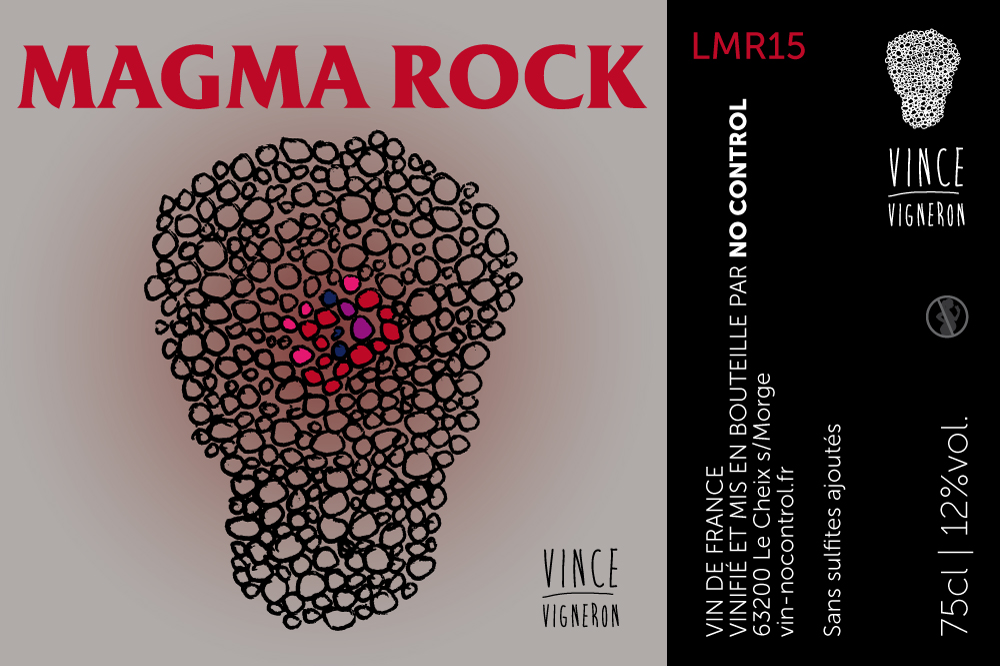 The Key Wines:
Magma Rock
Rockaille Billy
Fusion
Tournoel Riot
Food match: Venison steak or stew, rack of lamb with wild herbs.
Philosophy: "Being a natural wine drinker since 2003, I couldn't make any other kind of wine during my winegrower career. I don't add any chemicals during wine-making process. The wines are made naturally in the cellar: no filtration and no added sulfites before bottling. The aim is to make pure, fresh, generous wines of high drinkability.
To do so we have to respect the grapes and avoid trituration as much as possible. That is why the grapes are hand harvested in 18 kg crates. White grapes are pressed carefully and slowly. Red grapes are put into vats in whole bunches for maceration, which will be more or less lengthy depending on the desired product.
The wines ferment with indigenous yeasts and are aged on lees in various containers. The length of ageing is not decided beforehand. It will evolve depending on the wine, of its taste and potential. These processes enable the wines to have a strong aromatic potential and to express at best the terroir they stem from."
Interested in trying the wines of Domaine No Control?
Contact us directly:
shop@lescaves.co.uk |  sales@lescaves.co.uk |
01483 538820