This is a series profiling the producers on our list who make natural wines. Within this series we will be highlighting some of the extraordinary and rare bottles and vintages that have helped to shape our appreciation of natural wines over the years. Previous posts from our 100 Great Natural Wines series include Austria, Spain, and a hefty chunk of France & Italy, and can be found here.  
Germany has a fine tradition of biodynamics and there are some 80 + producers across its many regions working according to the precepts of Rudolf Steiner. Only a handful of those, however, might be described as natural winemakers, and would take the risk of making no-sulphur wines. Germany does have an increasingly strong natural wine culture, centred on the bars and restaurants of Berlin, but spreading out to other towns and cities.
WILD PONY ~ BIANKA & DANIEL SCHMITT
Horses, of course
The Schmitt winery has been in the family for over 230 years with Bianka and Daniel working their 16 hectares for the last decade. They work in full biodynamics which they learned from legendary Alsace vigneron, Parick Meyer, and are one of only 80 producers in Germany to be Demeter certified (2012 was their first vintage with full certification.)
The Rheinhessen is the largest wine growing region in Germany and is largely associated with bulk production. Though in recent years the region's reputation has begun to shift as a new generation of young, talented growers are working organically in the vineyard, reducing yields and realizing the excellent, undervalued terroir they possess. The focus is being switched away from hybrids and towards Riesling, Sylvaner, Weissburgunder and Chardonnay and a variety of reds with Pinot Noir (Spätburgunder) particularly favoured. Kekfrankos has recently been planted as a nod to Bianka's roots. The vineyards here are spread across various plots in Flörsheim-Dalsheim, Monsheim and Kriegsheim.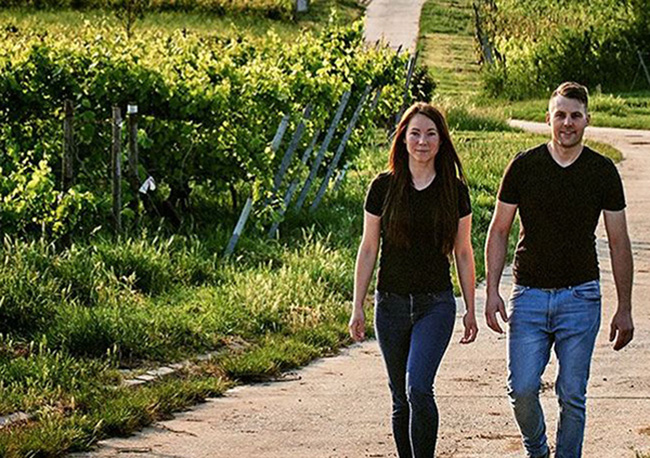 Bianka is from Hungary, Daniel is German. They met in 2012 when she was cellar hand in his parent's winery. Together they have taken over the family winery and are producing excellent natural wines made without additions. Farming biodynamically is essential to their desire to make natural wines, as are long ambient fermentations (in used barrels), variable skin maceration, lees ageing, minimal handling and bottling without filtration or added sulphur.
They are never afraid to experiment, making over a dozen wines.
The biodynamic approach remains a consistent inspiration on the way to perfect harmony. While it may sound odd to some, we truly believe that everything is connected. We see the results on a daily basis in our vineyards. Our preparations strengthen our soils and vines. When we give Mother Nature as much freedom as possible to do things her way, she in turn gifts us with her very finest results, reinforcing the precious natural balance. We also see a reflection of our unity in the wines, with femininity and masculinity in harmony. Each wine represents a stage of our overall journey. And as we continue along the path we have chosen, we see greater opportunities to deepen the complexities and personal connection.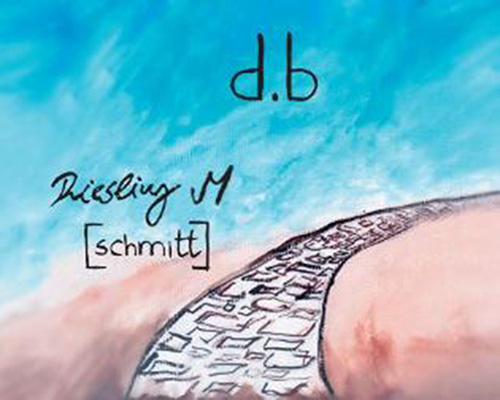 All the wines that the Schmitts make deserve respectful attention. Riesling M undergoes five days maceration and is aged for one year in small used barriques. A beautifully reserved wine, with aromas and flavours of wild apple and rhubarb, and a mellow, almost buttery finish.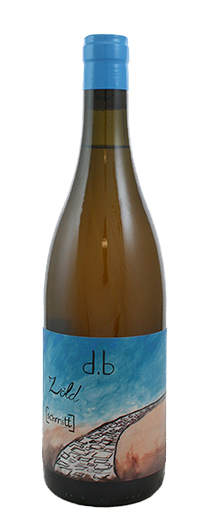 Zöld is Sylvaner fermented for four weeks on skins, aged in 1200-litre barrels. No sulphur added. Golden with a hint of amber, textural mouthfeel. Initially, the wine shows a slightly dried yellow-fruit characteristic combined with a touch of bitterness. Enough acidity to provide counter-balancing freshness. Tannins are indeed present and imbue the wine with a pleasing bitterness. Like all of Bianka and Daniel's wines, this wine becomes rounder and harmonious the longer it is open for.
Erdreich is Scheurebe & Gelber Muskateller from vines on limestone, sandstone and loess with a four-week spontaneous fermentation on skins in oak with indigenous yeasts, before ageing 14 months in 1,200 litre barrels.
This very fine natural wine is aromatically seductive with the Muskateller providing the floral foreground, but it also has flavours of golden orchard fruit, lees-spice and a whiff of sherry.
The wine that really excites us most probably is Wild Pony, whose blend changes according to the vintage, but whose methods remain the same. A skin contact born under an extended period of flor ageing. This natural wine transcends its origins. It nods to Friuli & Jura as much as Rheinhessen. Macerated for six weeks on skins and aged under flor, it has a complexity that is hard to describe being simultaneously floral, fresh, umami, fleshy and spicy.
Why we love this: It's an impetuous wine, a pony with the reins taken off and allowed to gambol/gallop at its own pace.
If you like this: Young Martin Woerner is probably tired of people calling him young Martin Woerner. He, and his small operation called Marto Wine, is based in Rheinhessen with organically-farmed vines on sandstone soils. Martin previously staged with Tom Lubbe at Matassa and Steph and Eddie at Gut Oggau in Burgenland. With a tiny production, 2017 was his maiden vintage, and he furnished us with our first natural German wines. And what delicious wines they are! The so-called Weiss is loud with cloudiness, light amber-hued, an old-vines organically-farmed field blend of various grapes such as Müller-Thurgau, Faber, Bacchus and Sylvaner, whole bunch co-fermented and aged in big old foudres. It takes the pith, big time – you can practically chew the minerals in this wine. The Riesling is outstanding and describes #attentiontotension perfectly.