Nikau Farm is home to Dane Johns (of Momento Mori), his wife Hannah and their young family. It is an expansive property of about 95 acres in the Baw Baw region of Gippsland, Victoria. It sits high on a group of ranges in a place known to the indigenous peoples of this country as 'Tolone.'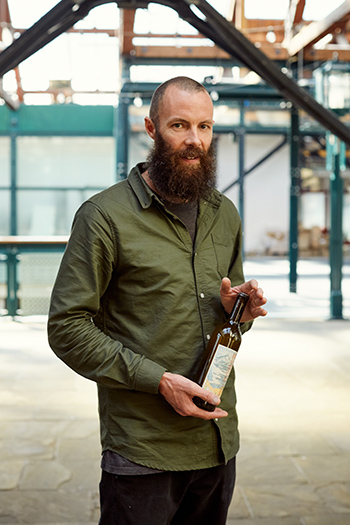 The country consists of a series of very steep hillsides descending into deep gullies with remnants of the old growth eucalypt forests that used to spread across the land. The soils here are quite unique and are comprised mostly of compacted sandstone from ancient sea beds with a rich organic layer of highly fertile loam across the top of them. The climate is also unique enjoying Mediterranean-style climatic influences being in fairly close proximity to the coast, whilst having relatively high rainfall and cool nights because of the elevation and exposure.
Dane and his family have had this property for four years now and in that period have established large vegetable gardens, mixed grazing animals, and flocks of ducks as well as chickens and other birds to increase the overall level of biodiversity. So far, one entire hillside has been planted back to native forest on the property (Vic Mountain Ash) and another earmarked for regeneration of more local native species later this year. There is a 25-year-old olive grove which has been nurtured back to fruition and they have plans to plant a small orchard next to this in the near future.
The property has two small plots (0.75h each) of vines on it, both about 27-years-old.  Neither of these plots (or the farm as a whole) have ever been subjected to herbicides, inorganic fertilizer, and have been farmed organically since inception. They have of course continued to farm in this manner, adhering to strictly organic principles always with a philosophy of 'less is more'. Working with the flow of and within the cycles of nature is of paramount importance in every aspect of what they do on their property.
The fact these vineyards have never suffered herbicides is clearly evident as there is an abundance of activity at all times of the year.
They are literally buzzing with life, both above and below the ground.
There are also no other vineyards nearby and they are a very small part of the entire landscape making them even more unique and a healthy part of the much larger ecosystem they sit amongst.
All of the work is meticulously carried out by hand and with fastidious attention to detail, including all weeding and under-vine management. The vines themselves are also tended by hand and managed intentionally to produce extremely small crops. Less than 250g of fruit per plant has been the norm over the last 4 years (!) yielding fewer than 500 bottles from each site respectively.
In the winery there are no additions at all, including no So2 at any stage of the process. No pumps (or pump-overs) are used on the wines, no oak whatsoever with all of the wines being handled entirely in stainless steel.  Long cool natural ferments are the norm here and there is no maceration for any of the ferments. The wines are never racked or moved after pressing and are bottled by hand directly from tank after élevage.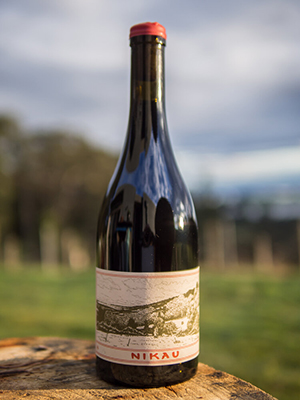 The Nikau Pinot is from a vineyard that is roughly 0.50h or just over an acre and is 27 years old and planted entirely to Pinot Noir. It sits in the steep hills of an area known to the indigenous peoples of this country as 'Tolone'. The mountain range was created at a similar time to the Otway region when sedimentary rocks were uplifted then eroded into the current mountain ranges.  The vineyard sits at about 350m above sea level within these ranges. The rainfall is high (by Australian standards) and the weather is often inclement during the cooler months.
There are about 7 different Pinot clones interplanted in no particular order and all on their own roots (no rootstock). The soils are comprised of a compacted sandstone base which becomes more stone like the deeper you go, with a highly fertile, friable organic layer of about half a metre over the top of it. As mentioned, the soils are teeming with microbial life. Everything in the vineyard is carried out by hand (except one or 2 mid-row mows in summer), Over winter, sheep keep the grass down and fertilize the soil. Throughout the year ducks keep the snail and slug population to healthy level (and also add nitrogen rich manure).  It being such a small plot, Dane can undertake all of the pruning, shoot thinning, weeding etc. himself.
The quality of the fruit produced in 2019 was exceptional with tiny berries on very small bunches producing very concentrated flavours while still holding great acidity. All fruit was hand destemmed into stainless steel and left to start fermentation naturally. The fermentation was low and slow at relatively low temperatures due to the cool weather. No maceration, no plunging – this is not about extraction. After about six weeks the wine was pressed back into stainless steel for 10 months before being bottled by gravity directly off of its full lees.
A profound and captivating wine that is a very transparent and honest view of time and of place. It has immense energy, purity and vitality that only happens when everything that contributes to a wine aligns in synchronicity and balance.
The "tolone' block is the other small vineyard on the farm and is planted mainly to Riesling with a few Chardonnay vines. As with the other vineyard on the property it is farmed organically and has been since it was planted. The soils here are much the same as the Pinot block being mostly comprised of a sedimentary sandstone base with a high silica content and with a friable loam layer over the top.  The loam layer is thinner here than in the Pinot block, most likely due to the steepness of the slope. It is also much faster draining for the same reason.  The biggest difference with this block though is the aspect. It is facing predominately west on the highest hill on the property and indeed the area as a whole. This makes it extremely exposed to southerly weather systems coming in from the Bass Strait.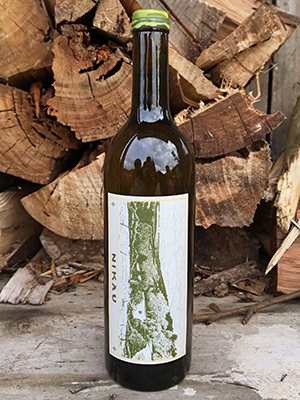 As with the Nikau Pinot, the aim here is to do as little as possible and let the fruit be what it wants to be. There were 48-hours of skin contact with a very light maceration. As for the winemaking, after the cold soak, it was pressed directly as whole bunches into a small stainless tank for a long cool ferment. There it sat for eight months on full solids without being disturbed at all. It was then bottled by hand directly from that tank (without racking or moving the tank) and spent a further 18 months in bottle composing itself. The wine is very refined and a dainty 9% alcohol – but you wouldn't know it for there is incredible structure and presence.
Elegant and haunting, a thing of beauty, with so much vitality and freshness.
The initial reduction gives away to subtle aromas of limeflower and crystalline grapefruit and the palate has beautiful texture with a dried eastern spice from the lees and cushioning notes from the brief skin-contact. The acidity "rounds out" the whole, keeping the wine long, long, long on the palate.
Unfortunately, with a production of 500 bottles (and much fewer making it to the UK), we have hardly any to sell, but this is a tiny estate to watch for already it is producing world-class 100% natural wines.
2018 Nikau Farm Tolone White
2019 Nikau Farm Pinot Noir