This is a series profiling the producers on our list who make natural wines. Within this series we will be highlighting some of the extraordinary and rare bottles and vintages that have helped to shape our appreciation of natural wines over the years. Previous posts from our 100 Great Natural Wines series include Austria, Spain, and a hefty chunk of France & Italy, and can be found here. 
Prosecco? Soave? Appellations that churn out hundreds of thousands of chemical milquetoast wines. As the popularity of the wines has increased, the vineyards have been planted down in the plains in order to aid industrial agriculture. In four out of the last five years, the Veneto region has produced by far the most wine out of any in Italy with a superglut in 18 and 19. Conversely, Veneto is also home to a lot of natural wine producers, who are doing their own thing to reclaim the bruised reputation of certain grape varieties. Angiolino Maule and family (La Biancara) have been a particular guiding influence.
In the Trentino, Vini Dolimitici are 11 producers united by friendship, solidarity, and a common vision of agriculture. Their desire is to promote the region's diversity and originality with respect for nature and ethical concerns. Foradori is one and Luigi Vilar is another member of this gang.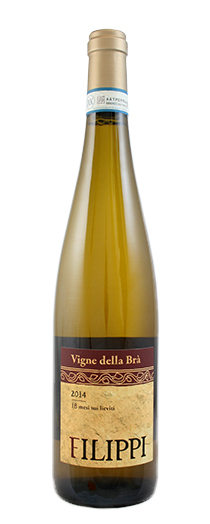 SOAVE DELL' BRA ~ FILIPPO FILIPPI
Soave, Jim, but not as we know it
Soave is normally not sophisticated. At worst, it may be a sulphurous travesty and even the better examples tend to be neutrality personified with all the fruit of the thinnest nib of a blanched almond.
Filippo Filippi's estate and vineyards are located in Castelcerino, in the highest part of the Soave DOC. The property was owned by a noble Tuscan family, the Conti Alberti, from the 1300's to the beginning of the twentieth century. In the beginning of the 1900's they sold the villa and cantina to the Visco family. Filippo Filippi, who runs the estate, represents the current generation of the family. His mother's maiden name is Visco, so Filippo is related to both families – the Visco and the Conti Alberti.
Filippi began bottling his own wine in 2003 but his family has been making wine since the Visco family bought the estate from the Alberti. He began farming organically and was certified organic in 2007.  Over the years, he's incorporated some principles of biodynamic farming as well.  The soil in the vineyards is mostly rocky, volcanic clay with parts that are rich in limestone (particularly the Vigne della Bra). The property and vineyards are unique in that there is a rich biodiversity including wooded areas surrounding the vineyards. This is a critical aspect to the estate's practices, as it allows for the vineyards to exist in harmony with the surrounding nature.
The volcanic nature of the basaltic rock along with the calcareous soils is what gave origin to the terrain and assures sapidity and particular salinity to these remarkable wines.
The Filippi vineyards in Castelcerino are 320-400 metres above sea level (the highest in the region) and the presence of the nearby forest creates an ideal micro-climate which is always ventilated and characterised by good temperature differential between day and night. All this contributes to the persistence of perfumes and aromas in the wine. And these are superb wines with beautiful definition and minerality and a naturalness which is at odds with the convention of the region. The Soave Castelcerino, from hand-harvested vines with an average age of 60 years, is fermented in stainless steel with ambient yeast and ages on the lees in stainless steel for 4-6 months before bottling. This is a mineral-charged wine with tensile acidity, pronounced aromas of apple blossom and ginger, and is perfect with grilled white fish.
Vigne della Bra is a cru-quality 70-year-old Garganega vineyard at 400m above sea level, south-west facing on rocky clay soils over limestone. Also fermented in stainless steel, the wine is subsequently aged for 20 months on the lees.  There is an extra dimension to the minerality here and a greater richness in the mouth. Its aromatics are somewhat shy, requiring some coaxing, in contrast to the palate that shows immediacy and full disclosure in its round, rich, enveloping quince, apricot and spice notes. It is magnificent wine, suave, sophisticated, Soave.
Why we love this: For all the leesy-spice (and all things nice), this is about old vines and focused minerality. It keeps on developing in the glass, a sign that this wine is for the long-term.
If you like this: Angiolino Maule is one of the founding figures of natural farming and wine-making in Italy. He has been setting an example in both practices since the late 80's and is now assisted by his two sons, Francesco and Alessandro. Their estate is located in the hills of Gambellara, between Verona and Vicenza, where they have nine hectares of vines on south-facing volcanic soil slopes.  Pico, is pure Garganega, an extraordinary white – honeyed in colour with aromas and flavours of ripe nectarine and apricot as well as complex balsam and smoky aromatics.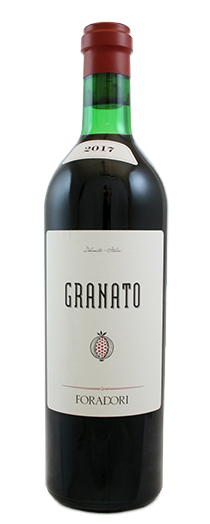 GRANATO ~ AZIENDA AGRICOLA FORADORI
Celebration of Teroldego

The juxtaposition of the name Elisabetta Foradori with the expression doyenne is often made, as if she were to the manor born, but it is worth reflecting on her considerable wine journey, which in itself serves as a metaphor for learning about yourself through the way you work.
Elisabetta's wine baptism came when the premature death of her father meant that she had to suddenly manage the family estate. Though "born among the vines" as she says, she assumed control more out of a sense of duty than because wine was a particular passion or vocation. Eventually, however, that passion and vocation came through the work itself, both in the vines and in the cellar. A path of questioning, experiment and intuition (that included everything from biodynamics, to massale selection and the use of amphorae) ultimately led her to cast aside any sense of chasing market trends of the "wine industry" to develop the estate towards the goal of making wines respectful of the soil and the local grapes she wants to honour, and using the techniques she found more interesting, less invasive, and more "wine-holistic".
"But even as a very young child, I always felt a very strong connection with nature. As a young girl I loved working the garden, playing in the forest… I had a passion for plants and flowers then, and I still have it now. And regardless of the ups and downs over the years, I am very grateful for what I have today."
Like so many young oenologists Elisabetta was taught that working industrially was the norm. Although the land was linked to Trentino, clones and mechanical "farming" were the norm in the area and her father had followed that recipe. The resultant grapes made perfectly acceptable table wine but not much else. Her investigation into the indigenous Teroldego grape, however, led her to replant her vineyards to massale selection vines, after which the path became clearer for her. Although the wines themselves were initially critically acclaimed, she didn't feel that they spoke to her in any meaningful way. Inspired by a friend in Alsace who had been farming biodynamically for some time, she subsequently turned to Rudolph Steiner's philosophies.
"I am an advocate of science, but science without a philosophy is all technique, and technique has no soul. It's a dry process; you're making wine but it has no connection to nature."
Biodynamics not only transformed the wines, but reshaped the mindset of this particular vigneronne. You also see the progress in her winemaking – the move away from new oak and extractive winemaking and the transition towards a more sensitive approach. The wines themselves became liberated and that much more balanced; this derived from a sensibility that focused on the life and cycle of the vineyard, as opposed to perfecting and polishing the wine. When you smell and taste the Sgarzon and Morei, for example, you experience two distinctive vineyard voices – this is what Elisabetta wanted to achieve. And has achieved.
"Our awareness of nature's rhythms and cycles has been perfected through observation over time: each season opens new horizons, every day we learn and understand a little more.
We have learned to pay attention, to grasp the subtle differences existing in nature and to preserve the true character of the grape in the expression of its land of origin.
Our daily farming gestures are elevated to creative impulses: it is our duty and privilege to wake up every morning and to be free to work according to the message that the earth conveys to us in that moment."
At the helm today, a fourth generation of winemakers run Foradori's activities. It was Elisabetta Foradori and Rainer Zierock's work that led to the salvage and regeneration of the Teroldego grape variety through their cultivation of the grape's original genetic family. Today their children Emilio, Theo and Myrtha Zierock continue in their footsteps to run the winery.
Philosopher-winemaker Emilio now manages wine production, while political journalist, Theo, oversees the winery's business and commerce from his home in Naples. Market gardener Myrtha takes care of Foradori's farming and gradual expansion.
Together the three of them oversee the smooth running of the winery, supported constantly by their mother Elisabetta.
All the wines are worthy of note, but we focus here on Granato. Grapes and pomegranate have common origins and are often found growing together in the Mediterranean basin. The pomegranate fruit also possesses the charm, beauty and intensity of grapes. It is thanks to this union that the name 'Granato' derives, the name of a Teroldego of a particular concentration and density that sinks its roots into the stones of the three vineyards in Campo Rotaliano. Granato is from grapes grown on four-hectares of old pergola vines across three varied plots on alluvial, gravel and pebble soils. The grapes are fermented in large open vats and spend 15 months in tonneau, 15 months in botte. It is a noble wine, exemplifying abstract descriptions such as finesse and iron fist in a velvet glove.
Why we love this: If ever one wine symbolised a transition in style from a more structured and consciously-serious style to allowing a wine to be liberated by biodynamic farming and gentle handling, then Granato is that wine. The perfumes are beguiling, all that concentrated red fruit tightly meshed, the freshness and fine tannins combining to make something very classy, refined, sinewy and terroir-driven and not at all showy.
If you like this: Then investigate the specific terroir versions of Teroldego: Morei and Sgarzon, both vinified in tinajas, but from different sites. Both delicious.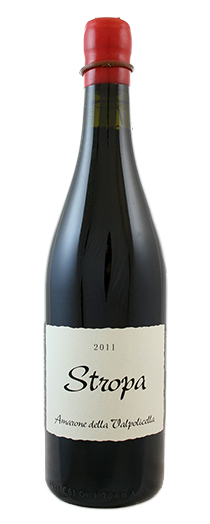 AMARONE LA STROPA ~ MONTE DALL' ORA
The guns of Amarone

When Alessandra and Carlo Venturini first discovered Monte dall'Ora it was love at first sight. As children of farmers, they were excited and challenged by the hard work it was going to take to restore these ancient vineyards.  Located in Castellroto, in the hills outside of Verona, the vineyards are planted on a base of limestone soil and form a natural amphitheatre facing southeast towards the city.
Valpolicella benefits from the influence from Lake Garda which makes winters mild. The average rainfall is around 500/600mm per year. They are in an area at high risk for of thunder storms, due to the proximity of the lake basin. The vineyards are located on well-ventilated hills in the two most important municipalities of Valpolicella Classico – in San Pietro in Cariano and in Sant'Ambrogio di Valpolicella.
In fact, portions of their vineyards are planted on ancient dry-stone terraces called marogna, a design in which large stones form the exterior support structure and smaller stones form a spit of land in the interior. This brittle stone, in which fossils and petrified shells can be found, allows for excellent drainage and deep penetration of the vines.
The Venturinis are firm adherents to biodynamic principles. As such, they encourage the growth of biodiversity by planting herbs such as rosemary and lavender in the summer, whose fragrant blooms are attractive to bees; and sowing cereals in the winter, whose roots move and aerate the soil. In addition, Alessandra and Carlo have emphasized traditional and native grape varieties wherever possible to give originality and typical wines.
"We try to preserve the knowledge and traditions of our grandparents, who gave value to each plant to recognize and know the qualities as a remedy for commons ills. Also, for the vineyards there are some helping herbs which we use to prepare tea with flowers and dried leaves (nettle, dandelion, yarrow, sage, peppermint) and that during the summer are spayed on leaves and bunches. For us biodiversity is knowledge and tradition, it is expressed in love for small weeds and no domesticated plants, in the ways they were affectionately called, for the rituals and traditions that has been handed down from generation to generation".
The La Stropa is a blend of 40% Corvina, 30% Corvinone, 20% Rondinella, 10% Molinara and Oseleta. Corvinone has been previously thought to be a biotype of Corvina, the theory being that it was a relation/variation on the same grape, but recent DNA profiling (1993) suggests that it is its own unique varietal.
Counter-intuitive though it may be, those precious bunches for the Amarone are the first to be harvested. Four people spend three weeks selecting the most perfect, healthy, ripe-but-not-overripe bunches with still-bright acidity. These bunches are laid out in single layers in small, slatted, wooden boxes that are stacked in the south-facing, open-sided fruttaio next to the house/cellar. The drying proceeds slowly and naturally with zero technology; the environment is well-ventilated and quite cool, preventing any fermentation and allowing a gradual evaporation and concentration of flavour. After 3-4 months, the dried grapes are destemmed, gently crushed (leaving some whole berries for a touch of carbonic maceration) and dropped by gravity into one or two small, open, oak tini. Fermentation is entirely spontaneous with indigenous yeasts and without sulphur, taking 40-50 days with daily foot-treading to reach near-total dryness (1-2 grams RS max typically). Minimum ageing is in 25-hectolitre botti for 3-4 years, then in bottle for 2.5 more years.
A stropa is a switch from the native weeping willow tree, used historically in Valpolicella viticulture to tie vines to pergolas; it is readily available and strong enough to withstand winter winds that blow down from the Alto Adige mountains.
Monte Dall'Ora has not only perpetuated that practice but named their Amarone for it and actually tie a stropa around the neck of each red-wax-capped bottle. This literal tie to tradition perfectly symbolizes their passion for the history and terroir of Valpolicella. Their Amarone tends toward savoury and sinew-y rather than sappy and sweet, uniquely reflective of vintage and place.
Complex and intense nose with notes of ripe plums, raisins, red berries, spices, and beautifully intertwined wood. On the palate flavours of deliciously juicy ripe fruit nicely balanced with wood and a soft long finish. The tasting note does not do this epic wine justice.
Why we love this: It is a meditation wine in every sense. Despite its lusciousness, it is so fresh underneath and a joy to drink, not overwhelmed by sweetness (or even bitter sweetness), just a wine that superbly reflects the vintage and the quality of the grapes.
If you like this: It is difficult to find anything comparable to La Stropa, but once upon a time we listed a wine called Giro Tondo from Panevino which gave you a similar feeling when you drank it. The wine was made 90% from a grape called Giro. In the words of Gianfranco Manca " It is a wine of circles: friends sitting around a hearth, telling stories to each other,  this (cuvee) name picks up the circular theme of the traditional and quite formal Sardinian circular dance: ballu tundu (round dance) So much for the cultural background, this beauty was made from Giro with a dollop of Moscato, the vines being up to 150 years old, plunging their roots into decomposed schists over limestone on wind-swept  slopes 500 metres above sea level.  Fermentation – wild all the way – took place in vats outdoors under the trees, and was then aged in large oak barrels. As Gianfranco says: the wine is made only with grapes and prayers. 500 bottles were made of this pink-hued oddity. The first thing one noticed was the beautiful aroma of wild roses, something of Turkish delight, and a liquid that danced on the palate with bruised apple fruit, minerals, citrus salts and wild flower. Another wine to sip with slivers of hard salty cheese or drink with some fresh figs and honey.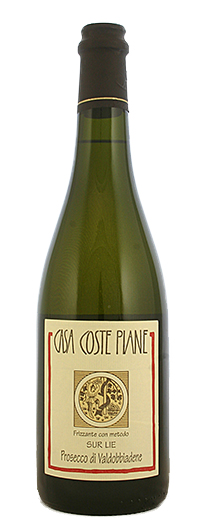 PROSECCO ~ CASA COSTE PIANE
Poetry in Prosecco

Casa Coste Piane is a small estate (a piffling 5ha and only 30,000 bottles) in Santo Stefano, heart of the Valdobbiadene area. For generations, their wine had been sold in bulk but since 1983 they decided to bottle the production themselves.
Loris Follador is from a long line of farmers in Valdobbiadene. Thanks to his father and grandfather, Loris and his two sons have never had to plant a vine. Their vineyards, featuring 60+ year old vines, are absurdly steep and the soil is very shallow, hitting solid limestone or sandstone rock. The Folladors are well aware of this fortunate legacy and treat it with the reverence and respect it deserves. No herbicides, pesticides or fertilizers are used. It's impossible to plough here, but it's really not necessary with vines of this age; they've long ago found their sources deep within the stone formation below. The harvesting is, of course, by hand and would seem, especially in the steepest spots, near impossible.
Most importantly, the focus on the vinification and the cellar work is to express, as simply and directly as possible, the potential minerality and the terroir of these vines.
Loris follows a tradition of winemaking that was handed down to him from previous generations without adopting any of the "improvements" of the 60's, but with a certain regard for technological innovation.  The grapes are immediately pressed using a pneumatic press. The must is then partially fermented and the lees and juice are separated and the lees cleaned through filtration. The cleaned juice and filtered lees are reintroduced together in bottle in the late winter and re-ferment by early to mid-summer, creating its own bead and a carbon dioxide environment that prevents oxidation without the use of sulfur. There is no disgorgement, so the expired lees remain in the bottle adding further complexity, but also some cloudiness. The wine can be decanted off of the deposit or poured as is. Either way, the flavour is unchanged and the minerality unmistakable.
Their vines— which are close to the cellar, comprise mainly Glera, plus a little of other co-planted local varieties— and tend to be around 70 to 80 years old, with some up to 120, grown on glacial moraine soils on steep hillsides rich in limestone with huge and complex root systems. Each of these old, head-pruned vines is tended individually and meticulously by hand and replaced as needed with massale selections from their vineyard. Their yields are far lower than the norm in this prolific winegrowing region.
The grapes are hand-harvested parcel by parcel, and each parcel is vinified separately. The fruit is kept in whole clusters and pressed extremely gently; fermentation is spontaneous and slow in the cold cellar, with indigenous yeasts only; the parcels are eventually blended with their lees from the tank, to continue fermentation with a small amount of rectified must in the bottle. Unlike so many Proseccos, Coste Piane's ferment to full dryness. They are not disgorged and thus have a cloudy appearance and some sediment in the bottle, truly classic and beautifully, naturally executed col fondo wines.
This fine artisan Prosecco is clean, pure and elegant, mineral with crackling chalky citrus notes, easy-drinking and at the same time complex.
Why we love this: We love sparkling wines that rely on substance rather than fizz for their appeal. This turbid, leesy Prosecco is bone-dry, but then you bite into the wine, almost licking the lime-salt from your teeth.
If you like this: Casa Belfi's Col Fondo Frizzante may have lost the Prosecco from its label, but the ancestral-style wine inside the bottle does not change. We like our Prosecco to be as opaque as a vanilla milk shake, literally heaving with residual lees. Casa Belfi's Colfondo version tastes great and the clear (cloudy) bottle would make an excellent conversation piece on your table. Proper stuff from Demeter-certified biodynamic vineyards, second fermentation started in the ancestral way with the natural grape must, not disgorged, so left on the full cloudy lees. Like all Colfondo you can pour it in such a way that the heavy lees remain at the bottom, or do it half and half, or even shake up the bottle and go full Jersey-creamy!
Interested in finding more about the wines mentioned? Contact us directly:
shop@lescaves.co.uk |  sales@lescaves.co.uk | 01483 538820
*Note: We are still open for business, doing deliveries, and keen to help everyone with their booze needs in this difficult time. Natural wine lovers can visit our online shop and order online!