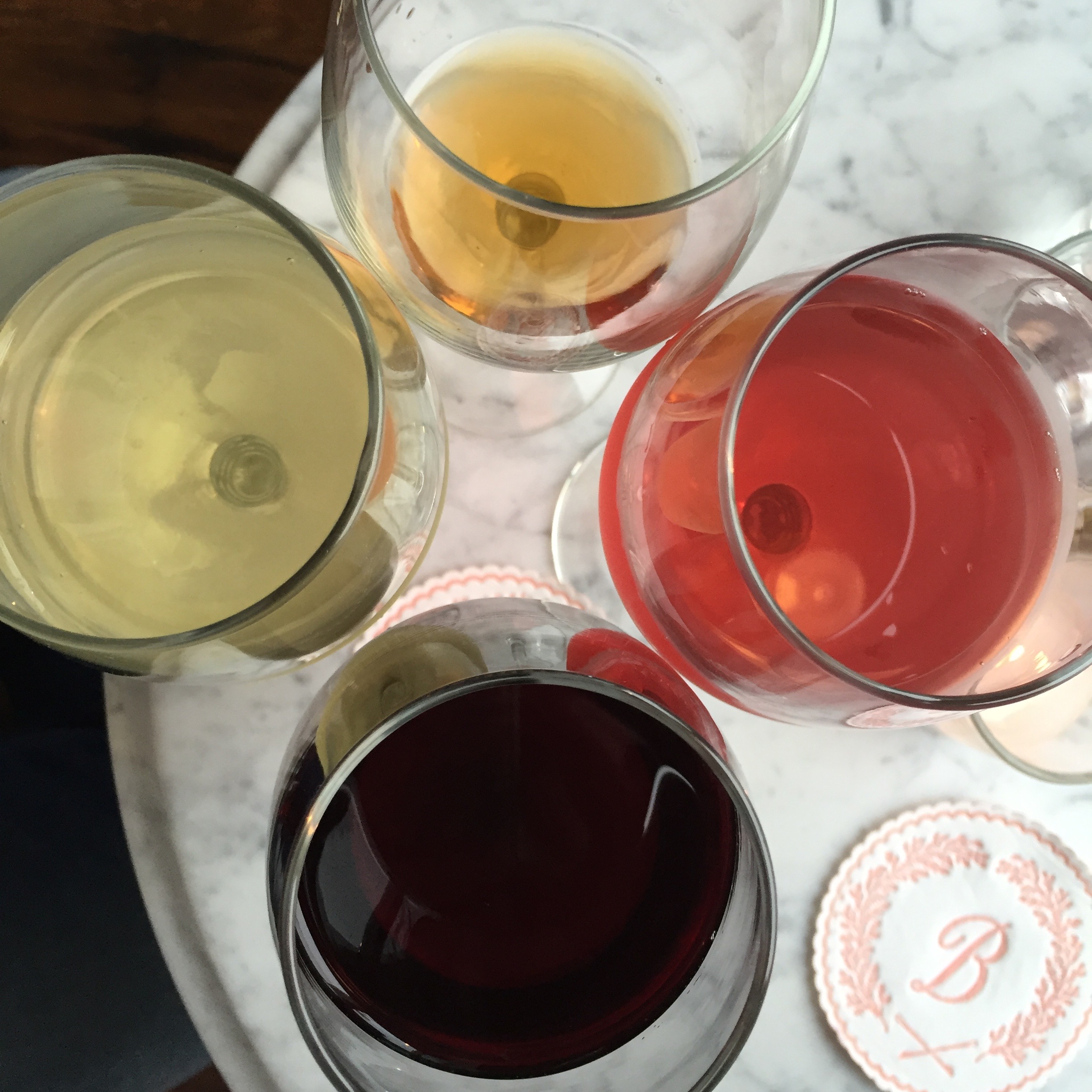 I don't append scores to wines, or have an inner wine-orgasmatron that registers the veritable height of aesthetic and subjective waves of pleasure, but here are my uneven eleven best wines of the year, the cream of the crust of the cassoulet (with some other delights oozing to the surface).
One thing I have noticed is that my favourite wine experiences have revolved around the unicorn end of the wine spectrum. I should mention that I don't love wines per se because they are produced in micro-volumes, but it appears that it considerably sharpens one's response when you know that each and every sip matters. Those wines tend to get rolled over the tongue, every drop revered, every taste bud caressed. There is also something to be said for wines that do not detain one's attention, and may be drunk with an uncritical eye and a big thirst. The wines below, however, are also experiential rarities, in that they are invariably ordered and brought out and enjoyed in very special company, resulting in a shared pleasure that is indeed a pleasure doubled.
Most wines were served from nice decanters (albeit not always drunk in great glasses!).
Those wines tend to get rolled over the tongue, every drop revered, every taste bud caressed.
From exceptionally old vine Gamay to Syrah in its granitic nappies, centenarian Aligoté, three orange wines, and two Pinots. The real oddity was the solera wine, the surprise being that it was not done well, but that it was done at all. This wine was regal with complex oxidative aromatics. Extraordinarily, it became more focused the longer it was exposed to the air. And…it was delicious.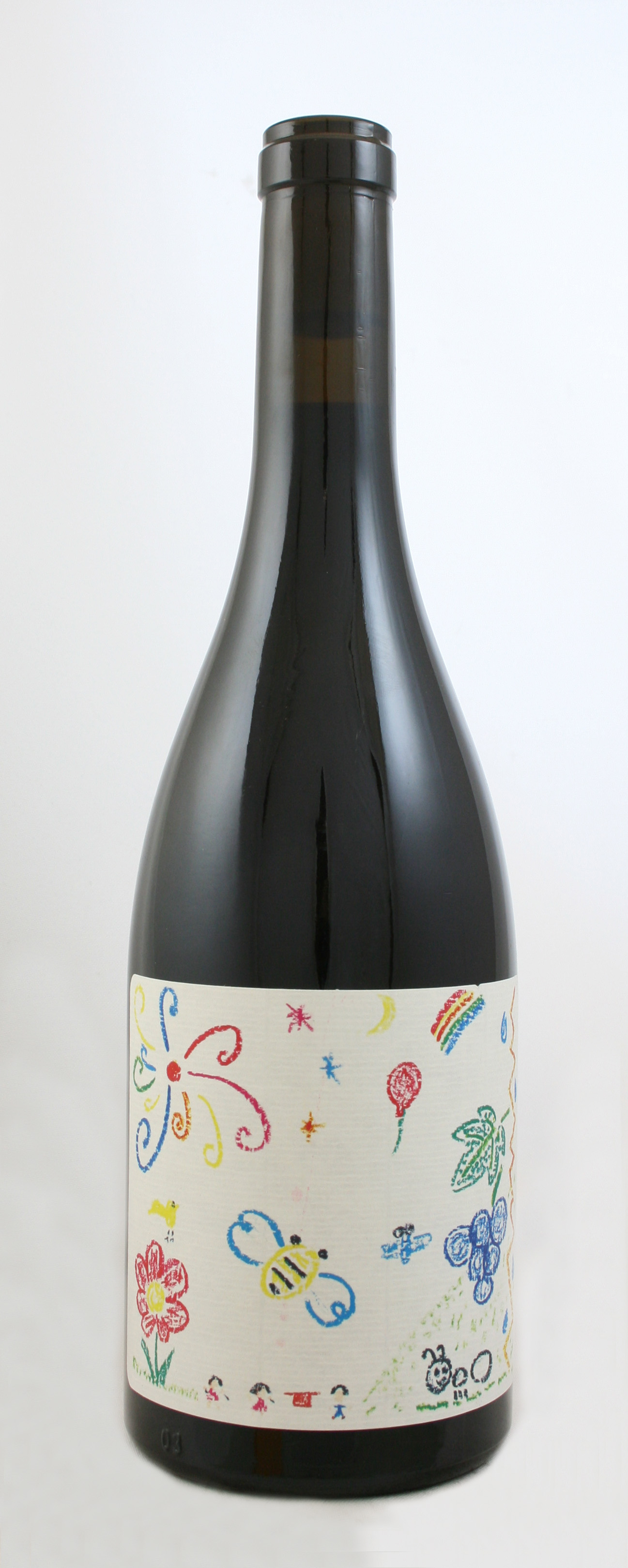 2015 Cornas, Domaine de la Grande Colline, Hirotake Ooka
Enjoyed twice. As I have mentioned the knowledge that a wine is rare and produced in finger counting quantities, ratchets up expectation but also sharpens concentration. On both occasions I rolled every mineral atom of this dark purple liquid around my mouth ensuring that it visit each nook and cranny of my palate.
The Cornas is a youthful beast to put it mildly. The grapes are grown on decomposed granite soils and macerated in tank. Then the juice spends 24 months in old barrels before bottling. On opening this wine tastes like dry granite scrapings with an afterthought of blackcurrant. Day two, mirabile dictu, it transmogrified into a sheer beauty, billowing bountifully from the glass, with floral-fruity aromas and lovely smoked blueberry fruit underpinned by crunchy acidity. This is a beautiful natural red, so precociously purple, interfusing sweet floral (violet, cherry-blossom) aromas with hedgerow fruits and herbs. There's also the characterful Syrah note of marinated purple olives, here a sweet note, there a bitter one and mineral salts in abundance. A young unmediated wine with the wisdom of centuries of terroir. Rarer than rare.
On both occasions I rolled every mineral atom of this dark purple liquid around my mouth ensuring that it visit each nook and cranny of my palate.
On my second encounter the wine tarried a wee while in a carafe. It was more integrated, fruit and minerals inextricably intertwined or rather interwined. Drunk with Treve Ring at Terroirs Wine Bar.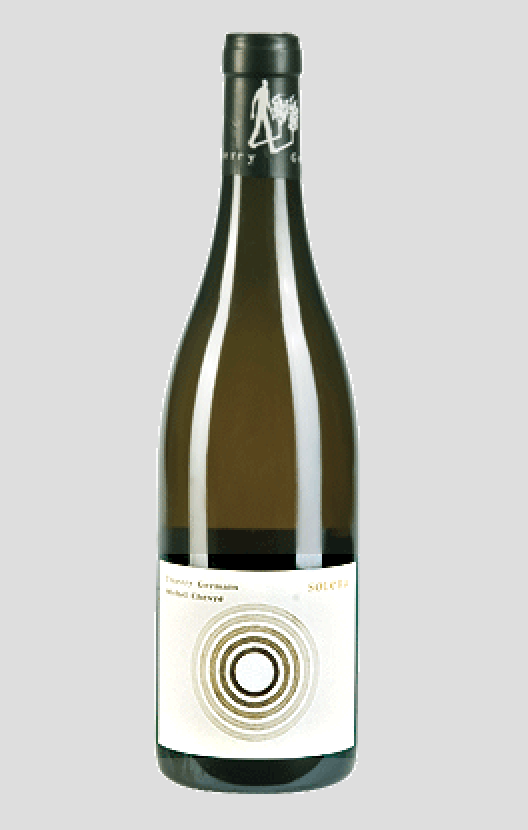 Thierry Germain Solera 97-00, Saumur
Chenin-sherry or letting the ox out of the box
In 1997 Thierry Germain and his right-hand man, Michel Chèvre decided to embark on a new venture, to experiment with elaborating a pure Chenin using the solera technique. This method involves blending older with more recent vintages to "que le vieux éduque le jeune". The solera dates back to the original vintage – in this case 1997.
Thierry and Michel therefore decided to keep a barrel of Insolite (from the best Chenin terroir comprising silex over limestone). This was fermented six months under the yeast veil. Next year they topped up with 10% of the juice from the 98 vintage. The natural yeasts of the voile allowed the fermentation to start again.
It would probably take you longer to drink a glass of this than to count all the bottles that were produced of this extraordinary wine.
The process was renewed in 1999, then again in 2000, each with 10% of the new vintage integrated into the original barrel.
After this the wine continues its quiet maturation for fifteen years in barrel. The result is astonishing – a wine of power, complexity, freshness, a veritable bouquet of aromatics and noble rancio notes. It would probably take you longer to drink a glass of this than to count all the bottles that were produced of this extraordinary wine. A quintet of us drank this from a carafe (it had been open a couple of hours) at a Cheninigans event at Terroirs Wine Bar earlier this year.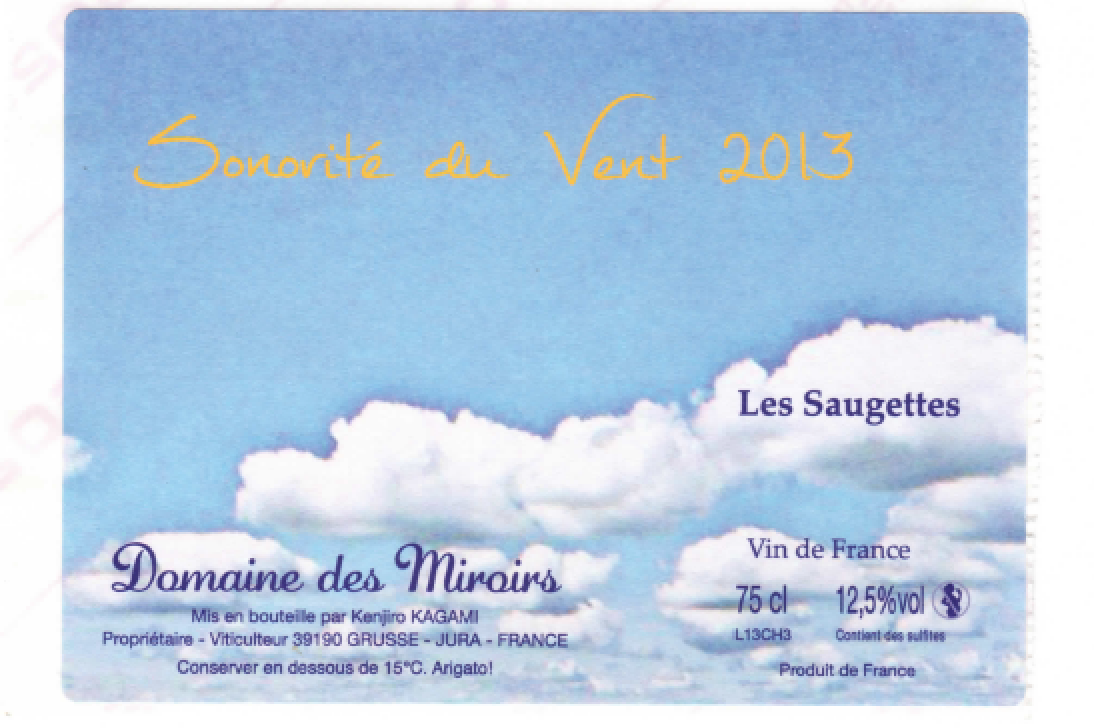 2013 Domaine des Miroirs, Kenjiro Kagami, Cotes du Jura
Where unicorns meet fairies at the bottom of the garden
Kenjiro's Chardonnay from Grusse is initially restrained, before unveiling subtle notes of Japanese tea, and sake even, with an utterly distinctive umami quality. A haiku of a wine, every syllable and nuance working to sublime effect, it shifts gear constantly with the sun-warmed, honeyed fleshy orchard fruit as the base, wild yeasty aromatics playfully scooting around the glass, oxidative nuttiness, salty minerality, and, yes, sake.
The second bottle (14) was a completely different bottle of fish sauce. Here was a wine with spine, tingling with citrus pith, mellow too but not mallowy, very complete and completely unified. Thinking back to the 13 the difference was startling, yet one felt the two wines came from the same person. 13 was wild, warm, meaty, evolving, 14 had a linear quality and vital tension.
First bottle at The Remedy celebrating icons of Jura, the second (also 13) brought by Alessio Guidi to Bubbledogs for the BOYB on favourite Jura wines, the second drunk with Treve Ring at Terroirs Wine Bar (from a decanter).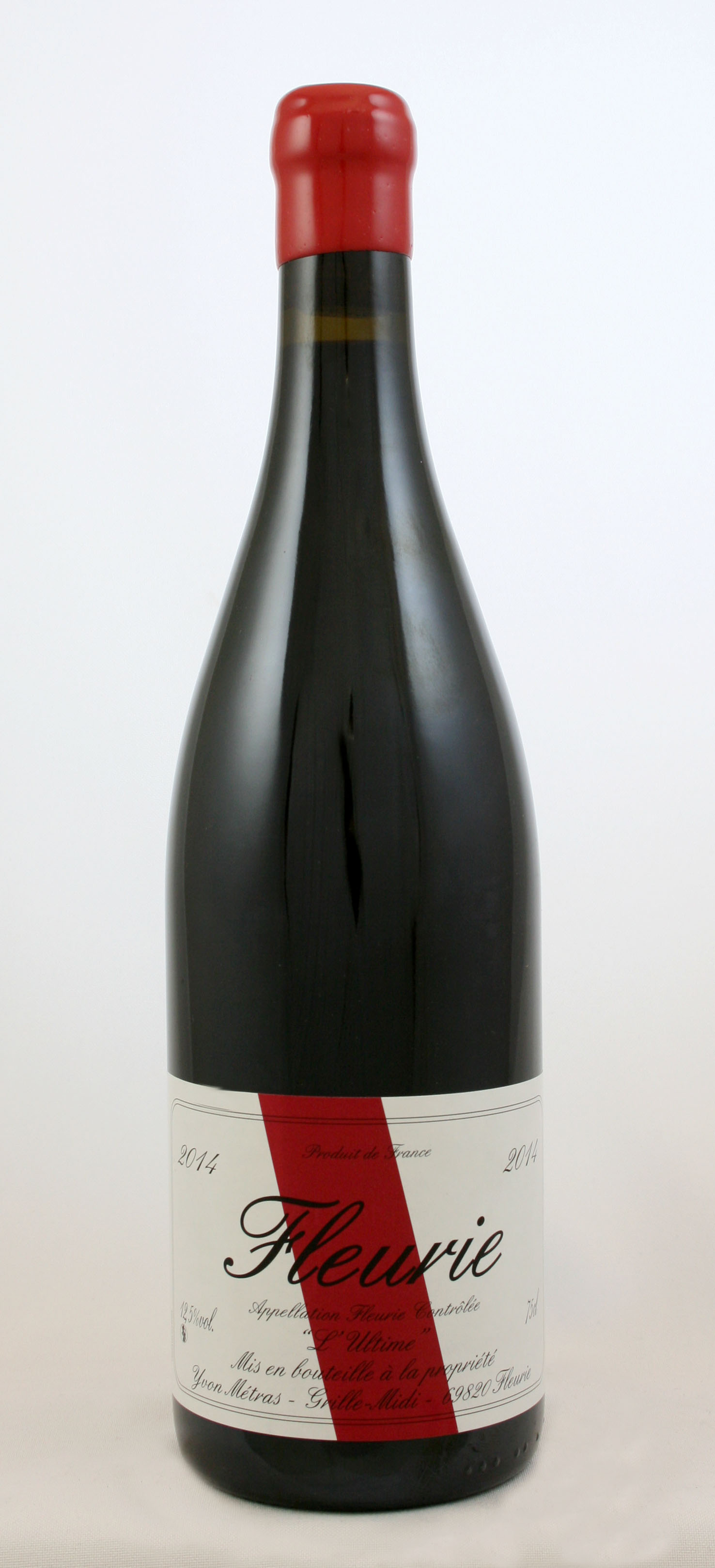 2014 Fleurie Ultime Yvon Metras
Beyonder
Perched at the top of La Madone, whisper it not, are some of the vines that make the Yvon Metras Fleuries. Like Voldemort we do not dare say their names (oops, already done so). These are wonderfully pure, but difficult-to-know wines. And even more difficult to buy. We will bathe in their symbolic glory.
1988 was the first vintage vinified by Yvon Métras at a family domaine run by generations of winemakers. He withdrew from the cooperative winery to join the gang of Jules Chauvet's followers, whose "leader" was Marcel Lapierre. The way the 5-hectare vineyard is cultivated is the same as that of the other disciples: no chemicals, ploughing, severe pruning, low yields and exceptional terroirs with iconic parcels like "Grille Midi" or "La Madonne". It's from these parcels that he sometimes vinifies the "Ultime cuvée", a wine that greatly contributed to his reputation as a top winemaker. Needless to say, the perfectly ripe grapes are hand-picked and vinified with whole bunches before undergoing semi-carbonic maceration. This older vine Fleurie has stones for bones, gripping granitic minerality that chisels the straightest of lines across the tongue. And the merest suggestion of cherrystones and gooseberries. Don't expect any change from this wine unless you serve it from the carafe.
Ultime is like reaching the summit of mountain, expecting jaw-dropping views and finding the panorama shrouded in mist and cloud. And then, one time, for a few instants, the mist melts and all is revealed.
Ultime is the supernaculum from 120 + year old vines, a wine that needs to tarry awhile in the Seven Sleeper's Den before you take your date with density (sic). Sometimes, to paraphrase Nicolas Joly, it is more important to be true than to be beautiful. Or to be nice. Or to be understood. The challenge of challenging wines is to find the right moment when their granite physiognomy cracks (a little), to have patience and allow the wine to come to you. Ultime is like reaching the summit of mountain, expecting jaw-dropping views and finding the panorama shrouded in mist and cloud. And then, one time, for a few instants, the mist melts and all is revealed.
Drunk at The Remedy from decanter with Tin Radovani.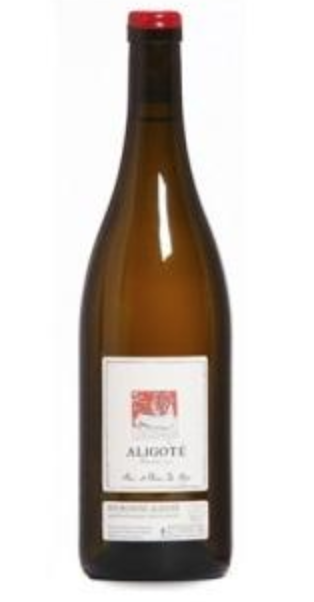 2015 Aligote Plantation 1902, Alice & Olivier De Moor, Burgundy
Nerves of steel
This wine is made from very old vines – vines that are unusual because they pre-date the ravages of phylloxera. The vineyard is near the village of Saint-Bris-le-Vineux and covers less than half a hectare. The records show that the vineyard was planted in 1902 – hence the name.
Fermented and aged in old oak this an Aligoté to age, extremely tight and high in stony acidity with citrus fruits and herbal aromas, very dense and long. This winespeak does not do justice to a wine which shimmers with authority – it has dense – or intense – transparency in the way that only wines with "perfect pitch" acidity can seem to glisten. Then the nose – glacier water buffing up a river stone, gorse flowers drenched with sea spray, all nostril-arching brilliance and then into the palate – linear, citric (juice plus pith), tears-of-chalk-stony, with tensile strength and just a smattering of lees spice. Liquid steel, this wine is an exhilarating skate across the palate. To coin a phrase, it takes you hither and Yonne. Whilst all the De Moor estate wines possess this extraordinary poise and purity, the Aligote, by dint of its immeasurable reserve, has that bit extra to it.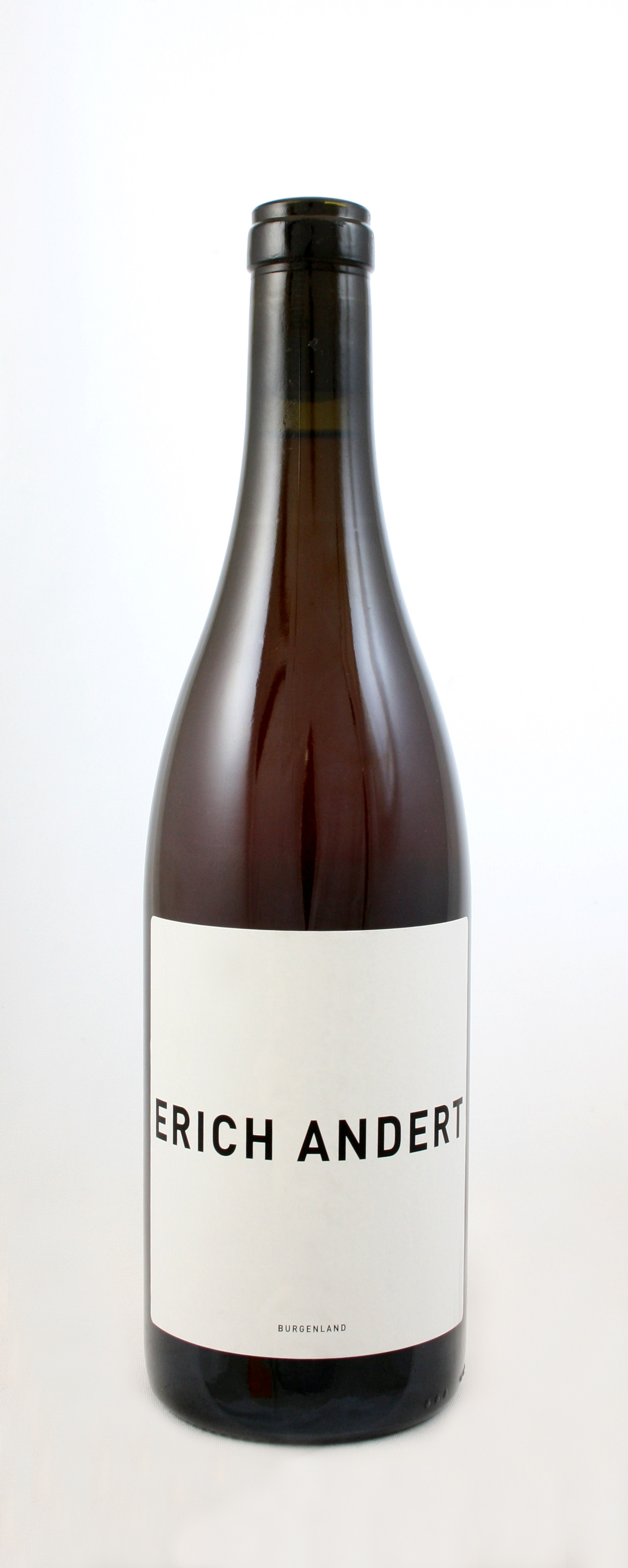 2015 Andert-Wein "PM", Burgenland
PM stands for Penetranter Mistkerl, as in a total bloody nuisance, or Puligny-Montrachet, as the Anderts call it (ironisch gemeint) or, as we know, the secret grape, alias Petit Manseng, that somehow made its ironic way from the footslopes of the Pyrenees to the flatlands by the Neusiedlersee.
What a wine. A wine of the balcony to catch and squeeze the blood-orange essence of the dying light. The colour seemed to be changing subtly by the moment as if animated by a response to the very light of the day. A burnished sunset of a wine, its deep hues were captivating, glowing, almost throbbing with primal energy.
The nose, or whatever we choose to call it, was (sweet)meaty and a little bit smoky, the palate is smooth and almost velvety with suggestions of pink grapefruit, yet also salty with a bitter almond note on the finish. A wine that sits on the mother of lees and skins, starts off tightly wound in its own skin, its aromatics initially reserved, then gently exudes a kind of warmth as of orchard fruit baked with sweet spices in the oven. And all Andert's wines have a faintly medicinal bitter, fennel-inflected after-taste. This may to be do with the fact that the vines share their space with wild fennel and many other plants and herbs that have the same anise profile. They also possess what we like to describe as "natural energy". Easy in themselves or with a relaxed intensity, not inviting judgement, but utterly and vitally redolent of the vineyards from which they are born.
Drunk at home on the balcony as the sun was setting.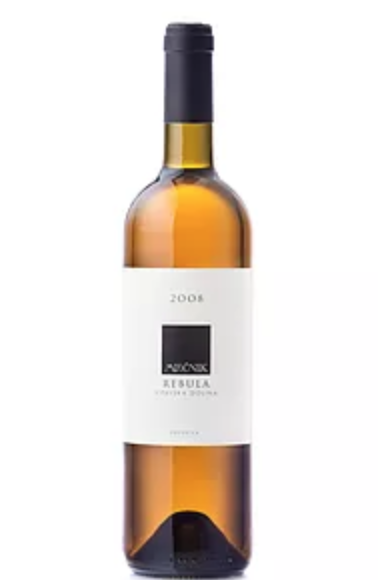 2006 Rebula, Valter Mlecnik, Vipavska Dolina
Rebula is one of the chief autochthonous varieties of Vipava Valley and as such it brilliantly reflects the terroir and vineyards. With its thick skin, it is always last to ripen and produce a wine with the body and tannic structure that remind one of a red. The Rebula 2006, for example, was macerated for four days without temperature control and fermented with native yeast. This allowed the wine to extract the maximum of natural substances present in its skins, ensuring a strong natural stability. The wine is an intense amber (yellow-orange) colour with brilliant opacity. This is also the consequence of no-filtering approach. After pressing the wine is transferred into big oak barrels, where it remains for two years.
The 2006 of this wine was drunk with Marko Kovac and Primoz Lavrencic on the last day of summer (or so it felt) outside, with a wholesome meal composed of ingredients largely harvested or grown in the environs of the restaurant. Whenever I taste the wines of Mlecnik I feel that they embody the journey towards long-term balance. This Rebula was youthful wisdom incarnate.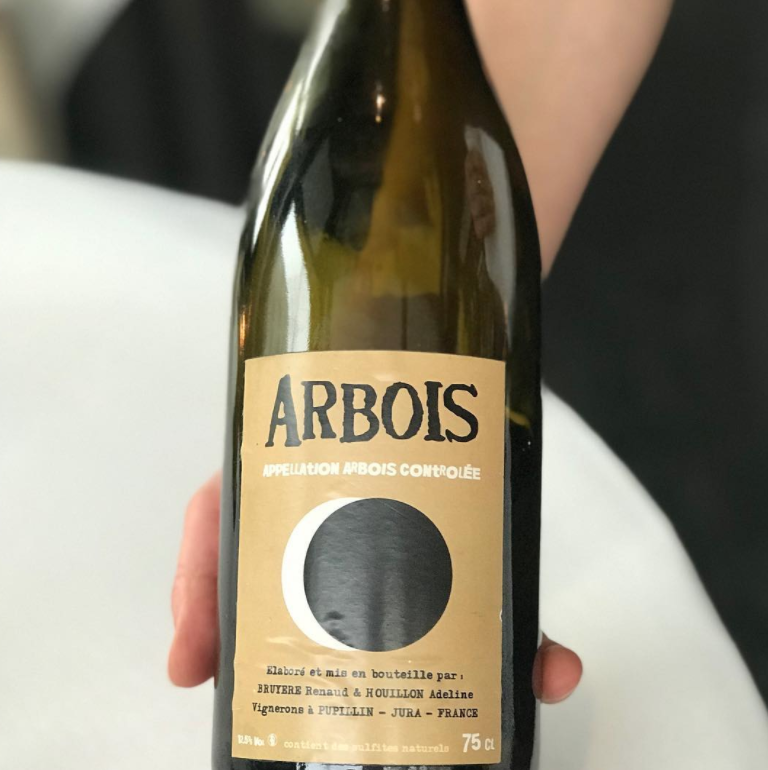 2014 Arbois Les Tourillons Blanc, Bruyere/Houillon
Les Tourillons vineyard was the first acquired by Adeline and Renaud. It is one of the highest vineyards in the area (although tiny at only .75 hectares) and has clay and limestone soils and good exposure. This wine blends 80% Chardonnay and 20% Savagnin which are matured in old wooden barrels kept topped up to retain their freshness. As with the Ploussard the wine has been bottled without filtration or added sulphites out of respect for the fact that it is a "living" wine.
From the outset this Chardonnay/Savagnin blend crackled with energy – citrus and green apple flavours ricochet around the mouth, there is a wonderful arc of acidity to carry the fruit and minerals. Like all these wines the wine has undergone its full malolactic, so the acidity is pushing something textural and mouthfilling, but it is marvellously integrated. Superb wine!
Three bottles are this were consumed this year, the last of which was at Terroirs Wine Bar with Martin Clement.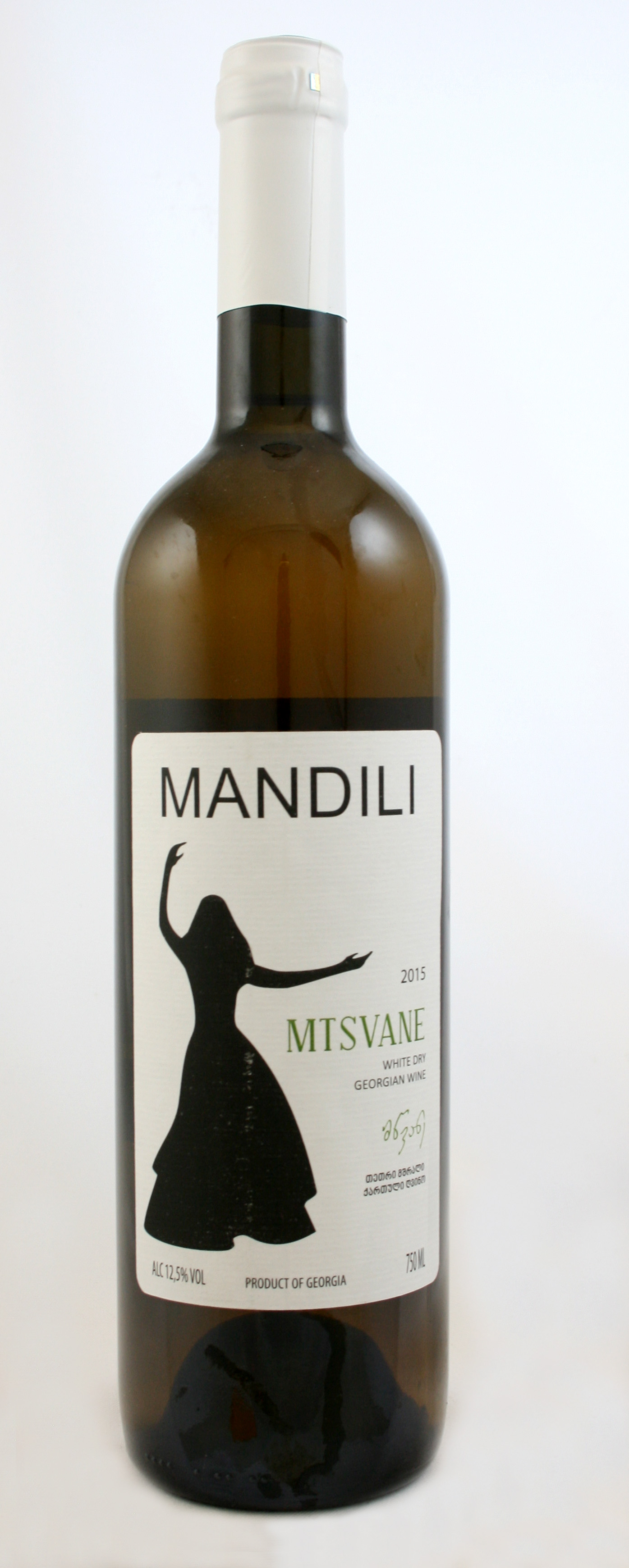 2015 Mandili Mtsvane, Marina Kurtanidze, Kartli
Mandili is a project of Marina Kurtanidze (who is married to Iago Bitarishvili) and and Tea Melanashvili.
Both women wanted to make a wine that was both Georgian in spirit and also conveyed the essence of creation by women. They chose the Mtsvane grape because they both loved the wines that came from and they were also able to buy wines from healthy, organically-farmed vineyards. In this process they had the help of friends, and encouragement from fellow qvevri producers. Georgia has a very tight-knit wine community, vine growers and wine producers are being nurtured to grow, both in their outlook and in their businesses.
The nose speaks of so many things including roasted apricots, crystallised citrus even grilled mushrooms and the palate encompasses tea, sake and a pink grapefruit tangerine-tang.
Winemaking in Georgia may have an 8,000-year heritage but it still feels like something done on a wing and very many prayers! The grapes – skins, stems and pips (the mother) are left in the big terracotta clay qvevri buried in the earth for six months, wherein they undergo their primary and malolactic fermentations. The vigneron can't monitor the wine during this lengthy gestation period, so after the primary fermentation is completed, the qvevri is sealed and the wine is left to tick over and receive its nourishment from the "mother". Many Georgians will say that the opening of the qvevri is like giving birth to the wine, literally putting it on its feet.
The Mtsvane is slightly more come-hither than the Kaketian Rkatsiteli and more al dente (if that's a wine term!) than the Chinuri grape which flourishes in the Kartli region in central-eastern Georgian. The Mandili version is simply gorgeous. The salmon-pink colour is inviting, the nose speaks of so many things including roasted apricots, crystallised citrus even grilled mushrooms and the palate encompasses tea, sake and a pink grapefruit tangerine-tang. Like the best Georgian wines, it possesses earthiness and real umami flavours balanced by energetic acidity and fine-grained tannins. Texture is an important dimension in wine, but it requires fluidity to bring all the components into relief. This wine has that fluidity. My go-to Georgian wine.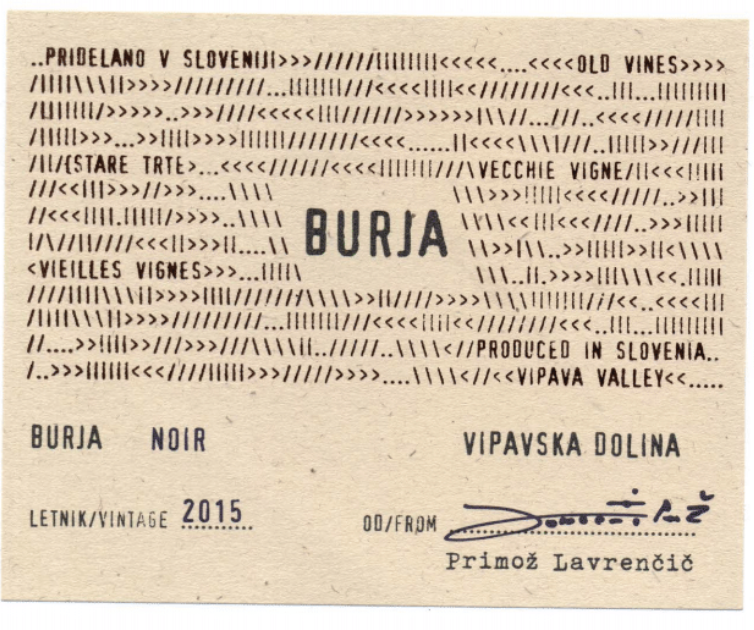 2015 Burja "Zorz" Pinot Noir, Vipavska Dolina
Mmm… ineral. All the Burja wines, whites and reds, have a special crunchy nervosity for want of a better term. The attack on the palate is always bouncy, then you find the richness and depth from long lees ageing and superb hand-harvested fruit, there is usually a note from the oak barrels, and finally the energy and intensity care of the very particular terroir that the vines have their roots in.
Pinot Noir is a tricky grape. One is also forever benchmarking any iteration of this grape against classic Burgundy, which is not the correct approach. Pinot is the great transmitter of terroir; in this case the soils are not limestone, but flysch. The rocks consist mainly of calcite, flint and mica, less often of apatite, glauconite and iron oxides. It is interesting that a large portion of flysch is composed of pre-existing rock fragments, which have been transferred to the present location from elsewhere. Some of these fragments are also fossils.
Whether these flavours physically migrate into the wines one may certainly detect some chalky-stony-boniness.
Zorz is from a single vineyard called Zadomajc from Primoz mother's family. It is situated 200 m above sea level with a north-eastern exposure on alternate layers of marl, sandstone and brecca. Grapes are harvested by hand, yields are low, whole cluster fermentation is spontaneous in 1,500 litre barrels of Slavonian oak. No filtration or fining and just a touch of sulphur at bottling.
With its aromas of raspberry, cherry and violet, this is a Pinot Noir that balances strength with delicate mineral and herb notes. Bright and juicy, sporting beautifully fresh, stemmy, whole-bunch character, Zorz has limpid red cherry (and cherry stone) flavours that linger long on the finish.
Tasted, rather than drunk, in the Burja winery in Podnanos.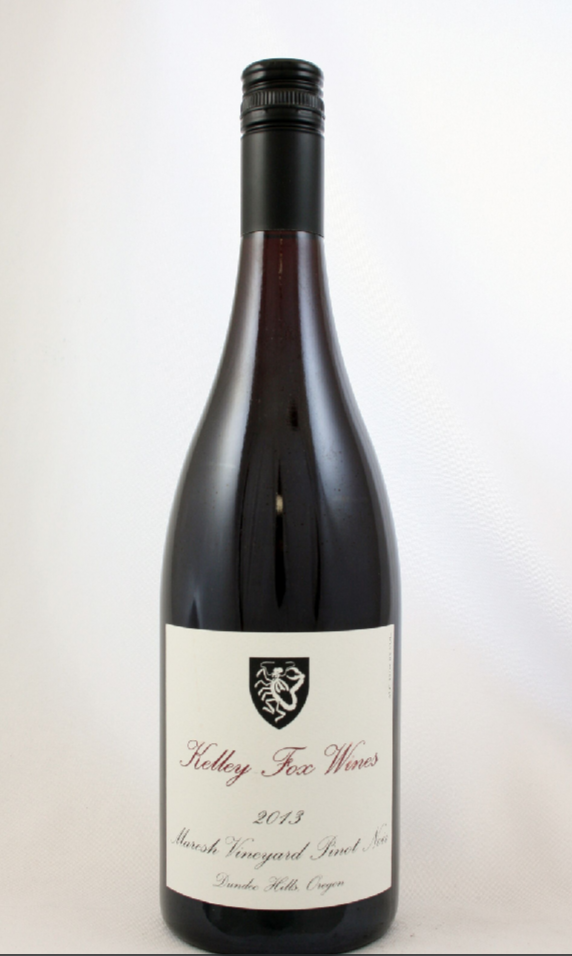 2013 Kelley Fox Maresh Pinot Noir and 2014 Momtazi Pinot Noir
It is difficult to describe Kelley Fox's wines without resorting to the occasional anthropomorphism. The two vineyards that she farms – biodynamically – possess fascinating, almost animal identities, and seem to communicate these characteristics through the respective wines, which, although they are made in an identical fashion, are so very different. Mirabai, by way of Maresh, is a bonny chip off the old shaggy-vined block, displaying pale, rose-pink, cool earth quality, with refreshing lifted whole bunch character and rippling with red fruits. Mirabai is the seductress, lithe in movement, sensual. As with all Kelley's wines there is an alluring tension, and always a nourishing sensation, Ahurani, the water bringer, by way of Momtazi is a new cuvee. The colour here is darker, the edges are rougher, there is more drag against the palate. For those who love their Pinot on the al dente side. Then Momtazi itself, surprisingly voluble for a wine that normally broods for several months. Punchy and impressive, almost sanguine with dark fruits, stones, earth and herbs rolled into one.
Ok, I'll say it – Maresh/Mirabai – Volnay; Momtazi/Ahurani – Pommard. Yin/Yang. However, you perceive the wines you cannot deny their strong sense of origin, their singular identities.
I drank a huge number of all these wines this year. The Momtazi 14 is usually vivid and punchy and utterly attractive. leading into deeper aromatics of cool, crushed minerals. The wine had a fine depth and cutting edge with saline crunch and beautiful shape and whooshes with sour crunchy black cherry fruit. It is kinetic, salty, sappy and tonic, bursting with life. On Maresh, I get wild briary fruit interwoven with crunch of souring rhubarb and orange as well as background aromas of mint, wild herbs, earth, fennel, peppercorns and smoke. The herbal tannins lend a medicinal note and the beautiful gentle natural acidity creeps up on you.  Both the wines will move in the glass, both the wines will keep something back. With their tautness and coiling energy, they straddle the divide between abrasiveness and elegance.
*
Interested in finding out more about any of the wines featured? Buy online here or contact us directly…
Retail: shop@lescaves.co.uk / 01483 554750