I am referring here to those projects where growers combine their resources to make wines across les frontières. Little wine entente cordiales. We began to notice these friendly conjunctions in vintages like 2016 when extraordinary weather events (hail, late frost) conspired to wipe out as much as 80% of the normal yield.
These mini-apocalypses are becoming more regular occurrences, consequently, in order to be able to ensure against one's own vineyards bearing the full extreme brunt of such acts of nature, vignerons have started to source grapes and grape juice from friends in different regions.
Alice & Olivier de Moor farm their beautiful vines at the northern end of Burgundy. As well as having endured numerous climatic tribulations, they have to deal with a lot of disease pressure where they are. They trialled their alternate negoce label, Le Vendangeur Masqué, being a Chablis made from their neighbour's vines, but soon they had to range further afield even as far as the Languedoc, Rhone and Alsace to acquire a melange of grapes for other cuvées to bulk out their meagre annual production.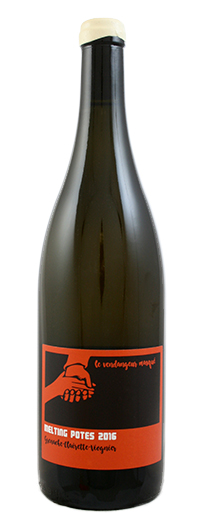 With De Moor, the wines are always more than the sum of their component parts, as if the wild yeasts of different regions had come together to party in the De Moor winery, and what remained in the wine is indefinably the essence of De Moor. A cuvée called Melting Potes elicited the invariable tasting note: "Mediterranean Chablis". Garrigue, dried herbs and spice and yet something coolingly northern calling. Caravan is another version of mish and mash, a blend of genial local yokels – Aligoté, Sauvignon from the Yonne and Chardonnay – with Riesling from Alsace. Somehow, you know it makes sense. You know it makes De Moor and De Moor makes it.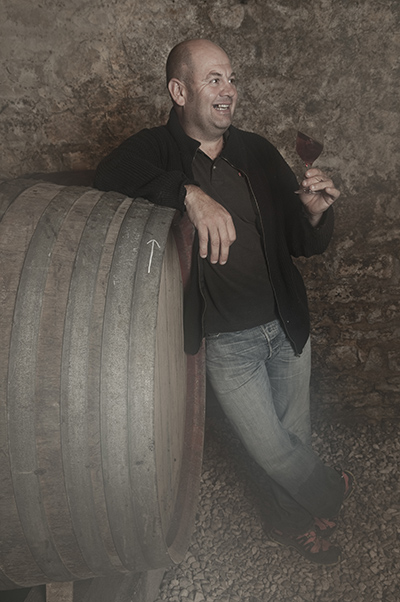 Jean-François Ganevat, aka Fanfan, has only a limited number of hectares of land under vine, from which he makes a baffling myriad of wines.
Demand for Fanfan is insatiable. What's a grower to do?
The acquisition of vineyards in Brouilly (Chateau de Grand Pré) was the start of a transition to Jurolais/Beaujura red wines, where old vines Gamay would meet local own-rooted varieties from Ganevat's back yard to make some semi-negoce wines. In fact, they were cross-regional. Out of this came the Anne and JF Ganevat operation (Anne keeping tracking the 100 or so cuvees being produced), and a bewildering array of different ideas and mash-ups.  Ganevat sources grapes from ten friends in several wine regions (as well as Jura). What is amazing is that some of these wines are almost indistinguishable from the pure domaine varietals. I am sure that I have read somewhere that their Jura limpidity and beauty is because Ganevat (twinkling) says that there is a special "Ganevat" yeast that finishes fermentations endemic to his winery!
Sebastien David is another producer who has suffered nature's slings and black frosts. In 2016 he declassified his popular Hurluberlu to Vin de France to give him the freedom to buy grapes from outside the region of St-Nicolas-de-Bourgueil.  Emily Dilling writing for Sprudge Magazine, in an article called "Hurluberlu! The Vineyards of Sébastien David" describes the importance of community for one of our Loire vignerons: "Sharing knowledge and experience is more than just an anecdotal exchange of information for David: It's crucial to the survival of his métier and it's a practice that he feels needs to be saved from becoming obsolete. "In the past, farmers held gatherings where the community came together from farms around the region to share experiences and discuss around the fireplace, often while partaking in some sort of manual labor—such as cracking nuts or preparing food. This tradition has since been lost," David says regretfully, but it is something he is trying to develop."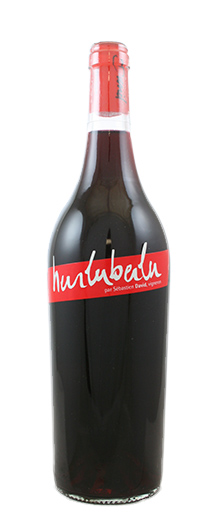 Normally, his Hurluberlu is 100% Cabernet Franc – carbonic stylee – presented in a clear bottle. Bursting with gobs of youthful purple stemmy fruit, a whiff of pepper and herbs a-plenty. Totally unfiltered – as if Ribena had grown up and joined the French foreign legion. The 2016 version, an assembly of Grenache, Cinsault, Fer Servadou from the South with 30 percent Cabernet Franc, embraced the fruit of the southern varietals but retains the signature tannins and astringency of the region thanks in part to its aging in the concrete eggs. Since that vintage, strangely, the wine has reverted to its original monovarietal, but also seems to have gone to another label. Playing with different musicians can be an education.
Bain Marie. What's in a name? This is a fun – yet serious – collaboration between Alex Bain, he of the Pouilly-Fumés that dare not speak their appellation, and Rage Against the Machinist vigneron, Vincent Marie, of Domaine No Control. This "water bath" is an infusion of Loire Sauv and Auvergnate Gamay. 50.50. Rock & roll. Just not the Traveling Wilburys.
Welcome to Jazz Club
Also, touring with another bespoke band is Patrice Beguet, he of Arbois Pupillin country, with a label called Big Bunch Theory Go Together – or follow the bear, as it might also be called. There's also a wine mysteriously called Three Views of a Secret (Blanc). Jokey labels for yokey wines. And the yoke's here, there and everywhere. The blends change according to the vintage. The colleagues in this band are: Claude Ughetto (from Provence on Grenache Blanc), Marc Humbrecht (twiddling the Alsatian instruments) and Benoit Landron (from Muscadet playing Melon). Big Bunch White features the aforementioned Melon and Grenache Blanc and is spanking-fun orange juice. Big Bunch Red sees Trousseau paired with Gamay and Grenache in a lively way, and Three Views of A Secret is the Alsace trio of Gewurztraminer, Pinot Gris and Muscat.
There's a lot of fun to be had with such wines. In these times, we can't be too precious about the sacrosanctity of terroir.
Not every grower has his or her own vineyards; grapes are portable commodities, and needs definitely must when the weather is malign. Whether it is fusion for the sake of it, or improvisation because of need, the results are often more than worthwhile.
Interested in finding more about the wines mentioned? Contact us directly:
shop@lescaves.co.uk |  sales@lescaves.co.uk | 01483 538820
*Note: We are still open for business, doing deliveries, and keen to help everyone with their booze needs in this difficult time. Natural wine lovers can visit our online shop and order online!