This is a series profiling the producers on our list who make natural wines. Within this series we will be highlighting some of the extraordinary and rare bottles and vintages that have helped to shape our appreciation of natural wines over the years. Previous posts from our 100 Great Natural Wines series include Austria, Spain, and a hefty chunk of France, and can be found here. 
The modern natural wine movement, if we can characterise a grouping of vignerons and vigneronnes as a movement, was arguably born in the Loire. The Loire has been our natural education and the teachers have been many. And what can say: we adore Chenin Blanc in all its many forms, and believe that Cab Franc handled with love is a world-class variety. And Pineau d'Aunis, Romorantin, Grolleau Gris, Gamay, Côt, Menu Pineau, planted on the right soils, farmed in the right manner and made with minimal intervention, can make noteworthy and brilliant wines.
We really weren't kidding when we said the above in our inaugural romp through the great natural wines of the Loire. Indeed, this is now our fifth posting on the venerable and varied wines and vines of this region. Our cups are positively brimming with love (and wine) for the Vallée de la Loire!
Fast approaching one-hundred great natural wines – and we haven't even dipped into Italy, yet – we may well go over quota. But then 100 (or so) Great Natural Wines didn't sound quite so catchy…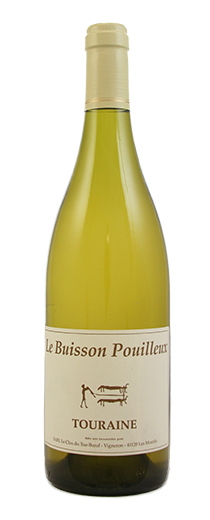 BUISSON POUILLEUX ~ CLOS DU TUE-BOEUF
Sauvignon bouef
Since the Middle Ages, there have been records about the lieu-dit "le Tue-Boeuf" and its excellent wines which were enjoyed by the local nobility and the kings of France. The family name Puzelat is mentioned in 15th century documents.
History, though, is not the story here. It's about two brothers, Jean-Marie and Thierry Puzelat, who tend their 10-hectare family estate in Les Montils (in the Cheverny AOC) and rent 6 hectares in a village nearby, in the Touraine AOC. The region, near the hunting grounds of Sologne, has always used a wide variety of grapes. Since the 60's, the Puzelats' father had been making his own selections of vines to replant, and left them with vines of Sauvignon Blanc, Chenin Blanc, Chardonnay, Pinot Gris, Menu Pineau (or Arbois), Pinot Noir, Gamay, Cabernet Franc and Côt (or Malbec).
Jean-Marie (the older brother by 10 years) was joined on the estate by Thierry in the early 90's and they began converting their vines to organic viticulture. When the Cheverny AOC was created with the 1993 vintage, some varietals became outlawed from the blends, and the brothers started a yearly struggle to get their wines accepted under their appellation. Now, when a wine is rejected, they sell it under a Vin de Pays or Vin de Table label; their customers know and trust their work and methods.
So many cuvées, so little time!
Brin de Chevre is another example of this rare grape – citrus, honey, crystallized ginger, all angles covered. Petit Buisson is a tangy Sauvignon, whilst Buisson Pouilleux is its old vines relation and unlike any other Sauvignon Blanc that you can imagine. Once picked the grapes are transferred to the winery, by refrigerated truck if necessary, and are fermented with absolute minimal intervention; the whites are pressed and the juice decanted off and transferred for fermentation into cask, where the wine remains on its lees until it is bottled straight from this vessel, without racking.
Fermented in old barrels, the wine is regularly topped up, no additions, no chaptalisation, natural malolactic, no fining, no filtration and usually no added SO2 in this wine. Bright light lemon with intense minerality and brilliant notes of honeysuckle, verbena and even persimmon. So exotic. Great palate coating depth.
Why we love this: It's Sauvignon but not as we know it. Whereas we associate that grape with herbaceous, occasionally citrus aromatics, this is a testament to golden early autumn days, of fruit still ripening in the sun. We're in the orchard where the apples, pears and golden plums are about to drop.
If you like this: Pierre-Olivier Bonhomme used to collaborate with Thierry Puzelat which became Puzelat-Bonhomme when he bought into it. When Thierry left to work at the family domaine, Pierre-Olivier took over the reins, buying in fruit from small organic growers, but also developing his own vineyards at La Tesnière. We remember fondly an early collaboration, a simply stunning Romorantin. Consider 105-year- old vines and younger vines (a mere 37 years old) planted on French rootstock on silex and then aged in old barrels. It may have seemed fragile at 11.5%, but the wine was a veritable vin de garde and had an intensity that lingered remarkably on the palate.  Aromas jostled for attention: lemon and chalk followed by mixed white fruits (white peaches, Mirabelle plums, pears), honey, almonds and clean, minerally scents reminiscent of finely-spun wool. It was complex on the palate, too, extremely vinous showing lemon-cream and honey. Ripe apple juiciness gave way to tart, steely acidity that sings like a taut violin string, providing balance and structure for the full, luscious fruit. On the second day the acidity became steelier and more penetrating, the flinty minerality more pronounced taking on back notes of ginger, white pepper, pear-skin and hell's granny smiths…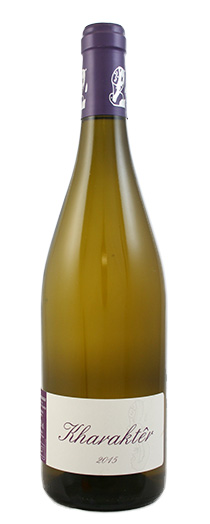 JASNIERES KHARAKTER ~ DOMAINE LE BRISEAU
Kharakter building
Christian Chaussard studied and then taught viticulture and oenology whilst running a small estate in Vouvray. For financial reasons he had to give the latter up, but soon decided that he wanted to practise vine-growing and winemaking.
Before accomplishing that goal, he met Nathalie Gaubicher, a Swiss actress with an oenologist and sommelier diploma, and they set out to find vines somewhere in France. In 2002, they settled in the Jasnières/Coteaux-du-Loir area in northern Touraine. The entirety of Jasnières covers eighty hectares of vines, and Coteaux-du-Loir about two hundred hectares. The soils are largely all clay and silica over a subsoil of limestone, and Domaine le Briseau was started with four hectares of vines planted mainly with Chenin Blanc and Pineau d'Aunis. In 2007, the estate had grown to eleven hectares. All vineyard work is done according to the principles of organic viticulture (with the certification of Qualité France): no pesticides, insecticides or chemical fertilizers are used; nettle and horsetail decoctions are sprayed on the foliage; copper is used in modest quantity (less than 5kg/ha); the vines are ploughed and grass allowed to grow between the rows.
Apart from biodynamic viticulture, the following harvesting and cellar practices are followed: The harvest is done by hand in 10kg boxes.  The white grapes are pressed lightly and slowly. Débourbage (first racking to separate solid matter from juice) takes place after twenty-four hours, then the must goes into barrels for the alcoholic fermentation (none of the barrels are new, but rather four to eight year old.) Malolactic fermentation usually follows and is not stopped by any means.  Nothing is added: there is no chaptalisation, no selected yeasts, no sulphur, no enzymes, no de-acidification, no fining. There is one racking to get rid of the wine's gross lees, and then aging for several months, according to each cuvée. There is a light filtration and addition of 2g/hl of sulphur at the time of bottling. The red grapes are trodden by foot before going into maceration vats.  Maceration occurs under the protection of carbon dioxide in a semi-liquid stage (semi-carbonic maceration) and lasts one to three weeks. The musts are then pressed and go into barrels for their alcoholic and malolactic fermentations. Again, nothing is added to the wines and the same principles are used at bottling.
It is said that, maybe three or four times a century, the appellation of Jasnières makes the greatest Chenin on earth. I like this notion of a terroir, notoriously temperamental, that unabashedly fixes you with its glittering eye and declares: "I am what I am – take me, or preferably, leave me!"
Most certainly the vagaries of vintage determine the style of the wine: the difference, for example, between 2004 & 2005 was profound, ditto 2008 & 2009. Here some dry botrytis, there some real sweetness. Even the more sumptuous examples have an astringency that keeps your palate guessing. There's warmth, waxiness and those almond notes typical of Chenin, some sly sherry aromatics and pulped-pear-mingled with-flint-fruit. And here's the rub, the longer you leave it the more profound it becomes, so please carafe in order to allow the dry honey to become runny. In more recent vintages the Jasnières, now simply known as Kharakter, is drier and firmer, perhaps more understated. We loved this wine over the years in all its many incarnations.
Christian died in a tractor accident in 2012 (and had been ill for some time). The mantle passed to Nathalie who a few years ago teamed up with another natural legend, Emile Heredia, and they continue to make some of the most beautiful and evocative examples of Pineau d'Aunis and Chenin you will ever taste.
Why we love this: The Kharakter is a unique character! It is Chenin, but it is different somehow. A wine of real strength.
If you like this: Cour-Cheverny Les Acacias is a cuvee of Romorantin made by Hervé Villemade from his estate of 25 hectares (17 of which are planted) located in Cour-Cheverny. In the late 90's Hervé met Thierry Puzelat (who was then in his second year of organic viticulture) and tasted his wines as well as Marcel Lapierre's Morgons and was struck by their purity. He decided to turn a couple of hectares organic just to check: no synthetic products, but ploughing and hand harvest instead, and also no-or very-little sulphur. The results proved to him that he should travel the non-interventionist path. The Romorantin grape is a white local grape, exclusive to Cour-Cheverny Appellation, one that appreciates sandy-flinty terroir, where it yields a robust wine mixed with earthy/vegetal notes (fresh cut grass, sometimes mint) and florals (violets). The palate is fresh, quite tense and mineral, with fine bitter liquorice sometimes lightly honeyed overtone, and ripe fruit notes. We've also previously enjoyed his Cour-Cheverny Les Chataigners, a wine that is raised in Georgian qvevri.
And yet one more…
Helice Moteur is a wine in a cheap clear glass bottle with a monumentally uninformative label, as per all the Patrick Corbineau wines. That's not the story – in fact, it is not any story. The wine housed therein is that wonderful amalgam of austerity and oxidation that Chenin does so well when it does it well. The acidity is just tempered by flor-ageing and malolactic lemon-spiked buttery notes, but remains the driver of the wine. We never received a fiche technique for this wine and I'm not even certain that Helice Moteur is the name of the wine, but as Barry Davies once immortally said: "Frankly, who cares?" Anyhoo, think Chinon-Chenin-Sherry and you will get a feel for what was going on. Superb. One word to describe this wine: Shocksidative!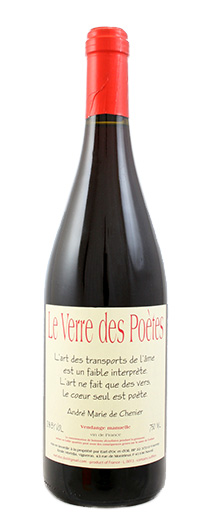 LE VERRE DES POETES ~ EMILE HEREDIA
Wine for art's sake
Le Verre des Poètes is a very special cuvee of Pineau d'Aunis from eighty-year-old south-west facing vines, planted in clay-limestone soils. Harvest is manual – yields being around 20hl/ha. The grapes are placed whole bunch into 50-hectolitre fibreglass vat for seven to eight months and are naturally fermented with minimal extraction and bottled without filtration or fining and just some sulphur before bottling.
This wine always ticks so many boxes for me. Pineau d'Aunis, the grape to love for its sheer rotundonity (© me), made by the grape-pope himself, Emile Heredia; venerable vines, a colour that describes the word limpid…
The colour is enchanting, pale cherry red, shiny and translucent. The nose sings of red fruits: cherry, strawberry and pomegranate, the palate is dry and taut with a sweet wild strawberry character and a little chalky perfume. There is an appealing litheness to it, and a brilliant peppery finish that marks it as classic Pineau d'Aunis. Emile was known as "the Pope of d'Aunis" for his brilliant wines at Montrieux and this effort reaffirms his papal claim.
Le Briseau is d'Aunis central. Hankerers after peppery flavours will be delighted with their Patapon Rouge and the even more structured Les Mortiers.
'Le Verre des Poètes' was the name of one of Emile's old vines cuvées at Domaine de Montrieux. His great grand uncle, José Maria de Heredia (1842-1905), was a French poet, a prominent member of the Montparnassian movement which disagreed with poetry that contained personal opinions or moral messages, preferring to promote 'Art for Art's Sake'.
Why we love this: Rotundone, that terpenic flavour you taste in black pepper, marjoram, oregano is present in abundance in the wines made from Pineau d'Aunis. On the Poetes, where the extract is delicate and the aromatics on the floral, the presence of black and white pepper acts as a delightful seasoning and gives this wine its unique personality.
If you like this: Etienne Courtois produces a 100% Pinot Noir from his vineyards in the wilds of the Sologne. It may be pale, but it packs a punch and has a particular spicy-peppery quality that we find in the red wines from this region.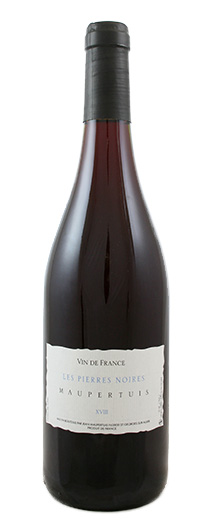 LES PIERRES NOIRES ~ DOMAINE MAUPERTUIS
Auvergne-nat
Too much and too little wine. Give him none, he cannot find truth; give him too much, the same.
~ Blaise Pascal (born in Clermont-Ferrand)
Jean Maupertuis tends 3.8 hectares of vines in the commune of Saint-Georges-sur-Allier and La Roche Noir. He works principally with a local version of Gamay referred to as "Gamay d'Auvergne", but also owns a little bit of Chardonnay, Pinot Noir and a tiny amount of Noirfleurien, an ancient local varietal found only in his neighbouring village of Mirefleurs. Most of his vines are on the venerable side, ranging from 40 to 100 + years.
Jean doesn't use chemical fertilizers, insecticides or herbicides in the vineyard, preferring to work his soils and develop their indigenous microflora. Everything is hand harvested and manually sorted before reaching the cellar. Most of the wines are vinified through carbonic maceration, which permits him to avoid adding sulphur at bottling.
A former computer scientist, Jean always loved wine, and to that end he bought a small parcel for fun in 1992, before finally leaving his job to study oenology in Macon. Jean was drawn to natural wine through Marcel Lapierre, although it took some time for him to familiarise himself with this approach to winemaking. He then visited Pierre Overnoy and Jean Thevenet and decided he wanted to emulate them.
Setting up such an undertaking in Auvergne was certainly an uphill battle at first as wines of this region were completely unknown and on the verge of disappearing.
After phylloxera, Gamay became the dominant grape for all replanting, but this Gamay is decidedly more rustic and late-blooming, with a noticeable peppery-spice quality. The geological landscape of the region is extremely varied with different soil compositions. Not only does one have granite, clay and limestone, marl and sand, but the shift in soil types can often be seen every few hundred metres. This is largely due to the volcanic eruptions of the past which spread the material around.
When Jean took over the vines in Saint-Georges they were in good shape and it was easy to farm organically. They were already between 30 and 60 years old, and the prior owner only used a very light and rare amount of herbicide on the rows. Each year he works the soils of every other row, and lets grass grow free in the other. This helps reduce vigour of the vines.
The wines are labelled Vin de France. They used to be Côtes d'Auvergne VDQS for a long time but mounting pressures from the cave co-operative and certain vignerons, specifically their aversion to unfiltered wines, forced Jean to change his labelling.
His winemaking is simple and involves handpicking of the grapes in 20kg boxes which are emptied into cement vats and covered with CO2 while waiting for the start of the fermentation which is spontaneous. The maceration is technically semi-carbonic as Jean leaves the juice that flows naturally into the bottom of the vat. Then he doesn't touch anything (no pump-overs) and the grapes stay like this for around three weeks. The temperature of the grapes and the must is cool – the grapes themselves are normally harvested in October.
Les Pierre Noires is made from the 80 to 100-year-old Gamay (with a soupçon of Noirfleurien) vines grown on volcanic soil on a high-altitude slope (450 + metres).  'Les Pierre Noires', meaning black stones, refers to the black volcanic (basaltic) soil found in the vineyard. A touch of the barnyard when the wine is first opened combined with some floral notes. This dissipates quickly but leaves behind a topsoil smell that accompanies the raspberry notes. Sour cherry and pomegranate seed flavours mingle with earthiness too. The finish is peppery, savoury and more than a touch smoky. A remarkable living mountain Gamay. A Gamay as nature intended, organic, unfiltered and unsulphured, as prickly as a hedgehog with ants in his pants, a dark pickled damson strut across the tongue, and you should drink it with alacrity from a pot Lyonnais with some tripoux or "Truffade" a baked mixture of sliced potatoes and Tome de Cantal.
Why we love this: These wines from Auvergne are raw and elemental and go every which way. Sometimes the Pierre Noires has a touch of gas on opening, then exhibits a bit of reduction, but once it has shed its "puppy fat" then you begin to taste the connection to the earth. It is refreshing too with smoked red fruits and bold acidity. Most of all it makes you want to eat and with food becomes even more nourishing.
If you like this: Vincent Marie's Fusion is named after the name of a music style which Vincent very much likes for its mixing of hip-hop and energetic rock. His favourite bands are Rage Against The Machine, Faith No More, Suicidal Tendencies and Body Count. Regarding wine, it is also the fusion between Gamay from Auvergne and Gamay from Beaujolais and between two types of vinification. This plot is made of 2 completely different entities, one on the steep hills of one of the first volcano of chain of the Puys : the « Puy de la Bannière » and the other one on the still very steep hills created by a past seismic activity. Both entities are linked to the « Limagne » fault. One parcel of vines is on own rootstock and Vincent now farms biodynamically, using 500 & 501 preps. Fusion is a blend of two approaches to Gamay-winemaking and embraces those approaches being perfumed and fruity and mineral, bold and earthy.
A word for the brilliant value wines of Cave Verdier-Logel, a small domaine located in the neighbouring Côtes du Forez, between the Loire and Allier rivers. We admire Le Poycelan, a selection of the oldest vines grown on the iron-and-magnesium-rich basaltic soils made in particular vintages. The extra intensity of this deep purple wine is remarkable. The Volcanique itself has wonderful aromas of black raspberries, asphalt and chocolate with that familiar pepperiness on the finish that characterise the Gamays from the Auvergne & Forez. Forez trumps!
Interested in finding more about the wines mentioned? Contact us directly:
shop@lescaves.co.uk |  sales@lescaves.co.uk | 01483 538820
*Note: We are still open for business, doing deliveries, and keen to help everyone with their booze needs in this difficult time. Natural wine lovers can visit our online shop and order online!