This is a series profiling the producers on our list who make natural wines. Within this series we will be highlighting some of the extraordinary and rare bottles and vintages that have helped to shape our appreciation of natural wines over the years. Previous posts from our 100 Great Natural Wines series include Austria, Spain, and a hefty chunk of France, and can be found here. 
We begin our Giro d'Italia in the north in Piemonte, home to the classics: Barolo & Barbaresco. The Nebbiolo grape makes wonderful, and often challenging, long-lived wines. Vinified in the traditional way with lengthy elevage and maturation in botti, these wines mix rose-hued dried fruit flavours with powerful granular tannins and intense acidity. Other grapes include Barbera, Dolcetto, Freisa, Croatina, Cortese and Muscat Canelli, each of which can exhibit its distinctive personality with good farming and careful winemaking.
Plenty of vignaioli farm organically; some even practice biodynamics. Natural winemaking has been less common historically in Piemonte, but this is changing.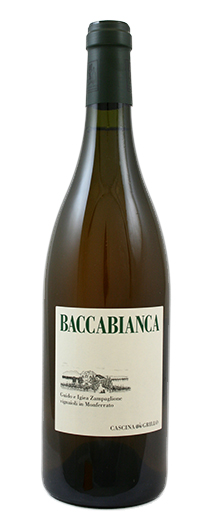 BACCABIANCA ~ TENUTA IL GRILLO
The Cortese of the amber king
Owned and run by Guido & Igiea Zampaglione, Tenuta Grillo estate spreads over 32 hectares of which 17 are dedicated to the vineyard. The production is based on low yields, scrupulous selection of the grapes, respect for nature and traditions.  Born in Naples, Guido studied oenology at the Agricultural University in Piacenza, at which time he also worked with Giulio Armani for several vintages at La Stoppa. This latter experience completely reshaped his approach towards wine. Guido then moved to Piedmont and purchased a property in the hills of Monferrato. He farms organically with some biodynamic precepts. Most of all, he has learned that patience is rewarded with exceptional wines.
The wines reflect the naturalness and the characteristics of the land, the vines and the year. A note on his excellent mature reds released with ten years plus on the clock. Pratoasciutto is Dolcetto which undergoes a long maceration of 30/40 days, ferment on native yeasts, extremely limited use of sulphur and ageing in big barrels in order to provide stability and complexity to the wine before being bottled without filtration. I have always wanted to like Dolcetto – maybe it's the name – but, unhappily, found most examples to be clumpy, fruitless and tannic. The nose here is instantly appealing, oozing violets, black fruits, liquorice, and Parma ham. Or Prosciutto given the name of the wine. The fruit is great, the tannins velvety and there is a bitter black cherry rasp to the finish that taps your taste buds on the shoulder and reminds them that absence of food is not a serious option. I am a convert – to this wine at least. Dolcetto et decorum est. Pecoranera is another game chicken with an unashamed sanguine accent. Unfiltered and made without added sulphur this blend of Freisa, Barbera, Dolcetto & Merlot is meaty and smoky with notes of sweet-cure bacon and wild hedgerow fruits. Both these reds would have an affinity with grouse or partridge on the high side or a good civet of hare.
But it is the Baccabianca that always stops us gently in our tracks. It is crazy Cortese from a forty-year-old (+) vineyard, given 60 days of skin contact which confers the amber colour and grip that adds texture and complexity to a wine which, aromatically speaking, swirls dynamically in the glass revealing spiced apricot and other fleshy late-summer fruit, then hints of marzipan, white flowers and wild herbs. The palate echoes this with some additional ginger and pepper from the lees and tannic crunch from the skins. Cortese has an abrasive, almost rough-hewn quality, but after the several years that Guido allows it to meld in the bottle, you get something unforgettably profound.
Some wines are almost obviously fine.  Others are not at all showy; they creep into your consciousness after the fifteenth bottle and you appreciate their almost indefinable greatness. Such is Baccabianca.
Why we love this: The colour is wonderful and healthy and holds the light. The wine has plenty of youthful energy even approaching its 10th anniversary, illustrating the wisdom of slow winemaking.
If you like this: Evan Lewandowski Chilion is California's rambunctious answer to a Piedmontese classic. Evan's wines are very natural – organic/sustainable fruit, wild yeasts, ambient ferments, mostly no SO2 at all, no filtration, no fining. They are also intensely focused with an interesting reductive minerality and develop amazingly in the glass. Chilion is 100% Cortese from the famous Fox Hill Vineyard (on cooler north-facing slopes) in Mendocino. Grapes are destemmed and undergo a six-month maceration in egg-shaped tanks. Amazing palate of candied orange, quince cognac, crushed rocks- incredible vitality.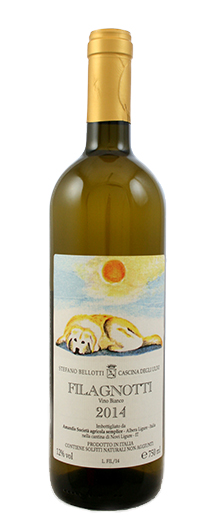 FILAGNOTTI ~ CASCINA DEGLI ULIVI
The dog's bellottis
We write this in the past tense because of the untimely demise of Stefano Bellotti in September 2018. Stefano understood farming and the language of nature at a fundamental level; He made wines that were wild, long-lived and spoke deeply of their origins. He was the spirit of real appellation and fought hard to maintain the integrity of that word, often finding himself deeply at odds with bureaucracy. He was a kind of wine-poet and warrior-philosopher, and inspired huge devotion amongst those who knew him intimately. Stefano produced fine wines respectful of nature for more than forty years. His Cascina degli Ulivi was a true polycultural endeavour, a self-sufficient farm, growing vegetables and cereals, breeding animals for milk, meat and eggs, and making bread and cheese.
The agricultural product is a flower that blossoms from the encounter of love between the creativity of nature and that of man.  ~ Stefano Bellotti
Stefano left Genoa in his late teens. He was always attracted to the rural life and returned to the tiny abandoned family farm originally purchased by his parents after the war in Novi Ligure. Noticing that the vines were thriving he chose to make his living through wine predominantly but also to combine that with closed farm approach with a vegetable garden and orchard, ancient varieties of cereals and spelt and to keep ducks, chickens, donkeys, cattle and a horse. At this time (the late 70s) farming throughout Italy had become increasingly influenced by chemical and industrial methods, something Stefano, in his desire to return to more peasant ways, eschewed. By 1981 he was working organically, very much in isolation, as there was no organic movement at the time, no exemplars to follow.
In 1984, Stefano was introduced to biodynamics and realised that this was the most effective method of farming if he wanted to achieve better results in the vineyard. For him it was a model of common sense that "takes the conscience of the earth and the plant". Bellotti, the political philosopher, believed that the post-war economic model was built on industrialisation, was predicated on productivity (for the sake of productivity) and venerated materialism, and that the tenets of smallholder farming were forgotten about or dismissed. "It was a time where people were being too Cartesian, and biodynamic agriculture lent itself to a vision of a world that couldn't be controlled by science; it was too much of a free spirit to work in a model based on uniformity and productivity. So biodynamic farmers became the minority of the minority. And because these farmers were going out of their way to pursue this style of agriculture, they were billed as esoteric, as sorcerers, as part of a sect."
Stefano focused on bringing as much biodiversity as he could to the land in order to promote a healthy soil and developed a rotation system where certain rows of vines were left alone in order to give the soil the opportunity to revitalise itself. Biodynamic preps were used to encourage microbial activity.
As for winemaking he once said in an interview: "Humans don't make wines: microorganisms do. This is a sacred world we don't understand anything about!
Stefano believed that farming was an act of political will.
Two wines are especially worth the detour. An old vines co-planted parcel in Filagnotti comprising Timorasso, Verdea, Bosco, Riesling Italico and Chasselas is responsible for the field blend called A Demûa, a wine fermented and aged for ninety days on grape skins. A truly elegant wine with a complex nose suggesting white fruits, rosemary and orange zest; a dry and elegant wine, with a long finish. "Such a versatile wine. A Demûa, "the enjoyment" in Genovese dialect, fits with any occasion; it's the white wine of winter and the red wine of summer. After this very long maceration, the tannins are very tight and fine at the same time, making it highly drinkable."
The superb Filagnotti (named after Stefano's dog who adorns the label), a naturally-fermented Cortese from a vineyard with iron-red clay soils, is golden and laden with exotic lees spice. In Stefano's own words "it has a unique personality, totally recognisable and straightforward. A very determined wine, that walks ahead like someone who knows where he's going; it develops its complexity all along a same common thread. It has an almost metallic minerality that makes me think of the rock band from the 70's, "Iron Butterfly". In-A-Gadda-Da-Vida indeed.
Why we love this: Stefano's wines have always been deeply rooted in the local living soils and specific climate. The Filagnotti is remarkably intense. It has layers of aromas and flavours that are truly seductive.
If you like this: Ferdinando Principiano harvests Timorasso grapes from a small vineyard at 750 metres above sea level on calcareous soils in Serralunga, to make his Langhe Bianco. Fermented in stainless tanks with indigenous yeasts and aged on the lees for nine months, this is a brilliant wine with the cooling acidity and shell-flecked citric fruit. Think super-charged Muscadet.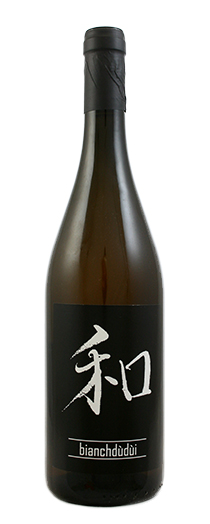 BIANCHDUDUI ~ VITTORIA BERA
Grape and flor essence
Azienda Bera Vittoria produces wine from grapes ripened in the family vineyards situated in Sant'Antonio di Canelli, Regione Serra Masio, the heart of the most qualified, the most prestigious, and the most ancient area of production. The vineyards are facing towards the south-east on slopes of 50 to 70%. The ground is marmoreal and strongly calcareous, originating from ancient sea-beds which surfaced five million years ago.
The vineyards are cultivated using organic production methods: only humus and compost are used; chemical fertilisers, herbicides, insecticides and pesticides banned. Parasites are successfully discouraged using copper sulphate and powdered sulphur.
A number of factors distinguish the Bera approach. For starters, the focus has always been on Moscato d'Asti—and they grow only the finest variety of it, Muscat à Petits Grains. The vineyard is stunning, on a steep, south-southeast-exposed hill below the winery, featuring calcareous soils and a warm but windy environment that helps keep the fruit healthy and able to ripen well while maintaining a fine acidity.
Quite rare is the fact that the vineyard was always farmed without chemicals and with an emphasis on biodiversity; today it is certified organic. An incredible variety of grasses, legumes, herbs and wildflowers grow between the rows, and the soils are worked several times per year. Yields are kept quite low and harvest is by hand into small bins.
Bera distinguishes its approach to Moscato in the cellar as well. The fruit from the limestone terroir is brought in very ripe, as opposed to the very early harvest (based purely on sugar with a lack of regard for complexity of flavour) that typifies production throughout the zone. On top of that late harvest, fermentation is spontaneous and slow, without temperature control; the wine is never sterile-filtered; and sulphur use is modest. Unusually, the wine is kept on its lees for months, in a chilled dormant state, and then "awakened" to finish fermenting to about 5.5% before bottling. This additional period on the lees animates the wine. Consequently, Bera's wine is not typical either–it is vinous, creamy, textured, rich and layered with an underlying saline character. The Moscato is the best we've tasted and offers more in terms of flesh and softness than effervescence, combining melon, orange peel, wild mint and sage on the nose. In the mouth, it is moderately sweet and superbly vinous and would complement richer desserts as well as being the dream partner for strawbs.  Easy to distinguish this Asti from your Elbling.
There's more. Here's the story behind the Vittoria Bera Bianchdudui. We love it when an aberration mutates into a fine wine. From the 2000 vintage a barrel of Moscato, that was left to ferment for too long a period, gained an extra % of alcohol – which disqualified it from regular Moscato d'Asti status. The wine was subsequently left for sixteen years under flor in a cement tank to transmogrify into the swan that it is today. Amber, saline, dry, wild – Moscato, every which way but loose.
Why we love this: The glory of serendipity. The regular Moscato d'Asti is sheer delight, seriously pleasurable, with a dimension to the fruit that we hardly ever encounter in a wine made from this grape. And then an accidental beauty, a forgotten wine, but a style we have previously experience, one redolent of apricot, nuts and exotic spice. And all things nice.
If you like this: Hidden in the hills just outside the sleepy town of Neive near Santo Stefano Belbo is Ca' d' Gal, home to Sandro Boido and some of Piemonte's most sublime Moscato d'Asti. The vines are located on steep slopes on variable soils of limestone-clay and sand. Capturing laughter in every delicate bubble, Moscato d'Asti is an effervescent elixir that lifts you up and slows time to a delicious crawl (and contains only 5% alcohol.) In contrast to so many other mass-produced Moscato wines, Ca' d' Gal Moscato d'Asti is truly an artisanal nectar, harvested by hand and vinified naturally in closed vat with extended lees contact. This added attention is what gives these delightful wines their unique personality—and surprising ability to age.  "Lumine," the estate's regular bottling from 35-year-old vines, captures sunny notes of elderflower cordial, mandarin oranges and rose petals, illuminated by a lovely silver-gold effervescence on the tongue. Flavours of white peaches and pears melt on the tongue like cotton candy, perfectly light and balanced. Just a touch of fragrant bubbles cleanses the palate. Vigna Vecchia, as the name implies, is from older vines (55+ years old) grown on very steep slopes, with fruit harvested entirely by hand and picked over ripe.  A noble, almost toasty nose reminds one of Champagne, with rich white and yellow peach aromas. Torn mint leaves, sage, fresh Blenheim apricots and delicate nectarines come together on the palate. Abundantly juicy, deliciously complex. Sandro also puts aside 1000 bottles of Vigna Vecchia to release after several years when the wine develops remarkable Riesling-like qualities. Drink joyously as an aperitif, as a sorbet-like palate-cleanser, with strawberries, fruit pastries, torta di nocciole (hazelnut cake) and zabaione.
Interested in finding more about the wines mentioned? Contact us directly:
shop@lescaves.co.uk |  sales@lescaves.co.uk | 01483 538820
*Note: We are still open for business, doing deliveries, and keen to help everyone with their booze needs in this difficult time. Natural wine lovers can visit our online shop and order online!