Original N'Oceans
Raúl Moreno, Sevillano by birth, has been around the block. Having worked in London as assistant sommelier for a restaurant group and studied for the WSET, he did placements in the US and then Australia, where he set up base. He founded a wine importing business and runs WSET courses in Australia and New Zealand, but Raúl needed more challenges and spent time learning about viticulture, working four harvests a year, two in the northern hemisphere and two in the south. Ultimately, his desire was to return and make wines in his home region. The opportunity arose to start a project in Jerez with a good friend, to make non-fortified wines in an authentic style. 2017 was their first harvest. They always work with organically farmed single vineyards in Sanlucar de Barrameda, Puerto de Santa Maria, Jerez and Rota with vines aged between 40 to 100 years+. Most of the wines use clay for fermentation and /or ageing – either in Georgian qvevris or in chalk (albariza) tinajas, ranging in size from 300 to 1500 litres.
Flor, the local veil of yeast, is always present but does not dominate the wines.
The Las Cepas de Curro is a blend of Moscatel from Puerto de Santa Maria and Palomino from Sanlucar. The soils are albariza & Tosca Cerrada. The Viña Maria Luisa has a south-western exposure, whereas Viña la Fama faces south-east. It is very rare to find Moscatel vineyards in Jerez planted in albariza, the variety normally planted in "arenas" (sandy soils), which tend to create highly aromatic wines. This estate's approach to the Moscatel variety is not aromatic; they aim to demonstrate the hardness of the soil where it grows. Here the albariza makes the Moscatel grapes produce thicker skins, which allows for light phenolic extraction that helps them to stabilise the wines more easily, producing a moderate, citric and mineral version of Moscatel. Grapes are spontaneously fermented with indigenous yeasts, whole bunch, in tank, followed by a reductive elevage on gross and fine lees for nine months.  Racy & mineral, the Curro is about crunch and texture, loaded with pear, granny smith apple as well as notes of fennel, mint and sea spray. Very salty and mineral. The body of the wine on the palate feels like biting fleshy orchard fruit.
The Las Cepas de Paco 'El Reflejo' Viña del Gurugú y Finca M Alta (after that you will need a drink) was inspired by the idea of creating a gastronomic wine that presented both oxidative and biological ageing with relatively low abv. Whereas a fortified wine determines its strength and texture with ethanol, they were looking for a similar effect by means of the astringency of polymerized phenols. To put it poetically. This was achieved by gentle, long-lasting post-fermentation maceration and a form of natural micro-oxygenation by aging in clay vessels and porous wood.
The grapes hail from Finca del Gurugú and Finca Miraflores Alta (very, very old vineyard). Clones of old Palomino are harvested by hand and the bunches are sun-dried for three days to increase natural acidity and sugars. The wine goes through an oxidative ageing period of six months in the buried qvevris and the fermentation lasts for twenty-one days including a ten days post-fermentation maceration. The wine is then aged in qvevri for six months and in arrobas (500L) of over fifty years age for another six months.
Natural, skin contact amber wine, textural, phenolic, complex, a mineral bomb layered with citrus and stone-fruits and shades of sotolon and curry spices from the sherry cask. The persistence of the palate is endless.
The Las Cepas de José Carlos La Villa de Rabita Rutta Rosé is a blend of Palomino 70%, Tintilla de Rota 15% and Melonera Tinta 15% on the clay-based albariza Barroso soils.
Fermentation is whole bunch with spontaneous fermentation of full solids in free-standing 1300 litres Albariza tinajas. Jamie Goode writes: "The Spanish tinajas are particularly interesting. 'Three years ago we started collecting samples of albariza and clay from Sanlucar de Barrameda and Chipiona,' says Moreno. 'We have been liaising with the Moreno León family in Caceres, who are the oldest Spanish family crafting wine clay pots. They made all our chalk Tinajas following our specifications.' The Qvevris are buried in chalk and the Tinajas are free standing". The fermentation is with red skins for ten days with only the coloured skins under a submerged cap. The wine then undergoes nine months biological elevage under flor yeast with fine lees.  It's just delicious! Crisp, saline, mineral and savoury, driven by sherbet-like citrus such as blood orange, tangerine and pink grapefruit. It finishes with shades of rhubarb stalks, Campari and pink peppercorns. At Vinos Oceánicos they love pairing this wine with cured tuna, poached veal scared sweetbreads and tomato salad with salt & olive oil.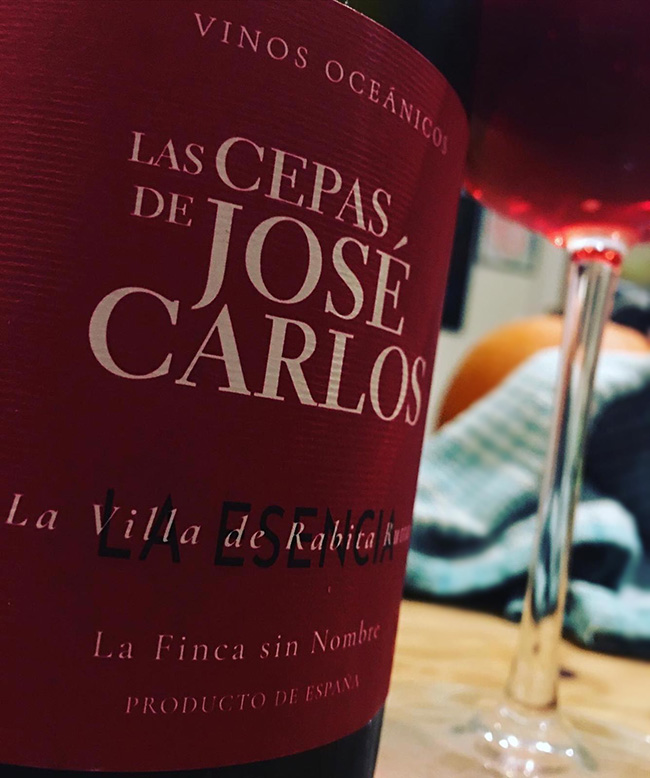 La Cepas de Jose Carlos Esencia Tinto is a blend of a third each of Melonera Tinta, Tintilla de Rota and Palomino, the grapes undergoing whole-bunch carbonic co-fermentation in 300-litre albariza tinajas with indigenous yeasts.  Post-fermentation, the grapes are lightly crushed and undergo a post-maceration period of twelve weeks under a submerged cap after which the wine spends nine further months biological elevage under flor yeast with fine lees. A light red wine, fresh, vibrant & mineral, it is nicely perfumed, with grainy texture and vibrant personality, loaded with red currants and cranberries and subtle inflections of rooibos tea and sea spray.
2018 Las Cepas de Curro Blanco
2018 Las Cepas de Paco Reflejo Blanco
2019 Las Cepas de Jose Carlos Rosado
2019 Las Cepas de Jose Carlos Esencia Tinto
*
Interested in finding more about the wines mentioned? Contact us directly:
shop@lescaves.co.uk |  sales@lescaves.co.uk | 01483 538820
*Note: We are still open for business, doing deliveries, and keen to help everyone with their booze needs in this difficult time. Natural wine lovers can visit our online shop and order online!