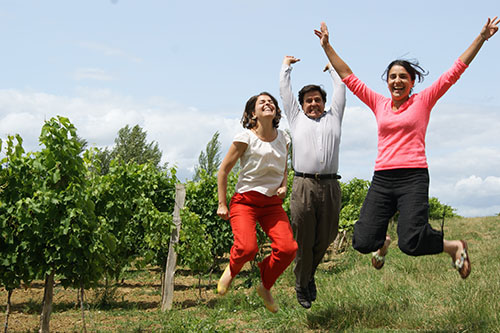 The Aurensan vineyard – a family venture run by father Bernard and his two daughters, Sophie and Caroline, spreads over five hectares of land in the Tenareze region of Armagnac and comprises Ugni Blanc, Folle Blanche and Colombard planted on chalky-clay soils. The Tenarèze Armagnacs tend to be structured, powerful yet stylish.
The estate places a great emphasis on the soils, and to that end, have started farming organically. Everything is done by hand in the vineyard and according to the needs of each vine with careful attention to pruning, shoot-thinning and trellising.
Grapes are harvested when they reach full maturity for distillation, which means a good degree of acidity and low sugar. Vinification can then go ahead without the need for oenological products (yeasts, sulphur). Distillation takes place in a classic Armagnac single still, continuously heated. After this process, the brandy is collected at the bottom of the column and taken away to be matured in barrel.
The cellars at Domaine d'Aurensan are very humid, which favours a long, progressive ageing. The casks, made from wood from oak trees grown on their estate, bring aromatic singularity to the eaux-de-vie. Bottling is by order and to demand and done without filtration.
This is known as Triple Zero Armagnac – no sugar, no colouring and no water is added.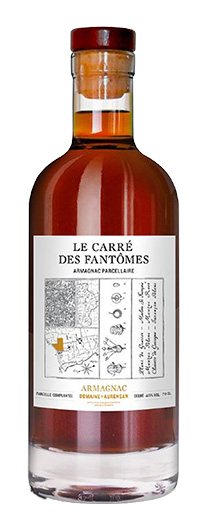 Le Carré des Fantômes
Domaine d'Aurensan has just launched 'Le Carré des Fantômes', an Armagnac blend of the six very rare grape varieties authorised for the production of AOC Armagnac.
The production of AOC Armagnac authorises ten grapes, though for the most part, producers use the four main varieties of Ugni Blanc, Baco, Folle Blanche and Colombard. The other six bygone varieties have however been making a bit of a comeback over the last few years and add even more to the complex diversity that is Armagnac.
With Armagnac in her veins, so to speak, Caroline Rozes and her family at Domaine d'Aurensan in the Armagnac Tenarèze production zone, starting planting all ten grapes in 2014.
The ancient varieties of Plant de Graisse, Mauzac Blanc, Meslier St François, Jurançon Blanc, Mauzac Rosé and Clairette de Gascogne, are what the Rozes family called the 'Phantom grapes' and they have been planted at Domaine d'Aurensan on a single plot called 'le Carré des Fantômes'.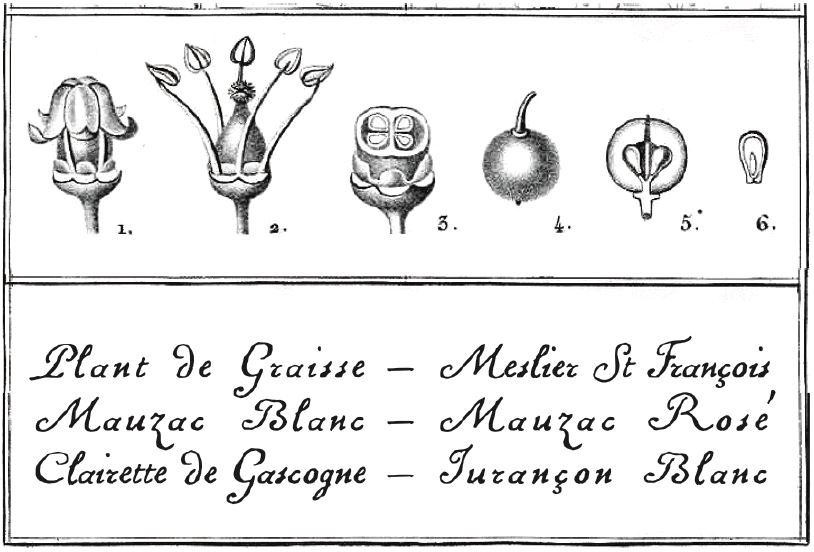 This "complantation" was common practice before phylloxera and made it possible to reduce disease pressure on the one hand and to ensure a minimum harvest on the other hand. The Carré des Fantômes is grown without pesticides.
The subsoil here contains banks of lake limestone, some 20 million years old. These limestone soils are high in minerals such as anhydrite and gypsum, which associated with the decalcification clays, create a soil with an original mineral composition.  The plot has also undergone a slight compaction, resulting in a deep and homogeneous soil, constituting a unique micro-terroir for these phantom grape varieties.  Finally, it slopes towards the west and therefore is subject to ocean winds ensuring good ventilation.
Never before seen in Armagnac, the new blend of these six forgotten varieties, 'Le Carré des Fantômes' named after this vineyard plot, are distilled in an Armagnac alambic at 58% abv.
Due to its distillation process, no other spirit than Armagnac maintains closer proximity to its original raw material. The notion of terroir takes on its full meaning here.
Eaux-de-vie are made up of ethyl alcohol, water and non-alcoholic components which give the aromatic character. These non-alcoholic components represent 3g/L for continuous distillation as in Armagnac whereas it is between 1.5 and 2g for cognac (double distillation). For whisky is 1g/L and 0.5g/L for vodka.
There is no sugar, no colouring and no filtration. The final Armagnac is 46% abv.
The nose on the Carré is expressive and of great delicacy. On the palate, the attack is powerful and full of freshness. It immediately reveals notes of fleshy and juicy fruits (pear, apricot, peach…) then evolves into subtle aromas such as honey and linden tree blossom.
A fine eau-de-vie that offers both freshness and unprecedented aromatic richness. The one and only Armagnac of its kind.
*
Interested in finding more about the wines mentioned? Contact us directly:
shop@lescaves.co.uk |  sales@lescaves.co.uk | 01483 538820
*Note: We are still open for business, doing deliveries, and keen to help everyone with their booze needs in this difficult time. Natural wine lovers can visit our online shop and order online!