We called our autumn trade tasting "Drinking Outside The Box" because we always want people to leave their preconceptions alongside their coats in the cloakroom and to approach our wines in a sensitive, wide-eyed, and, dare one say, an intuitive way. There are so many ways one may divide a tasting or describe a group of wines; in this case, we put together 16 tables' worth—roughly 180 wines in total—to give an insight and an overview into what (we believe) is captivating, provocative, delicious or just downright useful! The overarching categories were: "Bang for Bunk", "Variations on Classics", "Old & New", "The Taste of Terroir & Climate", "All About That Grape" and "By Style". The wines were thematically linked in that they were almost all the result of sustainable, organic or biodynamic farming practices, and the majority were also what we might term natural wines (native ambient ferments, minimal intervention). That being the case, within each category and even sub-category, we wanted to demonstrate the incredible diversity of styles of wines from artisan vignerons who want to make a product true to its origins and something that they really want to drink themselves.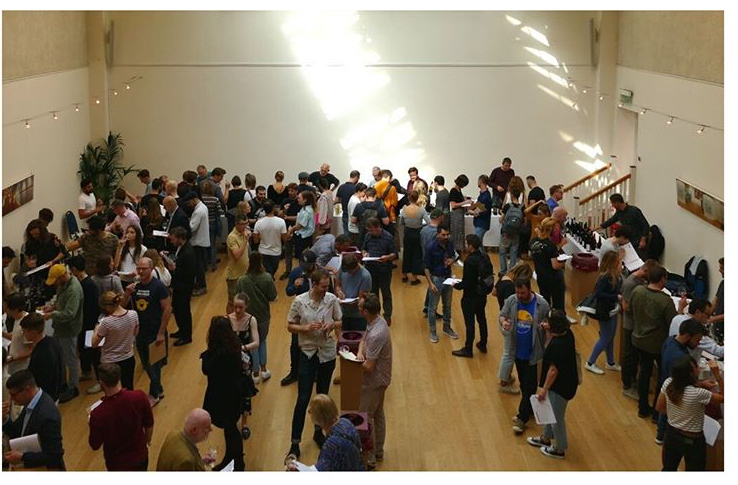 Diversity indeed. No fewer than 125 grape varieties were on display, either singly or in blends. Almost every soil type or terroir one could imagine was represented. Every conceivable style of wine and winemaking. Nearly 30 skin contact/orange wines, wines fermented in qvevri, amphora, tinajas, eggs and "uterine concrete tanks", some made oxidatively under flor, just-released wines brimming with youthful fruit, and mature numbers with secondary and even tertiary aromatics, wines for the jug and the glug and wines for the decanter and the contemplation thereof.
No fewer than 125 grape varieties were on display, either singly or in blends. Almost every soil type or terroir one could imagine was represented. Every conceivable style of wine and winemaking.
"Variations on the Classics" comprised two tables. The first, entitled "Playing The Classics" featured standard appellations or grape varieties, and showed their alternative faces. Thus Lucas Pfister's 40/40 Malbec was elegant and tempered and not replete with chocahol, Alexandre Bain's Pierre Precieuse had a natural aromatic generosity and depth to the fruit that one does not get from standard Pouilly-Fumé, Matthias Warnung's Basis Grüner was mouthfilling, layered rich and unfiltered, a distant cry from the mandatory filtered-style of Kamptal Grüner, the non-conformist Melonix from Jo Landron, smoky and from full malo and no sulphur added was Muscadet-not-Muscadet, and Jurgen Gouws' Intellego Chenin brimmed with tension and bristled with minerality rather than being overblown and tropical. Swartland Chenin –yes…and no.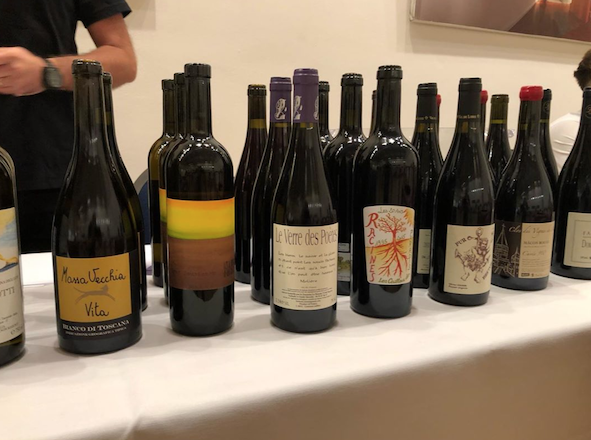 All this led seamlessly, or not, to our "Homage to Supernatural Classics". We don't like using the word "iconic", but in the real –and Insta–world of natural wine, these reputable guys have done the time and we're paying happily for their delicious vinous crimes. What a formidable line-up it was. Antoine Arena, Domaine Mosse, Il Biancara (Angiolino Maule), Cascina degli Ulivi, Massa Vecchia, Sepp Muster, Claude & Etienne Courtois, Olivier Cousin, Julien Guillot and Didier Barral. A parliament of godfathers of biodynamics and natural winemaking. So many highlights that the table groaned under the collective genius of the wines. Amongst these the Macon Rouge Cuvee 910 from Clos des Vignes du Maynes sent appreciative shivers down many a visiting spine and the Massa Vecchia Vita (Malvasia di Candia Aromatica with skin contact vinified in chestnut barrels) was joyously beautiful.
The next pair of tables were entitled "Old and New". The latter came first and comprised "New Faces, New Arrivals and New Vintages". Novelties including a couple of great value wines from Pep & Pati (Celler Communica), an example of the unusual Slarina grape from Piedmont c/o Cascina Iuli called La Rina–think mini-me Nebbiolo, a slew of skin-contact wines from, respectively, Kelley Fox (strawberry-scented Weber Vineyard Pinot Gris); Clos du Gravillas (A Fleur de Peau–gorgeous amber Muscat) and a granite-salty mid-orange Domaine des Miquettes Chasselas-Viognier from the northern Rhone fermented and aged in buried amphora – who knew? We know now.
Out with the new and in with the old was the cry. Here be venerable wines worthy of veneration. Lob in for starters, if not as an aperitif, a Pierre Frick Riesling Rot Murle 2002, nicely on the honey runny, followed by Vittoria Bera's get-down-and-dasti flor-to-the-ceiling Bianchdudui 2000 (Muscat aged 15 years–we all love a good accident!), Domaine aux Moines whiffly old gold Savennières-Roche-aux-Moines 1998 – still transmitting on all frequencies, the fabulously oddball pale red Secalaunia from Courtois – Sauvignon, Romorantin, Menu Pineau, Gamay & Gascon–a hymn to the 100s–pressed in a 100 year old vertical screw press, aged for 100 months in a 100 year old demi-muid. If we gave it points it would be 100, natch. For meat, by which we mean 100% bacon, we poured Tenuta Il Grillo's Pecoranera 2004 (Freisa, Barbera and Dolcetto), followed by Ludovic Bonnelle's Totem from Domaine du Pech, a wine that has improbably slept for fifteen years in an impossibly ancient foudre, and finally, in the old-stylee, a 2001 Valtellina Grumello Riserva from Balgera which was very sprightly on its pins. You say Nebbiolo, I say Chiavennasca. Old is the new young.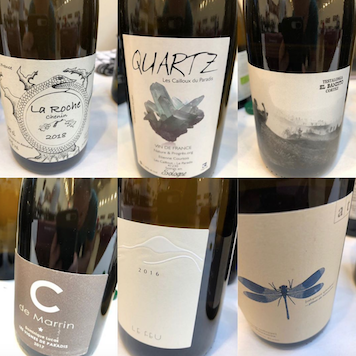 I was minding the first table in the portentously-monickered "Taste of Terroir and Climate" section called "Minerals". Succinct title for succinct wines. Crunchy. Linear. Mainly. An urgent Saumur Blanc L'Insolite from Monsieur Thierry Germain (Domaine des Roches Neuves) sur limestone, granite-flecked Chenin from Nico Carmarans and Craig Hawkins (Testalonga El Bandito Cortez). Glacial stuff from the Savoyarde Dominiques – Belluard and Lucas – doing their BD thang with Gringet and Chasselas respectively. In cement eggs. More limestone apparent in the Arboi Chardy from Julien Mareshal (Domaine de la Borde) and quartz sand in the appropriately-named Quartz from Courtois. Goisot's textured Aligoté showcased Kimmeridgean marl, Jean-Christopher Garnier's zero-sulphur La Roche Chenin was schist-hot, wild, smoky and cascading acidity to the last tastebud on the tongue, but arguably the standout wine was the most stylistically apart, namely Andreas Tscheppe's Blue Dragonfly. The dense Styrian opok soils provide the basis for beautifully farmed, highly-concentrated ripe Sauvignon grapes. The epic reduction manifested as intense smoky balsamic notes on top of golden orchard fruits, exotic spices, herbs and flowers.
All aboard the terroir with bucket and spade to excavate the wines in "Sea, Sand & Saline." Here we talk the language of Melon de Bourgogne: Muscadet. And meta-Muscadet. A pair of old vines sea salts to commence proceedings: the very fine Clos des Briords from Domaine de la Pepière next to the quite brilliant Goulaine Excelsior, a cru communale Muscadet from 80 + year old vines with 36 months sur lie. Granite vs mica-schist. Compare and contrast. The Musketeers of Muscadet. There is Folle Blanche – and there is Marc Pesnot's old-vines natural Folle Blanche. This was the latter. Closer still to the Atlantic in the marshes of the Vendée is the biodynamic guru himself, Thierry Michon, with his Les Clous – a racy Chenin with a dollop of Chardonnay from vineyards on clay, schist and quartz. From the Atlantic to the Med and the national park La Mata in Alicante. The Vinessens El Carro is fragrant Moscatel rooted in the sand dunes. The vines can hear the sea. And you can taste the salt. Or you can pretend to. For more volcanic aficionados the brilliant Chianu Cruci Bianco from Antonino Caravaglio is your cup of cooling lava. Malvasia from Salina with three weeks on skins. Tasting it is akin giving the tongue a salt scrub massage.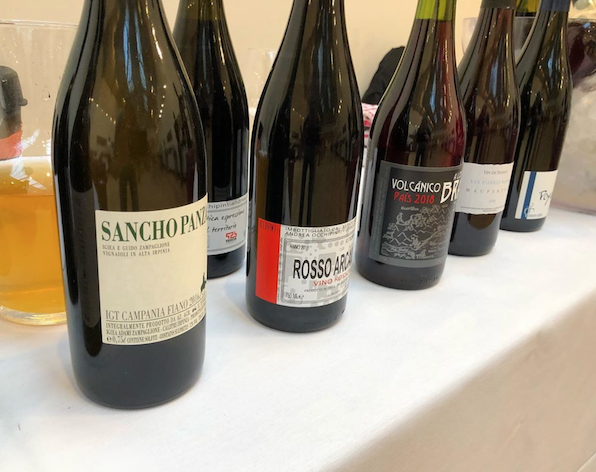 Talking "Volcanoes, Volcanic Terroir and Mountains". We linked wines from Chile – A Los Vinateros Bravos Volcanico Pais; Gamays grown on basaltic outcrops in the Auvergne (Maupertuis Les Pierres Noires) and the Forez (Verdier-Logel's Poyçelain), a tranche of Etna wines – Aurora Carricante from I Vigneri; Vino di Anna Jeudi 15 Rosato; Etnella Kaos Rosso, and Andrea Occhipinti's Arcaico Rosso (Aleatico and Grechetto Rosso from volcanic sandy soils in Gradoli, Lazio).
"Garrigue, Maquis and Fybos" grouped Rhoney/Provençaley wines – well, the title is self-explanatory. Dominique Hauvette's Cornaline (a slow-aged mineral Grenache, Syrah, Cabernet blend), Domaine de Tour de la Bon's thyme-scented Bandol, Didier Barral's astonishing Mourvèdre-dominated Valinière from Faugères, Thierry Navarre's supple and balanced Saint- Chinian, Clos du Gravillas' centenarian Carignan called Lo Vielh, Bruno Duchene's warm lavender-scented La Luna, Hervé Souhaut's precise inky Syrah from granitic soils in the northern Ardèche, and Jurgen Gouw's agile and angular Swartland Syrah all shone in their different ways.
"All About The Grape". Which grape? Try Around the World in Twelve Pinots. Compare and contrast time. Burgundy represented by Nicolas Vauthier (sublimely sapid northern Pinot Coulanges Vineuses) and Domaine Ballorin; Oregon by Kelley Fox (her ruby-hued fragrant Mirabai Pinot Noir); Chile by Dominique Derain – the glou-est of glou Las Nubes Pinot Noir. Christian Binner's Cuvée Beatrice flew the flag in Alsace; and Yoshi Sato's Pisa Vineyard Pinot Noir was our New Zealand standard-bearer. Further examples from Italy, Jura, Spain and South Africa. And even an English Pinot Noir made in qvevri by Ben Walgate at Tillingham. Finally, another outstanding effort from Touraine and Etienne Courtois called Le Pinot. Sologne and thanks for all the Pinot!
There's more to life than Pinot. This life was to be found in "Native Grapes and Field Blends". The lesser-seen and often unsung-about varieties. Those sons and daughters that seem to capture something special about their native region. Jean-Bernard Larrieu's Evidençia de Lapeyre is a beautiful crystalline blend of Mansengs and Courbu made sans soufre. Tasting this makes you go weak at the Pyrenees. Racines Blanc from Courtois blended myriad white grapes (Romorantin, Menu Pineau, Chenin, Chardonnay – and we know better than to ask what the others are) to scintillating effect. Switch of style to the amberest Slovenian Rebula (from Mlecnik), a wine that seems to absorb all the light in the room, L'Incaunais – Etienne Courtois strikes again – a pure version of the hardly-ever-glimpsed Gascon grape; a bracing dissolved-iron-filings Teran from Piquentum in Istria; the rare-and-only recently-revived Manseng Noir from Gascony made by Plaimont, and the utterly delicious, graceful and underrated Tintore di Tramonti from Monte de Grazia from 120-year-old pergola treetrunk vines in the Costa Amalfi. Here be a treasure trove of rare and beautiful things, a taste of heritage and flavours one would never find in the more international grapes and conventionally-made wines.
Style-time and a glou-sniffer alert. "Glou", a whole section devoted to those who prefer their red glug in a jug. Fruitsome and toothsome these wines may have been, but they also had the personality to keep you coming back. A brisk Négrette sans soufre from Marc Penavayre started the glou rolling, followed by a five-grape Valpol Saseti from Monte dall Ora, silk-fruited with the merest hint of bitter cherry. Then the newly-arrived Pol Opuesto Que Grande SOS (two types of Criolla – Grande & Chica – alongside Cereza, Bonarda, white and pink Muscat) – think Ploussard; a twinkling Oeillades (relation to Cinsault) from Thierry Navarre for collectors of obscure grapes – think Ploussard; the obligatory Pupillin Ploussard (from Domaine de la Borde) – think Ploussard, and some glorious mishmashery: Palmento from Vino di Anna (Nerellos plus a mix of other red and white grapes), Evan Lewandowski's Feints field blend where Arneis convenes with Barbera, Dolcetto and Nebbiolo to make a wine that is not quite red and not quite rosé, and finally, Dane John's (Momento Mori) Etc Etc. What's this?? 60% Schioppettino blended with Greco (9 months on skins) and a co-ferment of Fiano & Syrah? Yes – think Ploussard!!! Twas indeed the Plou-glou event.
It wouldn't be a Caves tasting without the golden-brown stuff. The table called "O2 & Flor" juxtaposed sherries and oxidative wines. Brilliant rich and nutty wines from Emilio Hidalgo (Amontillado El Tresillo), Bodegas Sanchez Ayala (Manzanilla Gabriela) and non-fortified versions from Cota 45 including their vintage Agostado Oloroso (lots of excited comments about this) and Panganilla (a delicious flor-inflected fino style). We had Marco de Bartoli's sensational and endlessly complex Vecchio Samperi, an original dry Marsala from a solera system – average age of age of around twenty years. Add to the mix a sous voile Chardonnay from Jura from Marie-Pierre Chevassu, Didier Barral's "Blanc", being mainly 90 + year old Terret Bourret vines, a total Ox in the box – yet amazingly as fresh as a daisy, and Tillingham's Qvevri Rüllem (Müller-heavy) with its distinctive flor character.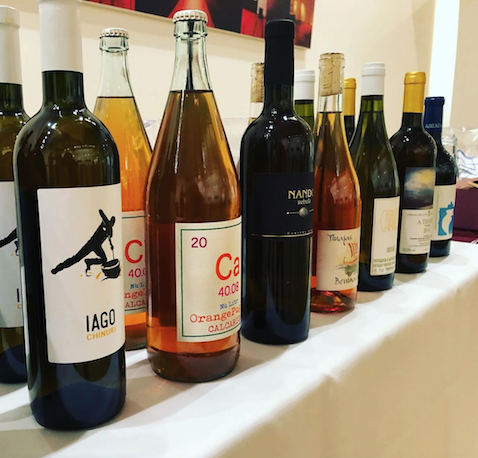 "Amber Revolution" was full of glow rather than glou. Wines that had been macerating gently and variously on their skins. From the Calcarius Orange, a juicy tangy, chalky Bombino Bianco in litre bottles, to an aromatic Binner Si Rose (Gewurztraminer/Pinot Gris), peach, spice and Turkish delight, to Nando's intense and phenolic Rebula Black Label from Slovenia. In the same vein was Dario Princic's delicious Jakot. There was every shade of amber on show. Naturally, there were Georgian qvevri wines (from Pheasant's Tears; Iago's Winery and Zurab Topuridze), different grapes, different maceration lengths, different use of stems.
And so to refresh the palate: "Bubbles". A cloudy old vines Prosecco from Casa Coste Piane, and a relatively turbid Franciacorta-style from 1701; Val Frison's barrel-fermented Goustan Brut Nature made from organically-farmed Pinot Noir grapes, Pierre Gerbais' L'Originale Extra Brut – a fantastic example of a champagne from Pinot Blanc vrai; and a quartet of natural sparklers from New Zealand (Cambridge Road The Naturalist Pet Nat), Spain (A Pel Ancestral from Loxarel), Italy (Malvasia Rosa Frizzante from Camillo Donati) and, last but not least, the bracing Grace & Favour Pet Nat from La Garagista Farm + Winery in Vermont made from the aromatic La Crescent hybrid, fermented in glass demijohns and bottled without sulphur. As delicious as it is original.
The tasting had a nice buzz, being a reassuring ambient fermenting crush of intrigued glass-wielders. The feedback has been excellent, with praise for the format as well as acknowledgement of the quality of wines on show. We will continue to promote wine in this fashion, steering people into interrogating style and taste, by grouping together wines that have a common bond of terroir or winemaking.
*
Interested in finding out more about the wines mentioned? Contact us directly:
shop@lescaves.co.uk |  sales@lescaves.co.uk | 01483 538820