Although times they-are-a-changing and French vignerons and vigneronnes are cottoning on to making skin-contact wines, there was a time when you would have to search hard to find an amber-hued wine from any region of this country. The natural wine revolution gradually liberated growers to try different methods; admiration of producers and wines from Georgia, Friuli and Spain provided further motivation to assay skin contact techniques with local grapes.
I find these wines to be complete, animated, wholesome and utterly digestible.
In the Loire, Thierry Germain and Sylvie Augereau macerate their Chenins in terracotta amphorae/qvevri. Jean-Pierre Frick makes a fabulous, almost red-tinted Pinot Gris maceration without sulphur in Alsace. In Jura, Ganevat plays with the idea of maceration (often offsetting it against an oxidative element in the wine), whilst Jean-Baptiste Menigoz of Domaine Les Bottes Rogues and Patrice Beguet have also released skin-contact Savagnins.
Here are four newbies on our list that illustrate that great amber wines are a blend of considerate farming, hand-harvesting of the best grapes, and the unique alchemy that occurs when the wine spends a period of wine with its original skins. I find these wines to be complete, animated, wholesome and utterly digestible.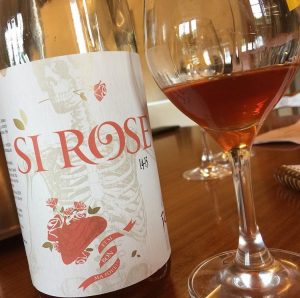 2016/17 Si Rose, Christian Binner, Alsace
Here's a wine to bring a smile to the most hardened wine professional's face. It starts with the transparent glass bottle, the simple bold label and the glass vinolok stopper. The wine's colour is striking – definitely somewhere between red-pink and orange – or, as the Dulux colour chart would have it – salsa red and collective coral.
Not that this is inconsequential flimflam stuff. The grapes are sourced from fifty-year-old vines, planted in several different parcels either within, or lying next to, the famous parcel called 'Bildstoecklé', one renowned for its excellent terroir for the two grape varieties, Gewurztraminer and Pinot Gris. The vines face squarely south on gentle slopes at an altitude of between 230 and 350 metres.
The soil here contains oolithic limestone (composed of tiny little spheres of calcium carbonate, called ooids (from the ancient Greek word for 'egg' because they resemble fish eggs), and this gives a real zip to a wine that could be heavy and lacking in acidity.
From nature's art to the vigneron's. Si was made by blending two vintages in equal proportions, 2016 (which macerated for eight months on skins), and 2017 (eight days on skins). The maceration, fermentation and the ageing took place in the estate's one-hundred-year-old oak barrels, sans temperature control, in Binner's brand-new bioclimactic winery. Christian comments: "Even in Roman times white wines were macerated in this way, releasing tannins and colour, the natural anti-oxidants of grapes". After this the wine is matured for a further period on the lees before bottling without filtration or sulphur added.
Difficult to describe the taste of a wine that seems to vanish from the glass as soon as you pour it! Suffice to say, there are notes of roses, peaches (blossom and fruit), pink grapefruit, playful mingling between ripeness and citrus, all flavoured with pepper, dried spice, herbs and crushed minerals. The pleasure is all yours.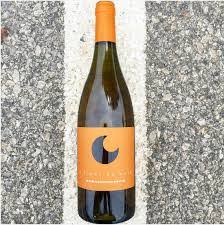 2018 A Fleu de Peau, Clos du Gravillas
From their glorious sun-bleached limestone-gravel vineyards in St-Jean-de-Minervois, this is Nicole and John's destemmed Muscat à Petits Grains, given the orange treatment, by popular demand. The usual fastidious work in the vineyard with lots of selection and grape-throwing (if you wouldn't eat it, it goes on the ground), and tiny yields of around 25 hl/ha, brings in a harvest of high-quality healthy grapes, ideal for making an amber/orange wine.
These grapes are macerated for around three weeks in tank with pigeage and remontage – yes, just like a red wine – with a small portion in barrel with one week on skins. Further eight months in tank, a 500-litre barrel and – fanfare – a 10 hl ceramic egg, a thing of beauty. Deep orange colour and aromas of – you guessed it – orange flowers, with a substantial palate that has a very agreeable bitterness and a digestible herbal twist to offset the floral component of the Muscat.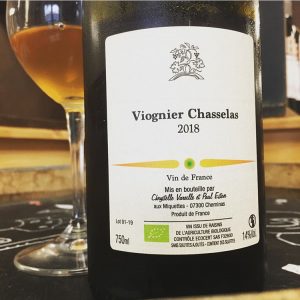 2018 Chasselas-Viognier, Domaine des Miquettes
Paul and Chrystelle's wines @ Domaine des Miquettes go from strength to strength. We know them for their iterations of St Joseph Rouge, which benefit from a cool micro-climate, the vines being at an altitude of between 350 and 450 metres on windswept slopes.
This is an intriguing wine, being a blend of the lesser-seen Chasselas and Viognier. The latter goes through carbonic maceration for seven days, whereas the Chasselas macerates for days on its skins with ambient fermentation and subsequent maturation taking place for one year in amphora. The wine is brought to bottle without filtration, fining or sulphur added. All the amphorae in this estate, by the way, are buried in a large purpose-built, sand-filled pit that Paul and Chrystelle call "une piscine" (a swimming pool") following the traditional way of qvevri wine-making in the country of Georgia. Paul and Chrystelle have twelve of these buried amphorae or tinajas (since they are made in Spain).
The wine itself shows what the two varieties can bring to the party and is orange in the glass with powerful notes of bergamot, lemon and absinthe and a smooth clean palate with fine bitter notes. The Chasselas (even after maceration and malo) brings real verve to the whole with a surprising cut of acidity and a flickering lash of salinity.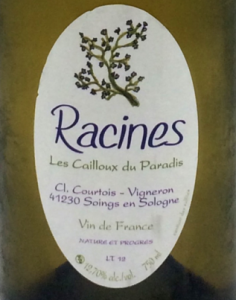 2015 Camille Blanc, Les Cailloux du Paradis
This wine is shockingly good. Like all great wines, it derives from a combination of great terroir, exacting and pro-active stewardship of the vines, and precision and patience in the winery. Over time, the value of the work can be seen – and tasted.
Les Cailloux du Paradis totals 20 hectares, with only six hectares of vines, the rest devoted to mixed farming fruit tree orchards. The Courtois, father (Claude, now virtually retired) and son, Etienne, have a bewildering array of grape varieties to work with. One of them is Romorantin, and Camille is from 15-year-old-vines, planted in clay soils containing flint stones.
The farming is rigorously organic – no pesticides, herbicides, fungicides, chemical fertilizers, or synthetic chemicals of any kind are allowed on the vines or in the soil of the vineyards. Harvest is precise, only the best bunches of grapes make the cut.
The process is straightforward. The grapes were de-stemmed and then left to macerate on skins, in a 1000 litre fibreglass vat for approximately ten days, before undergoing three weeks of wild yeast fermentation. The must was subsequently pressed in a 100-year-old vertical ratchet screw press and transferred to 228-litre Burgundy barrel for 40 months of ageing (during which time it underwent full malolactic).
What to say about the wine? Like so many from the Courtois stable, it is profound and textural with a seam of elongating acidity (as it were) arcing over the tongue. The fruit is on the apple, golden pear, plum end of the orchard spectrum, but the palate is fine and linear, almost crystalline, with a lingering minerality. Even after having been open for a couple of hours, the superb tension remains.
*
Interested in finding out more about the wines mentioned? Contact us directly:
shop@lescaves.co.uk |  sales@lescaves.co.uk | 01483 538820