Some of the most hummingly busy stands at the 2019 Real Wine Fair were the ones hosted by English growers and winemakers. English wine, good English wine, is making waves.
Despite the hype in the press about traditional method sparklers, we've always been more interested in seeing how still wines perform, or to find wines that live and breathe on the quality of the fruit (which, in turn, is usually a testament to the quality of the farming). The idea also that UK vignerons might start fermenting with native yeasts, not inoculating for malolactic, and use lees-contact and barrel-ageing to add mouthfeel to their wines, would have been considered heretical even five years ago. Whilst one swallow does not make a natural wine summer, there does seem to be a palpable interest (amongst certain producers) in making lower intervention wines. Ancre Hill, Davenport and Tillingham have been leading this, Tim Philips at Charlie Herring Wines is making small brilliant small batch natural wines from his walled vineyard near Lymington, and Terlingham, Oxney, Forty Hall and others are working organically.
Now that English wine week is upon us, here is a swift reminder of the wines that we work with. A few years ago, we might sell around 3,000 bottles of English wine per year. In 2019, we would expect to sell around 25,000 bottles in total. Times – and wines – they are a-changing.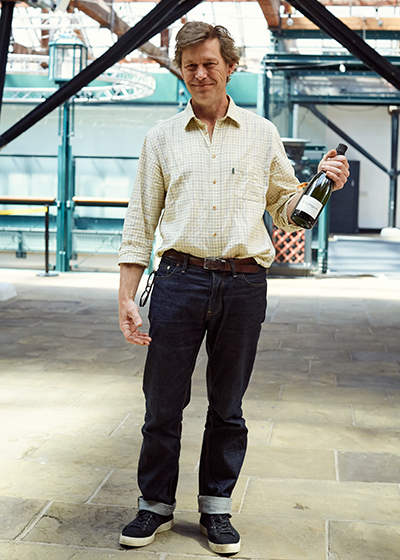 We've been working with Davenport Winery for several years, and have witnessed how the style of winemaking has evolved over that period, developing in a resolutely more natural direction. Will Davenport has been making wine for nearly twenty-five years, building from a small start-up to a collection of vineyard sites totalling just over 20 acres in East Sussex and Kent. The aim is to make wine of the highest quality possible and to make wine that is a true expression of their grape varieties, soil and climate of the vineyards. He believes that the best way to achieve this is by interfering as little as possible and letting nature take its course (with a modicum of guidance of course). The use of organic methods helps to bring the desired results and has the benefit of also minimising their impact on the environment. Copper and sulphur are used to control mildew, along with plant extracts made from seaweed, comfrey and nettles.
The sparkling wines are given a long elevage on the lees to gain complexity. The one exception is the Pet Nat which is all about the fruit and requires ripe grapes and a certain softness. Chardonnay, for example, would not be appropriate. The components of the pet nat: ripeness, softness, malolactic texture and the leesy intensity make this a super-approachable wine. The traditional method wines are released according to feel. Will Davenport makes one of the best whites in England, a blend of Bacchus, Ortega, Siegerebe, Faber and Huxelrebe, which seems to possess more texture than most. The most recent vintages have seen a portion aged in used barrels. Native yeasts are used. The 17 was unfiltered and possessed a hitherto unseen intensity. 18 will be lightly filtered as there was a little residual sugar in the wine at bottling.
Another wine that Davenport have been perfecting is the Diamond Fields Pinot Noir. The 14 version, the first red, was almost chocolately – Will described this as Valpolicella-like. The 15 was lighter and more angular – Pinot meets Gamay perhaps, and successive vintages have aimed for a more high-toned fruit feel.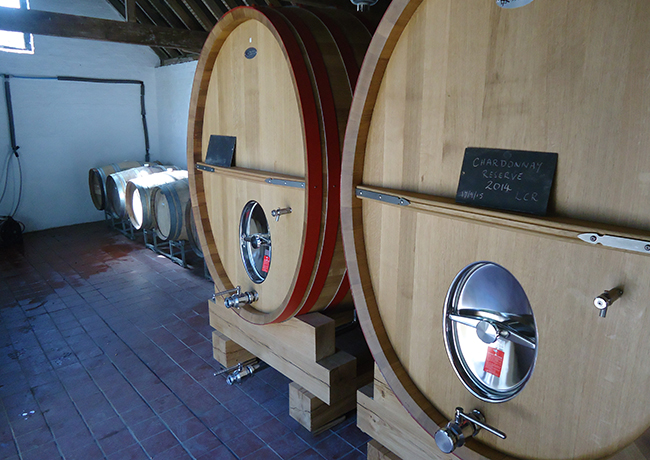 The newly released Davenport Pet Nat (2018 vintage) is the best version we have tried. A blend of Auxerrois (53%), Pinot Meunier (30%), Faber (17%). Grapes are manually harvested, whole bunch pressed, fermented in stainless steel tank (with the Faber macerated overnight) with indigenous yeasts, and then aged on the lees in bottle for 3 months, before being disgorged without riddling and no fining or sulphur at all. The fruit is lovely and supple, the bubbles gentle and refreshing.
Tillingham as a wine project is on the up-and-up. In a short period of time – two vintages – Ben Walgate has produced a variety of wines in a variety of styles, that pay tribute to his many wine influences. Already, the pattern is clear, wines that again that show the positive benefits of lees-ageing, skin contact and texture.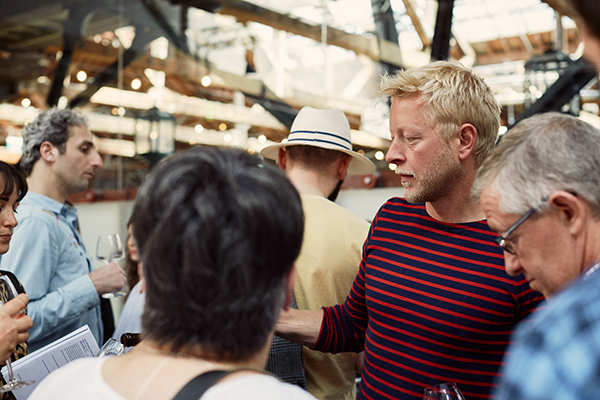 The earliest release of the year – other than a delightful juicy qvevri red called R – was the pretty pale sparkler known as PN 18 (standing for Pet Nat). Imminent arrivals are a house white and rosé and a more structured white, whilst Ben will be bottling a variety of cuvees throughout the summer including Pinot Noir, Chardonnay, Rullem (an amber skin-contact qvevri-fermented Muller Thurgau), a qvevri white blend and a terrific Pinot Blanc.
Tillingham White is a blend of Müller Thurgau grapes, part whole bunch pressed into stainless steel, part crushed and destemmed, with 24–48 hours skin-contact before pressing and fermenting in stainless steel;  Ortega, crushed and destemmed,  foot trodden twice a day for 5–7 days before pressing in small basket press and part fermenting in stainless steel, part in oak barrel. There is also whole bunch Bacchus (pressed and fermented in stainless steel and aged in oak foudre); tank-fermented Chardonnay and finally Schönburger with whole bunches foot trodden and left on skins for 24 hours before pressing in basket press and fermenting in stainless steel.  No fining, no filtration and minimal sulphur dioxide added at bottling. The wine has smoky stone-fruit and apple aromas, with a fruit-driven palate and a touch of grip from the skin contact elements in the blend.
The rosé comes from grapes sourced from organic and biodynamic vineyards. The main component is Rondo, whole bunch pressed before fermenting in foudre, supplemented by Orion, fermented in stainless steel and aromatic Madeleine Angevine destemmed and left on skins for 36 hours before pressing into stainless steel. This naturally-made pink wine has aromas of butterscotch, baked strawberry and peach with a dry savoury palate. A grown-up rosé.
The third wine in the current wave of releases is Endgrain, a blend of 60% Ortega; 15% Chardonnay; 12.5% Schönburger and 12.5% Bacchus. The Ortega is crushed and left on skins with foot treading twice a day for 5–7 days before being pressed in small basket press and fermented in stainless steel and oak barrel. Chardonnay is whole bunch pressed and fermented in stainless steel. Schönburger grapes are foot-trodden and left on skins for 24 hours before pressing and fermenting in stainless steel, whereas the Bacchus sees some foudre time. The resultant wine is rich in apricot and yellow plum fruit with savoury notes including cacao and spice.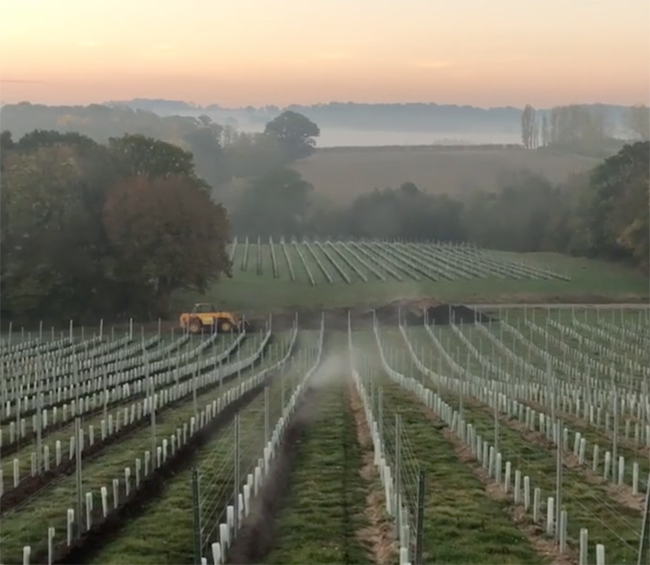 For the longer term, Ben has planted vines around Tillingham farm – 10,000 vines last year, another 10,000 this year. The soil has been treated with biodynamic preps, and a variety of grapes planted. We look forward to seeing the first wines made from these vines in around three years.
*
Interested in finding more about the wines mentioned? Contact us directly:
shop@lescaves.co.uk |  sales@lescaves.co.uk | 01483 538820