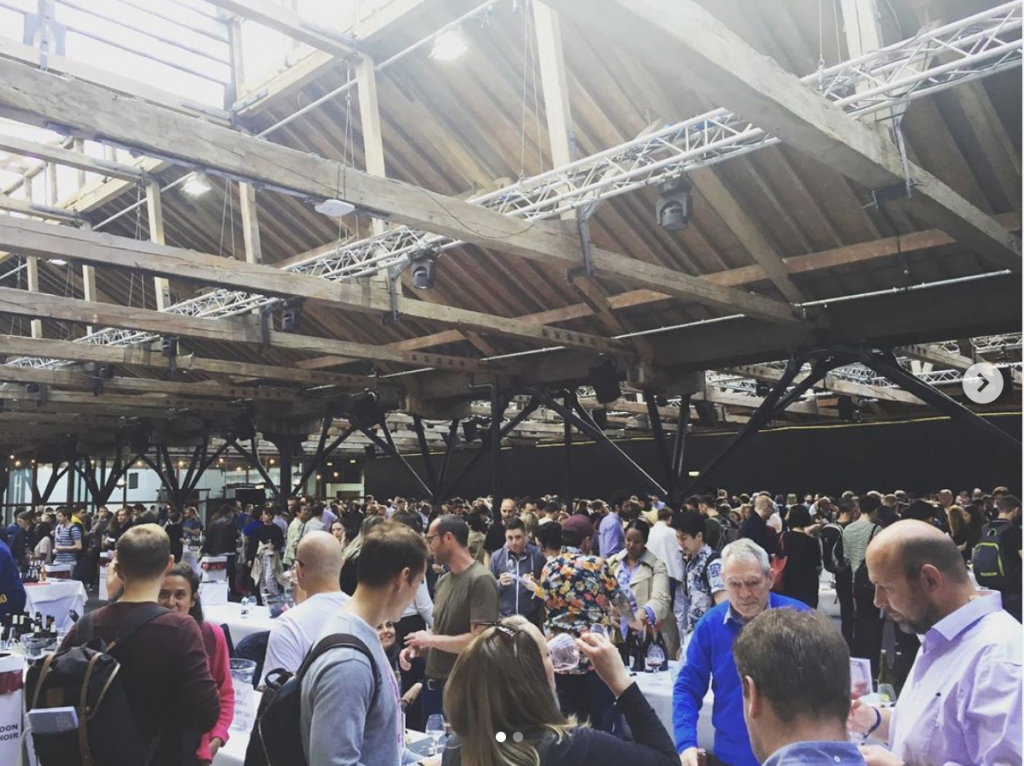 I have written about every fair since The Natural Wine Fair in 2011. Sometimes, I am still alight with the afterglow that one gets when one tastes great wines, meets engaged drinkers, and communicates animatedly with dedicated craftsmen and women. Sometimes, I experience that sense of loss one feels when the adrenalin buzz has thoroughly dissipated, and energy has dispersed (with the growers) to all parts of the globe, leaving only the wisps of fond memories as nourishment. I'll get over it!
Nothing is 100% perfect, but the 2019 Real Wine Fair was damn near as good as it gets. The natural weather wine gods were smiling on us, and then some. Sunny with bright blue skies on both days, high pressure and a touch of freshness to lift the wines and the drinkers. Leo rising, apparently, according to biodynamic guru, James Millton. We knew that! And the enthusiasm of visitors, both trade and public, never more apparent, nor the feedback more heart-warming. Smiling faces. As Honey Spencer said: What touched me the most is how everyone smiled at each other – even attendees in the toilet queue! Very un-London but very Real Wine!! What struck me particularly this year, was the sheer diversity of the tasting audience. Here were visitors from New Zealand, Australia, Canada, Japan, Switzerland, Croatia, Germany, Sweden, Denmark, Italy, France – and many other countries. An international event with a homely feel. Importers, sommeliers and bloggers were present and correct. Also, people who worked in supermarkets; those who worked for wine merchants (some that regularly derogate the idea of natural wine); people who have never been to an artisan fair before; and people who organise their own tasting events; chefs, waiters and bar managers; retailers and wholesalers; the curious and the committed. Everyone came to engage with the wines and the growers, rather than merely socialise. In this regard, the Real Wine Fair serves a useful function. Pleasure with a purpose.
Nothing is 100% perfect, but the 2019 Real Wine Fair was damn near as good as it gets.
And what were we tasting? Hundreds of wines from around 180 growers from twenty plus countries. Organic, biodynamic, permaculture, skin contact, no sulphur, some sulphur, wines from mountains and volcanoes, from sand dunes, bush vines, old vines, limestone, granite, schist and sand, qvevri wines, egg wines, foudre and barrique, oxidative and flor wines, glouglou wines, solera wines, age-me-forever wines, eminently sane wines, slightly cuckoo wines, familiar grapes, crazy field blends, obscure autochthonous varieties, pet nats, cider and cider nats, fruit wines, mind-blowing eaux-de-vies, wines of tradition, one-off experiments, triumphs and the odd failure, real interest, real wines…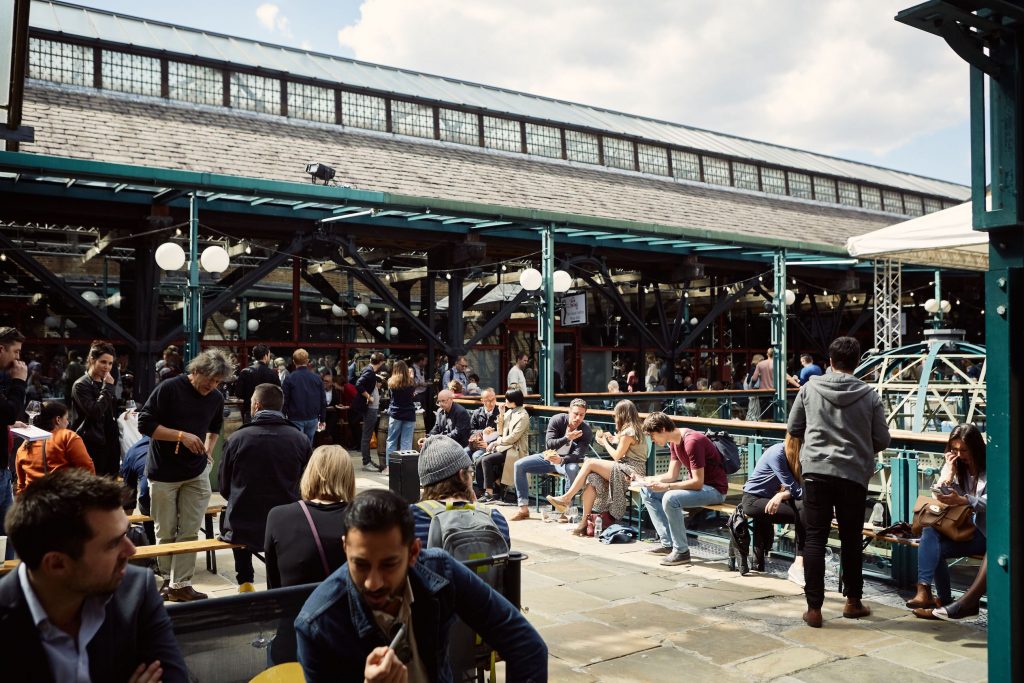 The fair did so much to engage the appetite. There was stuffed pasta, addictive deep-fried snacks, focaccia pockets oozing with earthy fillings, banging bangers on the grill, meaty sandwiches, pork pies and sinful Scotch eggs, wholesome veggie dishes, miles of charcuterie, pastries and bread. Mercifully, there was good coffee, and cold flowing beer to reanimate growers and fair-goers alike. The four seminars and masterclasses, hosted by trade experts and producers, provided ample food for thought (see what I did there?) as well as enlightenment, and the busy-buzzy shop, so ably run by the Les Caves de P elves, saw its shelves regularly raided for vinous mementoes of the event (not to mention Real Wine t-shirts, bags and posters). A Slovenian documentary crew prowled, hunting the true nature of the colour orange; whilst on Monday BYO Podcast filmed interviews with garrulous growers.
And after? Parties galore. Rooftop jamborees, winemaker takeovers and pop-ups-a-plenty. Wine dinners hither and yon. And the Real Wine Month rolled on in over 250 restaurants, wine bars and retailers throughout the land. And then came Real Wine, Ireland, a growers' fair in Dublin. And bravo to the fellow wine merchants for their collaboration, bringing their producers and really getting stuck into the fair, and for the widespread promotion of artisan wines throughout the month of May.
A fair is always a celebration as well as a tasting, working on multiple levels and yielding a variety of experiences for those who visit. 2019 felt like the happiest and most joyful incarnation of the Real Wine Fair to date. Roll on 2020!
*
Found a wine you loved at the Real Wine Fair? Contact us directly to enquire about purchasing:
shop@lescaves.co.uk |  sales@lescaves.co.uk | 01483 538820