Domaine d'Aurensan and Chateau de Leberon: Vintage Armagnacs
 Domaine d'Aurensan
The Aurensan vineyard – a family venture run by father Bernard and his two daughters, Sophie and Caroline, spreads over five hectares of land in the Tenareze region of Armagnac and comprises Ugni Blanc, Folle Blanche and Colombard planted on chalky-clay soils. The Tenareze Armagnacs tend to be structured, powerful yet stylish.
The estate places a great emphasis on the soils, and to that end, have started farming organically. Everything is done by hand in the vineyard and according to the needs of each vine with careful attention to pruning, shoot-thinning and trellising.
Grapes are harvested when they reach full maturity for distillation, which means a good degree of acidity and low sugar. Vinification can then go ahead without the need for oenological products (yeasts, sulphur). Distillation takes place in a classic Armagnac single still, continuously heated. After this process, the brandy is collected at the bottom of the column and taken away to be matured in barrel.
The cellars at Domaine d'Aurensan are very humid, which favours a long, progressive ageing. The casks, made from wood from oak trees grown on their estate, bring aromatic singularity to the eaux-de-vie. Bottling is by order and to demand and done without filtration.
This is known as Triple Zero Armagnac – no sugar, no colouring and no water is added. Whilst ten grape varieties are allowed to be used by historical decree only four major ones are commonly seen. The others have become known as ghost grape varieties. Aurensan have replanted one of the rarest – Plant de Graisse – for its rich texture and incredibly long aromas.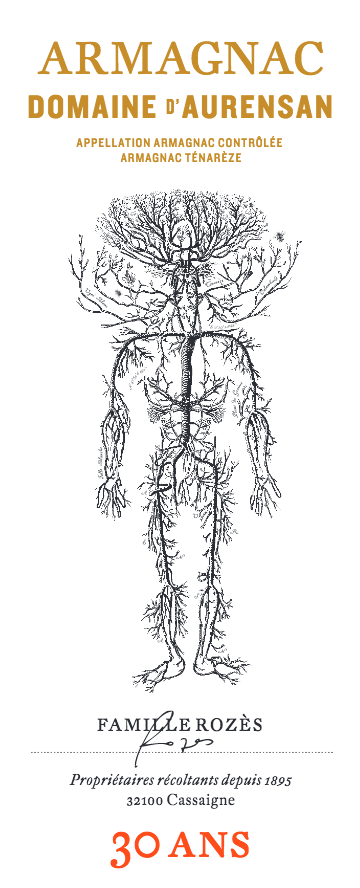 NV Domaine d'Aurensan 15 ans
NV Domaine d'Aurensan Assemblage 30 ans d'age
1977 Domaine d'Aurensan Vintage
1961 Domaine d'Aurensan Vintage
Chateau de Leberon
Château de Leberon covers 12 hectares in Ténareze, with vines planted in chalky soils over a limestone base.
The vineyards are 40 years old and the roots of the vines plunge deep into the soil. The Rozes family purchased the property in 1939 and nurtured it back to health. The terroir really shines through in well-made Armagnacs from this region as they tend to have a brighter acidity and minerality not found in neighbouring Bas-Armagnac where the spirits tend to be more powerful. This estate uses trees found on the property to make their barrels and that there are no additives (including water to dilute the spirit) added at any time. All the Armagnacs are a minimum of twenty years old. The grapes used for distillation are Ugni Blanc and Colombard, and after distillation the spirit spends a full 29 years in barrel before bottling, and each cask is bottled separately. There is incredibly bright fruit redolent of grapefruit, lemon peel, and stewed apple with deeper aromas of oiled leather, pipe tobacco, baking spice, and rancio. The palate is robust and rich, but carries a graceful salinity and lifted acidity.

1989 Chateau de Leberon
1979 Chateau de Leberon
Interested in finding out more about any of the wines that feature in this piece? Buy online here or contact us directly…
Retail: shop@lescaves.co.uk / 01483 554750