Valter's wine press – hot off the press.
The Mlecnik 9ha farm, situated on western end of the Vipava valley, is planted to Chardonnay, Rebula, Sauvignonasse (ex-Tocai Friulano), Istrian Malvasia, Pinela and Merlot, all of which produces a mere average total of 12.000 bottles a year. All the grapes for their wines come exclusively from their own vineyards which are cultivated organically. Mlecnik has been certified organic since 2005.
Their meticulous vinicultural approach is aimed at producing wines of exceptional quality. They have adopted a training method and pruning techniques leading to very low yields and which also serve to build resistance to diseases and pests. All maceration in the winery is without temperature control and fermentation is spontaneous. The white varieties spend three to five days with the skins, the reds approximately two weeks. Maturation of wine takes place in classical big oak barrels, is aged for up to two years in these vessels, bottled and then aged for even longer before release.
These are surely amongst the finest wines (fine as in elegant) in Slovenia. Valter Mle?nik is one of the founders of ViniVeri and also the skin contact movement – the only Slovenian to be involved with these projects. He has delved deeply into the theory of skin contact and showed me an old book (recently translated into Slovenian) – a two hundred year old scientific treatise on the subject. He, himself, is a serious philosophical man, and the wines are the same, being profound, balanced and calm. I would put them above Princic, Radikon and Gravner – the just bottled Ribolla 2009 was gorgeous, because he really gets the extraction just right. Ana white was lovely also. Tiny quantities – and expensive, but completes the circle in terms of style.
The weather in 2009 was favourable and enabled them to make one of the best harvests in last decade. The wine called Ana is named after Valter's grandmother, and is a blend of white varieties – Chardonnay (75%), Malvasia (10%), Sauvignonasse (10%) and Rebula (5%). The grapes macerate (skin contact) for three to four days without the control of temperature. After pressing it was put in big oak barrels ranging between 500 to 3000 litres). This wine was bottled two years after the harvest, in August 2011. Except for the minimal addition of sulphur and a few traditional interventions like racking and filling the barrels, there was no other method or substance used or added while making the wine.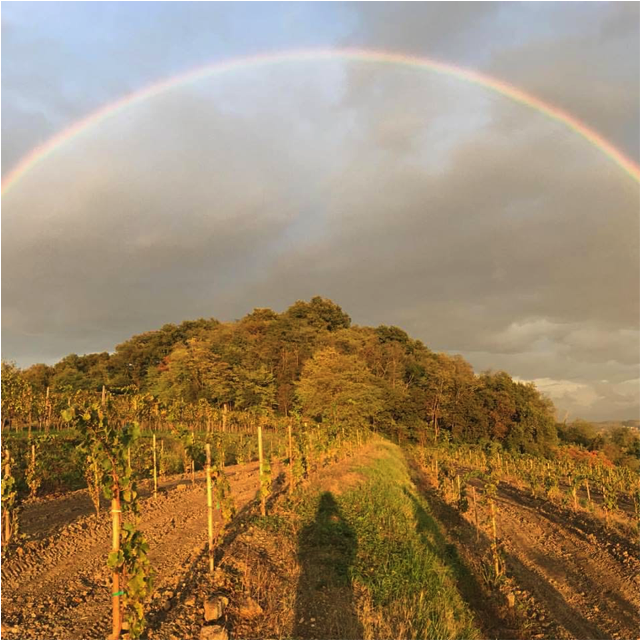 Rebula is one of the chief autochthonous varieties of Vipava Valley and as such it brilliantly reflects the terroir and vineyards. With its thick skin it is always last to ripen and produce a wine with the body and tannic structure that remind one of a red. The Rebula 2009, for example, (current vintage) was macerated for four days without temperature control and was fermented with native yeast. This allowed the wine to extract the maximum of natural substances present in its skins, ensuring a strong natural stability. The wine is an intense amber (yellow-orange) colour with brilliant opacity. This is also the consequence of no-filtering approach. After pressing the wine is transferred into big oak barrels, where is remains for two years. During this period the wine carries out a natural malolactic fermentation. Rebula 2009 was bottled in 2011, after which it remained in the cellar to mature for a further three years.
Pure gold
These are compelling natural wines. Valter laughed as he recalled his first efforts at winemaking -spending 18 hour days in the winery, constantly worried about the temperature, every detail of the process. Now, he says, the winemaking is simple and he is making it simpler still, not worrying about things and spending less and less time in the winery. He proudly shows us his old manual press and how quick and easy it is to assemble and take apart and how simple the extraction is. The pneumatic press lies idle in the courtyard as a reminder of ways past.
The "Rebula" dog
The next day we went to Andrej Kristancic's Nando (can the gags about flame-grilled peri-peri chicken), a small winery located in Plesivo, Brda in the Primorska region, bordering with the Friuli-Collio region of Italy.  Of the 5.5 hectares, 60% are located in Italian Collio and 40% in Brda.  The favourable Mediterranean micro-climate mixes warm sea air arriving from the Adriatic Sea in the south with cooler temperatures streaming down from the Julian Alps located north of the farm. This unique climate is very well suited to white wines. The vineyards are terraced at an altitude of 100m to 200m, and planted with local (indigenous) Rebula, Tokaj, and Chardonnay, Sauvignon Blanc, Cabernet Sauvignon and Merlot. The vines range from 9 to 40 years, with yields of 4000 to 6000 kg. per hectare. The vineyards are planted in a poor soil of friable marl or "ponka" as it's known in the local Slovenian dialect.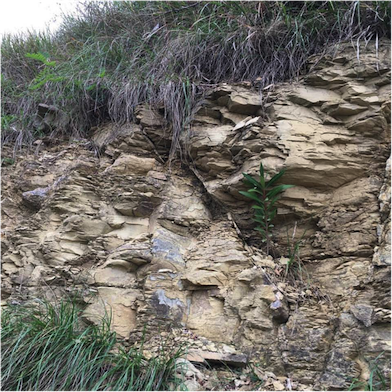 Crumbly flysch soils
To protect against disease, copper and sulphur treatments are used sparingly. No chemicals are used. The soil is planted with grass, and the harvest is manual with grapes harvested in full maturity from the end of September to October. Spontaneous fermentation takes place without the addition of selected yeasts, sulphur and other chemicals. Minimal amount of S02 are added only at bottling and the wines are unfiltered and unfined.
Andrej Kristancic has been making wines on his family's farm for nearly 25 years. He studied winemaking in high-school, allowing him to expand on his personal style while continuing the family tradition started by his grandfather, Nando.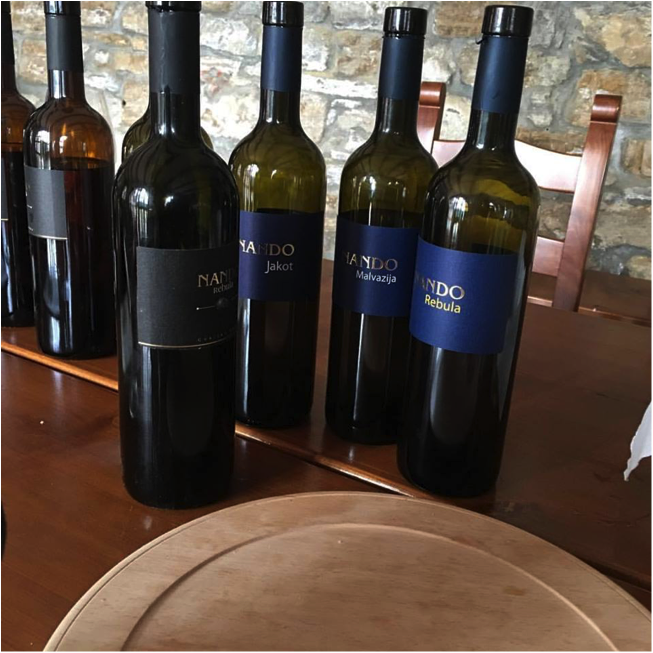 The wines are divided into two lines: Blue Label – which uses only stainless steel tanks for fermentation after skin contact from 12 hours and up to 8 days, and bottled and released, and Black Label, which follows a more traditional Slovenian style of "orange" white wine characterized by long skin contact of anywhere between seven and thirty days before spontaneous fermentation in old wooded barrels of 500L Slavonian oak and ageing of 18 months. These latter wines have distinct earthy aromas, and honeyed bronze colours. I liked the balance and focus of the wines – they had great drinkability, especially the Blue Label, and a light touch.
Stay tuned for the third and final part of our Slovenia series…