Domaine des Miquettes – Saint-Joviality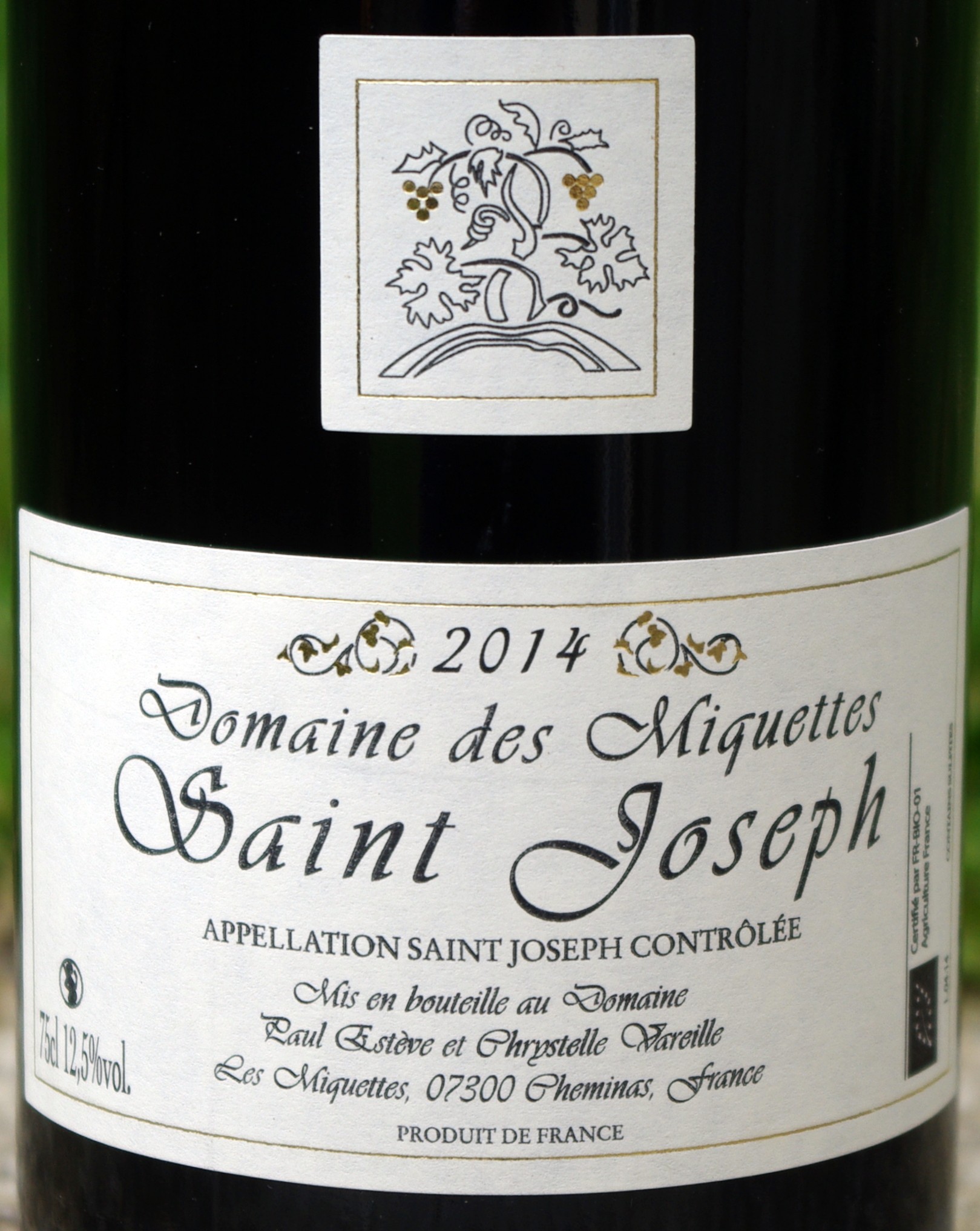 Domaine des Miquettes was created by Paul Estève and Chrystelle Vareille in 2003 in the village of Cheminas, a small village located on the high plateau above Tournon and Secheras, two towns located in the southern part of the Saint Joseph appellation.
Paul and Chrystelle took over the farm from Paul's family and turned one of the small farm buildings into a cramped and low-tech wine-making facility.  In total, the domaine consists of five hectares. At the property in Cheminas, they have planted one hectare of Syrah and one of Viognier which are classified as Pays des Coteaux de l'Ardèche. They also have three hectares in Saint Joseph with 2.6 planted to Syrah and .4h planted to Marsanne.. The Saint Joseph vineyard is located in the high hills above Secheras at an altitude of around 350 metres. It is planted on a steep hillside with soils of granite mixed with micaschist and its exposure is east/southeast. The vineyards, both in Saint-Joseph and the Coteaux de l'Ardèche are certified as organic farms. The vineyard rows are worked throughout the year with either a tractor or horse-drawn plough which is used on the more difficult terrains.
All harvesting is done by hand and the fermentations occur with natural yeasts and little or no temperature adjustments. Both white and red wines have been matured in large casks, "demi-muids" for a year before bottling. Then Paul started vinifying one white wine in amphora on the skins in the Georgian style and since 2014 he makes his red Saint-Josephs in terracotta clay as well. All the wines are sans soufre. He's another grower who has been bitten the Georgian bug – I have a hazy memory of him being pulled out of a qvevri on a trip to that country so he has immersed himself in the most literal sense in their wines. Madloba (the name of one of his cuvees) means thanks in Georgian.
The reds have that almost unrealistic sheen of youthful purple as per Seamus Heaney's Blackberry Picking:
… its flesh was sweet
Like thickened wine: summer's blood was in it
Leaving stains upon the tongue
Say no more!
Luddite Chenin Blanc – Bottling the natural Bot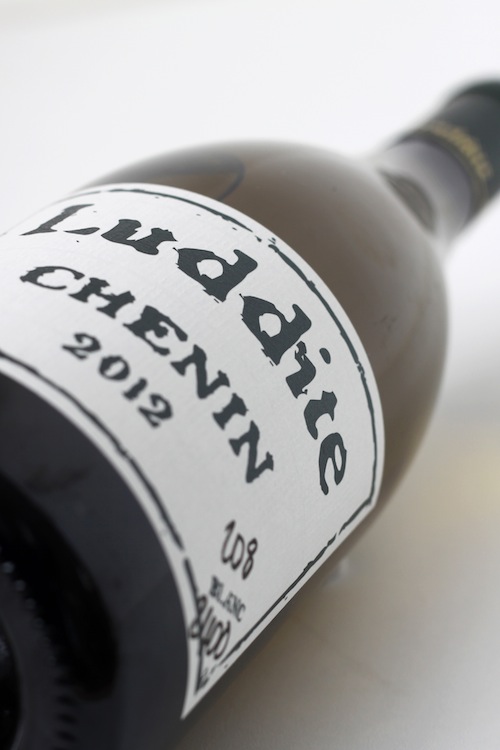 Humankind cannot bear too much reality nor can Les Caves have too many Chenins in its portfolio. We've prised a few out of the Loire, and now we can fill another reservoir with our South African selection. You may know already the Cortez and Skin Contact versions from Testalonga, Intellego's spiky Chenin and more elemental uber-cloudy Elementis, and a trio from the Winery of Good Hope. Niels Verburg at Luddite has now given us his idiosyncratic interpretation of this versatile grape made from two vineyards in the Bot River region, one from the Van der Stel pass – 60 year old vines, the other from a youthful block in front of the winery. The grapes are harvested a month apart. Bot is not short for botrytis by the way.
The grapes are hand harvested and destemmed, but then fermented on skins in open plastic bin fermenters with a twenty day maceration using indigenous yeast, before being aged in old wooden barrels for one year. The wine undergoes full malolactic fermentation, is lightly filtered and receives a tiny amount of sulphur at bottling.
Those expecting a chest-beating Luddite boom-bastic wine might be surprised by the mineral restraint and sheer fybos-inflected urgency of this Chenin. As per the blend of the two vineyards, this has youthful energy underwritten by old vine mineral depth.
Les Caves at the Go West Tasting
Tis rare that Les Caves emerges from its cocoon to stand by its wines at the big generics. Go West is a Pacific North-West mash-up. Or mainly Cali with a seasoning of Oregon-oh and Washington-ah. Time to reinforce our American credentials.
There is life beyond Pinot, but let's begin with Pinot. Kelley Fox's Mirabai, Momtazi and Maresh, three mmm…musketeers have enchanted many a wine buyer's palate with their lucid fruit and medicinal purity. These are pithy wines throbbing with volcanic energy and terroir earthiness and have gained listings on many of the best wine lists in the UK.
Golden Cluster Coury Old Vines Semillon, Jeff Vejr's homage to one of the modern founders of the Oregon wine scene was a real favourite on the day, its– honeydew, apricot and waxy apple botrytis notes underscored by the sappy snap of natural acidity. It is, as they say in France, the wine of the vintage. A pair of Ovum (Ova) from John House, Rieslings thrilled with their sweet citrus, salty minerals, textural (and textual) leesiness and perforating acidity. Associatively, they matched their monikers, Deep Water – breezy and saline and Memorista, multi-layered, a wine to unlock the chambers of the memory. Bow & Arrow's wines explore the idea that Oregon can be more than Burgundy-manqué. Scott Frank's Melon Blanc is a nod and a wink to the wines of Domaine de la Pepiere and Rhinestones (Pinot/Gamay) bears happy comparison to Thierry Puzelat's Cheverny Rouge Rouillon. Beckham Estate Vineyard Pinot Gris is fermented 30 + days on skins in amphora forged by Andrew Beckham himself. This rosy-hued wine gets better and better; herbs, spice and skin tannin season the lifted red cherry fruit and there are subtle notes of earth and dry honey. Finally, there was Chad Stock's Gruner Veltiner, one of three wines from the biodynamic Johan Vineyard. This was a terrific Gruner by any standards, a wine of mouthfeel and spice, one that creeps up on you and grabs you by the tongue.