Georgia –back to the future again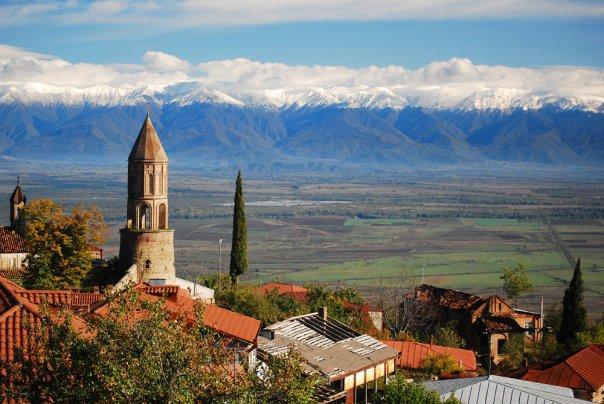 As a country Georgia has been in our hearts and minds for several years.  And you can't discuss Georgian wines without putting them into their historical and cultural perspective.
Once upon a time wild grape juice turned into wine when it was left buried through the winter in a shallow pit. This knowledge was nourished by experience, and from 4000 BC inhabitants of the current Transcaucasian region were cultivating grapes and burying clay vessels, qvevri, in which to store their wine ready for serving at ground temperature.  These qvevri were, and still are, very large terracotta clay jars fired in a kiln and then finished with an internal coating of beeswax. When filled with the fermented juice of the harvest, the qvevri are topped with a wooden lid and then covered and sealed with earth. The wine remains on the skins, stalks and seeds (the cha-cha) for a certain period, then will be decanted into a fresh qvevri, leaving the cha-cha behind (which can be later distilled into a fiery potion).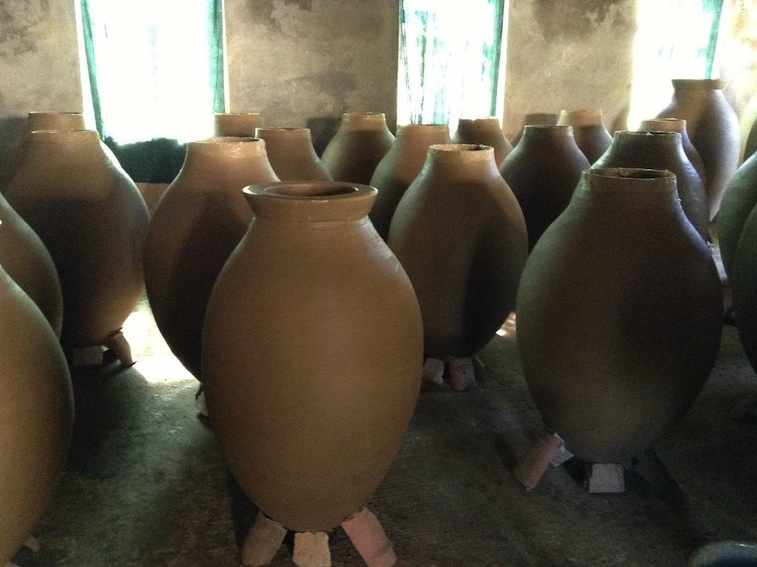 Wine vessels of every shape, size and design have been the crucial part of pottery in Georgia for millennia. Ancient artefacts attest to the high skill of local craftsmen. Some were used for winemaking, others yet were used for drinking, such as khelada, doki, sura, chinchila, deda-khelada, dzhami and marani. The continuous importance of winemaking and drinking in Georgian culture is also visible in various antique works of art. Many of the unearthed silver, gold and bronze artefacts of the 3rd and 2nd millennia BC bear chased imprints of the vine, grape clusters and leaves. The State Museum of Georgia has on display a cup of high-carat gold set with gems, an ornamented silver pitcher and some other artefacts dated to the 2nd millennium BC. From classical Antiquity, Georgian museums display a cameo depicting Bacchus, and numerous sarcophagi with wine pitchers and ornamented wine cups found in ancient tombs.
From the 4th century AD, wine gained further importance in Georgian culture due to Christianisation of the country. According to tradition, Saint Nino, who preached Christianity in Kartli, bore a cross made from vine wood tied with her own hair. This was known as the Grapevine cross, and wine and the vine became part of the iconography of the Eastern Orthodox Church.
The monasteries became academies for viticulture and winemaking and to this day the monks of Alaverdi cherish the ancient traditions of Georgian wine. Georgian confidence and self-determination burgeoned in the 12-13th century during the respective reigns of David the Builder and then his granddaughter Queen Tamara who drove out occupying armies, which in turn heralded a golden age of painting, poetry, music and culture. Wine was also not only part of this Georgian identity; it was part of Georgian civilisation.
And it is today – despite a tempestuous history of invasions and embargoes people have kept their qvevri and continued to make wine for the table, to celebrate and mourn. Wine is a drink for all occasions and all people. It is said that a million people in Georgia have qvevris and around 100,000 use them to make wine. And when you go to Tbilisi you will see the huge statue of Mother Kartli standing over the city – in one hand a sword to repel its enemies, in the other a bowl of wine welcoming friends. The diversity in such a small country is astonishing – there are dozens of extant varieties (and over 530 in the main wine nursery) and myriad styles and regional variations and specialities. One cannot talk about the wine without the food which is packed with flavour; the wines not only stand up to the many different textures and flavours in a typical Georgian meal, they have a sacramental function, emblematic of friendship, love, cheer, wit and devotion.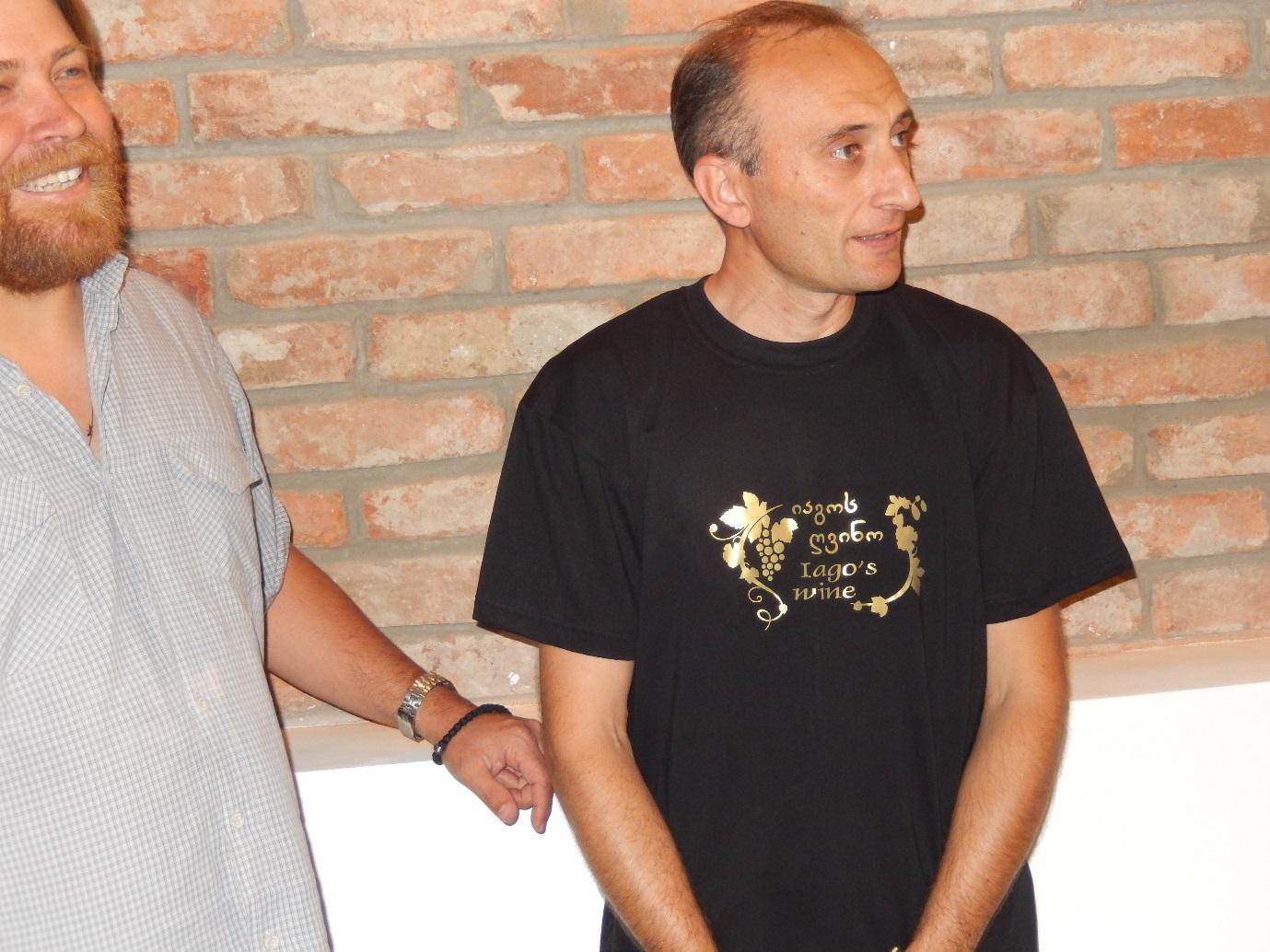 And talking of friends we welcome back Iago's Chinuri after a whole year's absence with open arms – the one-month skin contact version. This wine is my madeleine – drinking it effortlessly brings back memories of happy times, the ritual opening of a qvevri in Iago's spick-and-span cellar, the feasting on locally grown and sourced produce and the incessant laughter provoked by copious wine and cha-cha. Georgia in a walnut shell.
Back after an even longer absence is Kakha Berishvili's robust Saperavi of Artana. Kakha started to make the wine in qvevri with traditional Kakhetian method in 2009. He owns small vineyards located in the Naparauli micro-zone village, Artana, on south slope of the Caucasian mountains, and farms organically. The distance from vineyard to wine cellar (marani) is 1 kilometre, so he and his helpers use a horse and cart to transport the harvest. The wine is separated from its chacha after 23 days of active fermentation and the wine rests in qvevri till spring, whereupon it is bottled. Like all good Saperavi it is raw and edgy and sappy in the extreme, so inky-dark with a warm nose hinting at damson and bitter cherry, whilst in the mouth it is earthy and strong with tannic fruit and the kind of medicinal herbal quality that helps you to digest.
Zurab Topuridze hails from Guria region in the western part of Georgia, one bordered by the Black Sea subtropical costal lowlands to the west and the mountains in the east. The region is rich in cultural traditions and natural beauty, famous for its polyphonic music, humorous people, and used to be well-known for its delicious rose-hued wines. When Zurab married Tamar, a native of Dablatsikhe, he bought a small house in the village and sufficient land for viticulture, and started planting and reinstating the variety that his grandfather loved so much, namely Chkhaveri, native to Guria region, famous for its pink-tinged wines. Pronouncing this wine may harden your arteries, drinking it in abundance will surely raise your spirits. Zurab makes his natural wines in underground qvevri with a total capacity of around 13 tonnes (22 terracotta vessels in total).  The vineyard itself is four hectares, planted on the terraced slopes of River Supsa valley, on the reddish brown loams, generated from basaltic bedrock.
Nika Parcuanias makes wines from the very old Ojaleshi grape in the village of Tamakoni in the Samegrelo region of western Georgia for the Zaza Gagua winery.  Ojaleshi grapes may be produced as dry or off-dry wine but is mostly made in semi-sweet style. In the mouth, it presents raspberry, cherry and redcurrant flavours with hints of white spice and pepper. This is a vigorous, wonderfully alive and nourishing red wine.
Introducing the lesser-spotted Bruno Schueller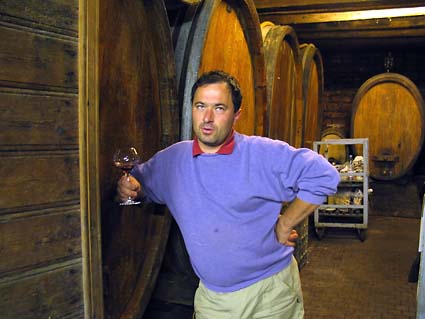 The contemplation of things as they are, without substitution or imposture, without error or confusion, is in itself a nobler things than a whole harvest of intervention.
Roll sound, roll camera …Hushed David Attenborough tones:
I am crouched here in an overgrown vineyard in Alsace hoping to catch a glimpse of one of the rarest bird-vignerons in this part of France, the lesser-spotted Bruno Schueller.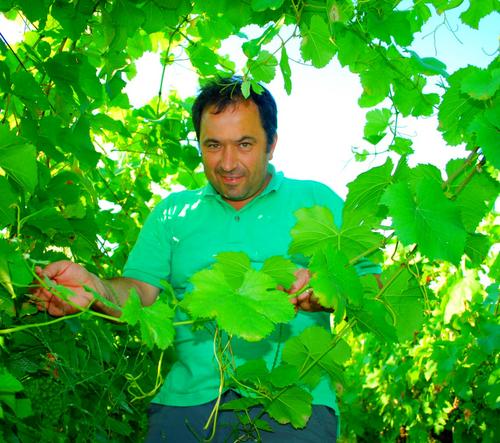 The Schueller belongs to a unique sub-species, inhabiting a small 10 hectare zone around Husseren-les-Châteaux, a hamlet hanging on to the hillslope below a series of old castle ruins, situated south-west of Colmar. I am actually here in Bildstœcklé, a lieu-dit within the commune of Obermorschwihr, the southern neighbour of Eguisheim. During the years when the Grands Crus were delimited, most communes received their "own" Grand Cru. But not Obermorschwihr, and this is where the Schueller will happily ply his craft in the summer, flitting from vine to vine removing excess vegetation. Although the Schueller might well be classified as part of the biodynamic family, he is a free spirit and prefers not to be labelled by any overarching organisation. In the autumn the Schueller will migrate to the cool shelter of the winery and establish himself amongst the gigantic old wooden foudres that abound there. There he stores his wine over the winter and keeps them to a simple but nourishing diet of zero-sulphur and no other additives.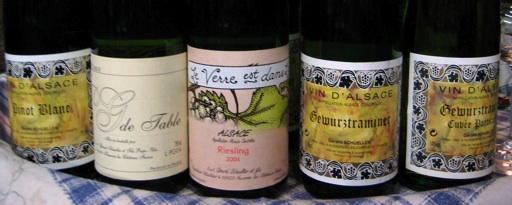 Once bottled a typical Schueller will begin to show its full aromatic plumage after three to five years.  This is when the best Schuellers take flight and present majestic soaring flavours. The Schueller may give birth to a variety of little Schuellers, some straw yellow, others deep gold, although the most celebrated examples of the Schueller clan are the Pinot Noir family. Wine twitchers might easily confuse the Chant Oiseaux and Bildstoecklé with Nuits Saint-Georges, which suggests that it is forgivable not to know your Alsace from your elbow.