Retreat, Australians Fair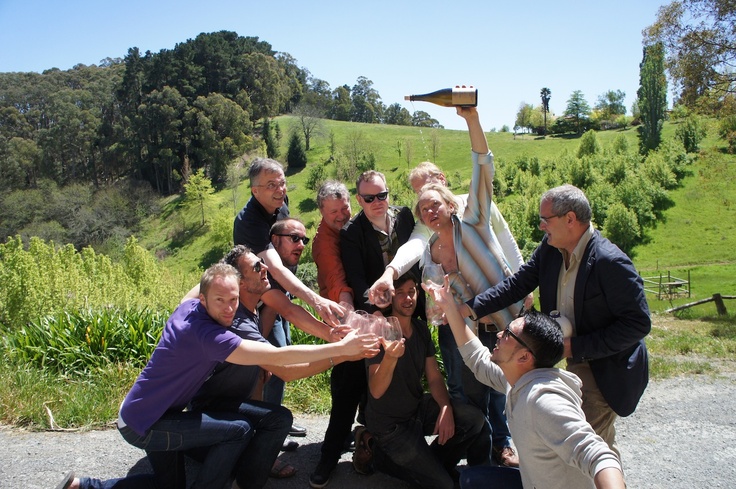 In October 2014 we were delighted to welcome three of our Australian growers – Anton von Klopper, Tom Shobbrook and Pat Sullivan – who embarked on two week UK tour, presenting not only their wines but those from fellow like-minded Aussie vignerons. They camped, they cooked, they drank, they partied, they did "walkabouts" in restaurants, they sang for their suppers and they brought the relaxed exuberant new Aussie wine culture to us stuck-up stickybeat pommies.
The wines went down a storm – multi-blend grogs fermented in ceramic eggs, plastic tubs and old barrels, wild wines, fruit wines, skin contact wines, flor wines. We have now sold out of most of them but there are still a few wines that you should grab while you can.
Best of the bunch
Monomeith Pinot Noir, last Pinot standing in the Lucci line-up, and one of the best.
Here is Sam Hughes' Ode to Monomeith –
Immediately we are seduced wild flowers and roses surround a fading camp fire, wet humus, underneath your soil the smell, simmered purity, waking up outdoors in a valley, nearby a stream, whispering with eucalypt forests and morning stroked sunshine, dazzled the campfire sighs its last breath.
A fresh eloquent Pinot, buoyant and primary, earth and flowers swathed in an aura of sensuality. Pleasure.
No yoking there is indeed a wine called Vin Oeuf Blanc (egg white) – am sure there's a pun in there. This angular critter hails from the wilder shores of Sauvignon and is raised and moulded in a ceramic egg. If you are into goosiness and grassberries then this may well scramble your preconceptions. Which is all for the best in the best of all possible omelettes.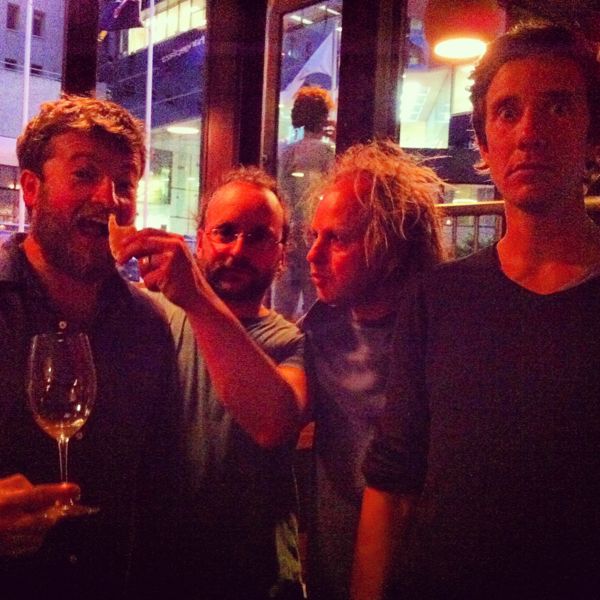 Anton's fellow mucker and comrade is Tom Shobbrook. He makes delightfully pure wines with minimal intervention. One such is the flirty Didi Novello, a right throat charmer, the vinous equivalent one of Tom's loving hugs. Grapes shape up in odd formation: Cinsault & Syrah, Riesling & Sauvignon, all conspiring to make a nouveau style of Nebbiolo (if you can imagine that).
Paolo & Gustav, who sound like a hair salon, also made a so-called Wildstyle Riesling with extended skin contact fermented in Dora the Amphora. The colour is clearly cloudy apple juice. The nose is quite provocative with hints of mustard leaf and preserved lemons. There's even a waft of lime trees – bark and all.  Tannins in the mouth very dry and savoury yet still showing some limey Riesling traits then secondary aromatics of apple pie filling (spicy cooked apples). As the winemaker says: "This is all about playing with such a noble grape and seeing what can come about in the winery – whilst doing nothing. We want texture, intrigue and a thought-provoking Riesling."  If your notion of Riesling was of an etheric grape representing sunlight held together by water (Galileo) then this earthbound misfit will shake your preconceptions. It's as naughty as an Angus Young riff (think Whole Lotta Riesling) and we love it.
Fancy some Semillon (more like full-on) from the bony soils of the Margaret River? Under a skein of flor? Then cut this wine from Sarah and Iwo (aka Si Vintners) some nutty slack – it has serious potential. The story of Chinchecle is this: grapes are hand harvested and remain in whole bunches for 10 days before being whole-bunch pressed and naturally fermented in concrete eggs where the wine remains for a period of two years with a naturally occurring flor. Amazingly long and complex in the mouth, a wine that you keep coming back to and keeps coming back to you. Think baked apple skins in cloves and cinnamon, macerated with pear and apple juice and ginger peel and a salty finish carried by a brilliant surge of acidity.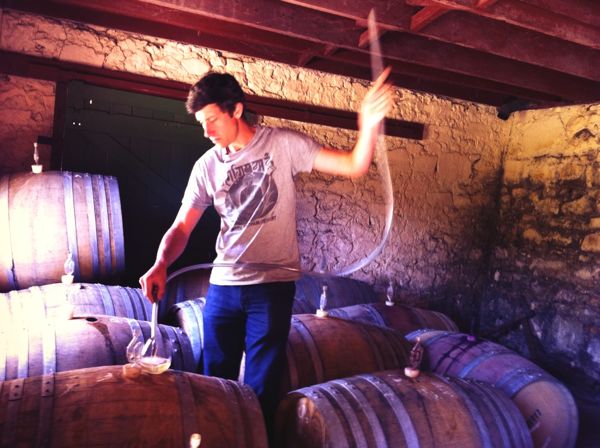 Jauma (the project of former somm, James Erskine) is Grenache country and these specimens seem steeped in old vines wisdom leavened by freshness and a mineral dimension. Two versions – the charmingly monikered Like Raindrops has an earthy Mourvèdre-like quality. It is part whole bunch with an open top ferment. The Gram Ant is a selection of the best barrels from the Tullah white (sand on clay) and the higher Ascension vineyards. The wine has rich base notes but also a lift and bright grippiness.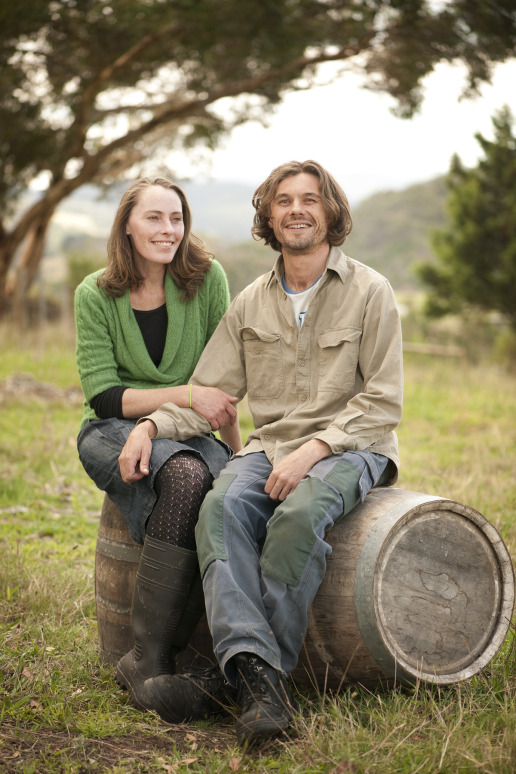 From Grenache to a Yarra Syrah interpreted by Tom Belford in his Bobar. This is another Aussie wine that flips preconceptions. No jam, no invasive portiness, no blustery alcohol, rather a genial florality, salty olive flavour and peppery-herbal twist. It reminds us of smoky Crozes crossed with a cru Beaujolais.
New Austrian wines – hitting the Steiermark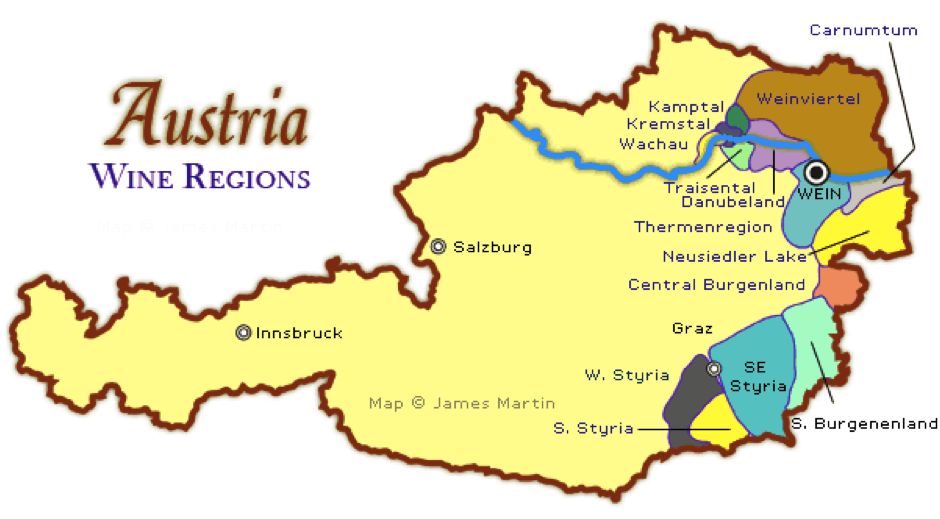 As you may have read on previous blogs we are delighted to be importing our first Austrian agencies: Weingut Franz Strohmeier, Weingut Sepp Muster and Weingut Andreas Tscheppe. Located in southern Styria, close to the border of Slovenia, the growers farm to Demeter specifications, but go considerably further in the winery taking their organic approach to its logical conclusion.
The wines reflect the personalities of the vignerons which, of course, is the other "terroir signature". When one tastes his Green Dragonfly one can visualise Andreas Tscheppe in his vineyards hotching with fauna and flora, grasses, weeds, herbs, dragonflies, his eyes darting, alighting on a certain grape bunch, touching, feeling, plucking. This thrilling vitality communicates itself seamlessly into the wines.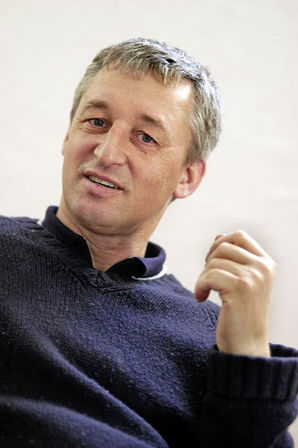 Solemn and thoughtful like him, Sepp Muster's wines demand your attention. The juice cooks slowly in the big barrels and provides the highly compact internal structure of the wine. And then into bottle where more time is taken (it is needed). When you taste there seem to be tannins (not from the skins) but rather absorbed from the material of the flesh of that grape. These spicy tannins manifest themselves as the very warp and weft of the wine itself. At first the wine may even seem square, unyielding and unfathomable; gradually, subtly, it breathes, and unveils its strong personality.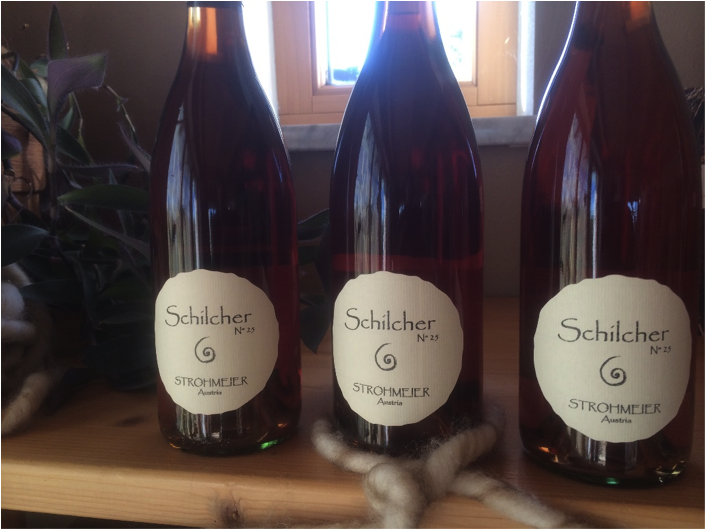 Franz Strohmeier is not afraid to plough his own furrow even if that means not ploughing the furrows and allowing a vineyard to run wild! His passion for nature, the earth and the soil is infectious, his resultant wines daring (to be different) and exciting. As well as the sparkling Schilchersekt wines and rosés native to his home region of western Styria, he makes a range called TLZ (Trauben, Liebe, Zeit – Grapes, Love, Time) and one of his barrels even unashamedly bears the legend "A barrelful of love." Franz is on a personal journey to find the soul of his wines and he wants you to accompany him.
All the growers speak thoughtfully about how biodynamics appears to help to transmit an earthy quality to the final wine. Certainly, these wines are united by a texture/flavour profile, a warm spiciness, a seasoned mash of clay and pulverised stone.
The wines include reds and roses from the pale cherry-crunchy local Wildbacher. Zweigelt is a darker grape that appreciates time to shed its cloak of austerity (although there are delightful rustic youthful examples). The local interpretations of Sauvignon and Chardonnay on the particular opok soils are captivating, aromatically rich with a backbone of iron. They exemplify the spiciness alluded to above.
Weissburgunder, Welschriesling and Muskateller may be found individually and in blends with each other and Sauvignon and Chardonnay. All the growers make a skin- contact wine – normally a combination of Sauvignon and Chardonnay. Andreas buries an Earthbarell in the vineyard in which to ferment his skin contact wine, a nod to ancient Georgian culture.
Next up…
Returning Georgians and Lesser-Spotted Schuellers